This is a weekly overview of my personal sports trading results on teams from the Belgian Jupiler League documenting my journey toward long-term profit with some insights on my overall approach.
This was now my 7th losing week in the last 8 weeks dropping a total of roughly 6 units since peaking at ~13 units profit of the season. Betting never goes up in a straight line and there are always losing streaks which I try to display sharing my previews, bets, and results in these past 3+ years. The question right now is if this is just a random variance thing or if the bets themselves are just not good enough.
I have had multiple periods in the last decade where my betting simply was not good and sharp enough to beat the market. With proper money management combined with making the needed adjustments, I always managed to overcome these periods. This season, it has been very hard to properly handicap matches for me given the fact that there are so many strange factors going on. No fans in the stadiums, extremely bad pitches, crazy busy schedule, lots of missing players, lots of injuries and so on. All these things have pretty much thrown many angles completely out of the window.
I have been a bit more cautious already but will push a bit more on the brake pedal in the coming weeks ditching my really aggressive betting style (I did take 955 bets already this season!) for a much more selective approach.

The regression to the main also continues in the pre-game bets I share in the Preview posts I'm making. I will also (try to) slow those down for now until I have reasons to believe my edge is bigger again.
---

I'm also still taking a low profile when it comes down to taking bigger bets also taking them on Copytip while sharing on the SBC Discord Channel and on my Twitter (@costanzabets) as official bets.
Copytip /Discord Bets Season 2020-2021
11/12/2020 Racing Genk +0 @ 1.945 FT 1-0 LOST
01/11/2020 Antwerp +0 @ 2.500 FT 1-0 LOST
03/10/2020 OHL vs Zulte 1H U 1.25 @ 1.989 HT 1-0 HALF WON
30/08/2020 Club Brugge -0.25 @ 1.846 (20' 0-0) FT 2-1 WON
22/08/2020 Zulte Team Total over 2 @ 1.924 (37' 1-0) FT 4-1 WON

I take all my Pre-Game & Live bets with my Betting Broker Sportmarket Pro who always provide the best offers on the market with a 1 click solution and don't limit winning players offering high limits. For more info check my Sportmarket Pro Review
---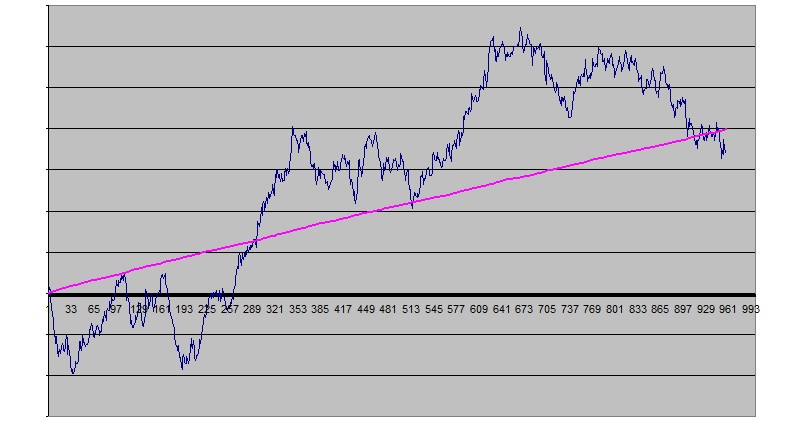 It sucks to have broken down slightly on the expected profit pink line but at least things have slowed down and I haven't taken the elevator down yet which is always a danger when increasing stakes. I am not at ~0.2 units for a tiny bet, 0.4 units for a flat small bet (most of them), and 0.8 units for a solid medium bet while rarely having 1 Unit or higher positions. which I intend to keep until things stabilize. Once things go back to normal, I'll likely continue increasing my stakes more step by step as my overall bankroll very much allows it. In fact, I could handle 4 units full flat stakes right now if I wanted to, still being very much within an acceptable risk range. I rather play it safe though
Previous Personal Results 2020-2021
Week 23 Results 21 Bets | 08W-12L-01P | Staked 05.728u | -0.806u Loss..
Week 22 Results 32 Bets | 15W-14L-03P | Staked 08.086u | -0.494u Loss..
Week 21 Results 40 Bets | 18W-20L-02P | Staked 10.204u | -2.314u Loss..
Week 20 Results 54 Bets | 24W-25L-05P | Staked 12.806u | -0.376u Loss..
Week 19 Results 36 Bets | 16W-17L-03P | Staked 08.248u | -0.388u Loss..
Week 18 Results 34 Bets | 06W-07L-03P | Staked 09.184u | +2.006u Profit
Week 17 Results 16 Bets | 06W-07L-03P | Staked 04.340u | -0.364u Loss..
Week 16 Results 34 Bets | 10W-22L-02P | Staked 08.852u | -2.430u Loss..
Week 15 Results 50 Bets | 37W-33L-14P | Staked 20.970u | +2.644u Profit
Week 14 Results 50 Bets | 25W-18L-07P | Staked 13.498u | +3.146u Profit
Week 13 Results 47 Bets | 20W-20L-07P | Staked 10.676u | +0.660u Profit
Week 12 Results 61 Bets | 23W-31L-06P | Staked 14.378u | -1.700u Loss..
Week 11 Results 45 Bets | 22W-20L-03P | Staked 12.672u | +0.804u Profit
Week 10 Results 44 Bets | 17W-20L-07P | Staked 11.058u | -1.140u Loss..
Week 09 Results 35 Bets | 17W-12L-06P | Staked 09.292u | +1.654u Profit
Week 08 Results 58 Bets | 29W-24L-05P | Staked 15.844u | +5.014u Profit
Week 07 Results 62 Bets | 36W-21L-05P | Staked 15.666u | +3.696u Profit
Week 06 Results 43 Bets | 11W-28L-05P | Staked 12.086u | -3.610u Loss..
Week 05 Results 41 Bets | 23W-14L-04P | Staked 09.880u | +2.590u Profit
Week 04 Results 39 Bets | 16W-18L-05P | Staked 12.258u | -0.604u Loss..
Week 03 Results 44 Bets | 19W-17L-08P | Staked 11.580u | +2.748u Profit
Week 02 Results 21 Bets | 08W-12L-01P | Staked 05.972u | -1.096u Loss..
Week 01 Results 15 Bets | 04W-10L-01P | Staked 05.618u | -2.724u Loss..
 Regular Season 2020-2021 Results
934 Bets | 421W-429L-106P | 248.895 Staked | +6.800u Profit | +2.73% ROI

---
Season 2019-2020 | 1406 Bets +2.48% ROI
Season 2018-2019 | 1090 Bets +2.47% ROI
Season 2017-2018 | 821 Bets +7.22% ROI

---
The schedule remains furious right now with 2 full weeks on the program the coming 7 days followed by cup matches and very little rest which certainly will have an impact on the outcome of the matches. I intend to continue making previews while covering matches in-game on the SBC Discord
Hive: https://hive.blog/@costanza
Publish0x: https://publish0x.com/costanza
Twitter: https://twitter.com/costanzabets