This is a weekly overview of my personal handicapping and live betting results on teams from the Belgian Jupiler League with some insights on my overall approach.
Week 7 turned out to be a solid profitable week mostly thanks to live betting. There were a lot of matches (12) including the European Qualifier matches which all were broadcast separately. I'm still keeping a rather low profile and the average bet stake was only 0.25 units. One of my goals is to get this up again to at least 0.33-0.40 units and a lot of it comes down to confidence. I'm certainly picking this up again but will likely need a couple of weeks to get it to the point where I'm ready to make bigger calls again.
Something I'm always looking for is to get in "Win-a-Lot-Lose-a-Little" situations with limited risk. I haven't managed to get in all too many this season yet but there were 2 this week. The first one was on Club Brugge which didn't come true as they failed to translate their quality difference into a 2 goal win, the 2nd was on the corners match yesterday in the match between Genk and Oostende which did end up playing out as I hoped. I was both on the over and the Oostende CK + handicap. As the match moved on, I was able to add some more to it which turned into some nice profit overall.
I have been keeping track of the pre-game bets I ended up taking which made it as bold selections in all my preview posts and they have done well overall even though this week they saw a bit of a correction to the downside. This despite the fact that I had my best week so far this season.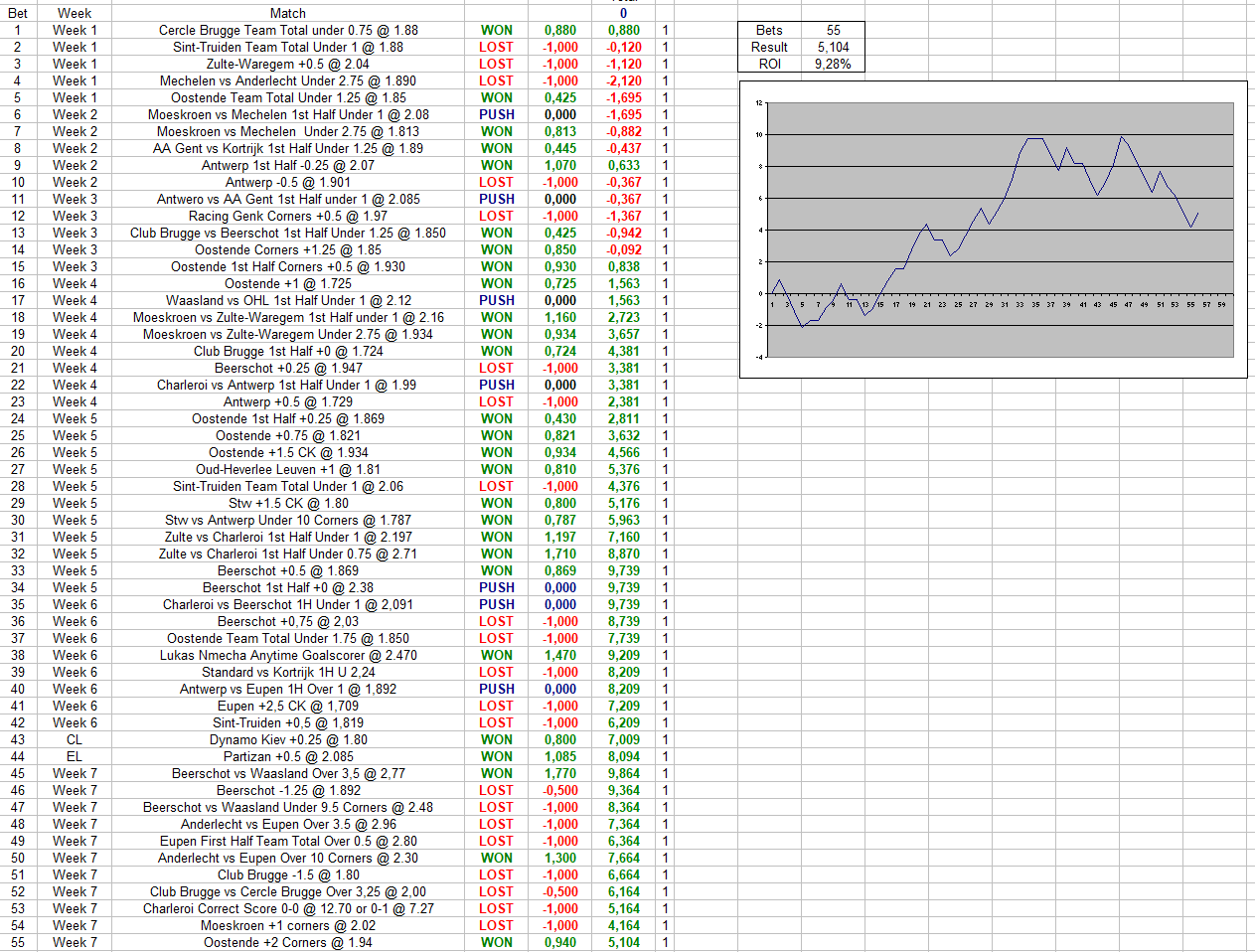 ---

My overall confidence grew again this week but I want to confirm before really starting to take more bets again both in BTC (on pre-game bets) and also on Copytip and the SBC Discord when it comes down to official live bets. If something with clear value comes up I will take it and I'm 2W-0L so far on these this season. As for now, I'm not forcing anything though so don't expect too much action in the short term.
---
Discord / Copytip Live-Bets Season 2020-2021
30/08/2020 Club Brugge -0.25 @ 1.846 (20' 0-0) FT 2-1 Bet WON
22/08/2020 Zulte-Waregem Team Total over 2 @ 1.924 (37' 1-0) FT 4-1 Bet WON

I take all my Live bets with my Betting Broker Sportmarket Pro who always provide the best offers on the market with a 1 click solution and don't limit winning players offering high limits. For more info check my Sportmarket Pro Review
---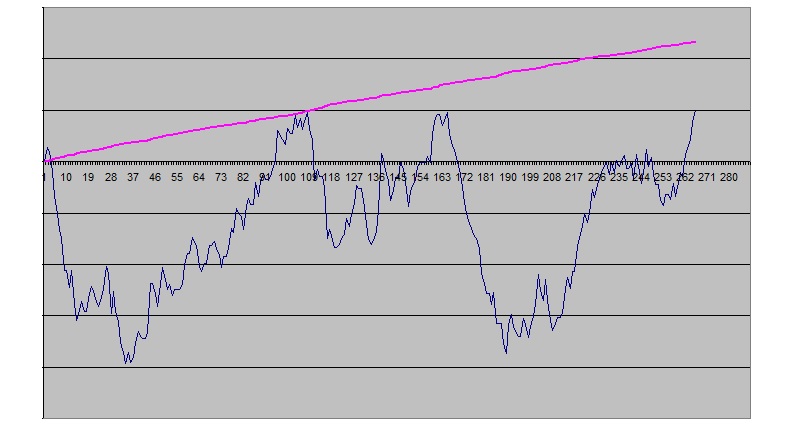 I'm still below the expected profit line at the moment, but at least I'm back in the green again. One of the things I really love about these weekly results posts I'm making aside from the fact that they serve a function to keep myself sharp and disciplined is that they paint a realistic picture of what it takes to potentially earn money with Sports Betting over multiple years with thousands of bets. Anyway, there is still a long way to go this season and profit doesn't come easy so I will continue to go at it week by week.
---
Previous Personal Results 2020-2021
Week 07 Results 62 Bets | 36W-21L-05P | Staked 15.666u | +3.696u Profit..
Week 06 Results 43 Bets | 11W-28L-05P | Staked 12.086u | -3.610u Loss..
Week 05 Results 41 Bets | 23W-14L-04P | Staked 09.880u | +2.590u Profit..
Week 04 Results 39 Bets | 16W-18L-05P | Staked 12.258u | -0.604u Loss..
Week 03 Results 44 Bets | 19W-17L-08P | Staked 11.580u | +2.748u Profit
Week 02 Results 21 Bets | 08W-12L-01P | Staked 05.972u | -1.096u Loss..
Week 01 Results 15 Bets | 04W-10L-01P | Staked 05.618u | -2.724u Loss..
 Regular Season 2020-2021 Results
264 Bets | 116W-120L-29P | 73.060 Staked | +0.994u Profit | +1.36% ROI

---
Season 2019-2020 | 1406 Bets +2.48% ROI
Season 2018-2019 | 1090 Bets +2.47% ROI
Season 2017-2018 | 821 Bets +7.22% ROI
---
I'm looking to add another good week to it the next 7 days.
Hive: https://hive.blog/@costanza
Publish0x: https://publish0x.com/costanza
Uptrennd: https://www.uptrennd.com/user/costanza
Twitter: https://twitter.com/costanzabets