I have been using my blog as a way to keep track of my personal betting results in the Belgian Jupiler league for the last 3 years. The main purpose of my record-keeping is that it helps me a lot to stay extremely disciplined. I also always try to include some insights into things I do that help me increase my chance to actually beat this market in the long run.
This opening week did not turn out as I hoped for as it felt impossible to win a single bet. It is what it is and I don't mind so much about the short run as long as I still have strong reasons to have long term profit expectations. Looking at previous years weekly results during the regular season
Season 2019-2020 | 12 Losing weeks Out of 29 | Total 1406 Bets +2.48% ROI
Season 2018-2019 | 15 Losing weeks Out of 30 | Total 1090 Bets +2.47% ROI
Season 2017-2018 | 12 Losing weeks Out of 30 | Total 821 Bets +7.22% ROI
So there is a long way to go still in this season. Usually, when I'm down, I tend to become a bit more cautious on my stakes to avoid the risk of digging a hole to climb out of. Aside from that, I just see everything bet-by-bet and week-by-week taking the variance for what it is since proper bankroll management pretty much takes care of that.
---

I didn't have any big official bets in the first week which I also take on Copytip and clearly share in my blog posts or on the SBC Discord channel in case they are live bets. I tend to be extra cautious on these and current situation with Covid, the heat wave along with the fact that there were no fans made everything feel like somewhat of a coinflip. As more matches are played there should be more info on potential overvalued/undervalued teams to possibly bet on.

I take all my Live bets with my Betting Broker Sportmarket Pro who always provide the best offers on the market with a 1 click solution and don't limit winning players offering high limits. For more info check my Sportmarket Pro Review
---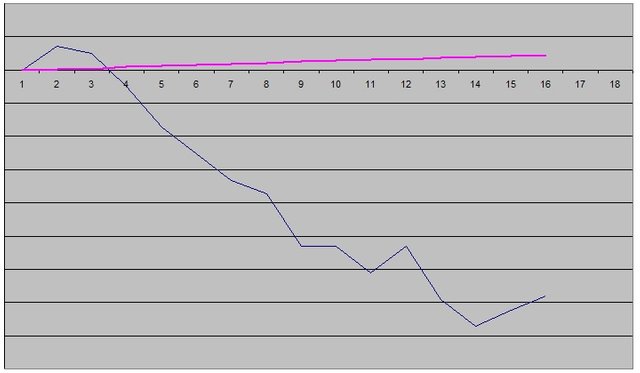 Without any volume, the gap between the expected profit (pink line) and the actual result will always be quite big and it takes time for both to get a lot closer to each other. Basically, if you bet 1000€ at 2.0 odds and expect to win 3.2% you will be up 1000€ or down 1000€ while your expectation is only 32€. In that regard, betting is really a grind where you have to get in a lot of plays.
---
Previous Personal Results 2020-2021
Week 01 Results 15 Bets | 04W-10L-01P | Staked 05.618u | -2.724u Loss..
Regular Season 2019-2020 Results
15 Bets | 4W-10L-1P | 5.618 Staked | -2.724u Loss | -48.49% ROI
---
I'm looking forward to week 2 in the league and will do what I can to get in the green again. I already have a couple of ideas and might take a bigger bet early in the week which will be shared on Twitter (@costanzabets) the moment that I take it.
---
Hive: https://hive.blog/@costanza
Steemit: https://steemit.com/@costanza
Publish0x: https://publish0x.com/costanza
Uptrennd: https://www.uptrennd.com/user/costanza
Twitter: https://twitter.com/costanzabets