This is a weekly overview of my personal sports trading results on teams from the Belgian Jupiler League documenting my journey toward long-term profit with some insights on my overall approach.
Another solid week with a lot of matches and plenty of betting action is behind me. There is not much to say other than I currently am in a flow having a good grip on all the teams and situation slowly grinding my way up. I also am able to keep up with my discipline of making previews each day and I am looking to possibly start doing them early in the morning instead of quite late at times with the match starting within the next 2 hours. This should give a bit of a time advantage on certain matches possibly being able to get better odds.
I did set my highest weekly volume of the season so far betting a total of 20.970 units but this was mostly because there were just so many matches to cover. I'm slowly getting to the point where I can move up in stakes and I plan to do it gradually each week increasing what I bet with a couple of percentages to get to a point eventually where I'm at least 10%-20% higher compared to where I am at now. Moving up drastically has the risk of a downswing (which usually happens right at that point) to leave some deep cuts.

The bold pre-game selections continue to perform like crazy going 7W-4L this week for +2.937 units profit. They are now after 138 bets at a +19.18% Return. I keep warning each week that there will be a correction but so far it hasn't come and profit from them just keeps going up and up.
---

Taking bigger bets taking them also on Copytip and in BTC while sharing them that way in the SBC Discord Channel is kind of on hold at the moment and I'm not sure where it is going as I'm quite fine with my new style not trying to find those selective bets but more going for volume which allows a lot more room for errors. I will see where it all goes over time. In the end, my own betting and performance always get priority over everything else.
Copytip /Discord Bets Season 2020-2021
01/11/2020 Antwerp +0 @ 2.500 FT 1-0 LOST
03/10/2020 OHL vs Zulte 1H U 1.25 @ 1.989 HT 1-0 HALF WON
30/08/2020 Club Brugge -0.25 @ 1.846 (20' 0-0) FT 2-1 WON
22/08/2020 Zulte-Waregem Team Total over 2 @ 1.924 (37' 1-0) FT 4-1 WON

I take all my Live bets with my Betting Broker Sportmarket Pro who always provide the best offers on the market with a 1 click solution and don't limit winning players offering high limits. For more info check my Sportmarket Pro Review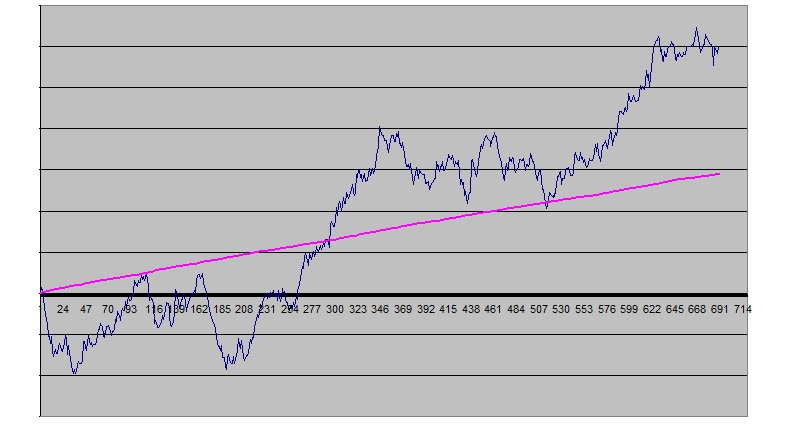 Solid bounce off the expected pink profit line making a rather big move up the last couple of weeks. I really like keeping track of my results like this as it visualizes everything nicely. Between bet 346 and 515 there was a stretch of 169 Bets which went -9.3% ROI which is perfectly normal and nothing compared to some of the other downswings I had over the years. In the end, the long-term result is what counts and those still clearly indicate an edge over the market. I'm still only up around 12 units on the year which can quickly come down especially as I'm about to increase my stakes a bit so I remain cautious.
---
Previous Personal Results 2020-2021
Week 15 Results 50 Bets | 37W-33L-14P | Staked 20.970u | +2.644u Profit
Week 14 Results 50 Bets | 25W-18L-07P | Staked 13.498u | +3.146u Profit
Week 13 Results 47 Bets | 20W-20L-07P | Staked 10.676u | +0.660u Profit
Week 12 Results 61 Bets | 23W-31L-06P | Staked 14.378u | -1.700u Loss..
Week 11 Results 45 Bets | 22W-20L-03P | Staked 12.672u | +0.804u Profit
Week 10 Results 44 Bets | 17W-20L-07P | Staked 11.058u | -1.140u Loss..
Week 09 Results 35 Bets | 17W-12L-06P | Staked 09.292u | +1.654u Profit
Week 08 Results 58 Bets | 29W-24L-05P | Staked 15.844u | +5.014u Profit
Week 07 Results 62 Bets | 36W-21L-05P | Staked 15.666u | +3.696u Profit
Week 06 Results 43 Bets | 11W-28L-05P | Staked 12.086u | -3.610u Loss..
Week 05 Results 41 Bets | 23W-14L-04P | Staked 09.880u | +2.590u Profit
Week 04 Results 39 Bets | 16W-18L-05P | Staked 12.258u | -0.604u Loss..
Week 03 Results 44 Bets | 19W-17L-08P | Staked 11.580u | +2.748u Profit
Week 02 Results 21 Bets | 08W-12L-01P | Staked 05.972u | -1.096u Loss..
Week 01 Results 15 Bets | 04W-10L-01P | Staked 05.618u | -2.724u Loss..
 Regular Season 2020-2021 Results
688 Bets | 306W-299L-84P | 181.447 Staked | +11.965u Profit | +6.59% ROI

---
Season 2019-2020 | 1406 Bets +2.48% ROI
Season 2018-2019 | 1090 Bets +2.47% ROI
Season 2017-2018 | 821 Bets +7.22% ROI
I'll be back with a lot more previews and bets later today & the results next week...