This is a weekly overview of my personal sports trading results on teams from the Belgian Jupiler League documenting my journey toward long-term profit with some insights on my overall approach.
Right now, the situation in the league is not exactly optimal for me to bet with all too much confidence. There are still no fans in the stadiums, the weather is getting colder affecting the pitches and many teams recently had covid cases with questings on how fit players actually are. I could use a winter break but it's not looking like there will be much of that as January will be packed with matches like never before. This is the upcoming schedule for the first month of 2021...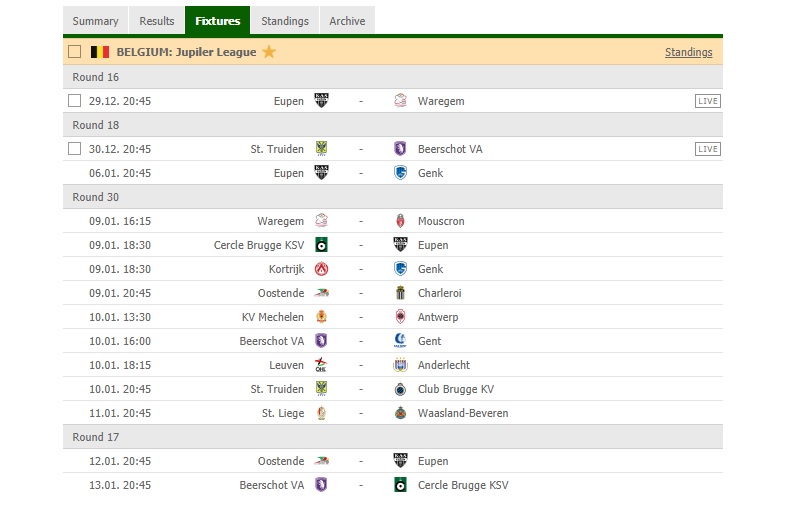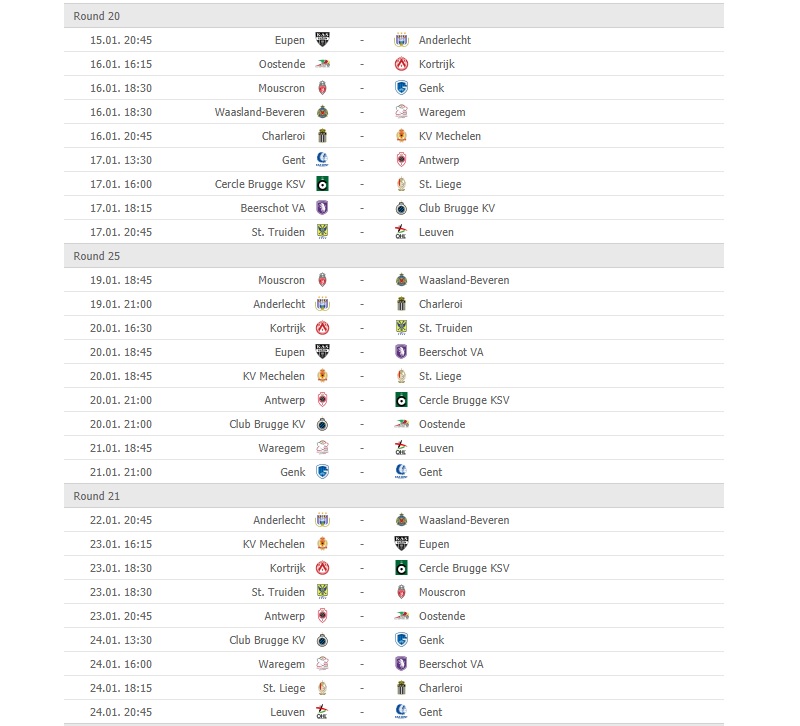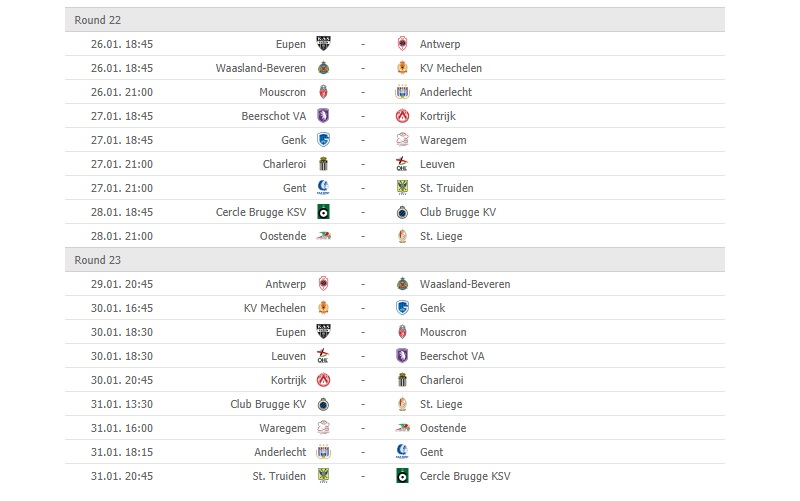 So yeah, for January it will be key to be in a very good mindset and keep a very tight routine if I want to get the most out of it. Not being in a good state of mind poses the danger of getting crushed or missing out on a lot of action. So I am to make the best of it and have it as a really fun and exciting period but I will need to make a switch in the end-of-year mindset I am in right now. Key for the next 2 weeks will be to Eat Healthy, Work Out, and Sleep Enough. Those 3 things I have experienced really important having a major influence on sharpness when it comes down to betting.
Right now I'm kind of lacking those and am more focussed on 'not losing' while slowly getting my stakes up. Week 19 was quite uninspiring and one of those weeks where a small losing week could easily have been a small winning week.

Pre-Game bets shared in the previews continue to hold up going 2W-1L-2P with a minor +0.386 unit profit and I certainly became more selective. Overall after 19 weeks, there were 154 bold selections good for +16.91% ROI on flat stakes.
---

Unless something too good to skip comes up or if I feel that I'm getting into the zone, I likely won't have any bets on Copytip and the SBC Discord Channel as official bets. I never really aim to force the actions and I'm quite pleased the way things are going right now. In the end being profitable on the bets I take myself is the main goal. Everything else in terms of earnings from copytip, blogging, affiliates is just a nice bonus.
Copytip /Discord Bets Season 2020-2021
11/12/2020 Racing Genk +0 @ 1.945 FT 1-0 LOST
01/11/2020 Antwerp +0 @ 2.500 FT 1-0 LOST
03/10/2020 OHL vs Zulte 1H U 1.25 @ 1.989 HT 1-0 HALF WON
30/08/2020 Club Brugge -0.25 @ 1.846 (20' 0-0) FT 2-1 WON
22/08/2020 Zulte Team Total over 2 @ 1.924 (37' 1-0) FT 4-1 WON

---

I take all my Pre-Game & Live bets with my Betting Broker Sportmarket Pro who always provide the best offers on the market with a 1 click solution and don't limit winning players offering high limits. For more info check my Sportmarket Pro Review
---
The season's overall results chart remains looking quite solid and it will be interesting to see what it will do next month with plenty of action. As I am slowly increasing my stakes, the pink line should also slowly take a slightly steeper angle and the swings might also increase a bit.
Previous Personal Results 2020-2021

Week 19 Results 36 Bets | 16W-17L-03P | Staked 08.248u | -0.388u Loss..
Week 18 Results 34 Bets | 06W-07L-03P | Staked 09.184u | +2.006u Profit
Week 17 Results 16 Bets | 06W-07L-03P | Staked 04.340u | -0.364u Loss..
Week 16 Results 34 Bets | 10W-22L-02P | Staked 08.852u | -2.430u Loss..
Week 15 Results 50 Bets | 37W-33L-14P | Staked 20.970u | +2.644u Profit
Week 14 Results 50 Bets | 25W-18L-07P | Staked 13.498u | +3.146u Profit
Week 13 Results 47 Bets | 20W-20L-07P | Staked 10.676u | +0.660u Profit
Week 12 Results 61 Bets | 23W-31L-06P | Staked 14.378u | -1.700u Loss..
Week 11 Results 45 Bets | 22W-20L-03P | Staked 12.672u | +0.804u Profit
Week 10 Results 44 Bets | 17W-20L-07P | Staked 11.058u | -1.140u Loss..
Week 09 Results 35 Bets | 17W-12L-06P | Staked 09.292u | +1.654u Profit
Week 08 Results 58 Bets | 29W-24L-05P | Staked 15.844u | +5.014u Profit
Week 07 Results 62 Bets | 36W-21L-05P | Staked 15.666u | +3.696u Profit
Week 06 Results 43 Bets | 11W-28L-05P | Staked 12.086u | -3.610u Loss..
Week 05 Results 41 Bets | 23W-14L-04P | Staked 09.880u | +2.590u Profit
Week 04 Results 39 Bets | 16W-18L-05P | Staked 12.258u | -0.604u Loss..
Week 03 Results 44 Bets | 19W-17L-08P | Staked 11.580u | +2.748u Profit
Week 02 Results 21 Bets | 08W-12L-01P | Staked 05.972u | -1.096u Loss..
Week 01 Results 15 Bets | 04W-10L-01P | Staked 05.618u | -2.724u Loss..

 Regular Season 2020-2021 Results
808 Bets | 356W-358L-95P | 212.071 Staked | +10.791u Profit | +5.09% ROI


---

Season 2019-2020 | 1406 Bets +2.48% ROI
Season 2018-2019 | 1090 Bets +2.47% ROI
Season 2017-2018 | 821 Bets +7.22% ROI

---

2 more matches this year and I will likely just cover them on the SBC Discord channel not making a preview post on them. The betting results of these will be included in the next results post on the 12th of January.

---

Hive: https://hive.blog/@costanza
Publish0x: https://publish0x.com/costanza
Twitter: https://twitter.com/costanzabets