This is a weekly overview of my personal handicapping and live betting results on teams from the Belgian Jupiler League with some insights on my overall approach.
I picked up a lot of confidence in week 3 when it comes down to handicapping the league. Teams are getting used to the empty stadiums, the weather is normal again and the drinking breaks are no more. This along with the fact that more matches have been played which gives me a better grip on all the teams made it into a solid profitable week despite the fact that there were many surprising results with the top teams underperforming.
Despite the fact that I never had a losing season handicapping the Belgian League in the last 10+ years, I always continue to question myself if it is all still profitable or if I need to make adjustments. Few sports bettors do this as most of them will blindly believe they are beating this market while they are stuck in micro stakes which pretty much contradicts this.
Starting from all over again from zero each season keeping very close track of all bets in a way works really motivating as I just can't allow myself to play with a losing expectation. This week really gave me a big boost and I'm highly looking forward to what's to come!
---

I had my first official bigger stake bet this week both taken on Copytip where these can be followed automatically and shared in the SBC Discord Channel where it can be followed manually. The bet ended up as a nice and easy winner. I haven't had an official pre-game bet yet (Shared on my Blog, Twitter & also taken on Copytip) but I'm sure they will come along eventually. I am quite tight on these as I need to see a clear edge while limits also need to be high enough on these for the odds not to get crushed by taking it myself.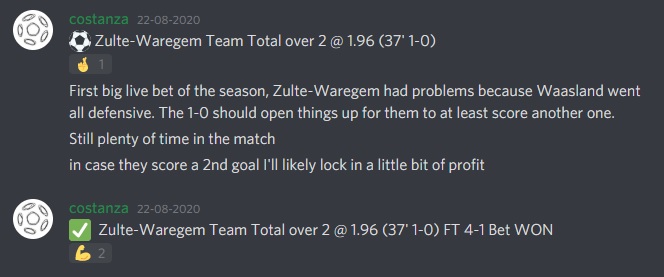 Discord Live-Bets Season 2020-2021
22/08/2020 Zulte-Waregem Team Total over 2 @ 1.96 (37' 1-0) FT 4-1 Bet WON

 


I take all my Live bets with my Betting Broker Sportmarket Pro who always provide the best offers on the market with a 1 click solution and don't limit winning players offering high limits. For more info check my Sportmarket Pro Review
---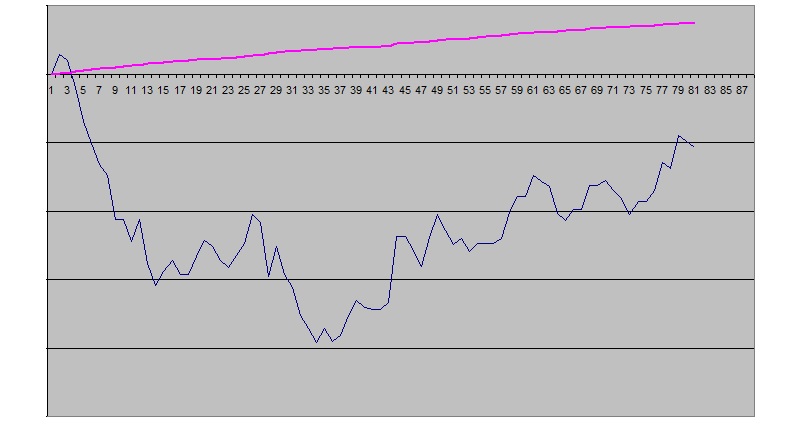 I'm looking to continue the trend of the last week getting back up in the green zone and hopefully above the pink expected line. My stakes in week 3 remained on the conservative side and I do plan on slowly but surely get them to normal again as I'm picking up confidence.
---
Previous Personal Results 2020-2021
Week 03 Results 44 Bets | 19W-17L-08P | Staked 11.580u | +2.748u Profit
Week 02 Results 21 Bets | 08W-12L-01P | Staked 05.972u | -1.096u Loss..
Week 01 Results 15 Bets | 04W-10L-01P | Staked 05.618u | -2.724u Loss..
Regular Season 2019-2020 Results
80 Bets| 31W-39L-2P | 23.170 Staked | -1.0730u Loss |-4.63% ROI
Season 2019-2020 | 1406 Bets +2.48% ROI
Season 2018-2019 | 1090 Bets +2.47% ROI
Season 2017-2018 | 821 Bets +7.22% ROI
---
On to the next week, I already have a lot of ideas for bets which usually is a good sign!
---
Hive: https://hive.blog/@costanza
Publish0x: https://publish0x.com/costanza
Uptrennd: https://www.uptrennd.com/user/costanza
Twitter: https://twitter.com/costanzabets