This is a weekly overview of my personal sports trading results on teams from the Belgian Jupiler League documenting my journey toward long-term profit with some insights on my overall approach.
Week 16 was one of those where things simply didn't click. I had 1 big position which didn't turn out as I anticipated making up for the biggest part of my loss this week. Other matches just didn't have the proper setups with red cards killing most of the action and the odds overall were quite sharp. I wrote last week that my staking was going more toward flat betting again but with smaller stakes setting myself a goal to increase them each week a bit at a time which is what I started to do. There was a lot less action though and I got more conservative on bigger bets after seeming Genk lose their match.
There are 3 weeks of matches still to be played before the end of the year and the winter break and I will continue just as planned. Most bets will be smaller flat bets on which I will keep increasing the actual stakes a bit.

I kept the bold selection to an absolute minimum for good reasons and actually managed to not lose there going 1W-1L-1P on the 3 selections. I do still expect a correction to the downside at some point in the pre-game selections but for now, I managed to dodge that bullet.

I did pull the trigger to bet 1 bigger bet again seeing some good value on it also taking it up on Copytip and the SBC Discord Channel as an official selection. I didn't take it in BTC as odds available there were just too much below what I was comfortable with. It did end up losing which didn't really help when it comes down to my overall confidence of making bigger calls. I will see where this goes as the season moves forward.
Copytip /Discord Bets Season 2020-2021
11/12/2020 Racing Genk +0 @ 1.945 FT 1-0 LOST
01/11/2020 Antwerp +0 @ 2.500 FT 1-0 LOST
03/10/2020 OHL vs Zulte 1H U 1.25 @ 1.989 HT 1-0 HALF WON
30/08/2020 Club Brugge -0.25 @ 1.846 (20' 0-0) FT 2-1 WON
22/08/2020 Zulte-Waregem Team Total over 2 @ 1.924 (37' 1-0) FT 4-1 WON

I take all my Pre-Game & Live bets with my Betting Broker Sportmarket Pro who always provides the best offers on the market with a 1 click solution and doesn't limit winning players offering high limits. For more info check my Sportmarket Pro Review
---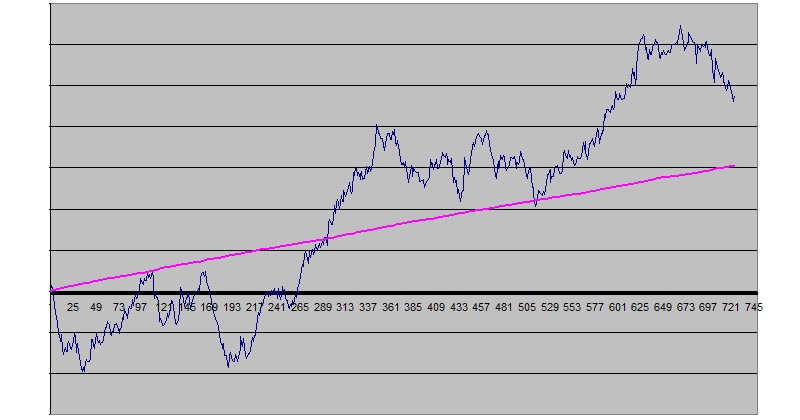 I'm still trending above the expected profit line but this week also shows how little is needed to drop back down especially since I started increasing the bet size of my regular small bets a bit. The pattern often goes like this: Get in a big hot run building up a lot of confidence, move up in stakes causing some more doubt, see some regression to the mean kick in to lose confidence and get in somewhat of a negative spiral quickly losing ground because stakes now are higher. I went through this cycle countless times and will be very aware of it now which is the reason I'm only slowly increasing my stakes week-by-week at the moment. Right now there is not all too much to worry about and even with these cycles, everything so far always worked out well in the long run thanks to proper bankroll management (which very few sports bettors have)
---
Previous Personal Results 2020-2021
Week 16 Results 34 Bets | 10W-22L-02P | Staked 08.852u | -2.430u Loss..
Week 15 Results 50 Bets | 37W-33L-14P | Staked 20.970u | +2.644u Profit
Week 14 Results 50 Bets | 25W-18L-07P | Staked 13.498u | +3.146u Profit
Week 13 Results 47 Bets | 20W-20L-07P | Staked 10.676u | +0.660u Profit
Week 12 Results 61 Bets | 23W-31L-06P | Staked 14.378u | -1.700u Loss..
Week 11 Results 45 Bets | 22W-20L-03P | Staked 12.672u | +0.804u Profit
Week 10 Results 44 Bets | 17W-20L-07P | Staked 11.058u | -1.140u Loss..
Week 09 Results 35 Bets | 17W-12L-06P | Staked 09.292u | +1.654u Profit
Week 08 Results 58 Bets | 29W-24L-05P | Staked 15.844u | +5.014u Profit
Week 07 Results 62 Bets | 36W-21L-05P | Staked 15.666u | +3.696u Profit
Week 06 Results 43 Bets | 11W-28L-05P | Staked 12.086u | -3.610u Loss..
Week 05 Results 41 Bets | 23W-14L-04P | Staked 09.880u | +2.590u Profit
Week 04 Results 39 Bets | 16W-18L-05P | Staked 12.258u | -0.604u Loss..
Week 03 Results 44 Bets | 19W-17L-08P | Staked 11.580u | +2.748u Profit
Week 02 Results 21 Bets | 08W-12L-01P | Staked 05.972u | -1.096u Loss..
Week 01 Results 15 Bets | 04W-10L-01P | Staked 05.618u | -2.724u Loss..
 Regular Season 2020-2021 Results
 722 Bets | 316W-321L-86P | 190.299 Staked | +9.537u Profit | +5.01% ROI

---
Season 2019-2020 | 1406 Bets +2.48% ROI
Season 2018-2019 | 1090 Bets +2.47% ROI
Season 2017-2018 | 821 Bets +7.22% ROI
I'll be back with a lot more previews and bets later today & the results next week...