This week an interesting Fire Splinter Tank is being highlighted in the Share Your Battle Challenge. This is the Moten Ogre!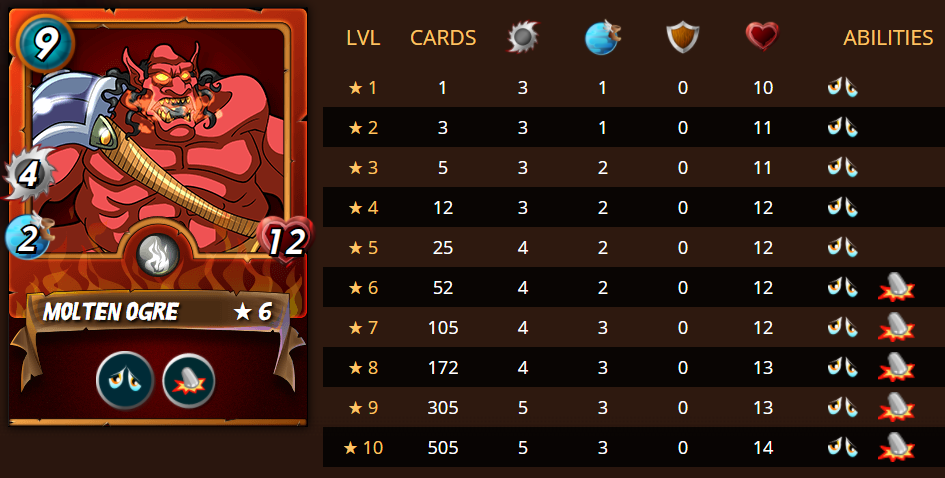 The molten Ogre is one of the Old Promo cards that give +10% Extra DEC Earnings when using it in your team. I'm currently leasing 21 of them out to some that have taken me up on the Sign-Up Promo Deal I am offering and have 4 more left at the moment to go out. It recently has become a lot more useful at level 6 with the Stampede ability combined with the Giant Roc which also has this ability if rules allow infinite stampeded. I also highlighted this card in a past article on Unbeatable Power Combos which is how I used the card in this game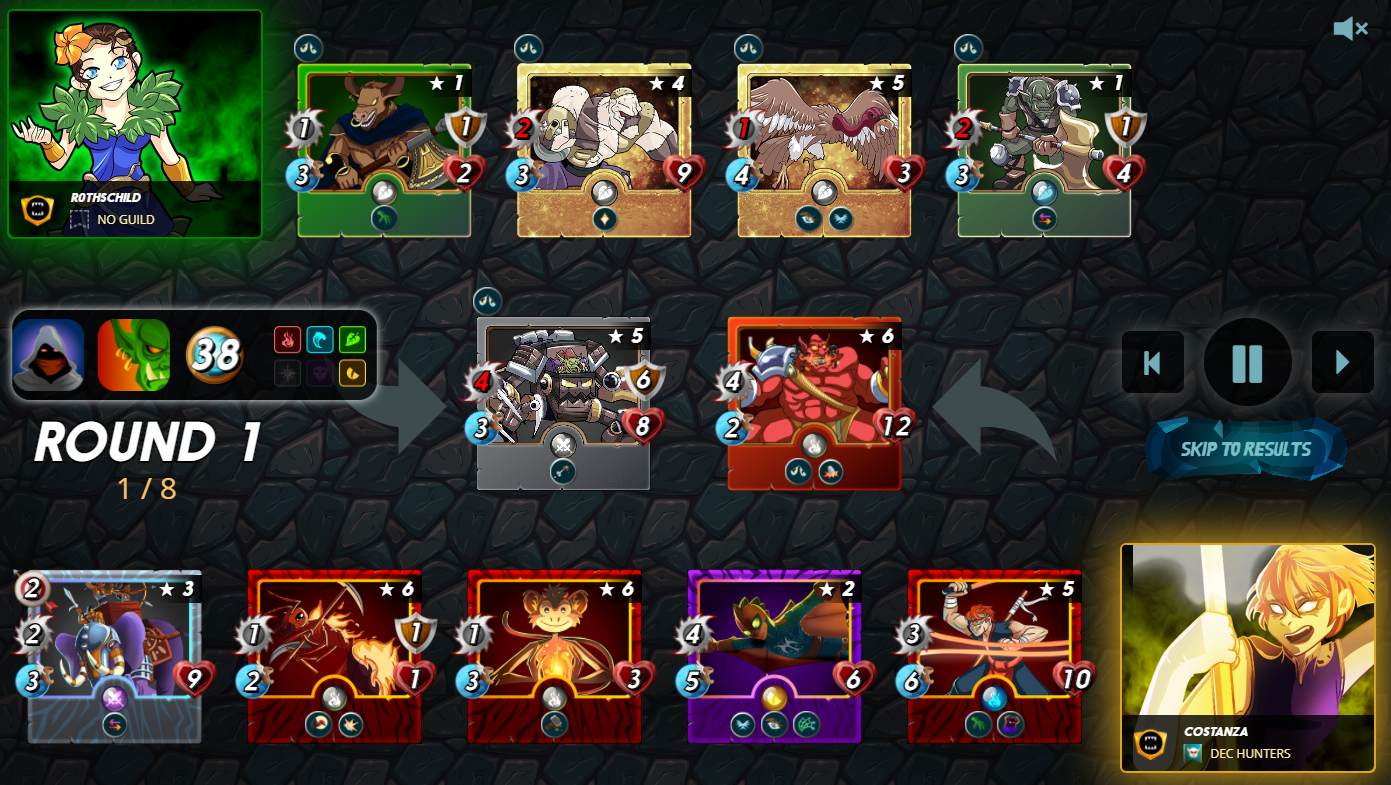 The combination of the Camila Sungazer Summoner and the Molten Ogre in matches where only Melee monsters are allowed is extremely strong as it reduces the attack of all the enemy monsters by 2. add to that other powerful Melee cards like the Fineas Rage, The Dragon Jumper and the War Chaang which allows ranged damage with these game rules and there should always be enough of an edge over the opponent unless they play a similar line-up. Both the Flame Monkey and Ant Miner is a combo to potentially silence all the opportunity attacks from the opponent.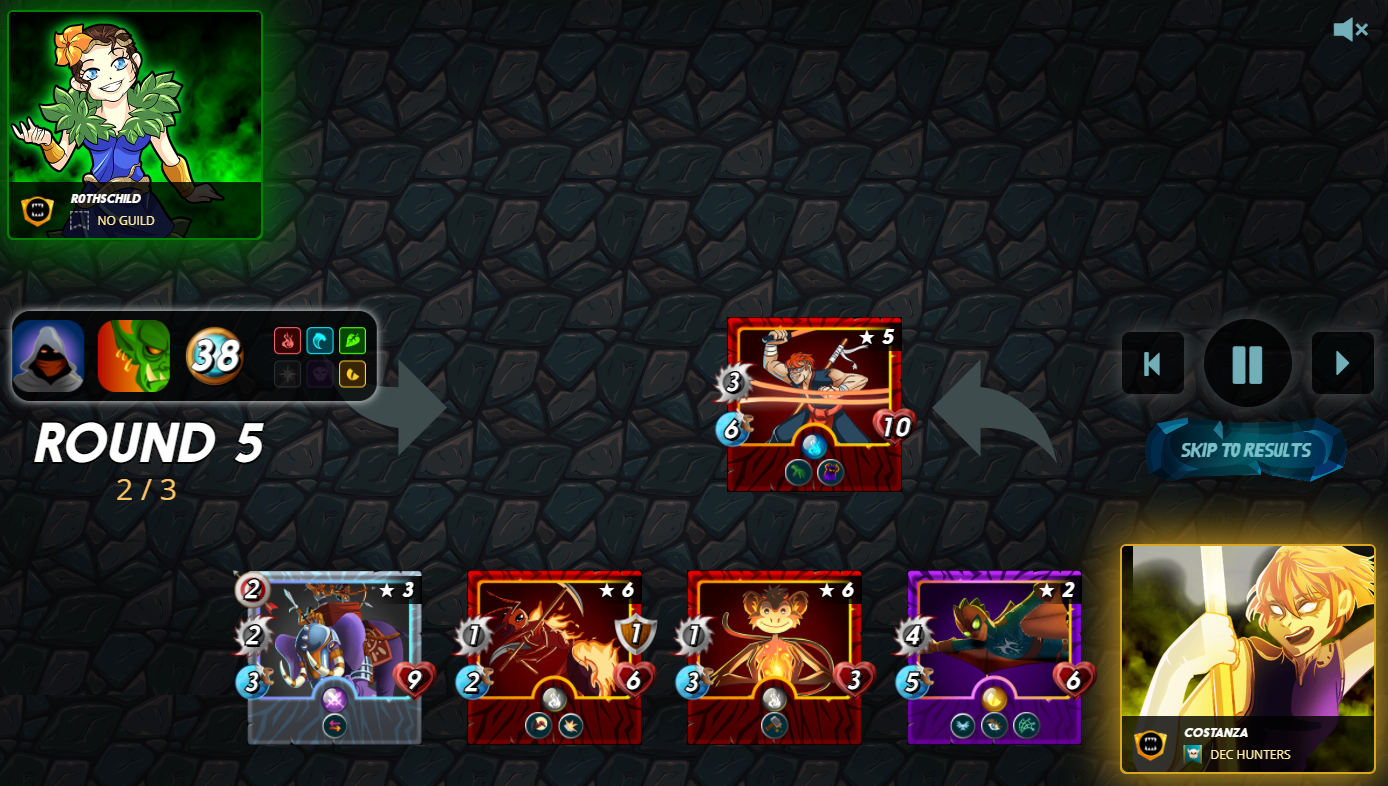 Using this strategy in matches where only Melee attach monsters are allowed stays pretty effective. The Molten Orge is one of those cards that is not really all too expensive and certainly worth having in your collection to really get an edge on specific game rules.
---
---
Previous Weekly Challenges
Splinterlands | Water Elemental
Splinterlands | Stonesplitter Orc
Splinterlands | Grim reaper
Splinterlands | Defender Of Truth
Splinterlands | Dragon Summoner
Splinterlands | Exploding Dwarf
Splinterlands | Sea monster
Splinterlands | Mitica Headhunter
Splinterlands | Death elemental
Splinterlands | Feral Spirit
Splinterlands | Mantoid
Splinterlands | Naga Brute
Splinterlands | Flamesmith
Splinterlands | Sabre Shark
Splinterlands | Earth Elemental
Splinterlands | Screaming Banshee
Splinterlands | Silvershield Sheriff
Splinterlands | Rusty Android
---
JOIN THE CHALLENGE
All Splinterlands players are free to join this Weekly Challenge (regardless of your rank) and will get rewarded by the team with Upvotes on Hive. If you haven't tried out the game yet, this is a great opportunity as it allows you to earn back the 10$ Price of the Summoner's Spellbook you need to get your Hive Private Keys after creating an account, share in the game rewards, get Daily Quests, join tournaments, Earn DEC for each Ranked Win,...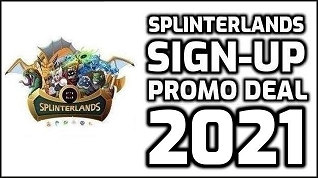 I continue to play the game and offer a win-win sign-up deal in 2021 for everyone that starts out with the game using my Referral Link. I updated what I'm offering recently see Full Sign-Up Deal and I will keep this in place normally during the entire year.
To see what can be expected in terms of earnings from the Splinterlands game, check my detailed monthly earnings reports...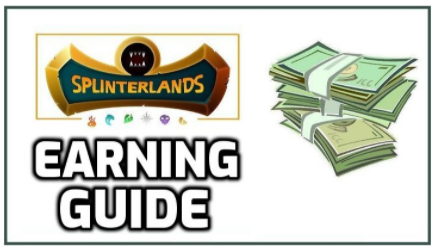 I also made a complete guide on how to go about things as a new player to have the best chance to reach these kinds of monthly earnings from the game in 2021. See How To Earn 100$+ Monthly (Complete Guide)
To understand what the game is about and how it can be played check the video below!
Important: Treat games in the first place as games and not as investment opportunities, Splinterlands allows you to earn some money and get good returns but you are much better off flipping burgers in Mcdonalds when looking at the money earned for the time invested.
---
Hive: https://hive.blog/@costanza
Publish0x: https://publish0x.com/costanza
Twitter: https://twitter.com/costanzabets