This has been the 8th month were I closely track my Splinterlands earnings and I plan to continue doing this for an entire year. I'm hoping this gives a clear view of what can be expected attracting some new players in the process.
Reward Adjustments
I have been saying and showing for a long time that the game is giving out way too many rewards. This has been adjusted with the implementation of the Collection Score system which makes it way harder to milk reward with lower value accounts. While I fully agree that something had to be done, the way they have gone about it in my view is completely retarded as it gives all the wrong signals to new players who will instantly be locked in Bronze 3. Taking up the Sign-Up Deal, it should instantly put you at a collection score of 5000+ which gets up to Bronze 1 rewards without extra investment.
It will be interesting to see how my own earnings will be affected next month as my 2nd account is stuck in Gold 1 now. The leasing market has gotten a boost already and it remains to be seen if more people buy extra cards instead of dumping their collections because of the changes. I still believe the game is enjoyable to play and when you go about it in a smart way it's possible to do well on the earnings/returns you can get from it.
---
August 1st Collection Value
I continue to hold on to all my cards and haven't sold a single one this year. I started the month of August with a total collection value of 939.73$ which allowed me to reach Champion 1 & 2 leagues.

I continue to keep track of my earnings day by day just for completing the daily quests which on average takes 25-30 minutes both accounts combined. I'm holding on to all the DEC I am earning in anticipation for the price to increase to around 0.85$ for 1000 DEC and for the Land Sale that is coming. I calculated everything at the current DEC Price(~0.000504$ for 1 DEC)
Month Daily Quest Results main Level 5 Account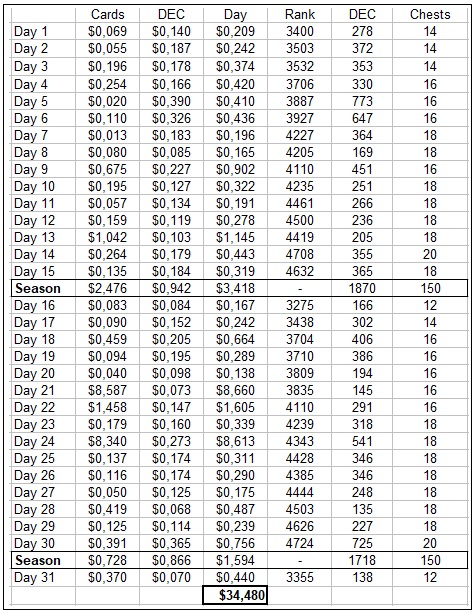 Month Daily Quest Results alt Level 3 Gold Cards Account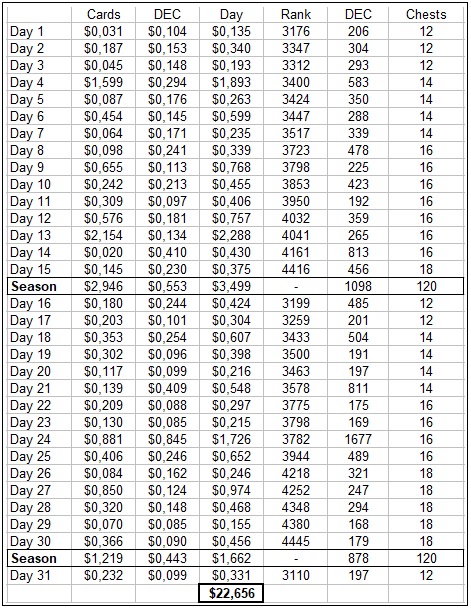 August was a very solid month in earnings just by playing 20 minutes each day to complete the daily quests as it all added up to ~57$ despite both the card values and the DEC price being on the low side. The key as always is consistency. Individual daily rewards might be not much but they certainly add up and it's a matter of time before receiving something really valuable from the rewards.
---
August Reward Cards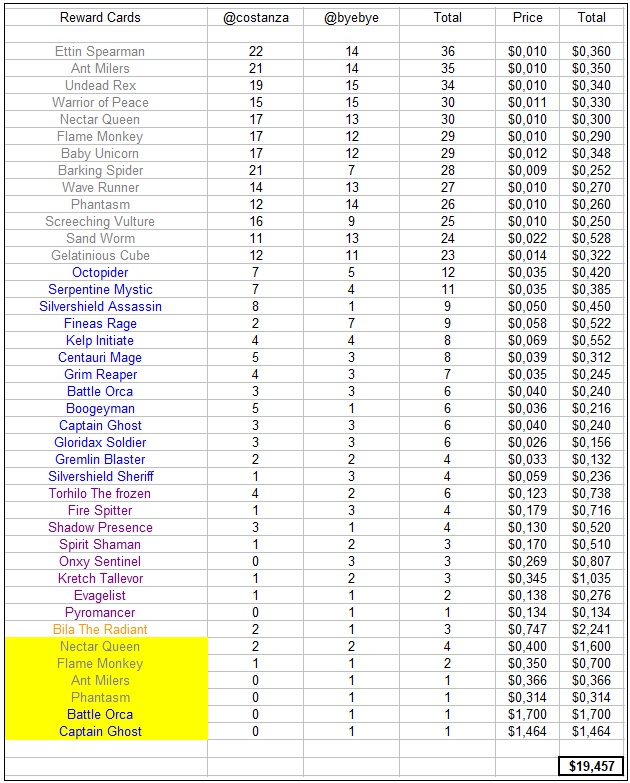 The current value of all reward cards I got from the Loot Chests was very similar to last month adding up to 19.457$
---
August Untamed Pack Card Rewards
I got a total of 10 untamed packs during the last month of which one included an expensive Legendary Summoner and a Golden Epic card. The Potions used on these packs really do seem to make a difference.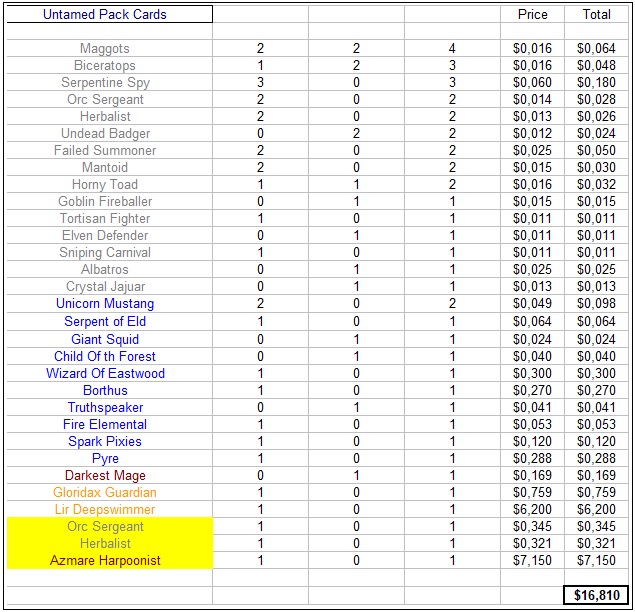 This puts the total value of all the earned cards just by playing the game last month at 36.267$ based on current market prices.
---
---
August DEC Earnings
I am no longer getting everything out to the DEC earnings as I mostly stuck to completing the daily quests most times leaving my capture rate at 100%. My overall DEC earnings added up to 32967 DEC (17426 + 15541) which is a decrease of -12% compared to last month. Given the fact that it saves me some time I don't mind all too much.
All combined at the current DEC price of 0.000504$ it adds up to 16.62$ which I all added to my DEC savings stack.
---
August Affiliate Earnings
I continue to add at least a couple of new Affiliates each month as my Referral Link for as far as I know is the most favorable to sign up with for new players. (See Sign-Up Deal). The total number of Referrals that ended getting the Summoner's Spellbook right now is at 45 with most of them continuing to play the game adding to their collection. This added up to 53.789$ in earnings last month which I all re-invested in more cards to lease out being able to improve on the deal I'm offering.
Affiliate Promotion Cards

The Splinterlands team continues to run a promotion where everyone who signs up using a referral link will receive 1 random card from the @sl-giveaways account when they buy the 10$ summoner's spellbook. The account from which the referral link was used also receives 1 random card. This added 7 cards to my collection which have a combined value of 0.203$. For one of them I didn't get a popup and I have no idea which card it was.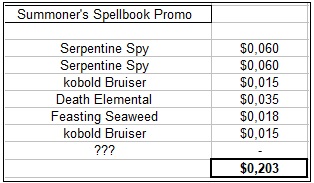 ---
August Splinterlands Blogging Earnings
I continue to join the weekly Share Your Battle Challenge & Social Media Challenge which are excellent ways that allow Splinterlads Players who engage in the community to earn a bit more. Blogging earnings from 7 posts added up to 30.267$
---
August Monstermarket Cashback
Buying cards from the market on Monstermarket.io gives 3% cashback instantly paid out in DEC. By re-investing the Affiliate earnings into more cards, this added up to 2852.502 DEC (1.438$)
---
TOTAL AUGUST EARNINGS
All numbers are based on current minimum values in case I would sell everything I right now have from last month's earnings in terms of HIVE/ STEEM / Cards / DEC / Credits / ...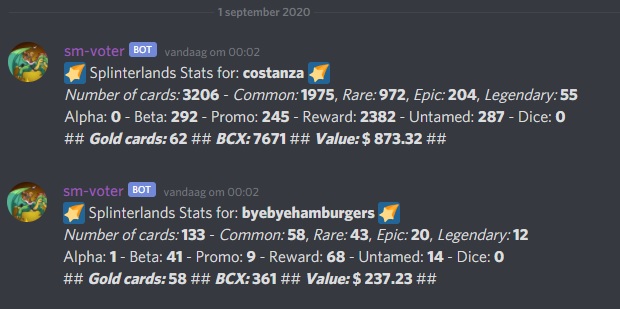 ---
Previous Months
July Splinterlands Earnings | +112.81$
June Splinterlands Earnings | +105.774$
May Splinterlands Earnings | +180.384$
April Splinterlands Earnings | +133.927$
March Splinterlands Earnings | +76.153$
February Splinterlands Earnings | +105.25$
January Splinterlands Earnings | +136.44$

---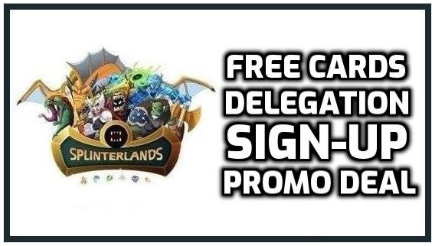 If you want to try out Splinterlands for free and use my Referral Link you will get a great head start in case you end up getting the 10$ Summoner's Spellbook which unlocks rewards and so much more as I will lease a whole bunch of extra cards to you getting your collection score to 5000+ instantly (See Full Promo Sign-Up Deal).
Here is a short Gameplay Tutorial for those who are looking to test the game for themselves...
Important: Treat games in the first place as games and not as investment opportunities, Splinterlands allows you to earn some money and get good returns but you are generally much better off flipping burgers in Mcdonalds when looking at the money earned for the time invested.



---

Hive: https://hive.blog/@costanza
Publish0x: https://publish0x.com/costanza
Uptrennd: https://www.uptrennd.com/user/costanza
Twitter: https://twitter.com/costanzabets