September was the first full month after both the Collection Power & League Leaderboards system were implemented for the Splinterlands game. These are the results in terms of monthly earnings from the game...
The State of Splinterlands
Splinterlands succeeded in lowering the rewards that are given out after the updates which is a good thing as they were (and probably still are) giving out way too much to players. The League Rankings seem to have fractured the player base which means matchups right now are way less even. This mostly results in matches where the winner is known before the cards have even been selected. A more detailed view on this can be found in my post "Has Splinterlands Gone Pay2Win?". I do hope they manage to identify this major problem and fix it, or else I will most likely call it quits. In the first place, I want to play Splinterlands as an actual fun game with the rewards being a nice extra. The game right now stopped being fun and the only real reason to play at the moment is to grind out some rewards sadly enough. I will see how things progress in the coming months and give it some time for now.
September 1st Collection Value
I still haven't sold a single card yet this year and continue to just stack everything I earn. My total collection value at the start of August was ~1110$. My main account is not competitive in the Diamond league rankings while it manages to reach the Champions League still , nearly all matchups these days are against opponents with higher level summoners which simply is not fun. With my 2nd account, I'm competitive in the Silver league where nearly all the matchups are against Level 1 summoners which have no chance against my Level 3 Summoners. Easy to clear the daily challenges but again not fun or challenging as an actual gaming experience.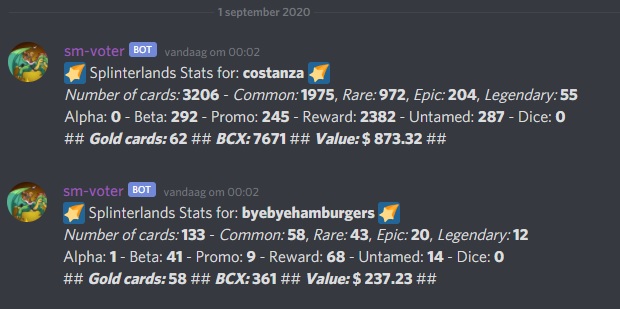 Since the number of loot chest rewards were drastically decreased (1521 in August vs 964 in September), I received a lot fewer cards (556 vs 354) from the rewards. The DEC payouts however have increased since both more DEC is being given out for each win and DEC itself increased quite some in value as predicted (See "Reasons DEC Price Will Go Up +33%"). Where it was at ~0.000504$ for 1 DEC last month, it is now steady at 0.000840$ for 1 DEC). I expect it to continue going toward the 1$ for 1000 DEC in anticipation of the upcoming Land Sale.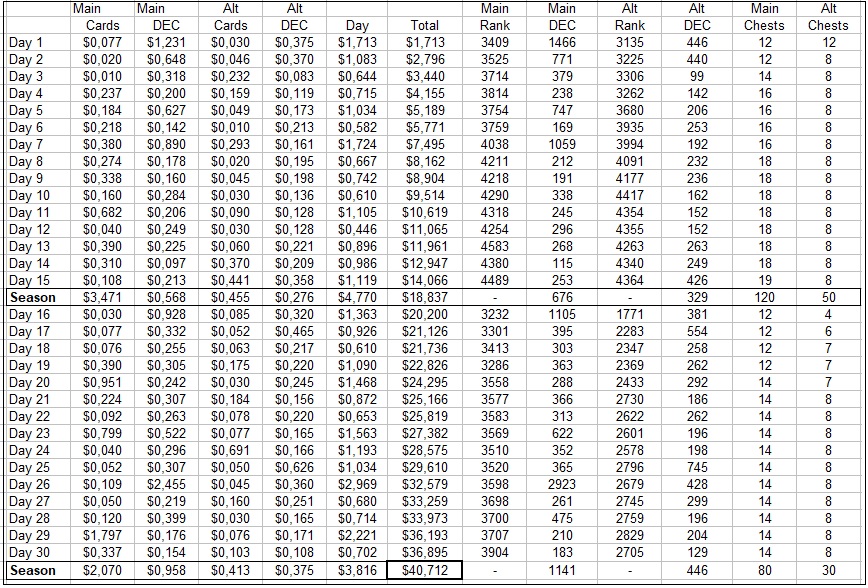 All this still gave around ~40$ of earnings just from completing the daily quests every single day of the month based on current DEC price and card prices on the day I got them rewarded.
---
September Reward Cards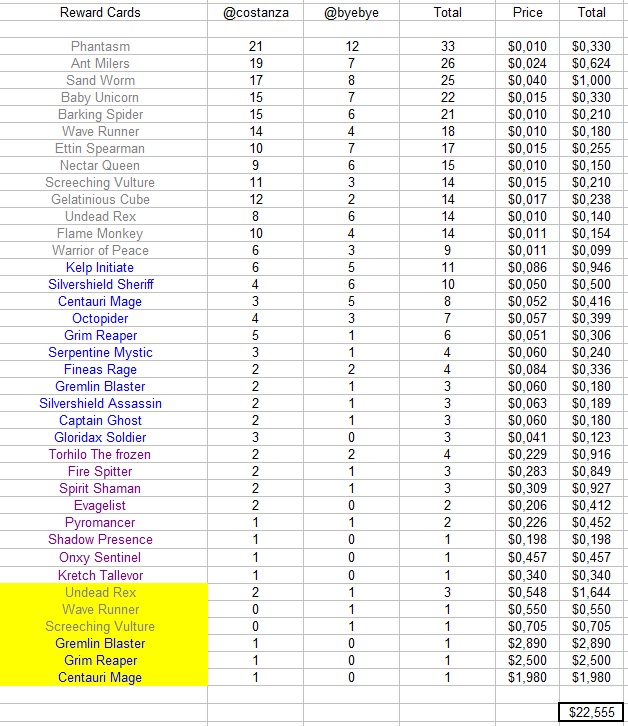 The current value of all reward cards I got from the Loot Chests was very similar to last month adding up to 22.555$
September Untamed Pack Card Rewards
I got a total of 5 untamed packs during September (Compared to 10 the month before)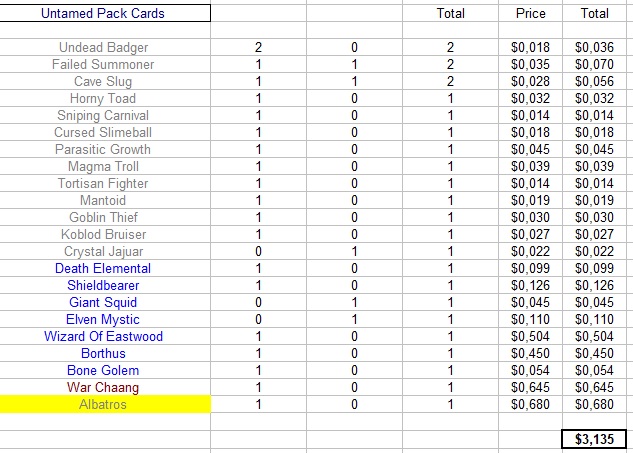 The value of cards from the 5 packs that were opened up with potions I have been earning added up to 3.135$
---
---
September DEC Earnings
My overall DEC earnings added up to 37655 DEC (24126 + 13529) which was quite a bit higher compared to the 32967 DEC last month. The fact that more is given out right now with the price having increased certainly motivates to not leave too much of my capture rate at 100%. All the DEC that I saved during the time the price was low (~300k DEC) has been locked into the Uniswap Liquidity Pool and bring about at least some rewards. (Special thanks to @stimp1024 for taking my DEC up in his staking pool!)
All combined at the current DEC price of 0.00084$ it adds up to 31.63$!
---
September Affiliate Earnings
I continue to add at least a couple new Affiliates each month as my Referral Link for as far as I know is the most favorable to sign up with for new players. (See Sign-Up Deal). Most Affiliate earnings these days are from someone buying the summoner's spellbook as most that buy cards or packs do it using DEC which is slightly cheaper at the moment. Since DEC payouts to affiliates were removed a while back, it does feel like the devs loopholed their way out of paying those that bring in a lot of players (unless the DEC from these purchases gets burned which I doubt.). Affiliate earnings have been lowest so far and added up to 4.588$ in September
Affiliate Promotion Cards

The Splinterlands team continues to run a promotion where everyone who signs up using a referral link will receive 1 random card from the @sl-giveaways account when they buy the 10$ summoner's spellbook. The account from which the referral link was used also receives 1 random card. The 2 cards this added to my collection are worth 0.031$
---
September Splinterlands Blogging Earnings
I continue to join the weekly Share Your Battle Challenge & Social Media Challenge as I do enjoy the writing of posts like this one. I again made 7 Splinterlands Related Posts last month where I manage to get multiple sources of earnings from. I will from now on count the Hive/Publis0x/Splintertalk values of them. Some that are related to financials also earn some LEO tokens but I won't count those.
I wrote a post last month about the Splintertalk.io platform and the SPT token it runs on. I kind of sold myself on it while making that post and have been valuing SPT a lot more. I continue to stake all the SPT I earn instantly leasing it out to @monster-curator which shares 100% of the daily curation rewards. I also managed to buy some more SPT in anticipation of the game to give a function to it which is something that is planned. The total value of SPT tokens from my posts added up to 3.59$.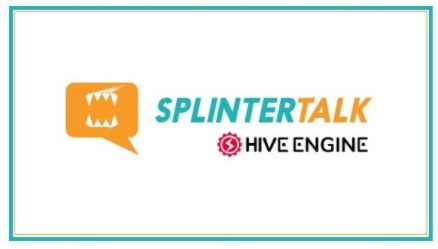 All Blogging earnings combined added up to 29.65$ (this is the net amount after subtracting curation rewards and such)
---
September Monstermarket Cashback
Buying cards from the market on Monstermarket.io gives 3% cashback instantly paid out in DEC. With the lower affiliate earnings, I had fewer cards I could buy so DEC Cashback only added up to 632.201 DEC which equals 0.53$
---
---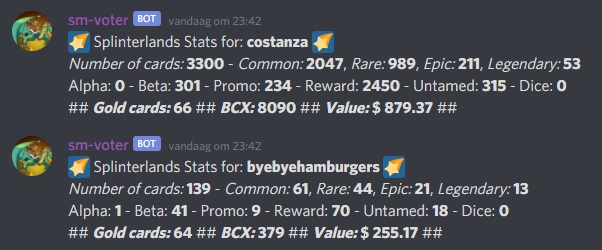 ---
Previous Months
August Splinterlands Earnings | +138.59$
July Splinterlands Earnings | +112.81$
June Splinterlands Earnings | +105.774$
May Splinterlands Earnings | +180.384$
April Splinterlands Earnings | +133.927$
March Splinterlands Earnings | +76.153$
February Splinterlands Earnings | +105.25$
January Splinterlands Earnings | +136.44$

---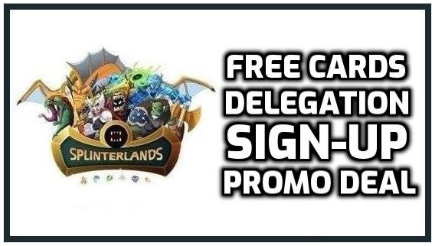 If you want to try out Splinterlands for free and use my Referral Link you will get a great head start in case you end up getting the 10$ Summoner's Spellbook which unlocks rewards and so much more as I will lease a whole bunch of extra cards to you getting your collection score to 5000+ instantly (See Full Promo Sign-Up Deal).
Here is a short Gameplay Tutorial for those who are looking to test the game for themselves...
---
Important: Treat games in the first place as games and not as investment opportunities, Splinterlands allows you to earn some money and get good returns but you are generally much better off flipping burgers in Mcdonalds when looking at the money earned for the time invested.
---
Hive: https://hive.blog/@costanza
Publish0x: https://publish0x.com/costanza
Twitter: https://twitter.com/costanzabets