Bitcoin Breaks $11.8K; BTC in DeFi Doubles in August;
Grayscale: Bitcoin Market 'Looks Like 2016, Before Historic Bull Run';
'Largest Collaboration of Crypto Artists in History' is Set for Launch;
Medalla Testnet Problems 'Will Not Delay ETH 2.0' Says Prysmatic Labs;
Shock: Ethereum Miners Against Proposal to Reduce Block Rewards by 75%;
🗞 Daily Crypto Calendar, August, 21st 💰
Welcome to the Daily Crypto News: A complete Press Review, Coin Calendar and Trading Analysis. Enjoy!
Bitcoin's price is trending up while August has been a hot month for the cryptocurrency in decentralized finance.
Bitcoin (BTC) trading around $11,857 as of 20:00 UTC (4 p.m. ET). Gaining 1.3% over the previous 24 hours.
Bitcoin's 24-hour range: $11,568-$11,891
BTC above its 10-day and 50-day moving averages, a bullish signal for market technicians.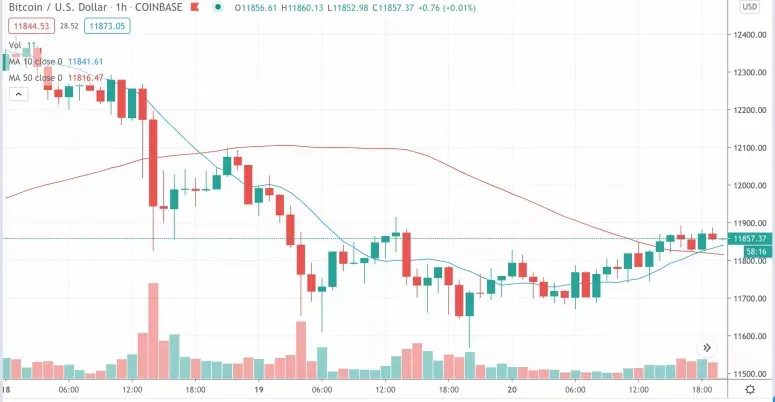 Bitcoin is on the uptrend, going as high as $11,891 with buyers outnumbering sellers in the market Thursday. "This is similar to what we saw on Sunday, Aug. 9 – a quick move from $11,500 to $12,000 and then back to $11,300," said John Willock, CEO of crypto asset manager Tritum. "Maybe we've got $13,500 in the next phase up in the coming days," he added.
In the bitcoin options market, open interest (the number of outstanding contracts) is starting to level off after passing the $2 billion mark for the first time since July.
Bitcoin on DeFi doubles in August
A new report by crypto fund manager Grayscale Investments argues that the current Bitcoin (BTC) market structure "parallels that of early 2016 before it began its historic bull run."
Grayscale predicts that demand for Bitcoin will significantly grow as inflation accelerates, highlighting the need for a scarce monetary commodity, bolstering the use-case of the cryptocurrency.
Quoting Jones, the report noted:
"What was surprising to me was [...] that Bitcoin scored as high as it did. Bitcoin had an overall score of nearly 60% of that of financial but has a market cap that is 1/1200th of that. It scored 66% of gold as a store of value, but has a market cap that is 1/60th of gold's outstanding value."
A major art collaboration between a number of crypto digital artists and a plot in Ethereum (ETH)-powered virtual reality world Cryptovoxels, called Pranksyland, is set to go live on August 25.
Game designer Pranksy bought a plot in the Cryptovoxel virtual world, and will now make it a gallery for a number of crypto artists to showcase their work to a wider Non-Fungible Token (NFT), cryptocurrency and artistic community. This will go down through an incentivized launching event that will be hosted by influencers in the NFT world. Pransky called it "the largest collaboration of Crypto based digital artists in history."
As a reminder, NFTs are a class of crypto-assets made possible by blockchain networks that support the creation of decentralized apps (dapps) through the deployment of smart contracts. They are unique tokens which may or may not represent a real-world asset deployed on the blockchain.
Nonetheless, Pranksy expects the highly anticipated launch of Pranksyland will:
"have the largest turnout for any virtual event yet held, potentially hundreds of attendees on the night - I think the crypto voxel servers are at threat."
Prysmatic Labs calls the Medalla testnet incident a "learning experience" and says the launch of ETH 2.0 can proceed as planned.
Rumors of the death of the Medalla testnet have been greatly exaggerated says Prysmatic Labs' editor Raul Jordan, who adds that despite the mishap, the launch timetable for ETH 2.0 remains on track.
Medalla — the final multi client testnet before ETH 2.0's phase 0 launch — came to a shuddering halt on August 14 when a bug took most of the testnet's validators offline.
The incident saw one of the testnet's six servers report the time and date as being one day into the future, which the system responded to by averaging out the discrepancy — resulting in the time kept by each of the servers being wrong by four hours.
The new EIP-2878 would reduce block rewards by 75% and has received sharp criticism from miners who say it will compromise the network's security.
A new Ethereum improvement proposal (EIP) has been met with sharp criticism from miners suggesting those behind the proposal are less interested in the network's security and more focused on investors' interests.
EIP-2878 proposes that block rewards be reduced by 75%, from 2 ETH per block down to 0.5 ETH. The rationale behind this EIP is to bring Ethereum's inflation rate closer into line with Bitcoin's (BTC) and to preserve ETH's purchasing power.
"The biggest consideration, in my opinion, should be the security of the network (i.e. how do we ensure the likelihood of 51% attacks remains low, how do we keep a diverse set of miners on the network, etc.)."
🗞 Daily Crypto Calendar, August, 21st💰
"This Friday, at 4 pm CEST, @MaximeGagnebin will host a live AMA on Lisk.chat to answer your questions."
"We're conducting a token swap on August 21st. This token swap will activate the full capabilities of Ocean Protocol for our upcoming v3..."
"The current estimated time of arrival is set to be on 21st August 1 PM UTC."
Crypto Players AMA with Xan Ditkoff and Louise Ivan.
Polkadot (DOT), Polkadot [IOU] (DOT)
DOT tokens undergo redenomination at block 1,248,328 (approximately 13:15 UTC). New DOT tokens are 100x smaller.
"Deposit: 13:00 on August 21, Trading: 16:00 on August 21 (GMT+8)"
Last Updates
➡️ Be paid daily to browse with Brave Internet Browser
➡️ A secure and easy wallet to use: Atomic Wallet
➡️ Youtube
➡️ LBRY
➡️ Publish0x
➡️ UpTrennd
➡️ Read.cash
➡️ Minds
➡️ Hive
➡️ Twitter
➡️ Facebook