Institutional FOMO? CME Bitcoin Futures Open Interest Soars to $841M;
Alarm Sounds As Hot & Unaudited DeFi Potato, YAM, Locks USD 387m In Hours;
Crypto-Friendly British App Revolut Reportedly Tripled Losses in 2019;
What Today's Robinhood Rally Has in Common With the Last Crypto Boom;
Crypto Porn Startup Says Its New Governance System Is Better Than DAOs;
🗞 Daily Crypto Calendar, August, 12th 💰
Welcome to the Daily Crypto News: A complete Press Review, Coin Calendar and Trading Analysis. Enjoy!
Today the open interest on Chicago Mercantile Exchange Bitcoin (BTC) futures reached a new all-time high at $841 million.
Although this can't be deemed bullish on a standalone basis, it does signal that professional investors' interest in Bitcoin continues to grow at an immense rate.
Further proof of this comes as MicroStrategy, a Nasdaq-listed company worth more than $1.2 billion, announced the acquisition of 21,000 Bitcoin for $250M.
Futures premium provides more useful data
The best way to gauge inventors sentiment on futures contracts is by measuring their premium versus Bitcoin's market price at spot exchanges. Typically, the indicator should display a 0.5% to 1% premium for 1-month contracts in CME futures.
By postponing the financial settlement date, it is only natural that sellers are required to put up more money.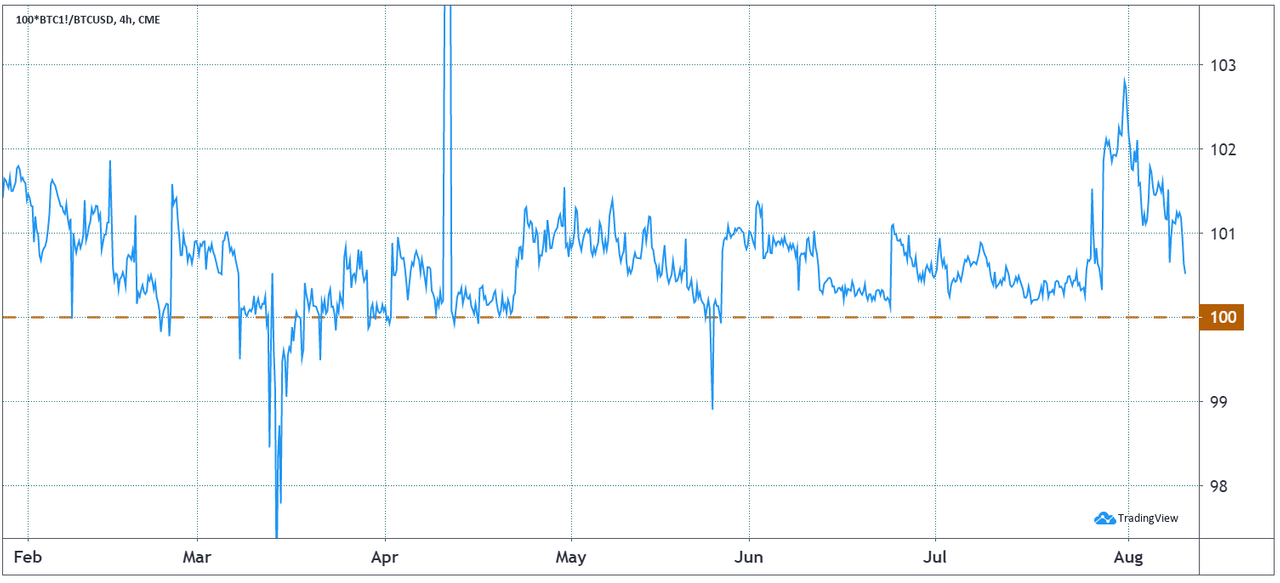 Apparently, decentralized finance (DeFi) is not risky enough for some people - the riskier the better(?). These have found a new thing to make seemingly popular, namely, pouring millions in an experimental and unaudited project.
First, there was yield farming in the wild world of DeFi, spiced up with governance tokens, and now some yield farmers have turned from already, objectively risky business to a freshly launched DeFi project - YAM.
Since its debut on the Uniswap decentralized exchange yesterday, its price increased by 26%, to almost USD 88 (10:54 UTC), while trading volume surpassed USD 12m in less than a day.

Revolut, a crypto-friendly trading app and one of the biggest fintechs in Europe, reportedly tripled its losses in 2019 despite growth in revenue and new customers.
The London-based company reportedly posted a total loss of more than 106 million British pounds ($139 million), up from about 33 million pounds ($43 million) in 2018.
Nik Storonsky, founder and CEO at Revolut, outlined that the massive losses in 2019 came despite a significant surge in customers, CNBC reports Aug. 11. "We increased daily active customers by 231% and the number of paying customers grew by 139%," Storonsky noted.
Everywhere you look, everyone is talking about Robinhood. At this point, the story is well told.
In March, Americans were told to stay at home. The basketball season was called off. President Donald Trump's daily briefings became the new national form of entertainment. And the stock market lost almost a third of its value.
Across the country, people downloaded Robinhood, the user-friendly investing tool that makes stock trading more fun than a game of Space Invaders. Some got involved as a replacement for sports betting, given no games would be played for the foreseeable future. Others became active on the app after they watched their tried-and-true strategy of holding the S&P index meltdown over the previous weeks. It was time to take matters in hand. Many started trading purely for the dopamine hit.
THE ROBINHOOD RALLY IS A REFLECTION OF THE CRYPTOCURRENCY INDUSTRY'S PAST. IN MANY WAYS, CRYPTO MARKETS DESERVE CREDIT FOR PAVING THE WAY FOR THIS NEW TRADING TREND.
PornVisory is moving to a decentralized governance structure based on the DFO standard, which allegedly allows greater user influence than DAOs.
Cryptocurrency pornography startup PornVisory is moving to a decentralized governance structure based on the (decentralized flexible organization) ​DFO standard.
According to PornVisory, DFO governance will enable token holders to propose changes and vote on governance aspects that will be subject to community voting. Platform users will need to stack the platform's PVY Ethereum-based tokens to access the governance system.
The announcement comes shortly before the first airdrop of the firm's PVY token scheduled for the end of the month.
"In a DFO users can cast votes in an anonymous and censorship-resistant way, because the code can be saved on-chain and becomes readable to all forever."
🗞 Daily Crypto Calendar, August, 12th💰

"Mark your calendars for our next Enjin adopter AMA with @LostRelicsGame developer @CliffCawley! August 12 at 7:00am UTC in the Enjin..."
"Next Wednesday, we welcome you all to the first Beam Community Call. A great chance to gain more insights into what's driving #BEAM..."
Chainlink (LINK), Solana (SOL)
"@Solana and @chainlink will be hosting an AMA in the Solana Korean Telegram channel on August 12th, 7 PM KST."
"@StaFi_Protocol will launch ONE's StakingDrop at 19:00 (UTC+8) 12 Aug, 2020 and is expected to airdrop 200,000 $FIS to ONE Stakers."
"Barring unexpected delays, Switcheo TradeHub will mint its genesis block on 12 August 2020."
Last Updates

➡️ Be paid daily to browse with Brave Internet Browser
➡️ A secure and easy wallet to use: Atomic Wallet
➡️ Youtube
➡️ LBRY
➡️ Publish0x
➡️ UpTrennd
➡️ Read.cash
➡️ Minds
➡️ Hive
➡️ Twitter
➡️ Facebook