Stuck at $11.5K, Bitcoin Surpasses 25K Locked in DeFi;
Ethereum Hits 2-Year High, ETH Fees at All-Time High, Bitcoin Dominance Slips;
Is Chainlink Poised for a Sell Off After Reaching New ATH? ;
How DeFi 'Degens' Are Gaming Ethereum's Money Legos;
Four of the Top Five South Korean Banks to Offer Crypto Services ;
🗞 Daily Crypto Calendar, August, 14th 💰
Welcome to the Daily Crypto News: A complete Press Review, Coin Calendar and Trading Analysis. Enjoy!
The spot bitcoin market was fairly dull Thursday. That doesn't mean it's not moving: Holders of the cryptocurrency are increasingly plowing it into decentralized finance.
Bitcoin (BTC) trading around $11,543 as of 20:00 UTC (4 p.m. ET). Slipping 0.50% over the previous 24 hours.
Bitcoin's 24-hour range: $11,274-$11,661
BTC slightly above its 10-day and 50-day moving averages, a bullish to sideways signal for market technicians.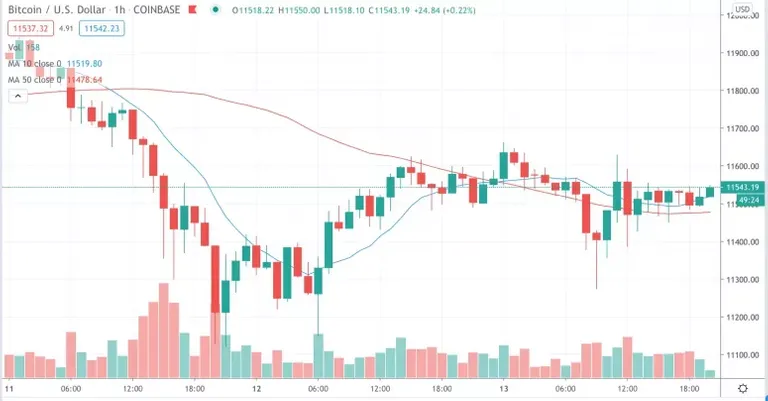 However, the state of the options market continues to suggest that traders anticipate a bumpier bitcoin ride over the longer term, according to Chris Thomas, head of digital assets for Swissquote Bank. "Implied volatility has edged higher, but only slightly. This shows that traders are still anticipating another big move, hence preferring long volatility strategies."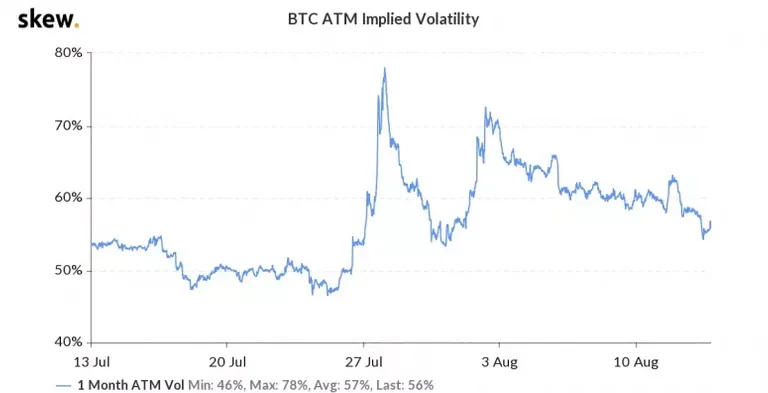 Swissquote's Thomas also said the options market is currently seeing less institutional interest and more individual traders. He noted retail-friendly platform Deribit's increase in bitcoin options open interest (outstanding contracts) versus more institutional-focused CME's relative stagnation.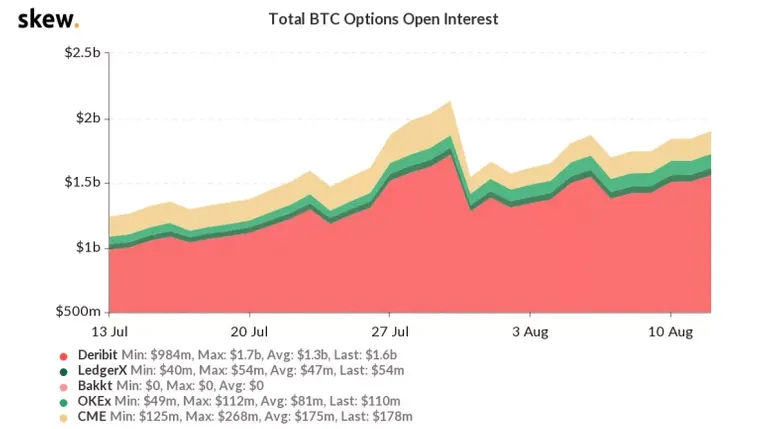 Ethereum (ETH), the 2nd largest cryptoasset by market capitalization, rallied in the last hours of Thursday, reaching a level last seen in August 2018, while transaction fees reached a new all-time high.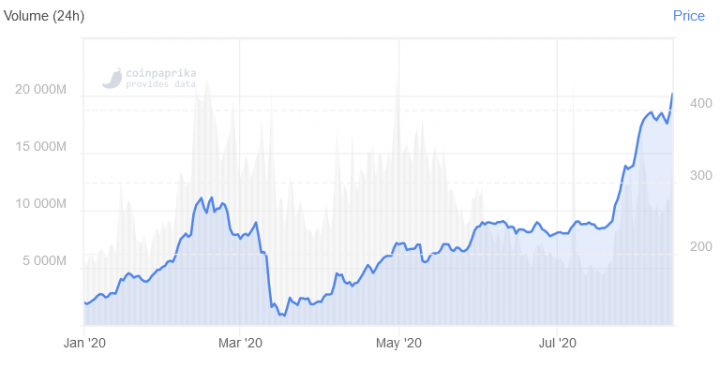 Meanwhile, the median ETH transaction fee hit a new all-time high yesterday, going parabolic and reaching USD 3.35, according to bitinfocharts.com data. The previous all-time high was reached in January 2018, when it briefly touched USD 3.14.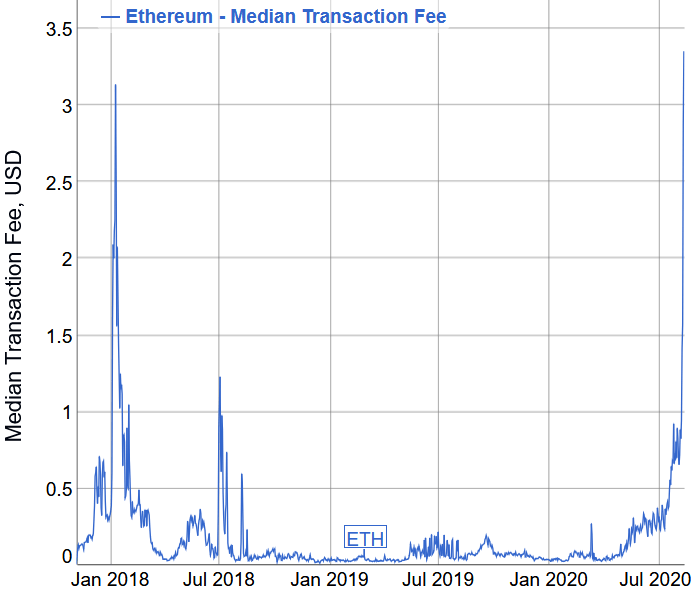 Also, Google data shows that interest in both BTC and ETH spiked yesterday.
Chainlink rallied another 4% today, maintaining its place as the fifth largest crypto asset by market cap — but are investors starting to become skittish?
According to on-chain analytics resource Santiment, Chainlink (LINK) investors may be "becoming increasingly uncertain in its prolonged rally." Santiment reported that though there weren't "many bearish indicators or signs of an impending top" for LINK as of last week, that may no longer be the case.
The number of LINK deposits into crypto exchanges reached an all-time high (ATH) of 8.2 million, the same day the token reached an ATH price of roughly $15. LINK holders may be moving their tokens to exchanges to take profits as the last time an ATH for this metric was recorded the price was at $4.51, the token's highest at the time.
LINK's mean dollar invested age is also "dipping in a big way" according to Santiment, indicating that longer term holders have begun taking profits.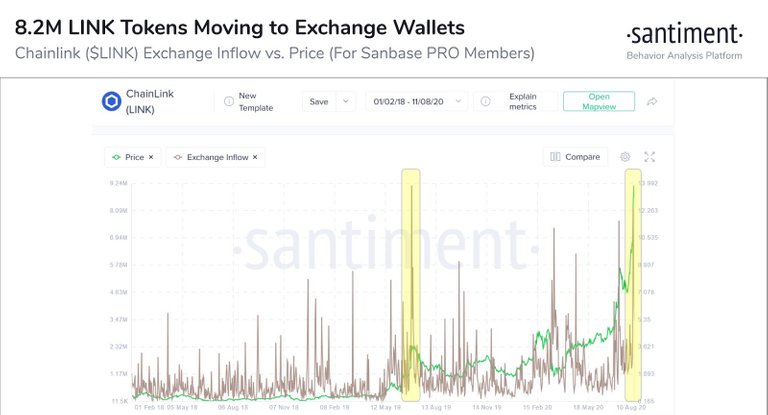 First there were Tendies and YFI. Then came (and went) YAM. And, as of yesterday, we have Based Money.
Meet today's decentralized finance (DeFi), in what amounts to a crossover between massive multiplayer online (MMO) games, like World of Warcraft, and crypto pump-and-dump schemes.
These aren't the same DeFi projects launched earlier this summer, said Amentum Capital co-founder Steven McKie. These new projects are about leveraging Ethereum's tech for unintended uses. They're about making crypto fun again.
South Korea's Woori and Shinhan banks have just announced their intention to introduce "crypto-asset services". That means that four of the country's top five banks, holding a combined value of more than $1.2 trillion in assets, are now poised to introduce crypto services.
Each of the banks aims to hold and manage cryptocurrencies for clients. Both Shinhan and Woori announced their plans in direct response to the amended Special Financial Transactions Information Act which will change legislation around crypto assets, coming into force next year.
Shinhan bank previously announced plans for crypto storage in 2017, but these plans were thwarted by the government in January 2018.
"Other countries are moving very quickly in this regard. But there is still no legal system in place in South Korea, so progress is slower than expected."
🗞 Daily Crypto Calendar, August, 14th💰

"Our team releases a new roadmap update. With the release of the roadmap, it will be the turning point of the FCT project."
"NEW LISTING: Happy to welcome another #DeFi project @AragonProject $ANT to list @OKEx.. Spot Trading: 03:00 Aug 14"
General Event (CRYPTO), Synthetix Network Token (SNX)
"Don't miss Synthetix COO @hjmomtazi on a DeFi panel for @longhashhatch 's Virtual Demo Day with team members from @MakerDAO and..."
"We're super excited to announce one of our biggest stores is going live..."
Globex Weekly Buyback & Burn Program From Mining Farm Revenue.
CryptoVIPSignal will host an AMA with GHOST on 14th Aug.
Last Updates


➡️ Be paid daily to browse with Brave Internet Browser
➡️ A secure and easy wallet to use: Atomic Wallet
➡️ Youtube
➡️ LBRY
➡️ Publish0x
➡️ UpTrennd
➡️ Read.cash
➡️ Minds
➡️ Hive
➡️ Twitter
➡️ Facebook