Bitcoin Rally Stalls as Increasingly Correlated Gold Drops Below $2K;
India May Be Starting Its Biggest Bitcoin Bull Run Yet;
World's Biggest Business Intelligence Firm Buys 21K Bitcoin for $250M;
Ethereum's Supplygate Has Nuanced Answers & Hard Questions On Money;
Peru, India, Indonesia, Nigeria Among Countries With Highest Crypto Usage Increase;
🗞 Daily Crypto Calendar, August, 11th 💰
Welcome to the Daily Crypto News: A complete Press Review, Coin Calendar and Trading Analysis. Enjoy!
Bitcoin's recent price rally has shifted to a sideways meander, possibly taking cues from gold's drop from record highs.
The cryptocurrency is trading in the general range of $11,600–$11,900 for the fourth straight day.
Meanwhile, the precious metal is trading near $1,988 at press time – down 4.2% from the record high of $2,075 reached on Friday.
Both assets have recently developed a relatively strong positive correlation.
As such, gold's decline may have applied the brakes to bitcoin's rally from lows near $9,000.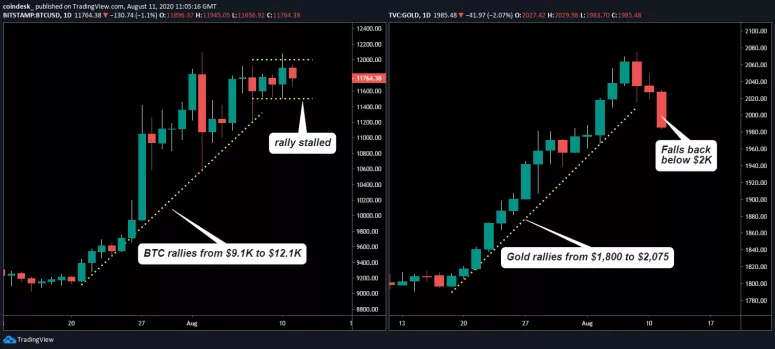 India's crypto trade volumes have soared since the Supreme Court of India lifted banking restrictions for exchanges in March.
According to Coin Dance's Paxful and LocalBitcoins volume data, India's bitcoin peer-to-peer trade volume reached an all-time high in July.
Siddhartha Dutta, CEO of Marlin, a tech startup in Bangalore, said the recent spike in demand for bitcoin mirrors Indians' reaction to demonetization in 2016. Back then some people learned the value of holding bitcoin, whose issuance is not controlled by any government, when the Indian government recalled a vast percentage of paper currency.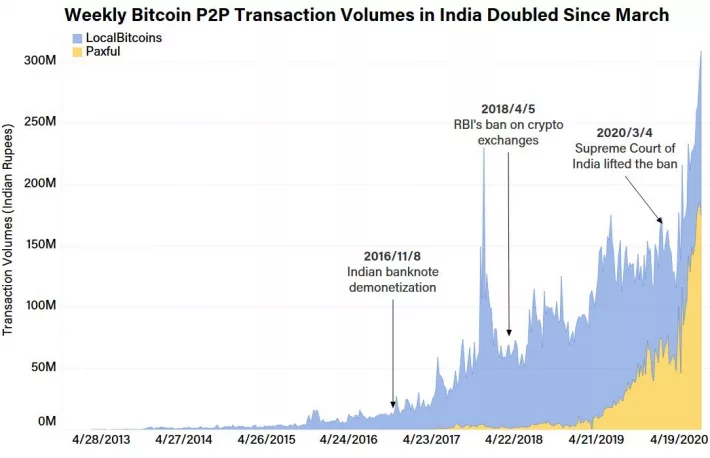 The world's largest publicly traded business intelligence company MicroStrategy (Nasdaq: MSTR) has formally adopted Bitcoin (BTC) as its primary reserve asset.
In a press release issued on Aug. 11, MicroStrategy confirmed it had purchased 21,454 BTC for $250 million.
MicroStrategy: Move "reflects our belief in Bitcoin"
Michael J. Saylor, CEO of MicroStrategy, commented in the press release:
"This investment reflects our belief that Bitcoin, as the world's most widely-adopted cryptocurrency, is a dependable store of value and an attractive investment asset with more long-term appreciation potential than holding cash."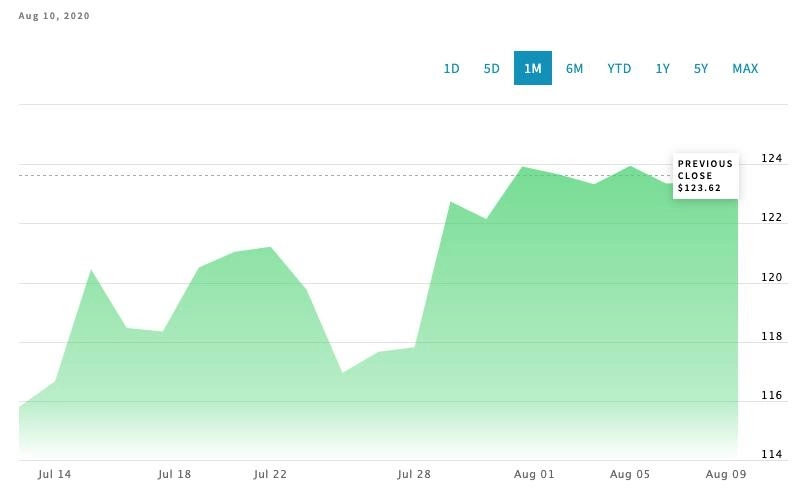 Following another heated Bitcoin (BTC) vs. Ethereum (ETH) debate, it looks like there is still no consensus on the exact supply of the world's second-most valuable cryptoasset, ETH - or if it even matters. However, there is an approximation. (Updated at 12:51 UTC: updates in bold.)
It's a tale as old as ether-time: a story of a coin which the crypto-villagers have claimed for years has an infinite supply, wondering how and why. Others have been pointing out that there is a discrepancy in numbers on different block explorers.
Part of the Cryptoverse has been up in arms again, demanding for the Ethereum camp to reveal the exact number, as a part of what some have termed "the Supplygate" (a reference to the Watergate scandal in the US).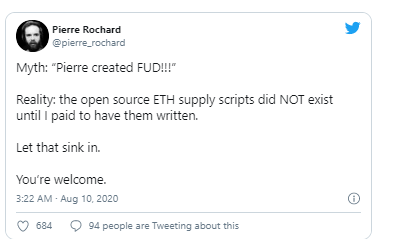 Peru, India, Indonesia, and Nigeria are among the countries with the biggest increase in crypto wallet creation based on data from Blockchain.com, which has over 52 million wallets created by users worldwide. Nigeria has been the most trending country in recent months, with a 60% increase since April.
Trending Countries in Crypto Space
Blockchain.com revealed last week the most trending countries based on its web wallet creation. Currently, the total number of unique Blockchain wallets created is more than 52 million.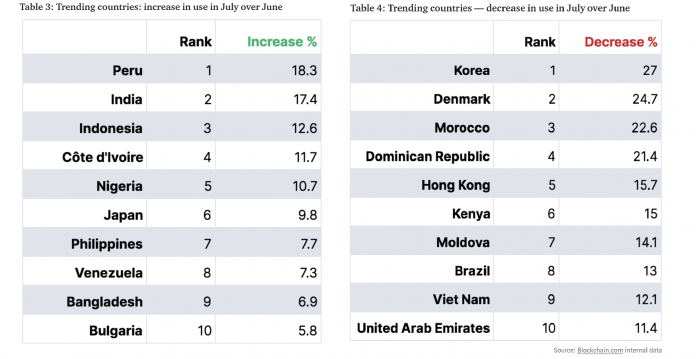 🗞 Daily Crypto Calendar, August, 11th💰

"The #Ardor 2.3.2 release is scheduled for Tuesday, August 11, 2020 - this will be a mandatory upgrade for all mainnet nodes."
"Band Protocol ($BAND) will be listed on @CoinbasePro...and begin trading on Tuesday, August 11."
Crypto Revolution AMA with Joe Bender and Louise Ivan.
"August 11, 2020: Finalized instructions of how to upgrade tokens."
General Event (CRYPTO), IoTeX (IOTX)
IoT World Virtual Event from August 11 - 13 , 8:30 am - 5:30 pm PT.
Last Updates


➡️ Be paid daily to browse with Brave Internet Browser
➡️ A secure and easy wallet to use: Atomic Wallet
➡️ Youtube
➡️ LBRY
➡️ Publish0x
➡️ UpTrennd
➡️ Read.cash
➡️ Minds
➡️ Hive
➡️ Twitter
➡️ Facebook