Bitcoin Bounces to $11.8K as Ether Option Traders Go Bearish;
China Set for Huge Expansion of Digital Currency Pilot;
Lending Protocol Aave Eyes Tokenized Mortgages With Launch of V2;
US Postal Service Files Blockchain Voting Patent Following Trump Cuts;
OKEx May Delist Ethereum Classic If It Doesn't Upgrade Its Security;
🗞 Daily Crypto Calendar, August, 15th 💰
Welcome to the Daily Crypto News: A complete Press Review, Coin Calendar and Trading Analysis. Enjoy!
Bitcoin is up Friday while ether options traders are overwhelmingly bearish.
Bitcoin (BTC) trading around $11,823 as of 20:00 UTC (4 p.m. ET). Gaining 2.4% over the previous 24 hours.
Bitcoin's 24-hour range: $11,517-$11,865
BTC slightly above its 10-day and 50-day moving averages, a bullish signal for market technicians.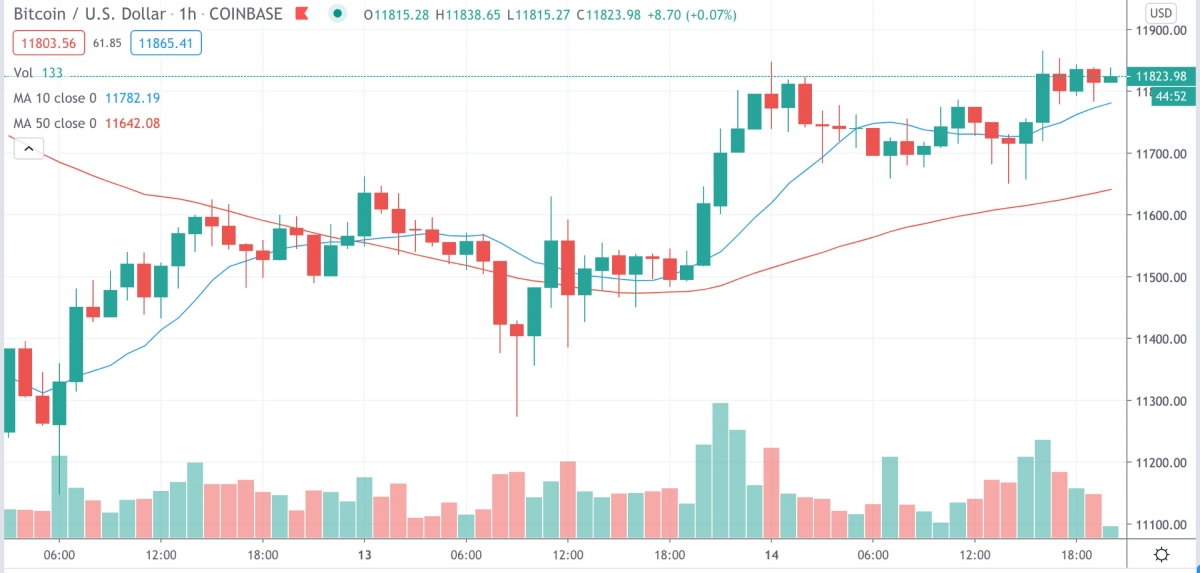 "Crypto has had a good run for about three weeks in a row, since late July," said David Lifchitz, chief investment officer for quantitative trading firm ExoAlpha. "There is a current resistance level of $12,500 for bitcoin, which looks pretty normal as markets, even crypto, cannot go up in a straight line day after day."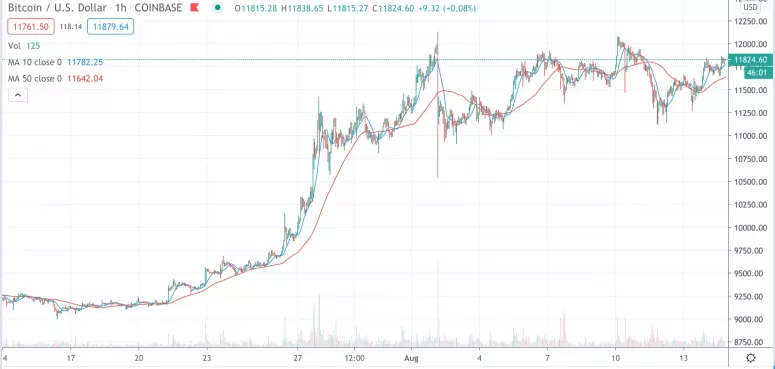 Ether options bearish
The ether options market has more open interest (open positions) than ever before, to the tune of $463 million on platforms Deribit and OKex, according to Skew. But that's not necessarily bullish for ether. Trader sentiment appears to view ether's valuation as unsustainable. An overwhelming number of options bets are on sub-$410 ether.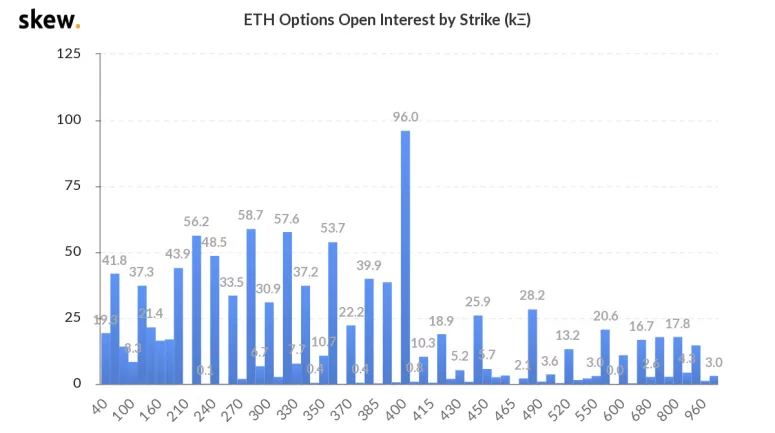 The Chinese central bank is reportedly set to massively expand the scope of its digital yuan pilots – as the nation edges closer to a central bank digital currency (CBDC) issuance.
Per a report from the Wall Street Journal, the nation's Ministry of Commerce said that the pilot – so far active in five cities since May – will soon "cover much of China's most prosperous regions," as well as a number of less-affluent areas.
The pilot, which involves the central People's Bank of China (PBoC) and four major state-owned commercial banks, will be expanded to encompass all of Beijing, the satellite provinces of Tianjin and Hebei, the Yangtze River Delta, the southern coast and the so-called Pearl River Delta: the Guangdong-Hong Kong-Macao Greater Bay Area.
Aave has released specifications for version two of its protocol as the project eyes $1 billion locked under contract, according to DeFi Pulse.
Aave will partner with real estate tokenization firm RealT to bring home mortgages to DeFi. RealT did not return questions for comment by press time.
v2 will also include transaction fee optimizations such as native support for smart contract GasToken.
As reported by CoinDesk, Aave announced plans to transition to a fully autonomous and decentralized protocol through its "genesis governance" and Aave Improvement Proposals (AIP) scheme.
A new patent has been filed by the U.S. Postal Service, or USPS, which appears to use Blockchain technology to make mail-in voting a safe alternative to physical polling stations amid the COVID-19 pandemic. This news follows recent comments from President Donald Trump concerning the mail service's funding as part of his fight against mail-in voting.
"This developement releates to a voting system that also incorporates the use of cryptographic elements, such as blockchains, as are used with cryptographic currencies, to track and secure the vote by mail system," said a patent filing, dated Aug. 13, 2020.
ETC is facing delisting from OKEx in the wake of a 51% attack that cost the exchange $5.6 million.
According to a report recently released by OKEx, the perpetrators registered five accounts between June 26 and July 9, 2020, subsequently depositing 68,230.02 ZEC (worth more than $5 million) on their platform.
On July 31, the attackers exchanged their ZEC holdings for 807,260 ETC and withdrew it from the exchange.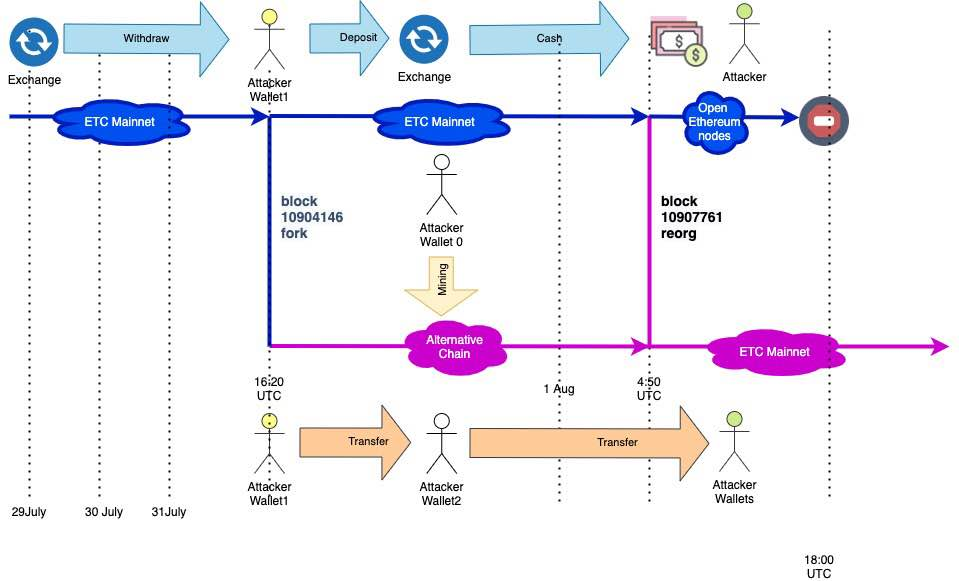 According to the OKEx report, the problems were not communicated promptly by the ETC community:
"After what appeared to be inefficient communication with other participants in the larger crypto community — including exchanges like OKEx, wallets and ETC miners — the ETC community at this point made the decision to move to mining the now-broadcasted shadow chain, given that it was longer than the original mainnet."
🗞 Daily Crypto Calendar, August, 15th💰

"15/08/2020 - Flama team will release the first dapp!"
"Small taste of what's coming next week in Waves - - A listing all $waves traders have been waiting for..."
"We are excited to announce that #ZFL @ZufloCoin trading with all pairs will be launched on Saturday, August 15, 2020..."
"Nexo's Board of Directors is pleased to announce the next Nexo Dividend distribution for August 15, 2019."
"We know you'll all be pleased to hear that the long-awaited API will also be integrated next week."
Neutrino Dollar (USDN), Waves (WAVES)
"Small taste of what's coming next week in Waves... Launch of $USDN on ETH"
Last Updates


➡️ Be paid daily to browse with Brave Internet Browser
➡️ A secure and easy wallet to use: Atomic Wallet
➡️ Youtube
➡️ LBRY
➡️ Publish0x
➡️ UpTrennd
➡️ Read.cash
➡️ Minds
➡️ Hive
➡️ Twitter
➡️ Facebook