Bulls Stampede Toward $12K Bitcoin Price as Weekly Close Approaches;
Dex Platforms Trade Over $2.4 Billion in 7 Days, Defi Swaps up 68% Since Last Week;
Record Ethereum Network Use and Gas Fees Pose Risk to DeFi Expansion;
US Regulator Charges Tech Firm, CEO in $5 Million ICO Fraud Case;
Newest DAO Project Was Thrown a Curve, but the Team Is Rolling With It Anyway;
🗞 Daily Crypto Calendar, August, 16th 💰
Welcome to the Daily Crypto News: A complete Press Review, Coin Calendar and Trading Analysis. Enjoy!
Bitcoin price is making a strong push toward $12,000 with just 24-hours before the weekly close occurs
Despite multiple rejections at the $12K mark, BTC continues to make higher lows and traders are buying dips at underlying support levels
Chainlink reached a new all-time high at $19.80 and Ether is struggling to push above $430
Typically, for Bitcoin (BTC), weekends are marked by reduced trading volume as day traders take a break and the CME Bitcoin markets are closed.
Experienced traders will also know that exchange order books thin out during the weekend, providing opportune moments for clever Bitcoin whales to exploit these gaps and sway the price through whipsaw volatility.
A few positives for Bitcoin price are: the daily chart continues to show a pattern of higher lows, the RSI is in bullish territory at 66, and traders show strong interest in buying into each dip, as shown by the rising purchasing volume on the daily timeframe.
Years ago the cryptocurrency community did not have access to a plethora of decentralized exchanges (dex). In 2020 with the rise of Ethereum, dex platforms have grown exponentially with trading applications like Uniswap, 0x, Kyber, and more.
Dex trading growth has spiked over 68% this week alone and during the last seven days, $2.4 billion was swapped on these exchanges.
Onchain data from Dune analytics shows that more than $2.4 billion in decentralized exchange (dex) swaps took place last week and $448 million worth during the last 24 hours.
Dex platforms on Ethereum have exploded with demand and every week dex trade volumes have swelled higher and higher. Today according to statistics, the billions of weekly trade volume stems from defi exchanges like Uniswap, Balancer, Kyber, Synthetix, Bancor, Loopring, Ddex, Curve, 0x, Idex, Dydx, Oasis, and Gnosis.
Ethereum network use and transaction fees are rising to record highs, will this interfere with DeFi's current expansion?
The number of Ethereum network transactions more than doubled in 2020 and is now virtually identical to the January 2018 all-time high.
As shown on the chart below, the number of transactions doubled in the past six months to stand at 1.23 million per day.
This situation might seem very bullish at first, but one must remember both EOS and Tron (TRX) started as ERC-20 tokens before launching their own mainnet and running fully independent blockchains.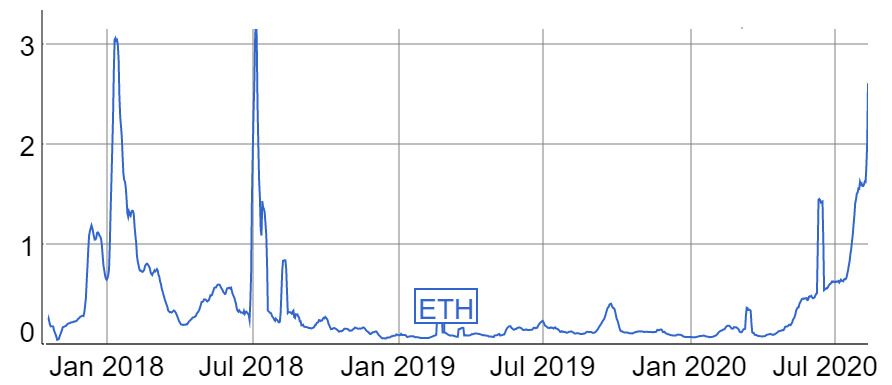 The United States Securities and Exchange Commission (SEC) jointly charged Virginia-based Boontech and CEO, Rajesh Pavithran for fraud and registration violations. The charges stem from an initial coin offering (ICO) that raised $5 million from 1,500 investors around the world in exchange for Boon Coins.
In return, Pavithran and his company promised to develop and market a platform that connects employers posting jobs with freelancers seeking work. The SEC says that the alleged offenses were committed between November 2017 and January 2018.
According to the SEC order, "Boon Coins were offered and sold as investment contracts and were, therefore securities." The order states that both Boontech and Pavithran failed to register the offering.
On Thursday, an anonymous DeFi user deployed Curve Finance's Decentralized Autonomous Organization (DAO) and token smart contracts without the team's permission, but the Curve team is adopting it anyway.
Since launching, the token contract already has roughly 3,500 active addresses and has seen some 31,000 transactions.
Following the deployment, Curve Finance tweeted it had "no choice but to adopt it," saying in another tweet it appears "to be an acceptable deployment with the correct code."
The abruptness of the launch and the team's willingness to go along with the premature activation has raised eyebrows in the DeFi community.
Curve Finance is a decentralized exchange for stablecoin trading and has been live since February. The CRV token is designed to work with the Curve DAO.
🗞 Daily Crypto Calendar, August, 16th💰
"...Before we can update the roadmap to share with you all. We expect to have this process complete within 10 days."
"We're excited to announce to the community, that Paparazzi team is implementing Decentralized Finance (DeFi) to the Paparazzi ecosystem."
"Stay tuned for the details for our buyback and burn program. It will be announced tomorrow 11:00 AM (UTC+8)"
"ARPA/USDT trading pair will be open at 08/16/2020 4:00 P.M. (GMT+8)."
"... A lot of big news coming this week," according to CEO.
"#BitTorrent on #DeFi Join us for an AMA session with @justinsuntron: 16th August at 14:00 UTC "
"We will update our roadmap for FLL. It will be in graphic form and standard with all changes and updated info."
Last Updates
➡️ Be paid daily to browse with Brave Internet Browser
➡️ A secure and easy wallet to use: Atomic Wallet
➡️ Youtube
➡️ LBRY
➡️ Publish0x
➡️ UpTrennd
➡️ Read.cash
➡️ Minds
➡️ Hive
➡️ Twitter
➡️ Facebook