Bitcoin Sinks to $11.6K as Ether's Gas Keeps Rising;
PlanB, Glassnode Bullish on Bitcoin as Price Enters 'Belief' Zone;
Flood of Yield Farming Projects Likely Coming to Cryptoverse - Report;
Middle Eastern Restaurant Chain Converts Entire Reserves to BTC;
Stiffened Regulations, Naira Devaluation Pushing Nigerians to Crypto;
🗞 Daily Crypto Calendar, August, 19th 💰
Welcome to the Daily Crypto News: A complete Press Review, Coin Calendar and Trading Analysis. Enjoy!
Bitcoin traders are hitting the sell button. On Ethereum, DeFi is boosting fees again.
Bitcoin (BTC) trading around $11,658 as of 20:00 UTC (4 p.m. ET). Slipping 2.6% over the previous 24 hours.
Bitcoin's 24-hour range: $11,613-$12,100
BTC below its 10-day and 50-day moving averages, a bearish signal for market technicians.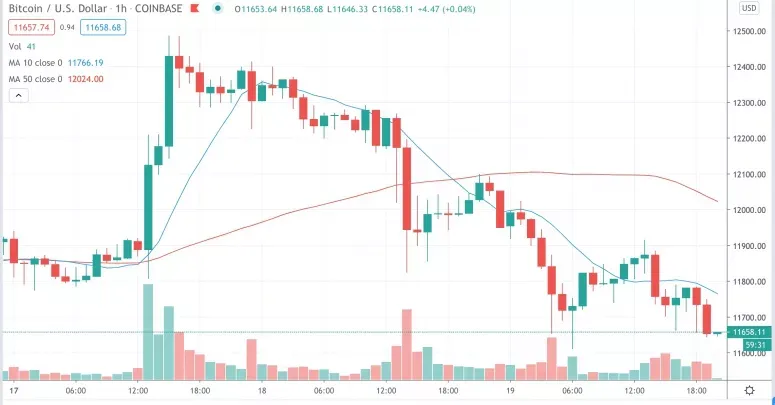 Bitcoin traded as low as $11,613 Tuesday. Traders continued selling the world's oldest cryptocurrency after it hit a 2020 high of $12,485 on Monday. For the time being, it may struggle to break much higher from that.
Katie Stockton, analyst for Fairlead Strategies, expects a weaker bitcoin market ahead. "There are signs of short-term upside exhaustion supporting continuation of today's pullback over the next week or two," said Stockton. Traders In the bitcoin options market don't expect too drastic a pullback, however, as most strikes are well over $10,000.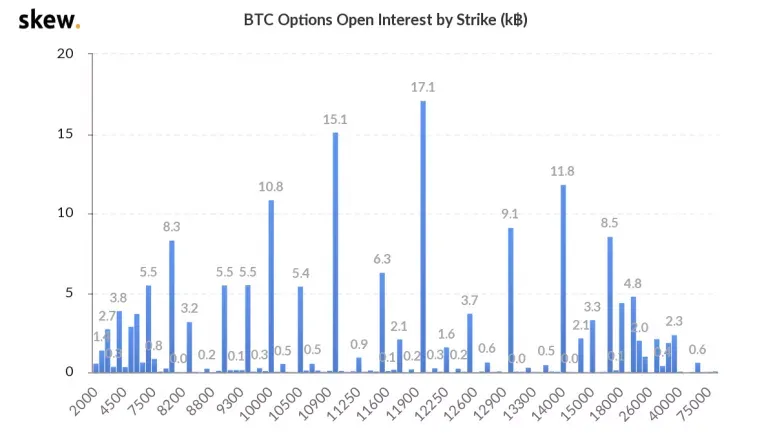 Many traders remain bullish despite the recent price drop, seeing the decline as a bit of a respite before rising. "Last year's high was $13,852," noted Rupert Douglas of institutional crypto broker Koine. "We are going to test that, but whether we have a significant pullback to around $10,000 first is a tough call," Douglas added.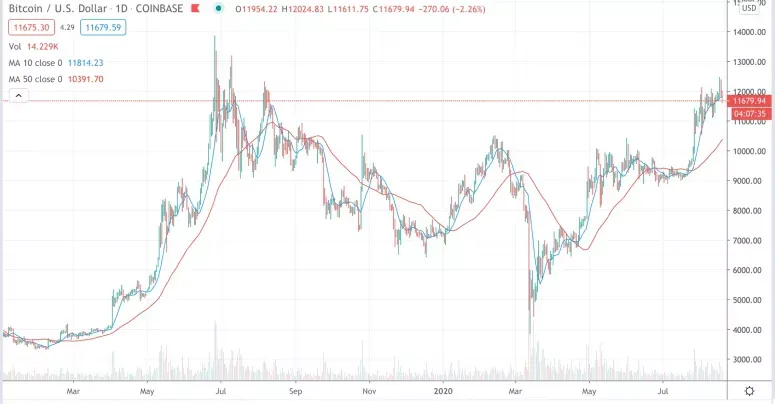 While the pseudonymous analyst behind the bitcoin (BTC) stock-to-flow (S2F) model and an on-chain analysis firm are both expressing their bullishness on bitcoin, market sentiment is steadily improving for the number one cryptocurrency.
PlanB, the analyst behind the popular and sometimes controversial S2F model, tweeted yesterday that bitcoin is looking strong with a reading on the popular technical indicator Relative Strength Index (RSI) above 64.
"Bull market confirmed," the analyst added, while sharing a chart that showed how the RSI has changed over bitcoin's lifetime.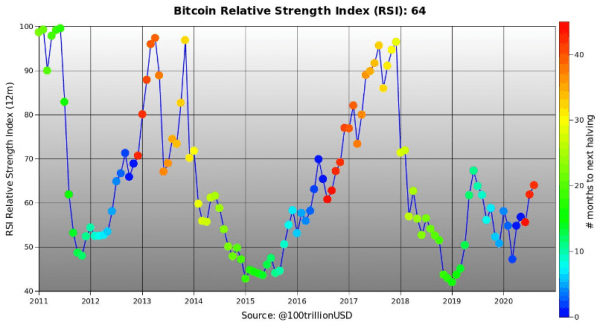 Meanwhile, according to on-chain analysis firm Glassnode, the bitcoin network's net unrealized profit & loss has broken into what they call the "belief" zone on the chart. According to the firm's model, this is the stage of a bull market where traders largely believe in the rally, and it comes before the more extreme phase of the bull market called the "euphoria" stage, which the bitcoin market last entered in 2017.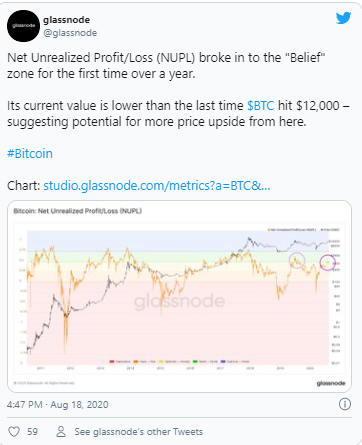 "I feel that we're going to see plenty more of these money games spun up on Ethereum in the coming months. Some of them will be scams and some will be just outright bad ideas but through all of this wild experimentation I believe that some of them will turn out to be the next billion dollar protocols that deliver real value to Ethereum," wrote Anthony Sassano, SetProtocol product marketing manager and author of the Ethereum-focused newsletter The Daily Gwei.
Yam Finance's total value skyrocketed to USD 387m within 15 hours post launch despite the experimental and unaudited character of the project which collected deposits in ETH and other cryptocurrencies before collapsing on Aug. 13.
"With Yam, the community poured in over [USD] 700 million into unaudited smart contracts in order to chase an extremely high yield and a hardcore community was formed around this," said Sassano.
When it comes to Curve (CRV), "people plowed in hundreds of millions of dollars because the price of CRV went astronomical for the first few hours (though this was a bad thing since price has been crashing ever since)," according to Sassano.
A Canada-based Middle Eastern restaurant chain just converted their entire fiat cash reserves into Bitcoin.
According to an Aug. 19 tweet from Tahini's — 'the best Middle Eastern restaurant in the world' — the decision to switch its cash reserves to crypto had its genesis in March's crash, and when the Canadian government began to provide assistance programs for businesses unable to stay open due to the pandemic.
With the United States and Canada printing money to prop up their ailing economies, Tahini's owner Omar Hamam started to see the financial system as "a game of musical chairs being played right now and the music will stop and some people will get left out."
"As time went on I was constantly trying to learn and grow my knowledge about finance. I heard people in the Bitcoin community saying you have to hear about Bitcoin at least 7 times before you get into it. 100% accurate."
Nigerians are embracing cryptocurrencies owing to stiffening regulations
Cryptocurrency usage is all-encompassing
The surge could drop as the economic effects of the pandemic ease
More education is needed to capture all age demographics.
Around the world, the acceptance and utilization of blockchain technology and its underlying cryptocurrencies has become more imperative. With the surge in the number of bitcoin (BTC) and altcoins users, it could be presumed that people are now more aware of the possibility of attaining financial autonomy.
For economies with fiat currencies that are prone to frequent devaluation like Nigeria, the embrace of digital currencies has grown in recent times. A recent survey from statista.com encompassing 65 countries showed that Nigerians were the most likely to say they used or owned cryptocurrency. The oil-rich sub-Saharan African nation topped the chart with 32%.
🗞 Daily Crypto Calendar, August, 19th💰

"Join us on 19 August 1 at 11:00 AM UTC for an AMA in the @Binance English Telegram group with Travala.com"
We are upgrading BNS smart contract for further DeFi integration. All existing blockchain addresses would get V2 tokens in 1:1 fashion.
"Delegates will have until Wed, 8/19 to deploy Mainnet v1.1 to their nodes."
"Town Hall: Governance & Technical Processes"
"Our team will be revealing the roadmap for the Post-Kratos launch on August 19, 2020."
Binance AMA with Xan Ditkoff and Louise Ivan.
Last Updates


➡️ Be paid daily to browse with Brave Internet Browser
➡️ A secure and easy wallet to use: Atomic Wallet
➡️ Youtube
➡️ LBRY
➡️ Publish0x
➡️ UpTrennd
➡️ Read.cash
➡️ Minds
➡️ Hive
➡️ Twitter
➡️ Facebook