Bitcoin Market Update; Why Trump Banning TikTok May Be a Blessing for Bitcoin Price, Adoption;
Goldman Sachs: Gold Will Hit $2,300 by 2022. What About Bitcoin?;
Communities Are Vital For Crypto Projects But Might Become Less Important;
China Never Banned Bitcoin as Commodity, Beijing Arbitration Commission Explains;
Garmin Coming Back Online After Hack — Was $10M Crypto Ransom Paid?;
🗞 Daily Crypto Calendar, August, 3rd 💰
Welcome to the Daily Crypto News: A complete Press Review, Coin Calendar and Trading Analysis. Enjoy!
Trump's TikTok Ban could see 80 million people flock to crypto, which would be great news for Bitcoin price and the entire cryptocurrency space.
Yesterday saw many major altcoins rally to their yearly highs, with Ether (ETH) surging past $400, which I expected was a likely scenario in my last article two weeks ago.
In addition, XRP also had a bumper day exceeding $0.32 while momentarily outperforming Bitcoin as expected in my July 1 article.
However, Bitcoin showed its dominance in the space by wiping out several billion of these gains in a little over an hour. So what does the week ahead look like, and just what sort of impact could Trump's TikTok ban have on the cryptocurrency space?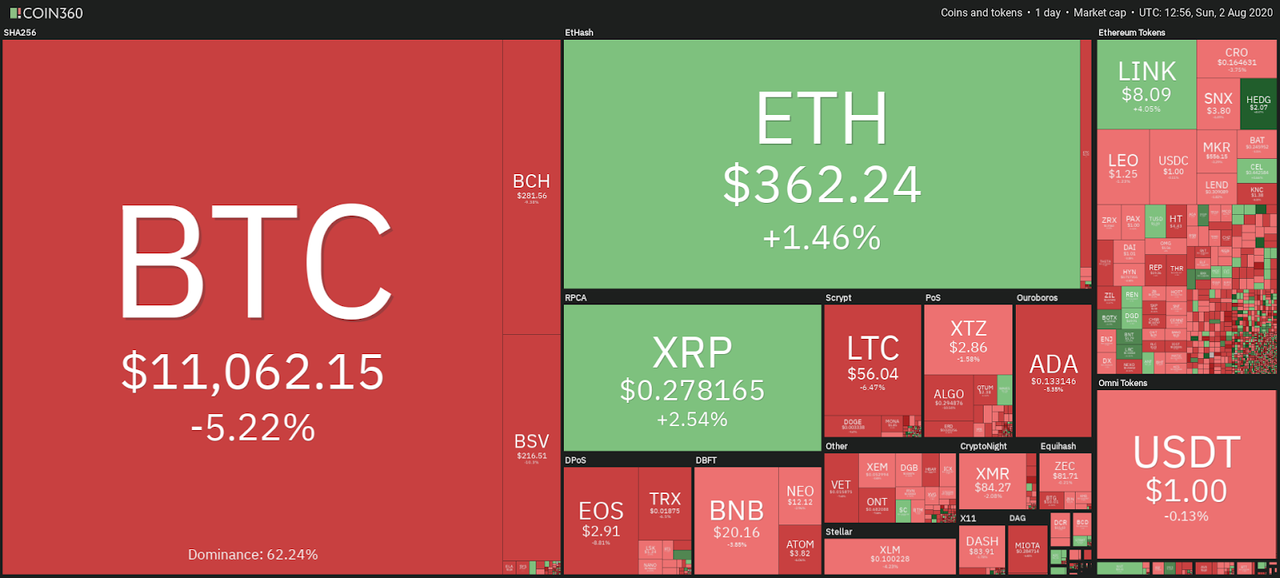 Let's get some perspective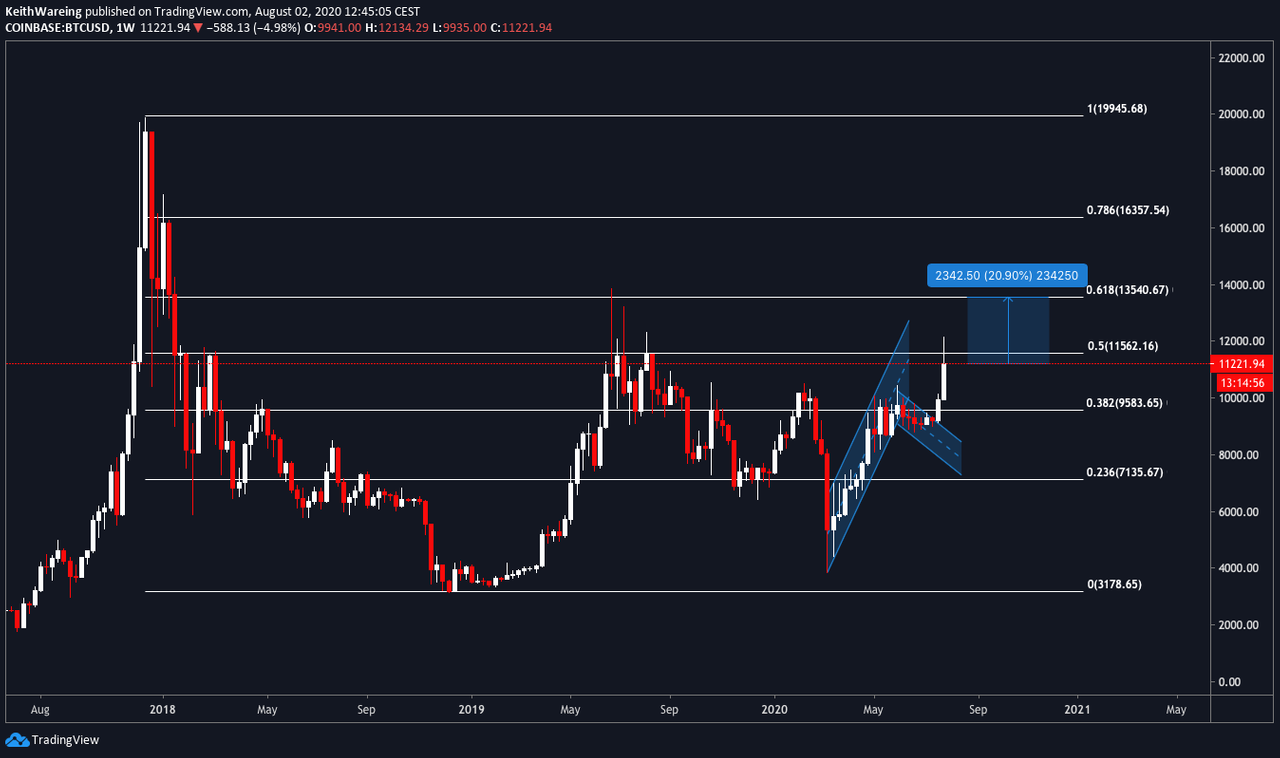 Bitcoin on the weekly shows a picture of the future. The leading cryptocurrency by market capitalization has already tested the 0.5 Fibonacci retracement level of $12K before being rejected.
A depreciating US dollar as a reserve currency coupled with investors looking for attractive alternatives could see both BTC and gold rise.
Major investment banking company Goldman Sachs says the price of gold will rise 20% to reach $2,300 before the end of 2022.
The commodity hit new record highs on July 31 at more than $2,000 per ounce, but Goldman believes it still has a long way to go. According to a report cited by Bloomberg, the bank believes the price of gold will surge to $2,300 in the next 12 months — a revised forecast that originally predicted $2,000 — due to concerns over the US dollar's standing.
Some communities add genuine value to their cryptos, while others simply functioning to pump a coin.
After a critical mass of people use a project, the community does not matter that much.
There are multiple Bitcoin communities already.
It's common for people to talk about communities in crypto. We hear talk of the 'Bitcoin community,' the 'Ethereum community' and so on, but how important are such 'communities' to the development and success of their related crypto projects?
They're very important, according to various crypto industry figures who've spoken to Cryptonews.com. They provide a crypto project with its initial core base of users and developers, and they also champion a crypto so that more users adopt it.
The Beijing Arbitration Commission has published an article clarifying that bitcoin's use as a commodity has never been banned in China. It explains that the Chinese authorities' attitude toward controlling bitcoin revolves around three areas.
China Recognizes Bitcoin as Commodity
The Beijing Arbitration Commission published an article on the legal nature of bitcoin in China on Thursday. The Beijing-based independent, non-profit organization offers services in arbitration, mediation, and other dispute resolution mechanisms.
.The article was authored by economist Wang Jin, an arbitrator for the commission. "There are still differences in the understanding of the legal nature of bitcoin under the current regulatory system" in China, as evidenced by a wide range of legal disputes involving bitcoin, he began.
In summary, the state does not prohibit bitcoin's activities as virtual commodities.
Cybergang Evil Corp hackers reportedly demanded $10M to restore full access to Garmin's customer support services and navigation solutions.
Multinational tech company Garmin may have paid some or all of a $10 million crypto ransom to hackers who managed to encrypt the firm's internal network and take down several of its services on July 23.
According to an August 1 report from Lawrence Abrams at Bleeping Computer, Garmin's IT department used a decryptor to regain access to workstations affected by the initial WastedLocker ransomware attack. The malware took down the company's customer support, navigation solutions, and other online services.
"Garmin's script contains a timestamp of '07/25/2020', which indicates that the ransom was paid either on July 24 or July 25," stated the report.
🗞 Daily Crypto News, August, 3rd💰

"MBL Holders will our announcement on August 3rd"
"... Big news are still going to happen, its either today or Monday... and yes its related to our defi related news."
BCD halving / halvening at block 630,000, which is expected to take occur on August 3rd at 16:52.
"#LINK to be Listed on #LBank Trading Pair: LINK/#USDT... Trading Open: 16:00 on August 3, 2020 (UTC+8)"
Enjin Coin (ENJ), SwissBorg (CHSB)
"Announcing the Cyborg's Quest: a cross-game collaboration with @swissborg"
"The second exchange to list us is @ChangeNOW_io . The listing will go live on August 3rd, 2020 at 18:00 UTC..."
"The next bidding phase of the @Fetch_ai staking program will take place on Monday 3 August between 12-3pm UTC"
"... We're planning to release a new update to the Mainnet on August 3rd."
Last Updates


➡️ Be paid daily to browse with Brave Internet Browser
➡️ A secure and easy wallet to use: Atomic Wallet
➡️ Publish0x
➡️ UpTrennd
➡️ Read.cash
➡️ Minds
➡️ Hive
➡️ Twitter
➡️ Facebook