Bitcoin Price Rises to $9,500 as $2 Trillion Fed Stimulus Expected;
Banks in US Can Now Offer Crypto Custody Services, Regulator Says;
Visa to Remain 'Agnostic' On Crypto, Will Support What Clients' Demand;
Stablecoin Tether Set to Eclipse Bitcoin's Daily Transaction Value;
Some Bitcoin Traders Turn Cautiously Bearish — Why $9.5K Is a Problem;
🗞 Daily Crypto Calendar, July, 23rd 💰
Welcome to the Daily Crypto News: A complete Press Review, Coin Calendar and Trading Analysis. Enjoy!
Within the last hour Bitcoin (BTC) price broke out of its sideways range to briefly push above the $9,500 level. The move comes after a slight uptick in daily trading volume since Monday (July 20) and traders will now watch to see if the top-ranked digital asset on CoinMarketCap can hold $9,500 and pursue a daily higher high above $9,775.
Perhaps the move is purely technical as Bitcoin price has been compressing into a tighter range of higher lows and lower highs since early June, or possibly investor sentiment has been buoyed by recent events in the news.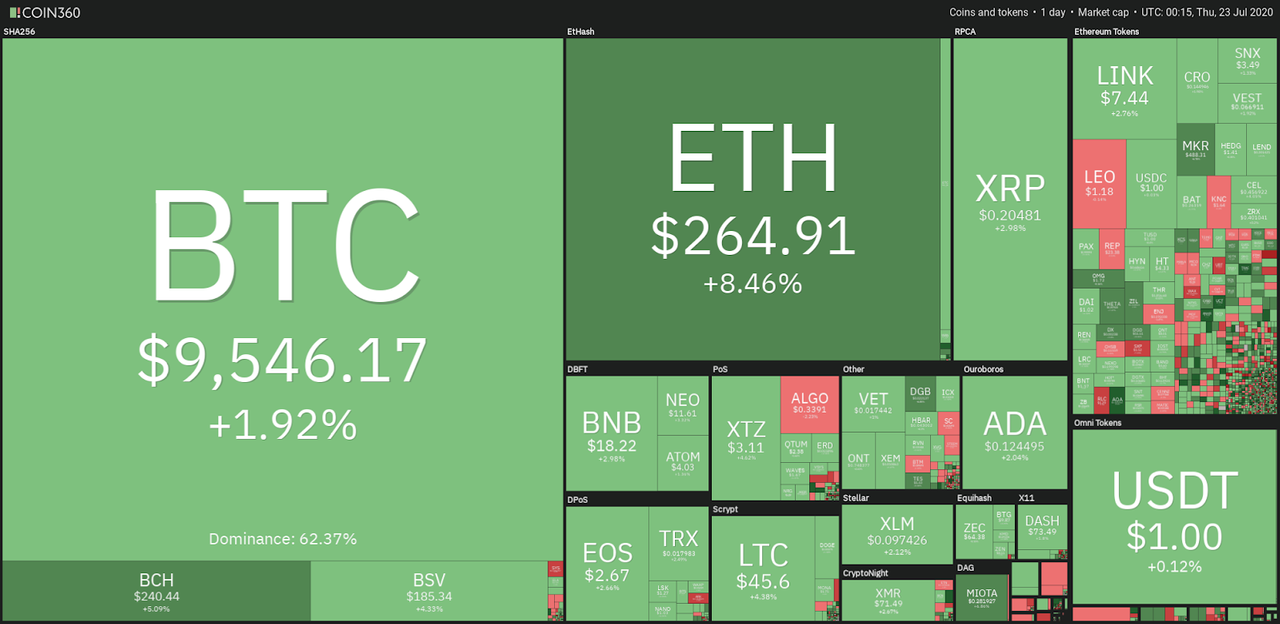 Earlier today Cointelegraph reported that the Office of the Comptroller of the Currency (OCC) has given permission to allow federally chartered U.S. banks to provide clients with crypto custody services.
This is a positive step forward as it removes some of the rigamarole involved in acquiring and storing cryptocurrency, meaning, crypto investors will eventually be able to hold their digital assets in the same bank where they keep their checking, savings, and brokerage accounts.
The Office of the Comptroller of the Currency (OCC) is letting all nationally chartered banks in the U.S. provide custody services for cryptocurrencies.
In a public letter dated July 22, Senior Deputy Comptroller and Senior Counsel Jonathan Gould wrote that any national bank can hold onto the unique cryptographic keys for a cryptocurrency wallet, clearing the way for national banks to hold digital assets for their clients.
The letter marks a major development for the crypto industry. Previously, custody was the province of specialist firms, such as Coinbase, which typically needed a state license, such as a trust charter, to offer the service to large investors. Now, large, regulated financial companies that already provide similar safekeeping services for stock certificates and the like could enter the fray.
Payment card giant Visa said it has an "agnostic" view on cryptoassets, adding it will support all forms of "digital currencies and blockchain networks" that its clients demand.
The clarification of Visa's stance on crypto came in a blog post from the company published yesterday, where it also said that its approach to digital currencies – including both central bank digital currencies (CBDCs) and existing cryptocurrencies – is in line with its "broader network-of-networks strategy."
The company added that it will "maintain a rigorous focus on data protection, consumer privacy and fairness" in all of its dealings with digital currencies, while still complying with "all applicable laws."
The most dominant stablecoin in the cryptocurrency ecosystem has seen some competition during the last few years, but the token tether has remained king in the face of rivalry. Just recently, a "Q2'20 review" published by the digital currency data and analytics firm Messari shows that tether's daily transaction value is set to eclipse bitcoin's daily transaction value in the near future.
Ever since the first tokens were issued back in October 2014, the tether (USDT) stablecoin economy has been an enigma, to say the least. Moreover, since 2017 the market capitalization of tether has grown exceptionally large capturing roughly $10 billion in value as of July 22, 2020.

Now a recently published "Q2'20 review" concerning the stablecoin economy written by Ryan Watkins notes that tether's daily transaction value may soon supersede bitcoin's daily transaction value.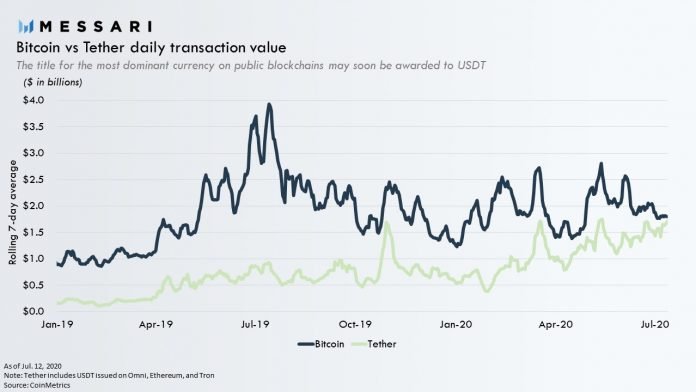 The price of Bitcoin (BTC) surged from $9,160 to $9,584 within the last 48 hours. But despite the 4.6% gain, some traders are turning short-term bearish on the top cryptocurrency.
According to several technical analysts, the market structure of Bitcoin remains slightly bearish. At higher time frames, $9,500 could still technically be a lower high. The term "lower high" is used when the recent peak of BTC is lower than previous highs.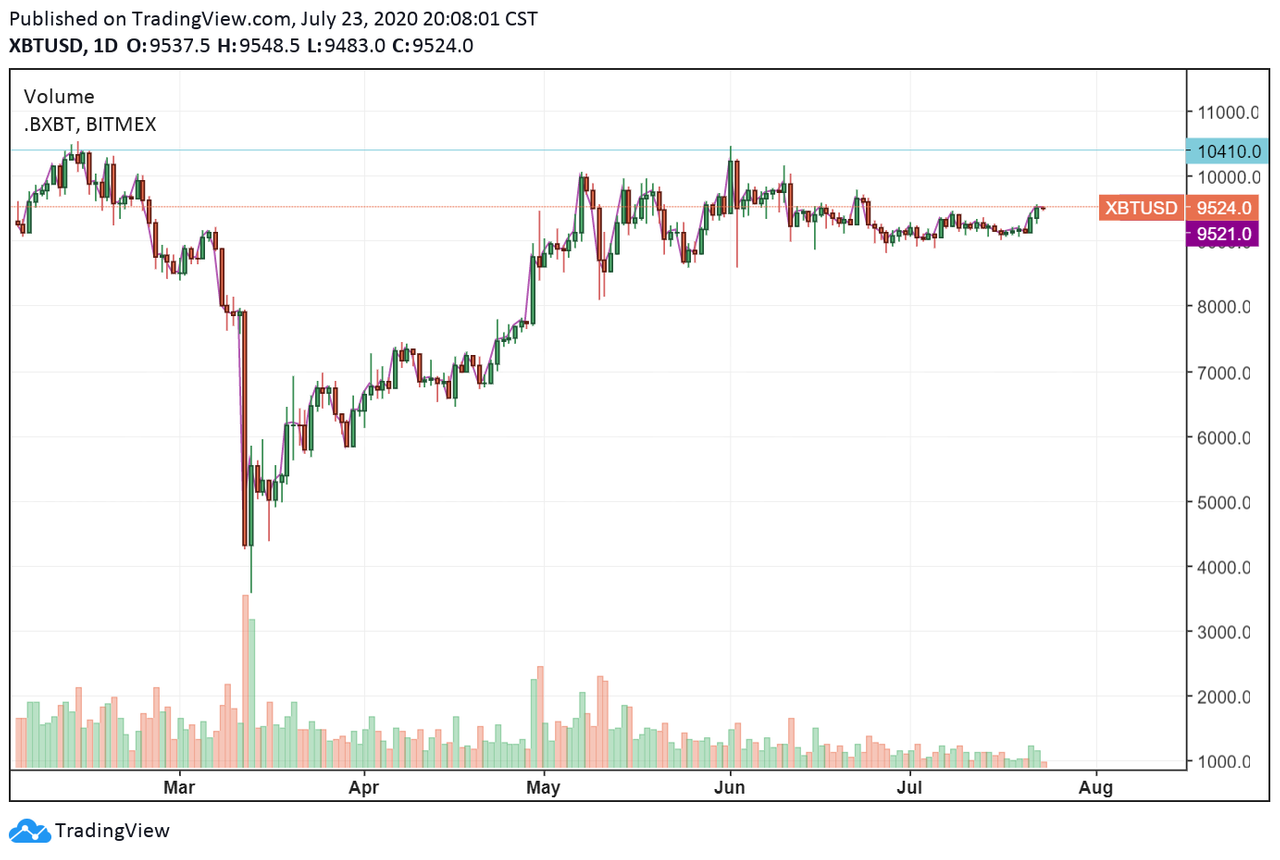 On June 3, June 10, June 22, and July 22, BTC hit $10,473, $10,180, $9,794 and $9,584, respectively. Each peak is lower than previous highs, making it a lower high formation.
Reasons for a short-term Bitcoin bearish bias
"HTF Bearish MS remains intact. One shouldn't use a potential LH as invalidation for a swing position unless that LH is confirmed with a LL. Patiently waiting for the 95xx sweep to compound. Looking to sell 9530-9580. Clear invalidation above 97/98 (break in MS)."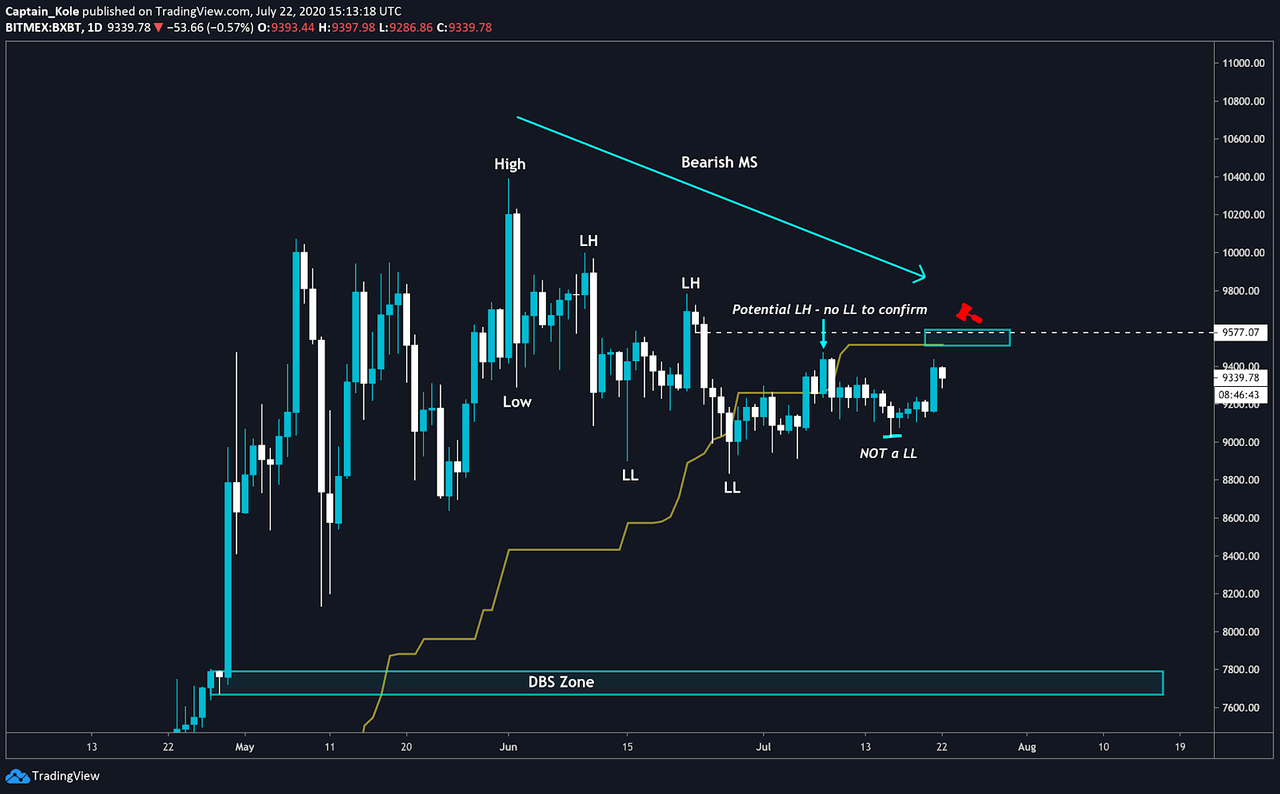 🗞 Daily Crypto News, July, 23rd💰

"Big @Syscoin related news coming July 23, 2020, before 13:30 UTC."
"No holidays for the #Kryll team! New platform update is coming on July, 23rd (Thursday)"
"Global exchange @ProBit_Exchange is listing $MATIC on July 23 via the pairs MATIC/USDT & MATIC/KRW."
Team updates at 3:30 PM UTC/ 11:30 AM EDT: Engineering, Node network, Product/UX, Helpdesk, Legal, BD, Marketing, CEO Closing thoughts, AMA.
Tezos (XTZ) will be added to the Indodax marketplace on Thursday, July 23, 2020, at 2:00 PM.
"Crypto VIP Signal™ will host AMA with @BluzelleHQ on 23rd July."
"The new #Nimiq Wallet will be released this Thursday, 23."
Last Updates


➡️ Be paid daily to browse with Brave Internet Browser
➡️ A secure and easy wallet to use: Atomic Wallet
➡️ Publish0x
➡️ UpTrennd
➡️ Read.cash
➡️ Minds
➡️ Hive
➡️ Twitter
➡️ Facebook