Bitcoin Price Rallies 13% to Break Through $11,000;
The Big Chainlink Short Gets a 'Lawsuit' Twist as LINK Leaves Top 10 in Silence;
Ransomware Victims Are Fighting Back Against Their Attackers and Winning;
Hackers Transfer $28 Million Worth of Bitcoin from 2016 Bitfinex Breach;
Polkadot Raises $43M in 72-Hour Private Sale: Source;
🗞 Daily Crypto Calendar, July, 28th 💰
Welcome to the Daily Crypto News: A complete Press Review, Coin Calendar and Trading Analysis. Enjoy!
Within the last hour Bitcoin (BTC) price pushed through the $11,000 level in a high volume surge which saw the price reach a new 2020 high at $11,394.
At the time of publishing the price has pulled back slightly to the $11,150 range but purchasing volume continues to rise on the 1-hour timeframe. This suggests that the top-ranked digital asset on CoinMarketCap may have another go at the daily high.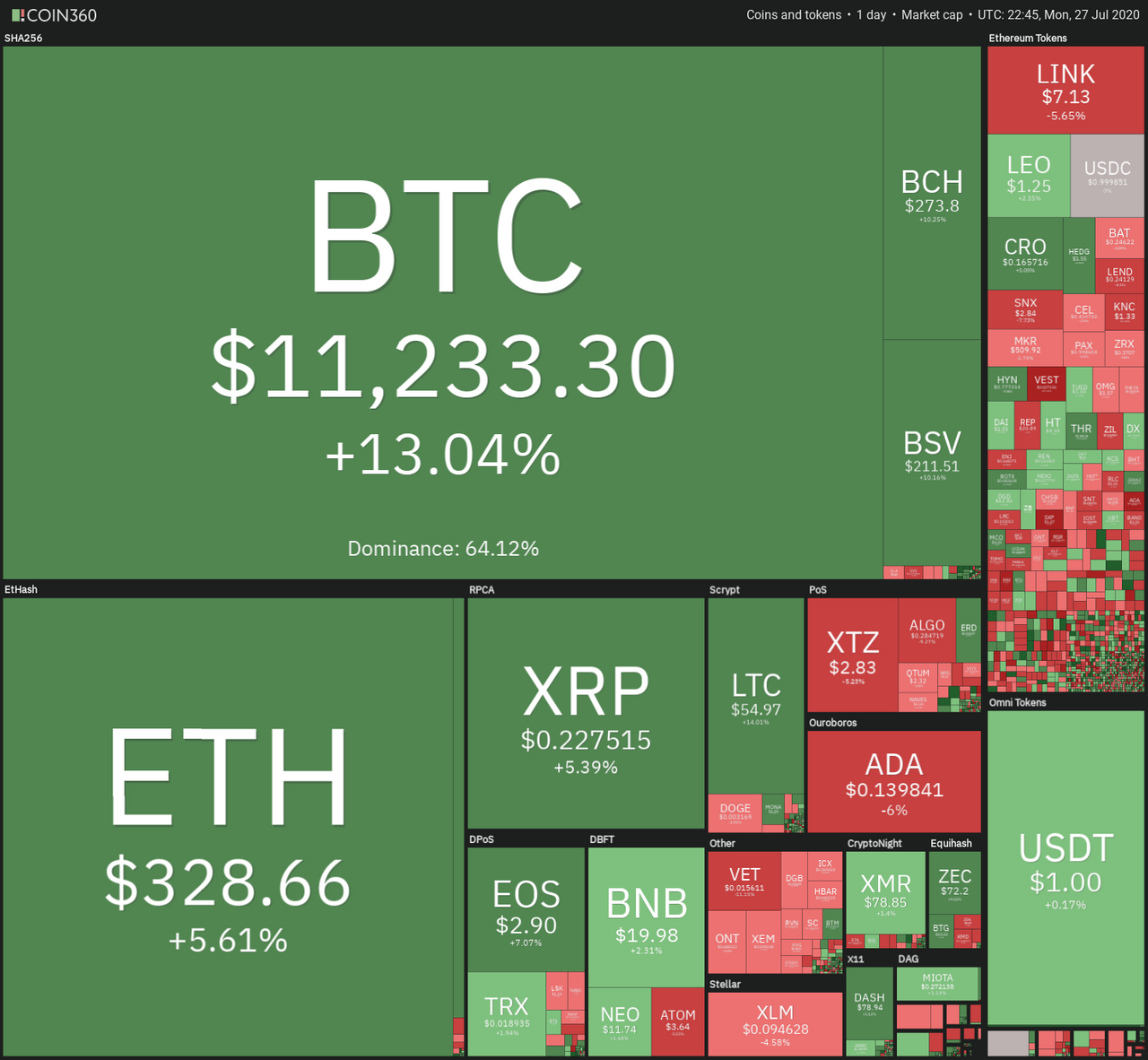 As reported earlier by Cointelegraph, on-chain activity registered a significant spike in exchange inflow as Bitcoin price rallied above $10,000 and Bloomberg analysts now estimate that Bitcoin price will rise above $12,000 this year.
Ether price (ETH) also surged above its previous high by rallying to $333.52 but at the time of writing the top altcoin has pulled back below $330.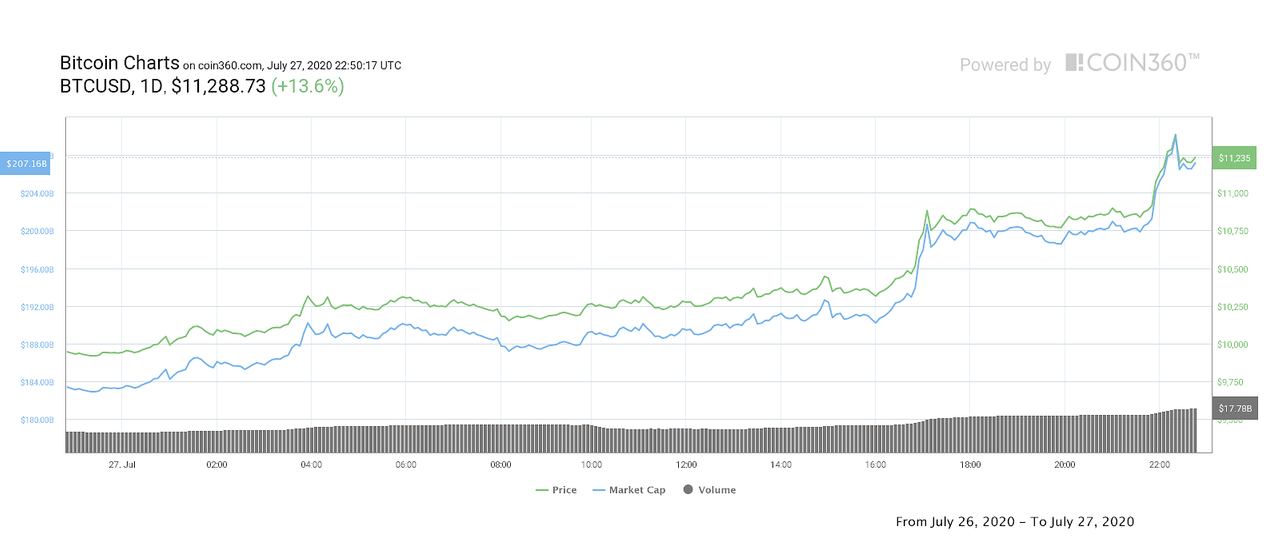 Chainlink, the operator of the LINK token, still remains silent in public about a controversial campaign run by Zeus Capital that has seemingly intensified its efforts, calling people to join a "class-action lawsuit" against the project. Meanwhile, LINK has been dropping since the campaign started in mid-July as Zeus claims they're shorting the token.
The Cryptoverse has gotten a sequel to the story about the recent accusations against one of the year's best-performing major altcoins - allegedly in the form of a lawsuit.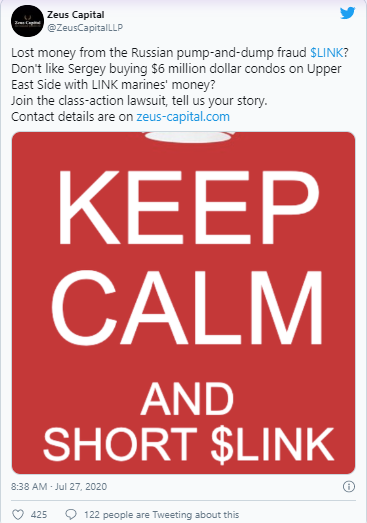 As a reminder, a report by Zeus Capital - accused by some to be impersonating a London-based brokerage - claimed that LINK operators use "classic pump and dump techniques such as trading on inside information" and they also warned that a "crash is imminent," and that LINK will be classified as a security, leaving the company and the investors at risk of "anything from dealing in unregistered securities to court orders for the disgorgement of proceeds."
Their Twitter account - focused on Chainlink since publishing the report - also tends to emphasize that this is a "Russian pump-and-dump." And while some of their claims were debunked by the crypto community (such as "Chainlink is trying to avoid а commitment of its mainnet launch date at any cost") the project itself has not commented on these accusations and has not responded to multiple requests for comment sent by Cryptonews.com.
The No More Ransom decryption tool repository, an initiative launched by Europol to combat ransomware attacks, has saved individuals $632 million in ransom demands since 2016.
According to the announcement published by Europol, the repository is celebrating its fourth anniversary. Over the past four years, the repo has gathered over 4.2 million visitors from 188 countries thanks to a compilation of tools from 163 partners.
The initiative's website lists 100 different tools covering 140 different families of ransomware.
The project's largest contributor is the malware lab, Emsisoft, which has contributed 54 tools so far.
"The project also helps people recover data that would otherwise permanently be lost. The loss of things like wedding photos and videos of babies' first steps is, obviously, heartbreaking for people, and being able to help them get those things back is an important part of what No More Ransom does."
Around 2,500 stolen bitcoins ($28 million) from the 2016 Bitfinex breach were transferred from the hacker's wallet on Monday.
The last time the Bitfinex hackers moved funds from the hack four years ago, they moved around $5 million worth of coins on June 24. This time around, the top crypto asset by market capitalization touched new price highs for 2020 on July 27.
At 6:15 p.m. (ET) on Monday, bitcoin (BTC) reached $11,379 per coin on Bitfinex. The hackers moved the $28 million worth of BTC in various fractions six hours prior to the price high, according to statistics from the BTC transaction tracker Whale-alert.io.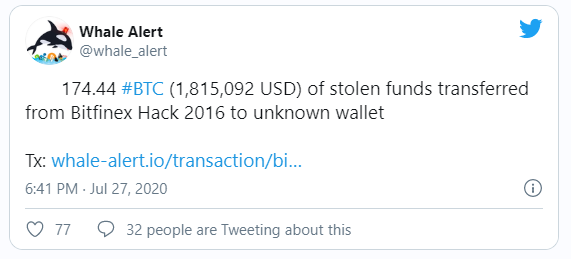 A second private sale of the Polkadot token (DOT) netted the Web3 Foundation and Parity Technologies some 3,982.07 bitcoin (BTC) worth an estimated $43.3 million at press time, according to sources.
A bitcoin address shared with CoinDesk saw 1,059 transactions beginning July 24 at 5:22 UTC.
The token offering was not available in certain jurisdictions such as the United States, according to the sale's website. DOTs were listed for $125 per token, according to Reddit users claiming to be involved in the sale. The Web3 Foundation did not return requests for comment.

🗞 Daily Crypto News, July, 28th💰

"Augur v2 will launch on July 28, 2020."
"HONG KONG, July 22 2020 – Crypto.com is pleased to announce the listing of NEO on The Syndicate platform."
Chainlink (LINK), General Event (CRYPTO), Dash (DASH), Lisk (LSK)
Proof of Stake Blockchain Expo virtual event from 9 AM to 8 PM (GMT+9).
"Save the date! We will have an #AMA on the 27th of July at 2 PM UTC!"
"ProBit Exchange Lists PhoenixDAO (PHNX)... Trading: July 28, 2020, 15:00 KST"
Brittany Laughlin will be speaking at the Responsible Data Summit.
Last Updates


➡️ Be paid daily to browse with Brave Internet Browser
➡️ A secure and easy wallet to use: Atomic Wallet
➡️ Publish0x
➡️ UpTrennd
➡️ Read.cash
➡️ Minds
➡️ Hive
➡️ Twitter
➡️ Facebook