Bitcoin Clings to $11,000 as Ether Futures Top $1B;
Ethereum History in 5 Charts;
Is the Growing Correlation Between Bitcoin and Gold a Bullish Sign?;
US Printed More Money in One Month Than in Two Centuries;
Twitter Says It Knows How Hackers Gained Access;
🗞 Daily Crypto Calendar, July, 31st 💰
Welcome to the Daily Crypto News: A complete Press Review, Coin Calendar and Trading Analysis. Enjoy!
Bitcoin (BTC) trading around $11,142 as of 20:00 UTC (4 p.m. ET). Slipping 0.90% over the previous 24 hours.
Bitcoin's 24-hour range: $10,811-$11,348
BTC above 10-day and 50-day moving averages, a bullish signal for market technicians.
Bitcoin was little changed at around $11,000 Thursday as traders digested reports the U.S. economy shrank during the second quarter at the fastest pace on record, and that President Donald Trump is wondering if the Constitutionally mandated November presidential election could be delayed.
Trading was light, with volume of about $113 million on the Coinbase exchange, after a price rally earlier this week led to a surge in volumes.
Ether futures open interest over $1 billion
The second-largest cryptocurrency by market capitalization, ether (ETH), was up Thursday, trading around $334 after climbing 3.5% in 24 hours as of 20:00 UTC (4:00 p.m. ET).
Five years ago this week, the first general-purpose blockchain went live on mainnet. Ethereum paved the way for a whole new use case for blockchain technology untethered from Bitcoin's original vision as electronic cash.
Part 1: A Bloodless Secession
Ethereum Classic (ETC) was created July 20, 2016, after $60 million worth of ether (ETH), Ethereum's native cryptocurrency, was stolen from users of a dapp known as The DAO. At the time, The DAO was the only dapp of its kind where users could pool funds and vote on which projects the money would be invested in. The DAO's vision (before it was hacked and drained of a significant chunk of its finances) was to be an investor-guided venture capital fund.
Part 2: Those Darned Cats
At the height of their popularity, tokenized cats were trading on Ethereum for upwards of $200,000. However, the influx of users and a high volume of transactions from this one viral dapp clogged the Ethereum blockchain to unprecedented levels. A backlog of 30,000 transactions had piled up by December 2017, meaning that users would have to wait days for their transfers of ETH to be confirmed.
Part 3: Testing the Limits
The need for Ethereum 2.0 and its expected benefits to network efficiency, as well as scalability, has only grown stronger since the CryptoKitties craze of 2017. The popularity of initial coin offerings (ICOs) – a way to crowdfund early stages of a cryptocurrency project – by dollar amount raised reached its peak in 2018. A total of $7.8 billion was raised for over 1,000 projects that year. According to ICObench, over 80% of all ICOs rely on the Ethereum blockchain to create their tokens and issue them to investors.
As Bitcoin (BTC) rallied to its 2020 high of $11,392 this week, its correlation with gold increased and at the moment, BTC's monthly correlation with gold on daily returns sits at 0.66, according to data from CryptoCompare.
The correlation started to increase as gold broke through $1,900, nearing a new high before pulling back alongside Bitcoin.
The increase in correlation represents a trend shift as the relationship between the two had previously been falling according to data from Kraken exchange's research team.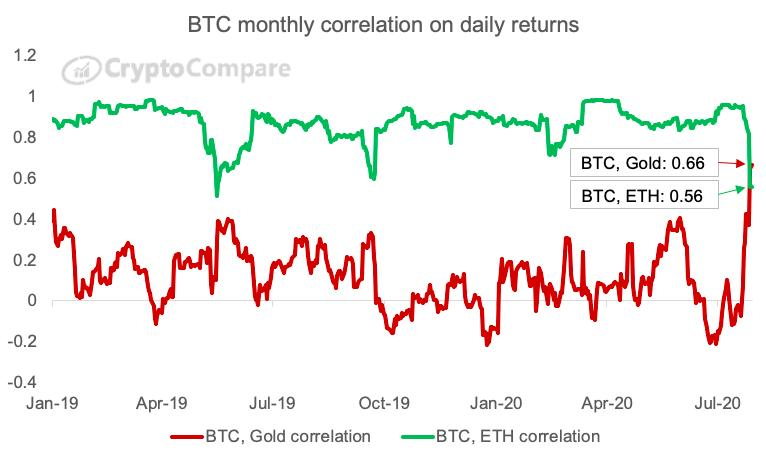 CryptoCompare research analyst James Li told Cointelegraph:
"With innovations and hype around DeFi, we started to see prices decouple within the crypto space. Ethereum is an enabler and we saw a much stronger gain over the last few weeks, alongside gains from other DeFi tokens."
Morehead made it clear that Pantera Capital sees Bitcoin as the solution for the current crisis. He also contrasted the effects of money printing in recent months, to how the equivalent amount of currency had performed across centuries:
"With that first trillion [USD printed] we defeated British imperialists, bought Alaska and the Louisiana Purchase, defeated fascism, ended the Great Depression, built the Interstate Highway System, and went to the Moon."
The hackers who got away with BTC 13.14 – worth roughly USD 146,000 – in the infamous Twitter attack on July 15, gained the access they needed by targeting Twitter employees directly through a "phone spear-phishing attack," Twitter said.
The attackers relied on "a significant and concerted attempt to mislead" specific employees, and "exploit human vulnerabilities" to gain the access they needed to carry out the attack, the social media giant said today.
🗞 Daily Crypto News, July, 31st💰
The 80% token will ben transferred to burn address on July 30, 2020 at 9:00AM UTC.
Mainnet Launch
Aergo (AERGO), Standard Tokenization Protocol (STPT)
"MTO Round 4 July 30th - Aug. 2nd: Aergo."
Bitpanda Ecosystem Token (BEST)
BEST Token Burn
Chainlink (LINK), Ethereum (ETH), iExec RLC (RLC), Unibright (UBT)
"Ethereum in the Enterprise 2020 A Virtual Event from the Enterprise Ethereum Alliance (EEA) Thursday, July 30, 2020 10:00 AM – 2:35 PM EDT"
"NEXT.coin will be listed on an additional exchange."
Last Updates
➡️ Be paid daily to browse with Brave Internet Browser
➡️ A secure and easy wallet to use: Atomic Wallet
➡️ Publish0x
➡️ UpTrennd
➡️ Read.cash
➡️ Minds
➡️ Hive
➡️ Twitter
➡️ Facebook