With $10K Near, Is Bitcoin Price Ready for a Big Breakout Next Week?;
New Coronavirus Relief Package Proposed With Second Round of Stimulus Checks for Americans;
Liquid Exchange Confirms Asset Delistings Due to Regulatory Requirements;
ESPN Announces Online Gaming That Allows Bitcoin Deposits and Withdrawals;
Spotting the Potential of NFTs in the Blockchain Gaming Industry;
🗞 Daily Crypto Calendar, July, 26th 💰
Welcome to the Daily Crypto News: A complete Press Review, Coin Calendar and Trading Analysis. Enjoy!
The price of Bitcoin (BTC) held the crucial support level of $9,000, after which a rally to $9,600 occurred, as anticipated in last week's technical analysis. Nevertheless, the overall market trend for BTC price has not broken out of its range since the halving in May.
The support area is $8,800-9,000, while the resistance can be found between $10,100-10,300. The volatility and volume have been decreasing as this range has been narrowing. So when can the market see volatility and big moves again?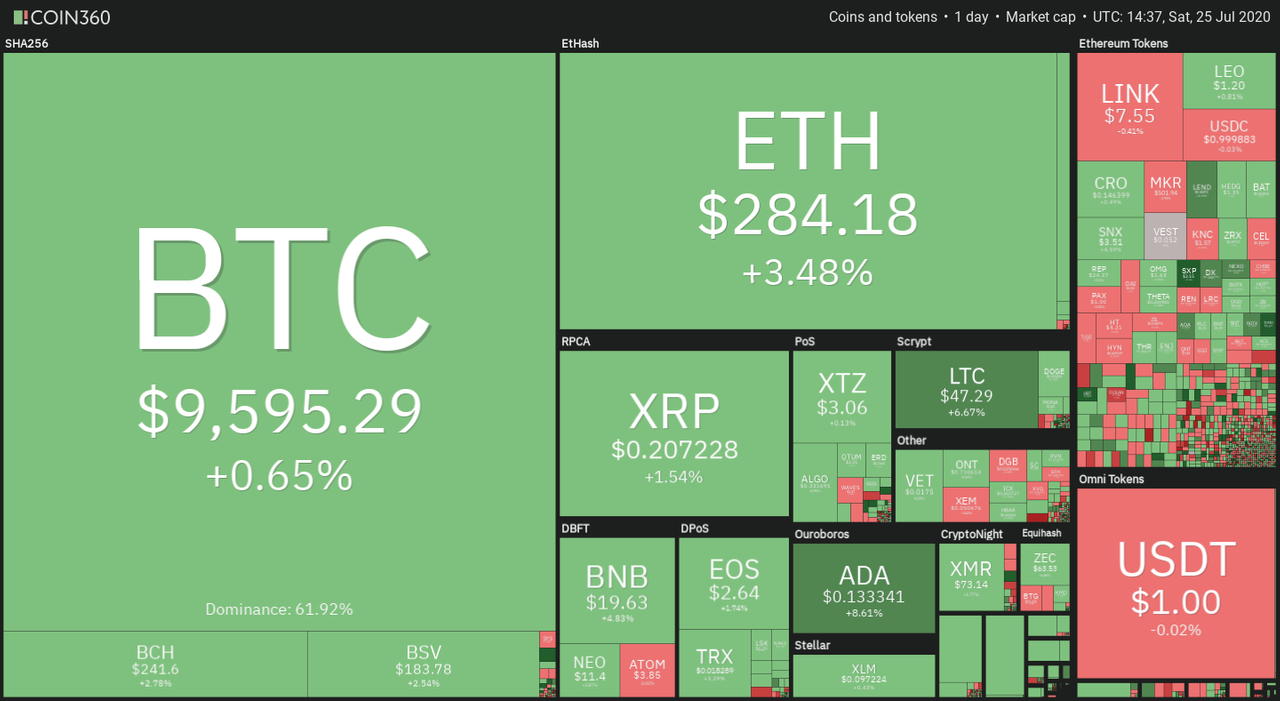 The price of Bitcoin held key support level
As the chart shows, the crucial support levels for Bitcoin were held this past week. The support area between $8,800-9,000 was a vital one to hold as this was the previous low.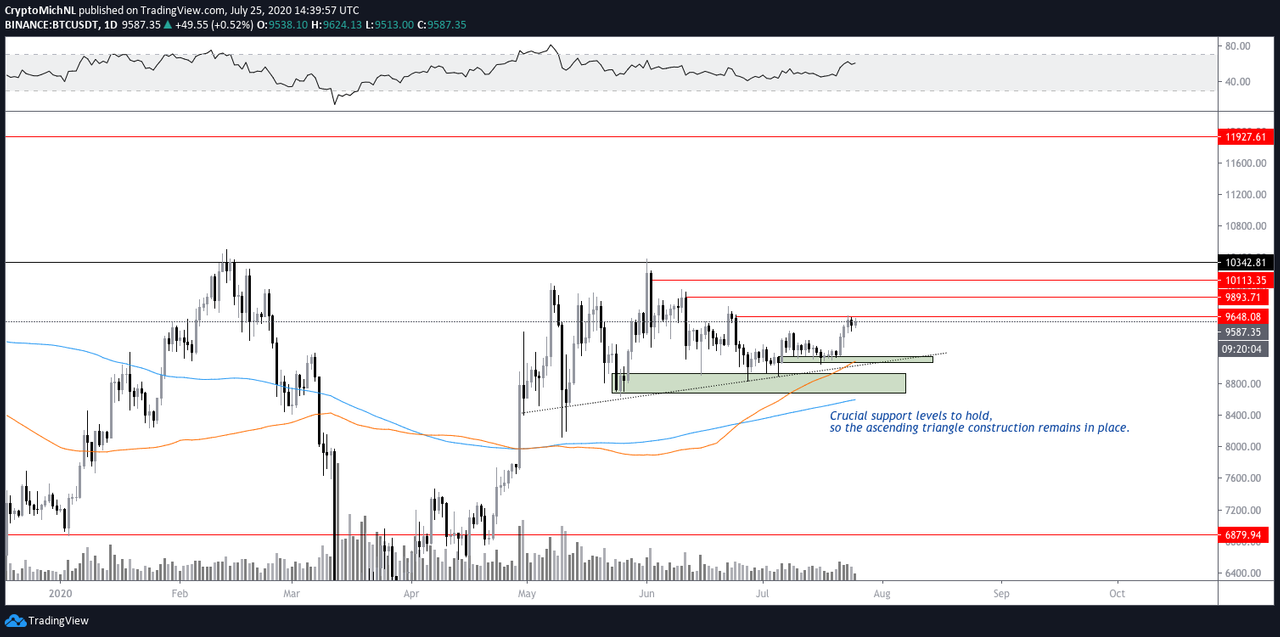 Republicans have proposed a new coronavirus relief package with a second round of stimulus check payments, a draft summary of the proposal confirms. According to Treasury Secretary Steven Mnuchin, the new package will be the "exact same proposal as last time."
New Covid-19 Relief Proposal
As lawmakers debate over a new coronavirus relief aid package, Americans are eager to know if they will receive another round of direct payments. According to a draft proposal obtained by The New York Times on Thursday, there will be a second round of stimulus checks.
Stimulus payments "will be included, but the amount of the payment and eligibility criteria are TBA," the document reads, without giving further details. This new proposal is the Republican response to the Democrats' $3 trillion HEROES Act which the House passed on May 15 but the bill has not cleared the Senate.
Japanese exchange Liquid officially announced the delisting of 27 assets, citing regulatory precautions.
Japanese exchange Liquid recently unveiled a mass asset removal from its platform, which COO Seth Melamed claimed necessary for legal compliance.
"Liquid works closely with regulators in Japan and Singapore," Melamed told Cointelegraph on July 25.
Referring to Anti-Money Laundering, or AML, and Combating the Financing of Terrorism, or CFT, regulations, he added:
"As part of risk management we have to take a conservative approach regarding maintaining listings in tokens that are potentially viewed by regulators as in conflict with rules around AML and CFT and the Funds Travel Rule."
ESPN Global has announced the launch of a blockchain-powered gaming platform, which will allow competitors to deposit and withdraw using bitcoin and other cryptocurrencies through Cryptopay.
The platform is also integrating an online treasure hunt, Satoshi's Treasure, with $1 million worth of bitcoin to be split among 1000 winners.
In a June 23 statement, the UK-based company said it is in the pre-launch phase of a platform that will offer some of the most popular games in one mobile application for crypto prizes. Blockchain technology will decentralize verification and support for transactions inside the platform.
Polyient Games' Craig Russo believes that the NFT market has come to represent one of the "most attractive opportunities" across digital assets.
Non-Fungible Tokens (NFTs) are emerging as a very popular blockchain trend in gaming, as they're also now being used in the sports industry (ticketing), financial services, and as a way to sell and transfer property, highlighted Craig Russo, director of innovation of an investment firm and startup ecosystem, Polyient Games.
In an interview with Cointelegraph, Russo explains that NFTs first captured the attention of the mainstream crypto community in 2017 with the launch of Ethereum (ETH) collectibles game, CryptoKittie.
"One reason gamers are gravitating towards blockchain is that - unlike traditional games - blockchain environments permit players to gain true ownership of their in-game items. This means blockchain games, driven by non-fungible tokens (NFTs) and digital collectibles, are unlocking an entirely new economic system that enables gamers to earn real money while they play. Fueled by these applications, the collectibles market has reached $370 billion."
🗞 Daily Crypto News, July, 26th💰

Mandatory update to Rapids Network Core Wallet - Enabling Cold Staking and more.
Crypto Revolution is hosting an AMA with Rapids Network! Date: July 26 (11AM UTC).
"Major update later this week. We will be announcing a number of new features, which will enable you to start earning NTK by shopping..."
10,000 DYNMT tokens burned.
"Great to share our collaboration with @Hdao_Official on #Defi, welcome to join our AMA on Jul 26th, UTC+8..."
"We are anticipating the first testnet to be July 27."
Last Updates


➡️ Be paid daily to browse with Brave Internet Browser
➡️ A secure and easy wallet to use: Atomic Wallet
➡️ Publish0x
➡️ UpTrennd
➡️ Read.cash
➡️ Minds
➡️ Hive
➡️ Twitter
➡️ Facebook