Bitcoin Price Predictions by Top Analysts Are Usually Wrong — Here's Why;
PayPal Picks Paxos to Supply Crypto for New Service, Sources Say;
Hackers Attack Telecom Argentina, Demand USD 7.5m In Monero;
Crypto Social Network 'Minds' Sees Users Flock From Twitter and Facebook Over Privacy Concerns;
Nexo Finance Accused of Being Behind Zeus Capital and Chainlink Short;
🗞 Daily Crypto Calendar, July, 20th 💰
Welcome to the Daily Crypto News: A complete Press Review, Coin Calendar and Trading Analysis. Enjoy!
Top analysts often make wild Bitcoin price predictions, while BTC options implied volatility produces conservative estimates. Which group fared better?
Since Bitcoin (BTC) price rallied above $19,000 in 2017, crypto analysts have issued an amazingly wide range of price predictions on the date and value of the next all-time high or low.
Sometimes these predictions are rooted in deep fundamental and technical analysis, whereas other times they are simply nothing more than off-the-cuff estimates issued at whim.
Consider options mathematical probability
Although the Black & Scholes options pricing model can be complicated, it's usage is pretty straight forward. By informing the current BTC price, strike level, days until expiry, and annual volatility, the model will instantly provide the odds above and below a specific price.
Skipping the complex calculations, one can refer to Skew Analytics to find current probabilities for each expiry based on options pricing.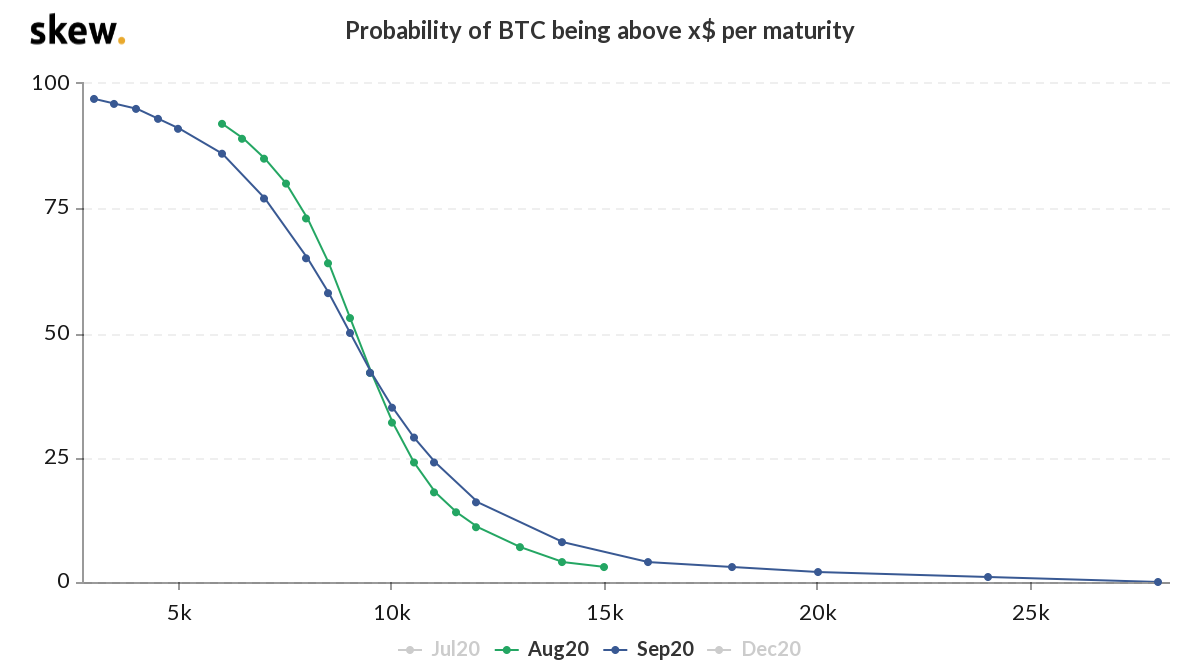 PayPal, the fintech giant planning to bring crypto trading to its massive user base, has chosen Paxos to handle the new service's supply of digital assets, according to two people familiar with the matter.
It's a plum assignment for New York-based Paxos, which last week launched Paxos Crypto Brokerage and announced its first customer in Revolut US, the American division of the U.K.-based fintech firm that offers bitcoin trading. A formal announcement of the PayPal relationship could come as soon as this week, one source said.
The offering would make PayPal one of the most prominent mainstream companies to offer cryptocurrency purchases, joining fellow publicly-traded payments provider Square and unicorn stock brokerage Robinhood.
Telecom S.A., the largest telecommunications company in Argentina, has suffered a ransomware attack as hackers demand USD 7.5m ir privacy coin monero (XMR) to be paid until the night of Tuesday, July 21. If the company does not meet the deadline, the payable amount will rise to USD 15 million (XMR 216,189).
The hackers are not only demanding the ransom to be paid in XMR but also left a message with links where to buy this privacy coin.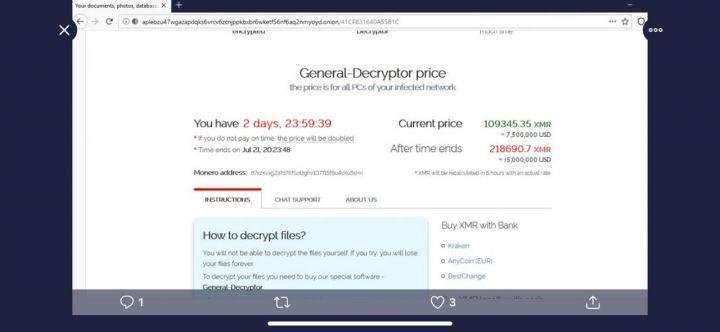 Per the local news outlet, the attack has not affected users or internet and telephone services provided by Telecom Argentina. Still, the company has reportedly lost access to Office365 and OneDrive files. Other affected internal systems include corporate VPN, Citrix, Siebel, Genesys, the Customer and Field Service virtual machines, and internal users' PCs.
Crypto social media platform Minds has been garnering users who are concerned about their privacy, according to the company's CEO. The open-source platform, seen as an alternative to Facebook or Twitter, awards users with cryptocurrency for engagement.
Crypto Social Network Minds Gaining Popularity
Privacy-oriented social media platform "Minds," often touted as an antithesis to Facebook and Twitter, has been seeing considerable growth in the number of users, according to its founder and CEO, Bill Ottman. The American entrepreneur told IANS publication that his platform "has already attracted people all over the world who are concerned about privacy practices on social networks."
Users were already migrating from mainstream platforms, such as Twitter and Facebook, due to privacy concerns even before the great Twitter hack that saw high-profile accounts tweet about bitcoin giveaways. Among compromised accounts were those of U.S. presidential candidate Joe Biden, former U.S. President Barack Obama, Google, Apple, Warren Buffett, and many well-known people in the crypto space.
Twitter users accuse Nexo Finance of being behind Zeus Capital, the firm who wanted to short Chainlink.
Nexo Finance has been accused of being behind the suspicious asset management firm that sought to short Chainlink (LINK) after social media users saw Zeus Capital's source code pointing to its website.
Twitter users found a connection between Zeus Capital, who days ago called Link "crypto's Wirecard," and Nexo Finance on the Zeus Capital website. Embedded within the Zeus website source code were several instances of Typeform links connected to Nexo's website. Typeform, which lets users create forms, is also used by Nexo on its own site to let users sign up for their newsletter.

Other users questioned if Nexo's head of digital asset research Simeon Rusanov was involved in shorting LINK attaching images that could point to some involvement. This has been strongly denied by Nexo on its Telegram channel.
🗞 Daily Crypto News, July, 20th💰
"TornadoCash implementation for anonymous txs."
"Wallet user interface update to support anonymous transactions."
"Explorer user interface update to support anonymous transactions."
"07/20: Release update to exchanges."
"The Haven team is thrilled to announce we will launch the first private stablecoin, xUSD, on Haven's mainnet on July 20, 2020."
Aeron (ARN), Etherparty (FUEL), Lunyr (LUN)
"#Binance Will Delist $ARN, $FUEL and $LUN on 2020/07/20"
"On July 20 or earlier, Deex will provide detailed instructions with a video on how to launch a private transport node on the Deex..."
"Our co-founder and CEO @sunshinelu24 will be interviewed by Michael of @boxmining 10 pm UTC +8 on Monday the 20th of July. "
"$WRX is listing on @BitMartExchange on Monday, 20th July!"
Last Updates
➡️ Be paid daily to browse with Brave Internet Browser
➡️ A secure and easy wallet to use: Atomic Wallet
➡️ Publish0x
➡️ UpTrennd
➡️ Read.cash
➡️ Minds
➡️ Hive
➡️ Twitter
➡️ Facebook