Bitcoin Price Charts Suggest $9K Deadlock May Finally End Next Week;
Zcash Latest Hard Fork 'Heartwood' Makes Mining Private;
Elon Musk Sees 'Dogecoin Standard' Future — DOGE Price Rises 14%;
Stablecoin Supply Doubles to 12 billion Following a 50% Cryptocurrency Market Price Drop;
Expect More M&As As New Type of Buyers to Compete With 'Crypto Octopuses';
🗞 Daily Crypto Calendar, July, 18th 💰
Welcome to the Daily Crypto News: A complete Press Review, Coin Calendar and Trading Analysis. Enjoy!
The price of Bitcoin (BTC) has been continuing the previous week's weakness as the support of $9,000 has been tested many times. However, the market itself is not acting bearish because altcoins such as DOGE, for example, are surging left and right.
Is the market ready for a momentum shift and a big volatile move by BTC, the top-ranked cryptocurrency by market capitalization?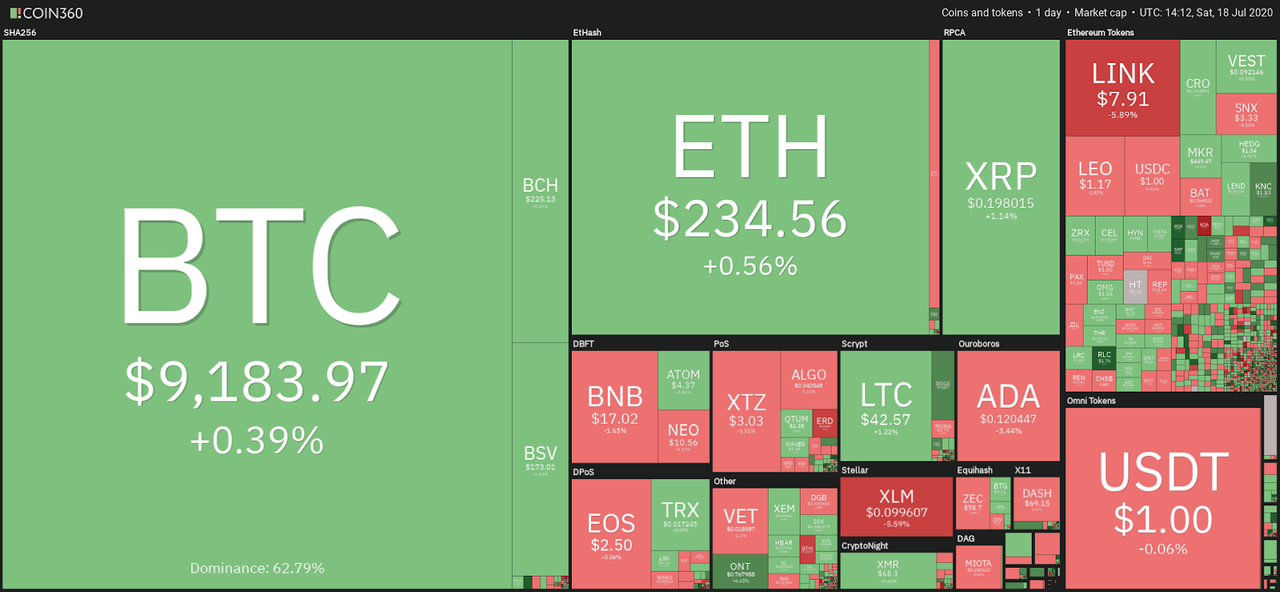 However, the price has been dropping since the peak high at $10,300 and has been making lower highs since. That leads to the overall conflict in the markets as both bullish and bearish arguments exist.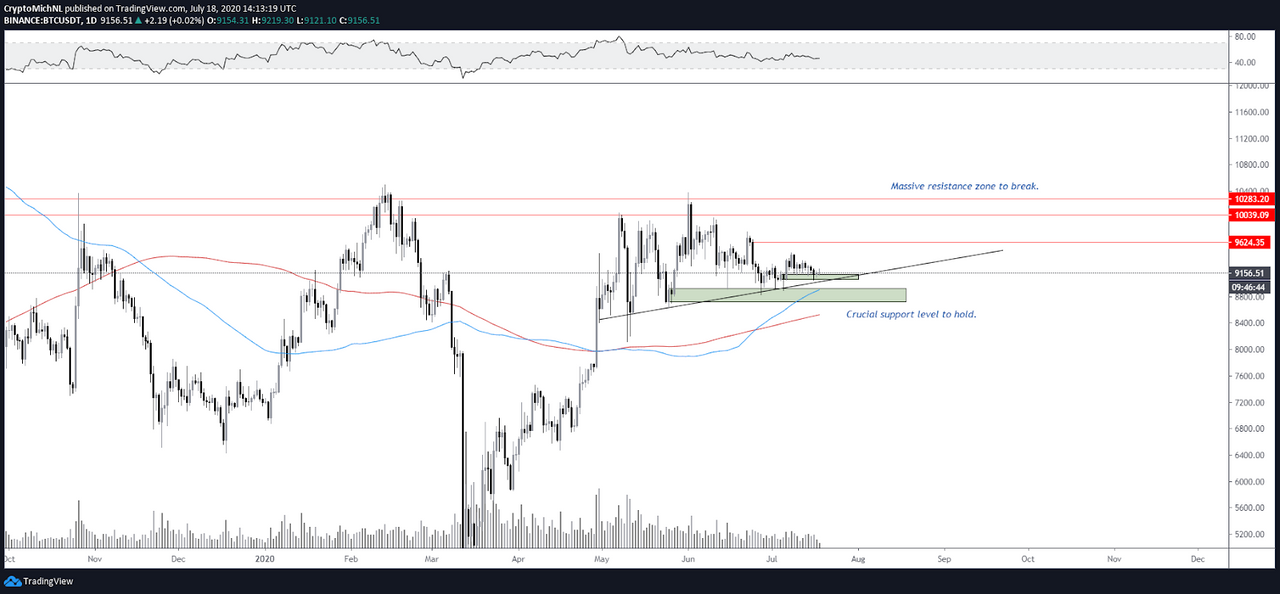 Meanwhile, a potential ascending triangle is ready to form if the price of Bitcoin breaks above $9,300 in the short term.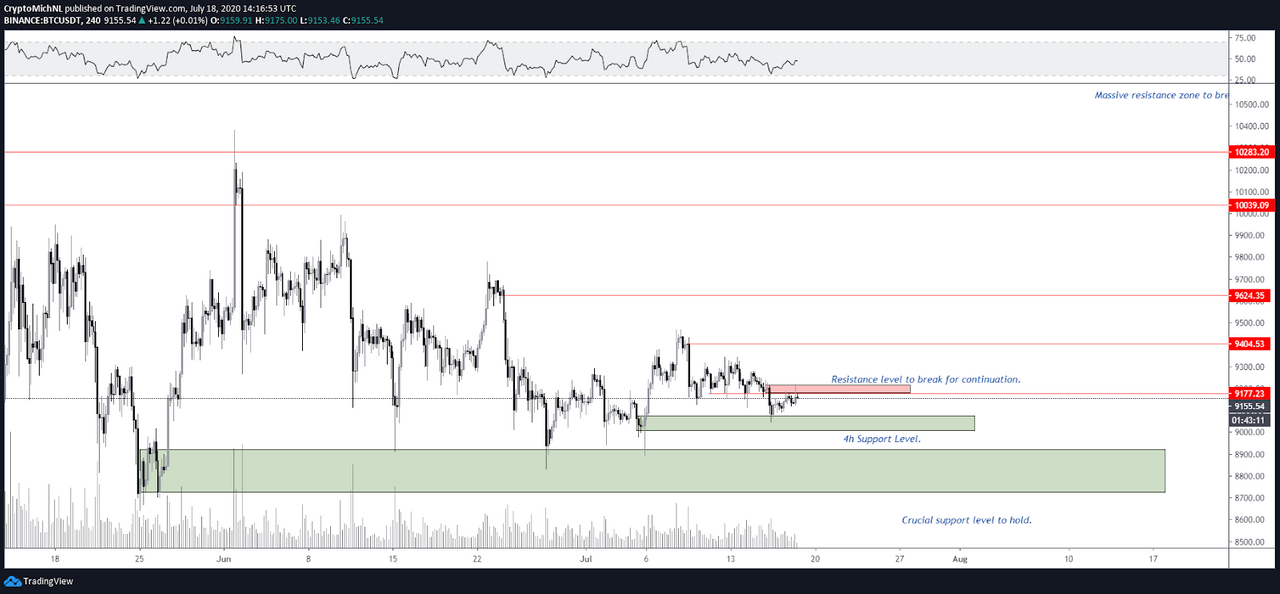 Privacy coin zcash has successfully hard forked in the planned network update "Heartwood." With the update, miners can receive coinbase transactions right to a private address, in addition to other new features.
The hard fork occurred on July 16 at 10:58 UTC at block height 903,000, according to the Electric Coin Company (ECC), the for-profit development house behind the project. An uncontentious hard fork, Heartwood was supported by both the ECC and Zcash Foundation.
The update includes two Zcash Improvement Proposals (ZIPs). The first, "Shielded Coinbase" (ZIP 213) brings long-sought privacy solutions for Zcash (ZEC) mining while ZIP 221 "Flyclient" adds support for lightweight clients that verify transactions, the ECC said in a March blog.
Elon Musk, the CEO of Tesla and SpaceX, posted a sarcastic tweet about the meme cryptocurrency Dogecoin (DOGE). It is not the first time Musk has trolled the crypto and Bitcoin (BTC) communities with humorous remarks.
He tweeted "it's inevitable," with an image showing the "dogecoin standard" dwarfing the global financial system.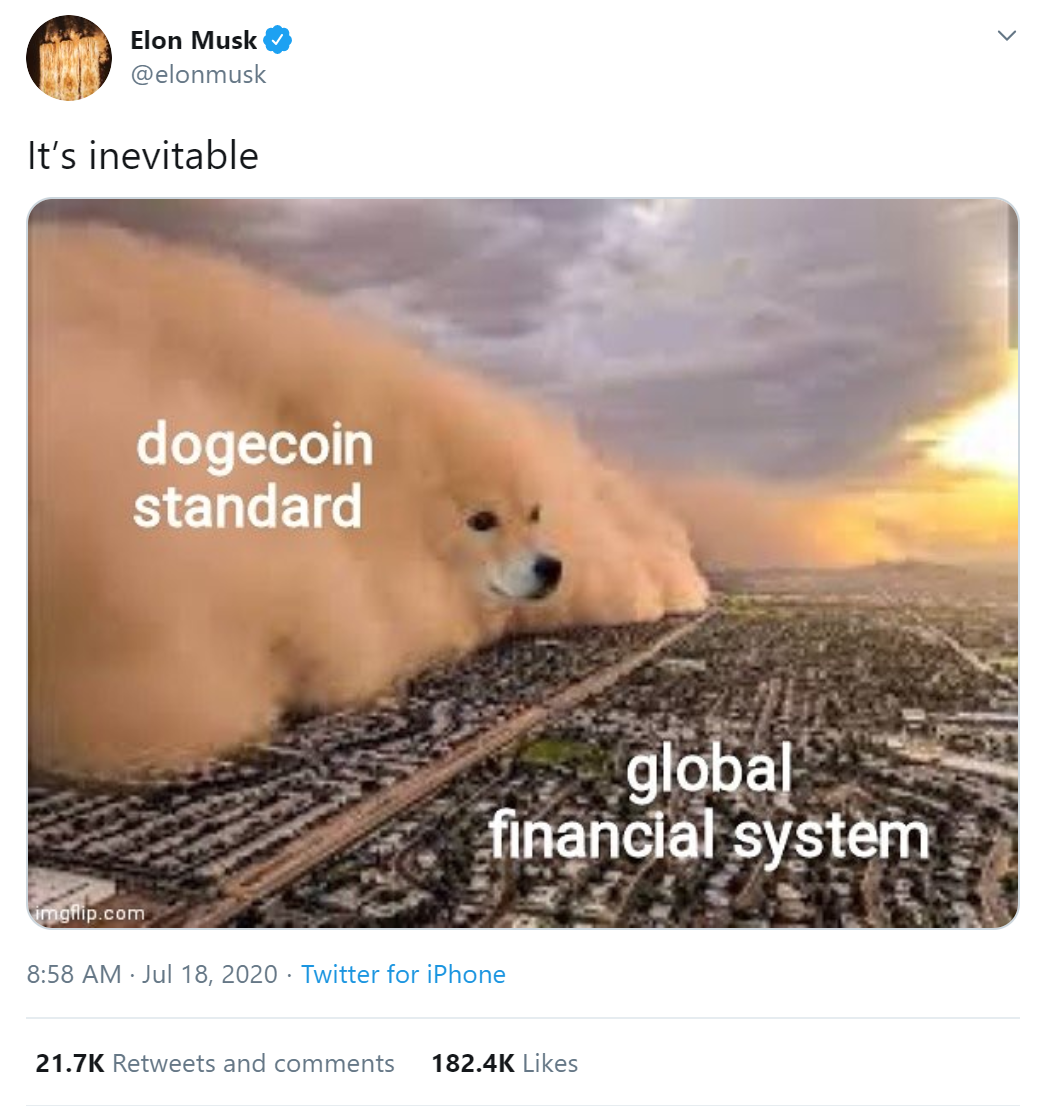 .Responding to a sarcastic tweet asking Musk for lost Bitcoin, Musk wrote:
"Excuse me, I only sell Doge!"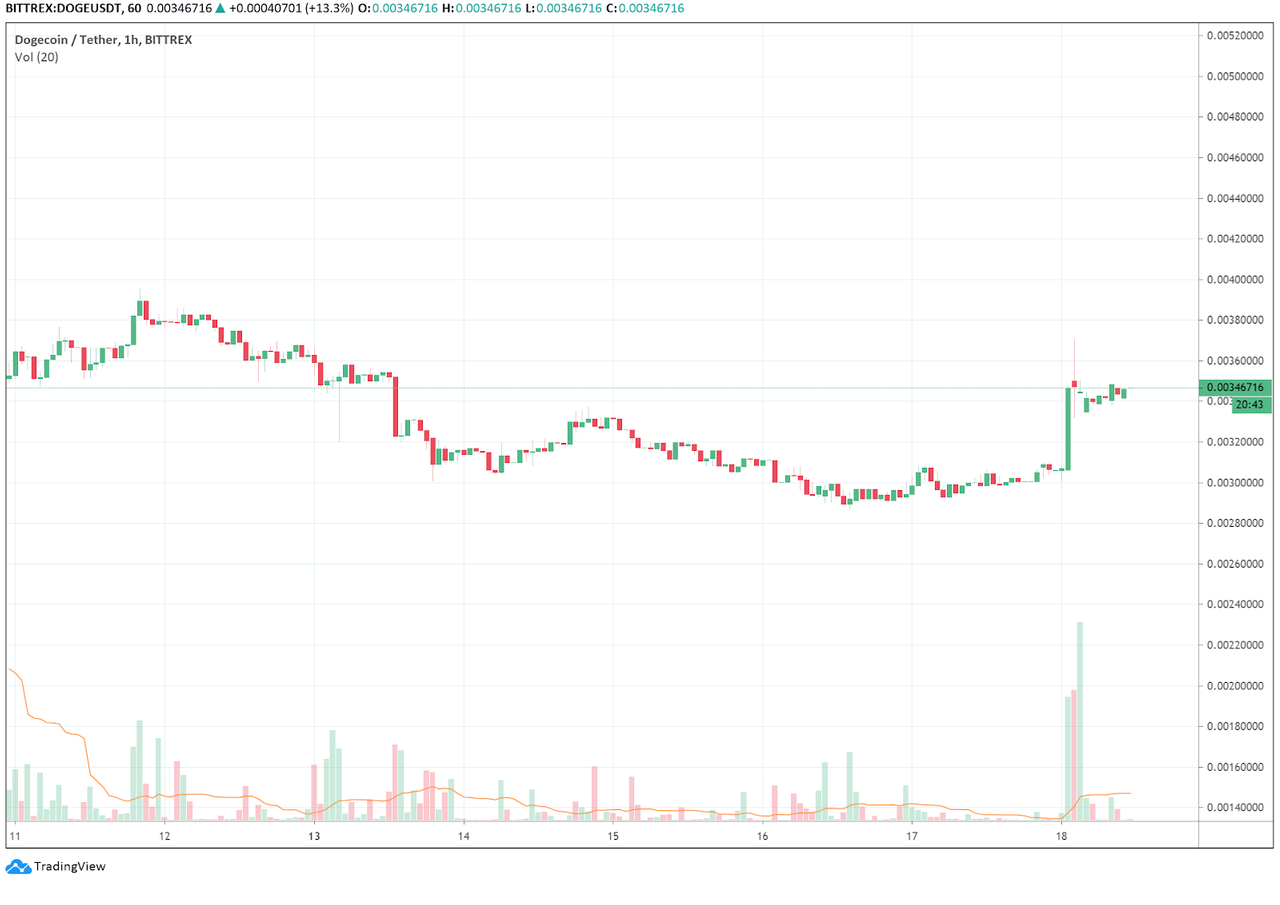 The total supply of stablecoins in existence has doubled to 12 billion, following an increased demand sparked off by the March 12 (Black Thursday) 50% crypto price crash.
The findings from the latest research study by Coin Metrics, which is sponsored by Bitstamp, show that it took a period between March 12 and the first half of July to add 6 billion stablecoins.
Before this addition, it had taken five years for global supply to reach the initial 6 billion.
The report comments that the March 12th event was spurred by a massive sell-off in the global equity markets as fear over Covid-19 suddenly set in.
M&A activity might pick up in H2 2020 and early 2021.
M&As will be determined by the quality and impact of targets.
European crypto exchanges are among potential targets.
Traditional financial institutions and tech companies might become active buyers
Mergers and acquisitions (M&A) in the crypto industry are likely to increase in the second half of 2020, despite the ongoing COVID-19 pandemic. This is the opinion of industry players working in crypto and blockchain, who believe that the bigger companies are likely to step up their mergers and acquisitions in the coming months.
Everything depends on the development of the pandemic, of course. Assuming that the global economy continues its tentative and gradual recovery, M&A activity is estimated to pick up in H2 2020 and early 2021, led by the bigger crypto exchanges, while traditional financial institutions and tech companies might become active buyers too.
🗞 Daily Crypto News, July, 18th💰

"Where will you be on 18th July? 2 days before launching the Total Eclipse feature, Yohan Graterol will hold an exclusive AMA..."
"Version 3.2.0 released, this is a mandatory upgrade that fixes a bug in transaction size calculation."
"CEO @PavelBains will host an #AMA w/ the @CryptoDaku_ community on #Telegram tmr!"
Last Updates


➡️ Be paid daily to browse with Brave Internet Browser
➡️ A secure and easy wallet to use: Atomic Wallet
➡️ Publish0x
➡️ UpTrennd
➡️ Read.cash
➡️ Minds
➡️ Hive
➡️ Twitter
➡️ Facebook