Bitcoin Price Soars on Strong Weekly Close Putting $10.5K Within Reach;
Ethereum Miners' Income Soars by 60% in a Month – Outruns Ether's Price Jump;
Coinbase CEO: Exchange Won't List XMR Due to 'Issue With Regulators';
Hyperinflation Hits Lebanon: Food Prices Soar 200%, Biggest Crisis Since Civil War;
🗞 Daily Crypto Calendar, July, 27th 💰
Welcome to the Daily Crypto News: A complete Press Review, Coin Calendar and Trading Analysis. Enjoy!
Within the last hour, Bitcoin (BTC) price rallied above $10,000 to set a new monthly high at $10,315.
The move came after a rather uneventful weekly close which saw the top-ranked digital asset on CoinMarketCap close above an important multi-year descending trendline. A few hours after the close, Bitcoin price found renewed strength and surged above the $10,100 resistance zone.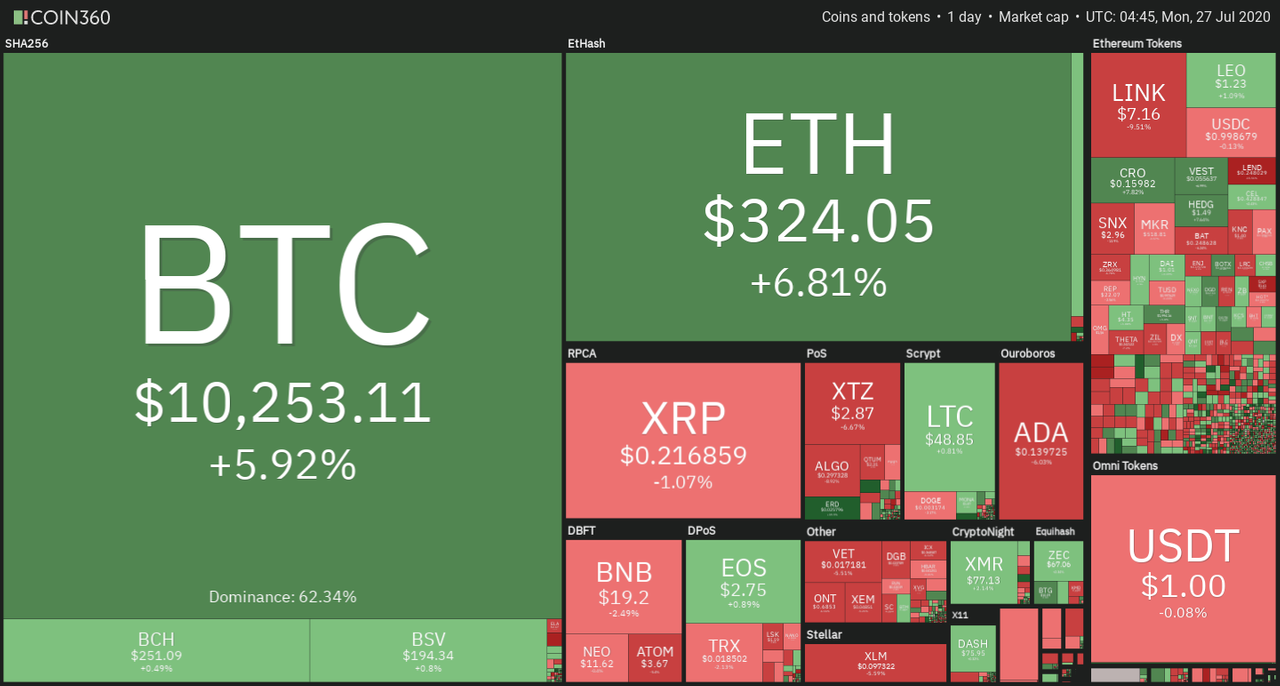 Analysts now expect traders to target $10,500, and above this level price estimates ranging from $11,000, $14,000 and even $16,000 have been thrown about.
While this is exciting for bulls, it's important to note that Bitcoin price has rallied 12.76% since rising from $9,142 on July 21 and the price has yet to retest underlying support around $9,450.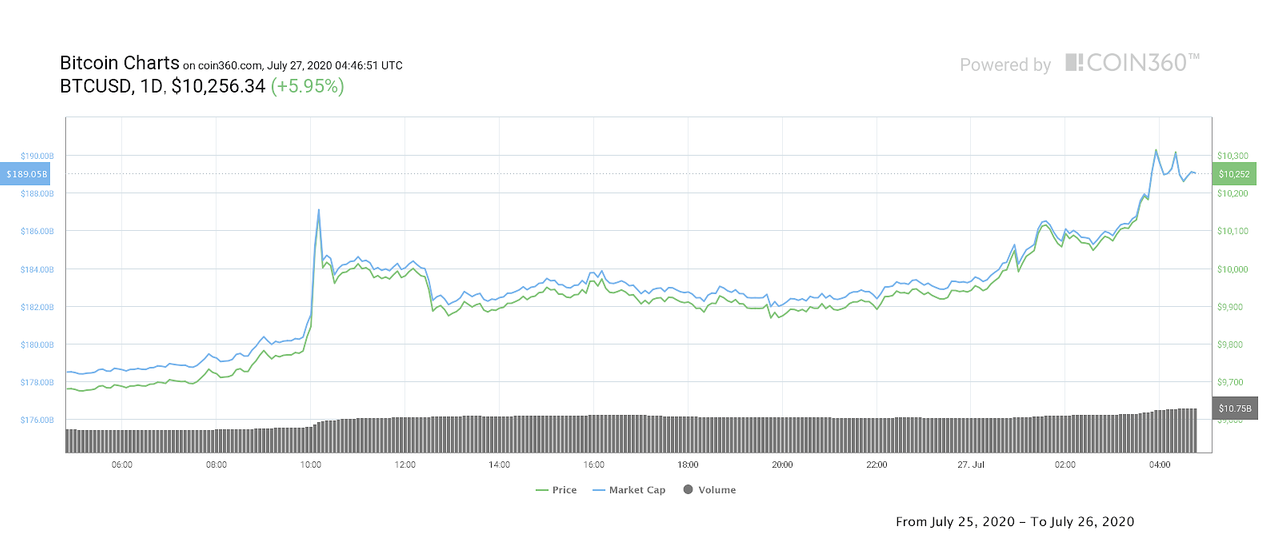 Ethereum bulls target $367
Ether (ETH) price also surged higher as Bitcoin price surged to $10,315. At the time of publishing, Ether trades at $329 after rallying 5%.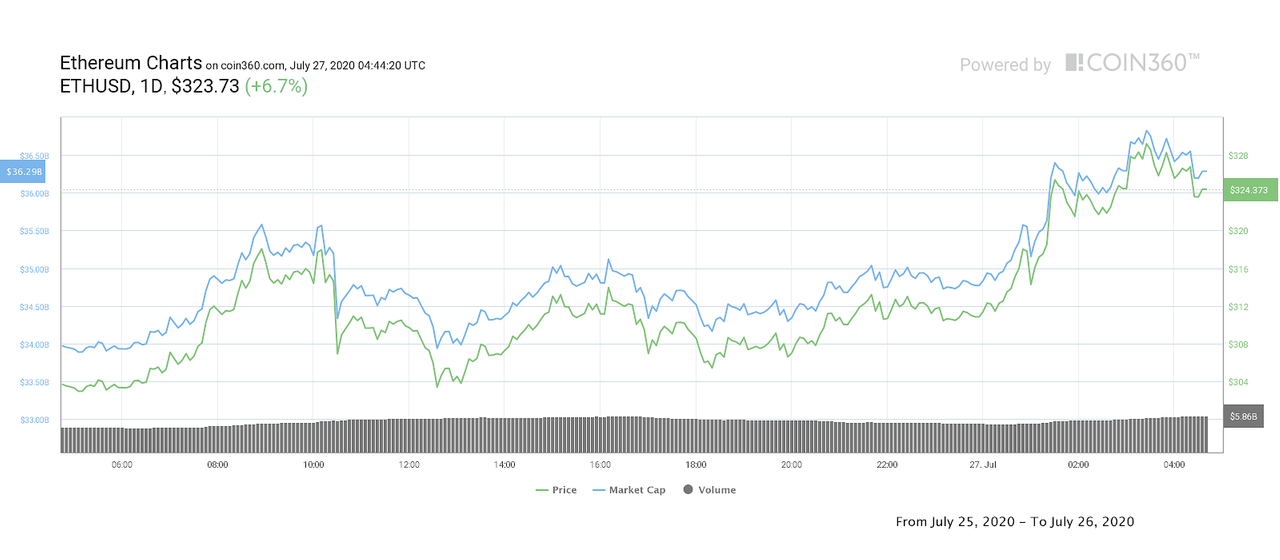 The daily income earned by Ethereum miners has soared by over 60% in a month, shows data tracked by Ethereum mining pool Sparkpool.
The surge in daily profit from Ethereum mining surge has also outpaced ether's (ETH) price jump of 40% over the same period.
The profitability rise comes thanks to soaring transaction fees on the network, as well as relatively slow growth in competition from other miners.
Sparkpool's data shows that Ethereum miners' daily income was around $1.85 per 100 megahashes second (MH/s) on the network on June 27. Over the past month, and the last two weeks in particular, this has jumped by 60% and reached as high as $3.27 on July 25. The metric has since dropped back to around $3.
This is my 2nd post on #Chainlink $LINK Cryptocurrency. I have been investigating the project for some days and I will show some findings.
I will go in a separate post over ALL the different point that Zeus Capital raised. I checked some of them that seem legit.
This article will be focused on the Media promotion/Marketing tone of the #Chainlink project.
What about these Partnerships and Deals?
Lately, Chainlink announced a partnership with T-systems (some subsidiary of Deutsche Telekom focused on Blockchain Technologies)
Reading the PR from T-systems it is written:
By providing real-world data into the Chainlink network, T-Systems MMS engages in a form of infrastructure provisioning also known as "Generalized Mining", where it provides an IT service to a blockchain network while getting rewarded in digital assets for reliably doing so. As the value locked on the application level such as DeFi is significant, such IT services play an important role in the overall Ethereum ecosystem.
So, Chainlink is communicating on "Buying" datas from Deutsche Telekom. But you would have to open the PR to understand fully the extent.
Full article with screenshots and a LOT of information here
Brian Armstrong says Coinbase won't be listing privacy coins like Monero (XMR) as they're still untested grounds for regulators in the United States.
In a July 24 interview with Peter McCormack on his "What Bitcoin Did" podcast, Armstrong said he wanted to take a more conservative approach with Coinbase so the exchange would pass the test of time. One of these issues was avoiding direct confrontation about privacy coins including Monero.
Armstrong told McCormack, who referred to Monero as "the most credible privacy coin," that as privacy coins become more accepted, Coinbase's team would consider listing them:
"I think with enough time and education, people will get comfortable enough with it. Privacy coins will become more mainstream over time I hope, and maybe more privacy solutions on Bitcoin too."
Lebanon has entered hyperinflation, the first country in the Middle East and North Africa to do so. With a 462% annual inflation rate and food prices rising by almost 200% this month, Lebanon has joined Venezuela in hyperinflating. Meanwhile, the Lebanese pound has lost 82% of its value this year.
Lebanon in Hyperinflation
Lebanon has become the first country in the Middle East and North Africa (MENA) region in history to experience hyperinflation, explained Steve H. Hanke, Professor of Applied Economics at the Johns Hopkins University, and a hyperinflation expert.
Now there are two ongoing hyperinflations: Lebanon's, where the annual inflation rate is 462 percent, and Venezuela's, where the annual rate soars at 2,219 percent.*
🗞 Daily Crypto News, July, 27th💰

"We are anticipating the first testnet to be July 27."
"07/27: Release update to Mainnet"
Vietnam Coin Market is hosting an AMA with Rapids Network! July 27 (12:00 UTC).
"Save the date! We will have an #AMA on the 27th of July at 2 PM UTC!"
"This feature will allow you to recognize #BTC cycles and best time to buy the asset."
"We are happy to announce the start of #WINK GREAT VOYAGE ——#Tron Ecosystem AMA Tour First Destination: Tron community..."
Last Updates


➡️ Be paid daily to browse with Brave Internet Browser
➡️ A secure and easy wallet to use: Atomic Wallet
➡️ Publish0x
➡️ UpTrennd
➡️ Read.cash
➡️ Minds
➡️ Hive
➡️ Twitter
➡️ Facebook