Ether Price Nears $300 as Bitcoin, DeFi Tokens Fuel New Bull Run;
Median Ethereum Fee Up Almost 1,300% Since April, Bitcoin Fees Jump Too;
Money Reimagined: China's 'Cold War' Blockchain Strategy;
Bitcoin Is a Form of Money in DC, Federal Court Rules;
Crypto Exchange Data Shows Traders Long After Bitcoin Price Breaks $9.6K;
🗞 Daily Crypto Calendar, July, 25th 💰
Welcome to the Daily Crypto News: A complete Press Review, Coin Calendar and Trading Analysis. Enjoy!
Ether (ETH) price has shown an incredibly strong performance this week, rising more than 22% since the start of the week and currently less than one dollar away from setting a new high for 2020.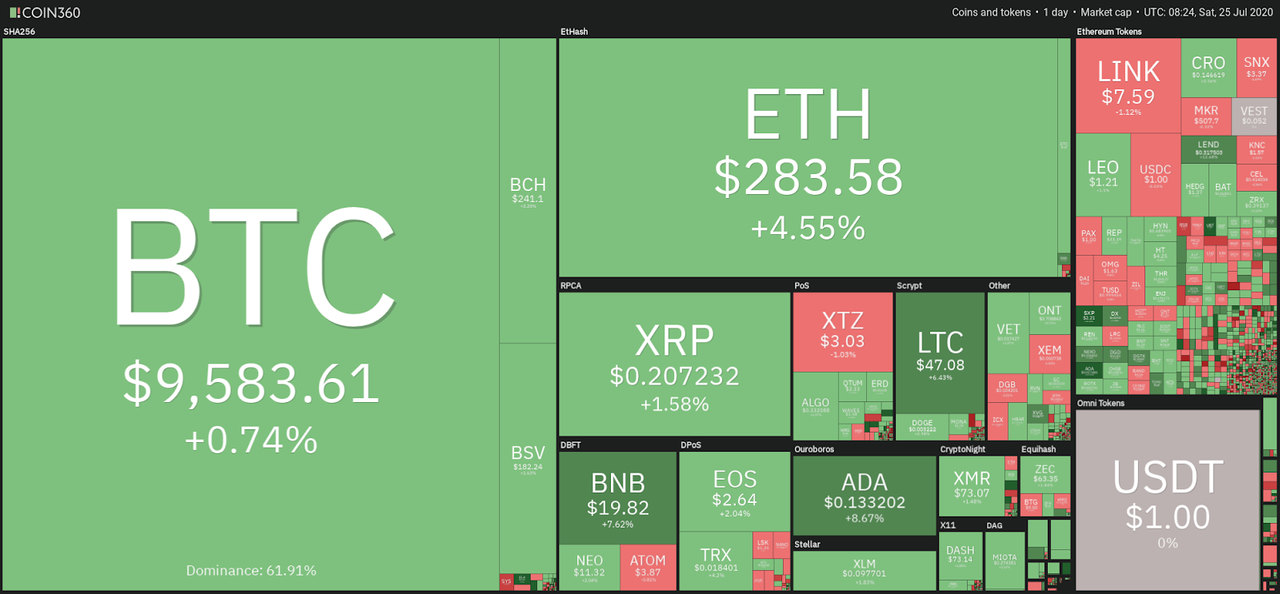 As reported by Cointelegraph, the upcoming Ethereum 2.0 upgrade and the explosive growth of the decentralized finance (DeFi) sector are being attributed to the current bullish sentiment surrounding the second-biggest cryptocurrency by market capitalization.
The strong upside move began on July 21 when the Bitcoin (BTC) price surged to $9,430 and a high volume spike pushed Ether price above the descending trendline and the high-volume visible profile visible range (VPVR) level at $246.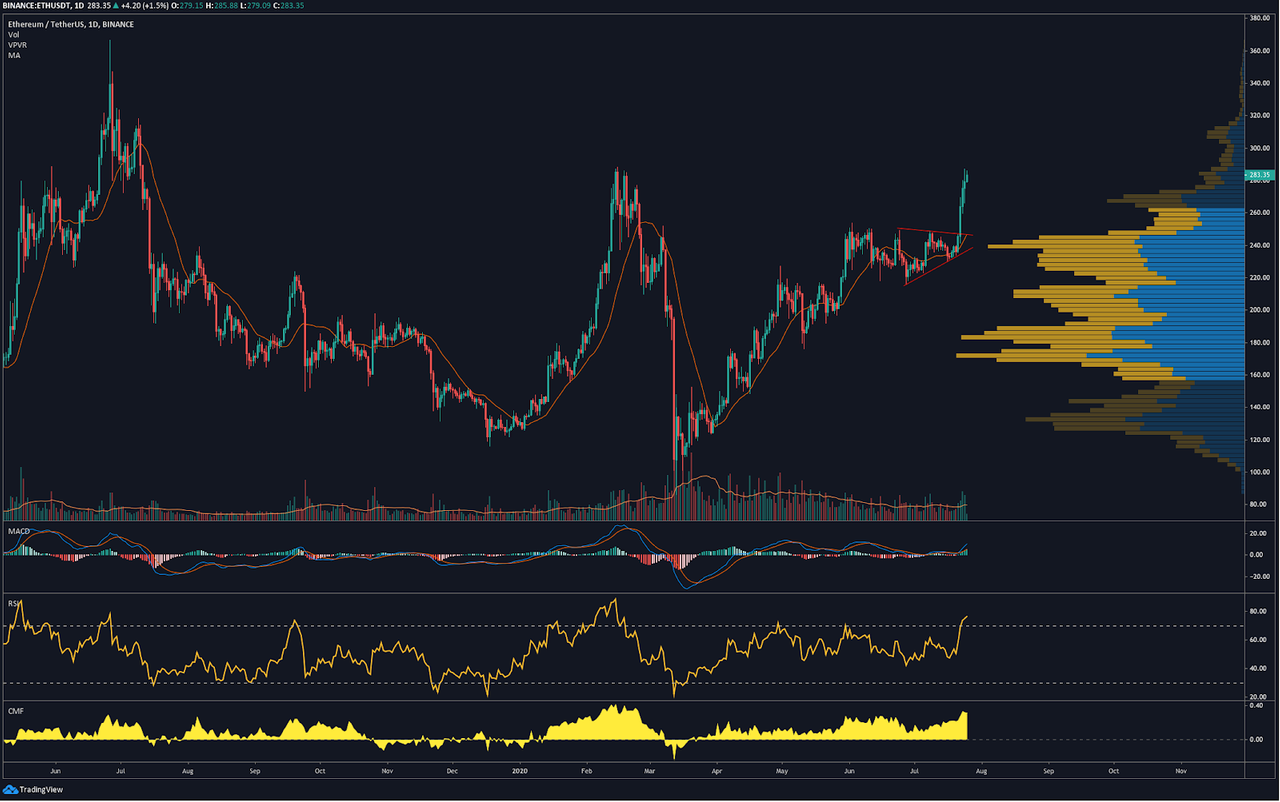 If the bulls are able to push the price above the Feb. 14, 2020 high at $288.32, then a quick rise to $317 is a possibility. Breaching this level will put ETH price in position to retest the June 2019 high at $367.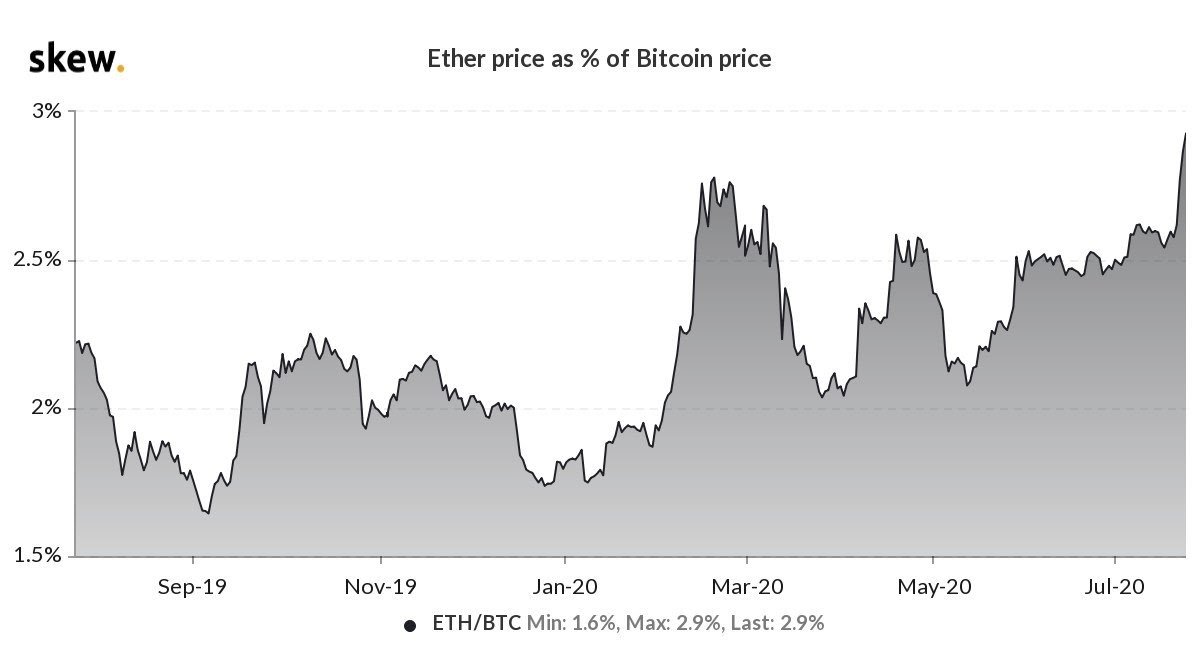 The fees on both Ethereum (ETH) and Bitcoin (BTC) networks are rising yet again, prompting both the user dissatisfaction and discussions of possible solutions.
There seems to be no end to what many perceive as major issues with high fees on the two biggest networks. The median average Bitcoin transaction fee is currently USD 3.84. Looking at the seven-day moving average, following the spike in late May to USD 5.45, the fees dropped to little above USD 1 in June, staying on that level until mid-July.
Now, we see it rising again. Between July 12 and July 23, the fees went up 142%, to USD 2.73.
In the U.S., unidentified federal officers herded peaceful protesters into unmarked vehicles and the government prepared to deliver another $1 trillion in spending to politically connected entities.
In China, the government granted six public blockchains access to its Blockchain Services Network and the Supreme Court called for stronger definitions of private citizens' digital currency property rights.
Which one is the centrally managed police state? Which one is the pro-innovation jurisdiction embracing open-source technologies and decentralized governance networks?
Bitcoin is a form of "money" covered under the Washington, D.C., Money Transmitters Act, a federal court said Friday.
In the case of United States v. Harmon, Chief Judge Beryl A. Howell wrote that money is "commonly means a medium of exchange, method of payment, or store of value."
"Bitcoin is these things," Judge Howell added.
Defining bitcoin as money was integral to the court's decision to not dismiss criminal charges against Larry Harmon, the operator of an unlicensed bitcoin trading platform, for laundering money under federal law.
The court's comments mean that bitcoin "is treated as money in the context of money transmission licensing in D.C., nothing more," said Neeraj Agrawal, director of communications at Coin Center, a cryptocurrency public policy think tank.
There are few indicators capable of accurately detecting professional traders' sentiment on Bitcoin (BTC). To ascertain whether or not market participants are positioned in a bullish or bearish manner, analysts usually rely on technical analysis and derivatives markets, although those usually mix retail flow.
More recently some exchanges created internal metrics exclusively measuring top traders positions. Looking at exchange-provided data highlighting traders' long-to-short positioning, one can see that the indicator currently shows a 30-day high on the long/short positions at Binance.
Top traders long-to-short ratio
The Binance net long/short notional exposure of its top BTC/USDT futures top traders typically favors longs but the indicator now stands at its highest level.

🗞 Daily Crypto News, July, 25th💰
CHRONOS release by end of week.
On July 25 or earlier, at the request of the community, we will publish detailed instructions on the operation of the Cryptomat application.
"Everyone is invited to join us at our next community meeting on Saturday 25th July at 1 pm (GMT +8)"
"NEW LISTING: Orion Protocol (ORN) is now available on #KuCoin!... Supported trading pair: $ORN/USDT... -Trading: 18:00 on July 25 (UTC+8)"
Machine Xchange Coin (MXC)
"Next week, we have a SERIES of amazing news and announcements!"
"We made plans on how to use the capital gained through the IEO."
"MONTHLY AMA NOTICE... AMA with #WINk CEO, Lucia for the month of July is here. t.me/WINk_org_official... Date: July 25th, 2020..."
Last Updates
➡️ Be paid daily to browse with Brave Internet Browser
➡️ A secure and easy wallet to use: Atomic Wallet
➡️ Publish0x
➡️ UpTrennd
➡️ Read.cash
➡️ Minds
➡️ Hive
➡️ Twitter
➡️ Facebook