Bitcoin Price Holds Key Support and Is on the Verge of Testing $10,000;
Ethereum 2.0 Final Testnet Set to Launch on August 4;
China's Blockchain Infrastructure to Extend Global Reach With Six Public Chains;
Bitcoin Volatility Hits 2018 Lows but Is a Repeat 42% Drop Possible?;
🗞 Daily Crypto Calendar, July, 22nd 💰
Welcome to the Daily Crypto News: A complete Press Review, Coin Calendar and Trading Analysis. Enjoy!
Recently, the price of Bitcoin (BTC) has been showing virtually zero volatility. This volatility decreased particularly as of late while Bitcoin was resting on the crucial support level of $9,000.
But on July 21 Bitcoin finally made a sudden move, as expected in the latest analysis, and the price surged from $9,100 to $9,400. So is volatility back or is this just nothing more than a blip? Let's take a closer look.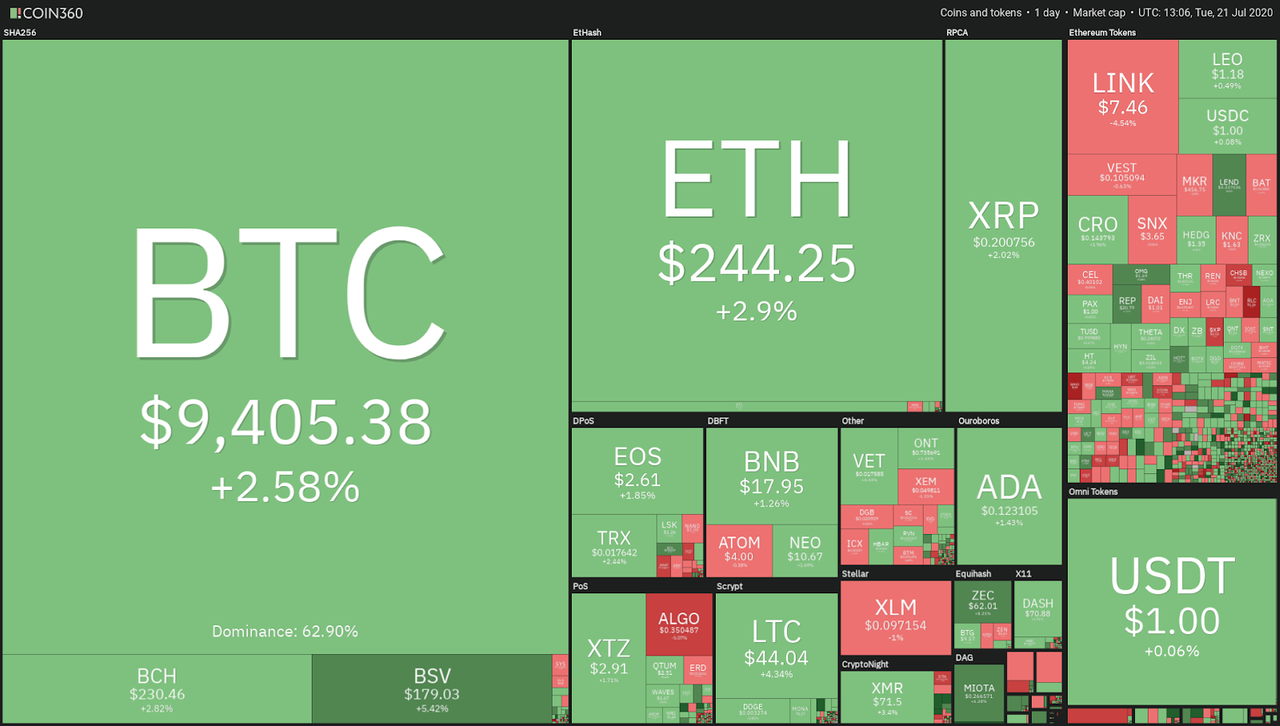 Crucial support of $9,000 holds for support
The price of Bitcoin held the crucial support at $9,000 and broke upwards. However, the price of BTC is still inside the ascending triangle structure.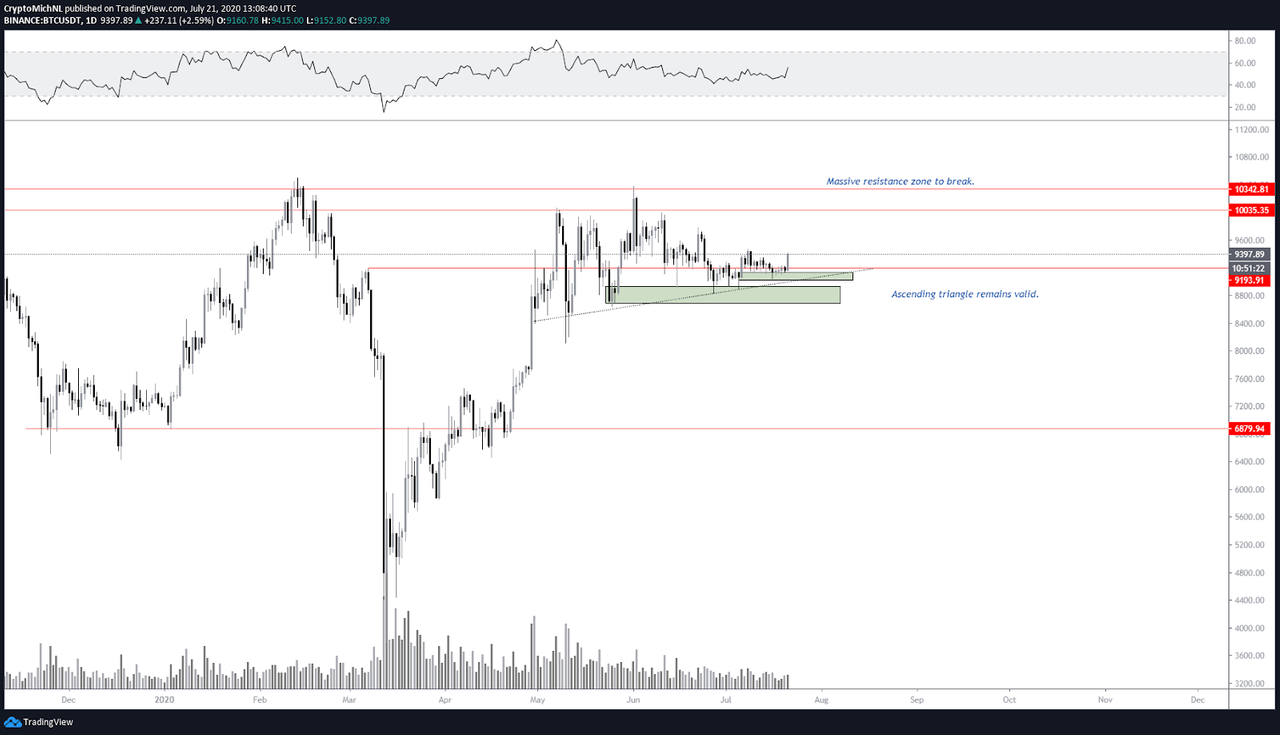 However, a sudden massive surge is unlikely to occur, given that Bitcoin's price is still acting inside an enormous range.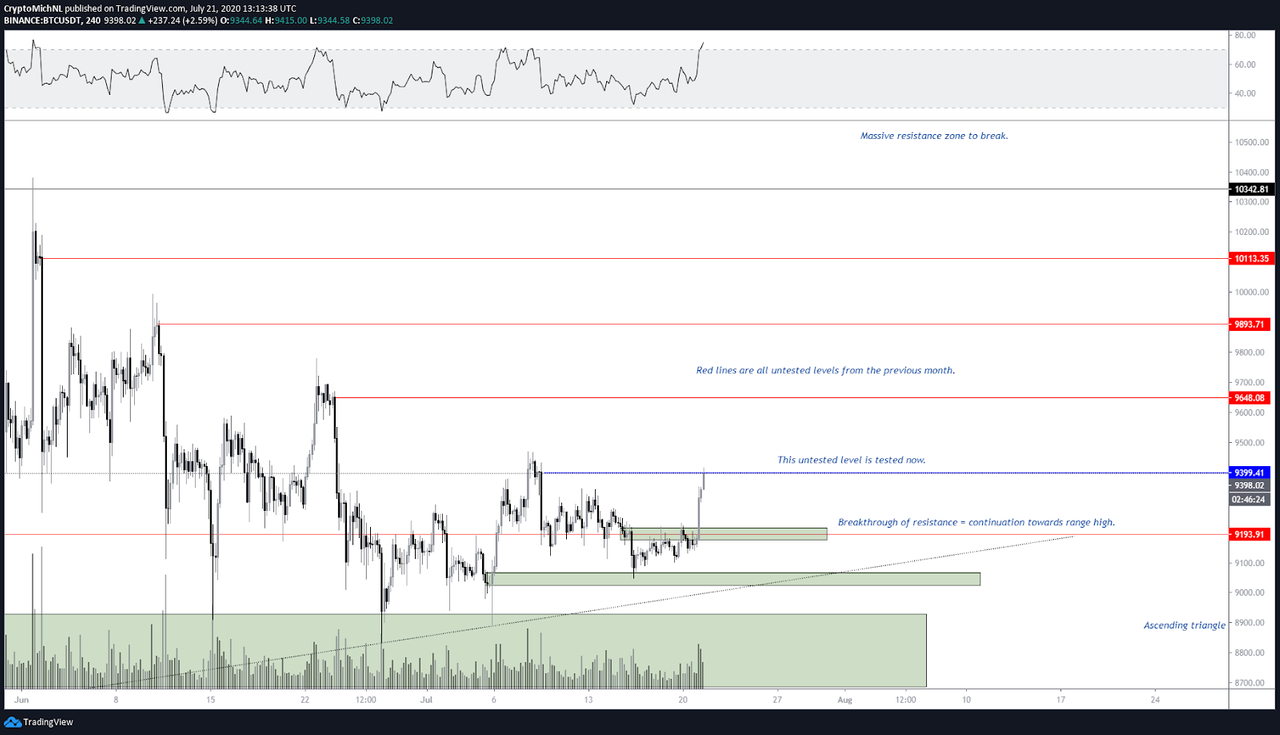 The bullish scenario for Bitcoin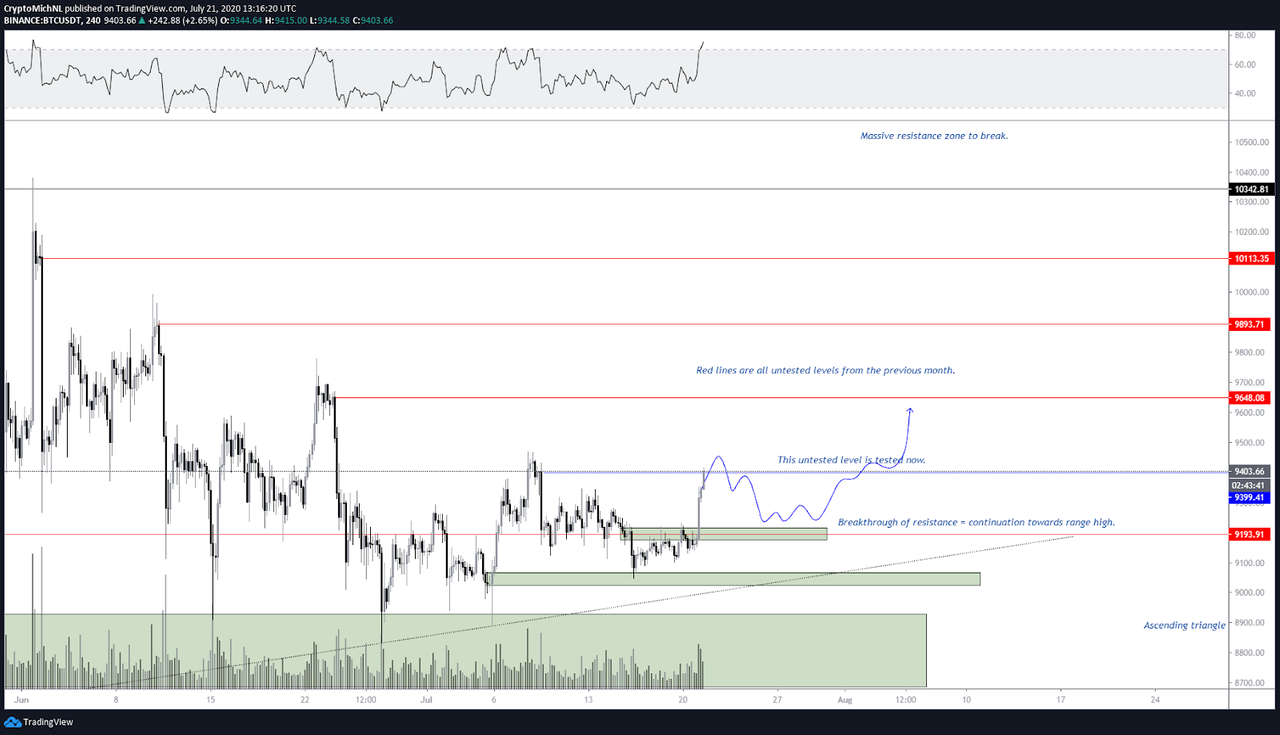 The bearish scenario for Bitcoin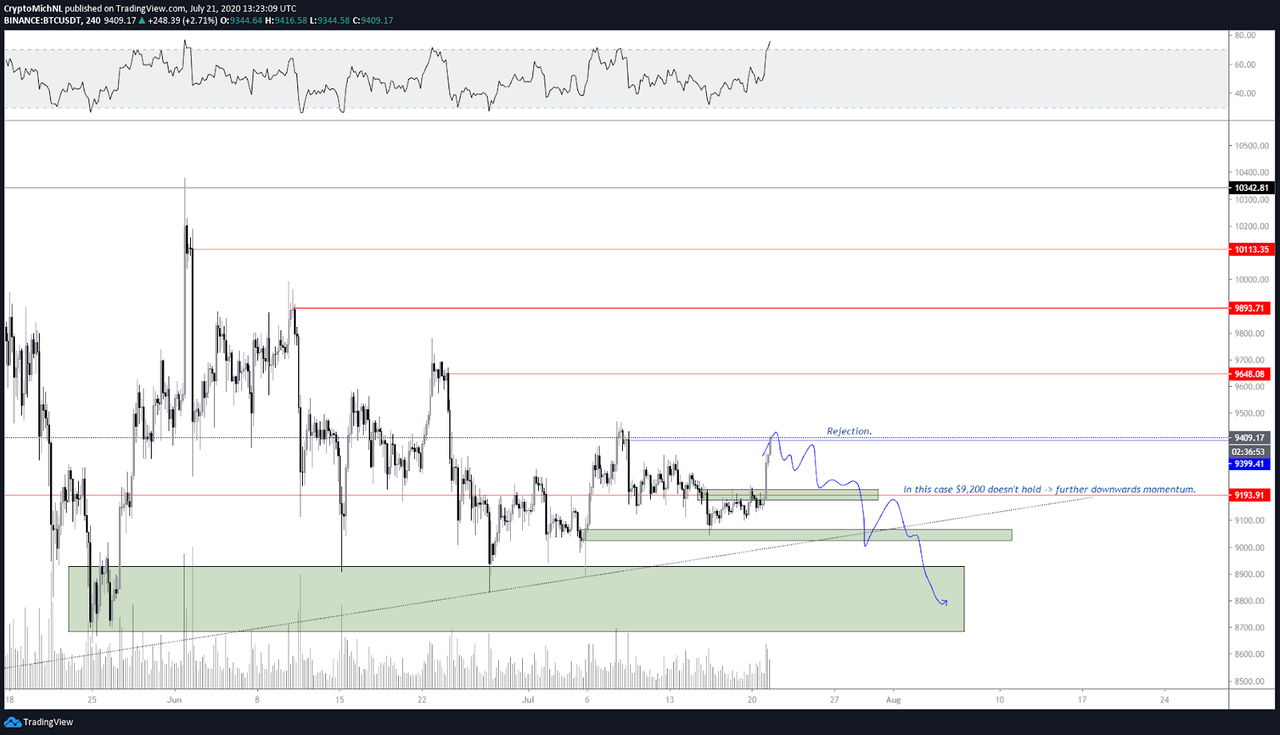 What is Augur?
Augur is a decentralized oracle and peer to peer protocol for prediction markets. Augur is free, public, open source software, portions of which are licensed under the General Public License (GPL) and portions of which are licensed under the Massachusetts Institute of Technology (MIT) license. Augur is a set of smart contracts written in Solidity that can be deployed to the Ethereum blockchain.
Augur is a VERY old Crypto project that has been here for more than 5 years ! It is one of the only predictive market crypto project left which shows a very strong resilience.
They have kept on BUIDLing all along and are still ranked close to 50th in the Top Crypto Market Capitalization.
Below is a quick video presentation (Video from 2015)
What does the v2 platform looks like?
I think it looks quite good and easy to use, I cannot wait to try it out and make my first "bet".
Full article HERE
The long awaited Ethereum 2.0 network upgrade has taken one step closer to launch with a preliminary date announced for the final planned public testnet.
The platform's launch coordinator, Danny Ryan (@djrtwo) shared the news on the testnet's discussion board on Discord.
"After discussions with client teams, the next multi-client testnet (mainnet config including min validator numbers) will have a min genesis time of August 4th,"
Further details would be made public in a couple of days, the Ethereum developer added.
Phase 0 of ETH 2.0 has been running on various testnets since the genesis block was created for Beacon Chain in April. Phase 0 is the first stage in the long awaited upgrade to Proof-of-Stake and will dramatically increase transaction speeds.
The Takeaway:
China's state-backed Blockchain-based Service Network (BSN) has integrated with six public chains including Tezos, NEO, Nervos, EOS, IRISnet and Ethereum.
Developers on these six blockchains will be able to build dapps and run nodes using data storage and bandwidth from BSN's overseas data centers starting Aug 10.
This is part of China's plan to be the one and only infrastructure provider for blockchain firms around the world.
Global users will have access to China's enterprise chains and financial data via the network's cross-chain structure and partnership with China UnionPay.
A blockchain infrastructure backed by the Chinese government will open its services to decentralized applications (dapp) developers on a global scale on August 10.
The move is part of China's plan to be the one and only infrastructure provider for blockchain firms across the world. That effort resembles the country's aggressive international expansion in other major emerging technologies such as 5G and artificial intelligence.
At the start of this week, Bitcoin's (BTC) volatility, or the average daily oscillation, dropped to its lowest level since November 2018 (when the infamous $6,000 support finally broke).
Prior to today's mild breakout to $9,437, the last significant move above 1% was on July 9 when the price dropped 2.1%. Generally, Bitcoin price has been trading in a tightening range for the past month so today's move above the $9,400 resistance isn't much of a deviation from the 30-day trading range.
The last time Bitcoin showed similar price action was on October 30, 2018, when Bitcoin started an impressive 15 consecutive days of movements without a 1.5% oscillation. On November 14, 2018, this all changed as volatility spiked and led to a 42% crash to $3,650 in less than two weeks.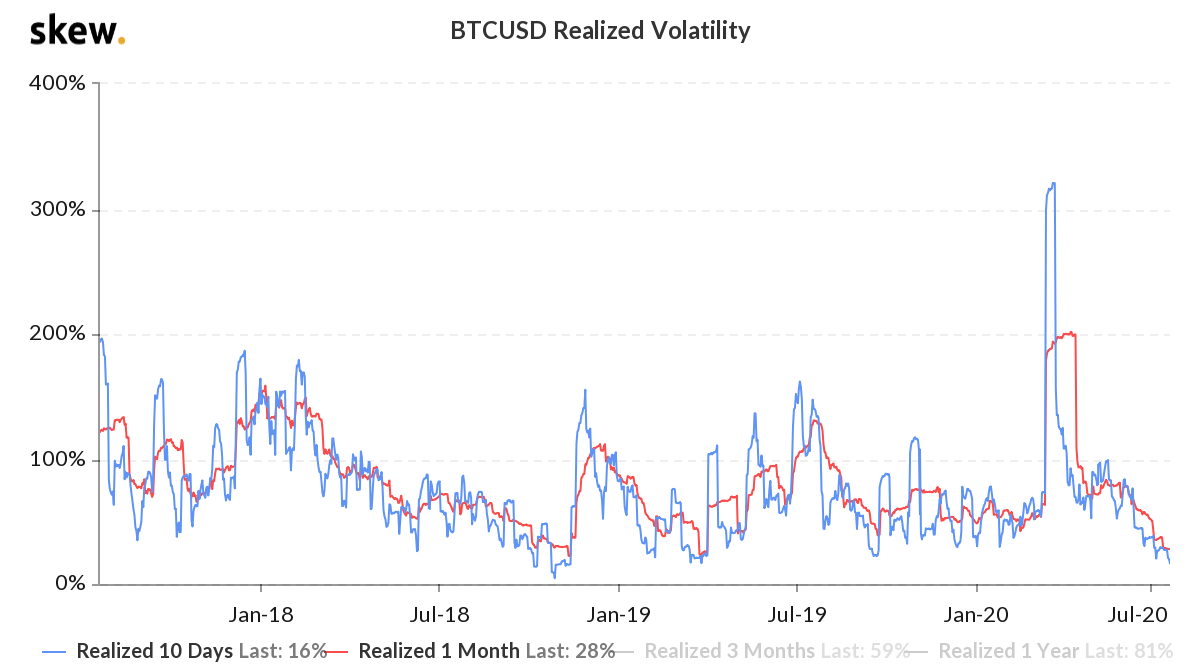 Meanwhile there's usually some active orders waiting for a trend rupture that are placed just outside the range. This price action exacerbates this effect, although sometimes it isn't strong enough to break the pattern.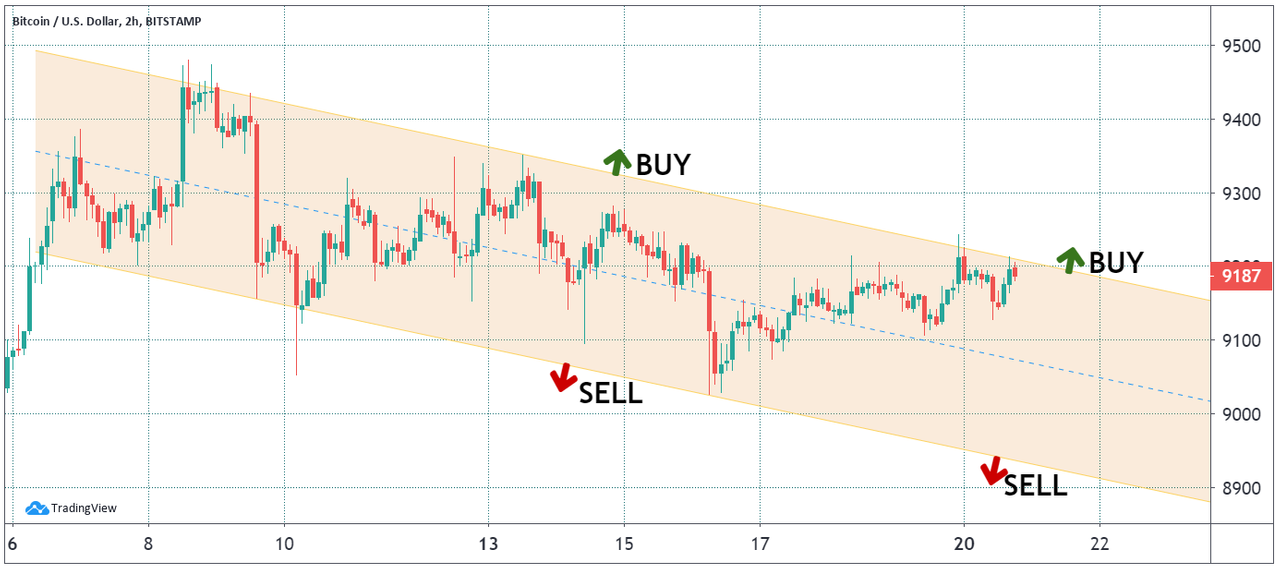 🗞 Daily Crypto News, July, 22nd💰

"We're excited to announce that GooglePlay & AppStore have now successfully reviewed Rapids Wallet ready for release..."
Blockstack (STX), General Event (CRYPTO)
Wed, Jul 22, 2020, 8:00 AM – Thu, Jul 23, 2020, 11:00 PM EDT, Location Miami DoubleTree by Hilton Hotel Miami Airport...
AMA with Blockstack about STX Mining and Stacking.
"New Listing: $XTZ/USD perpetual swaps will be listed on #Huobi. Deposit: 13:00 on July 22, Trading: 16:00 on July 22 (GMT+8)."
"Electroneum is set to launch its new fork on the 22nd July, which means block rewards will be reduced by 75% in a move to reduce..."
"Deployment on Matic Network started! Announcing the @BlockchainCutie presale, first-ever NFT sale on Matic, going live on July 22nd!"
"BAND trading will be effective on July 21, 2020. The following pairs will be supported: BAND/BTC and BAND/USDT."
"The Golem Reddit AMA is happening on Wednesday, July 22nd at 6PM CEST - take a look at the Reddit post..."
Last Updates

➡️ Be paid daily to browse with Brave Internet Browser
➡️ A secure and easy wallet to use: Atomic Wallet
➡️ Publish0x
➡️ UpTrennd
➡️ Read.cash
➡️ Minds
➡️ Hive
➡️ Twitter
➡️ Facebook