🗞 Bitcoin Tumbles to $9.8K; Investors Continue Plowing Crypto Into DeFi;
🗞 3 Things You Should Know Before Staking on Ethereum 2.0;
🗞 SushiSwap Moved Up Its Massive Liquidity Withdrawal From Uniswap to This Weekend;
🗞 Buffett dumps Wells Fargo amplifying bull case for gold and Bitcoin;
🗞 The DeFi Sector Is Breaking The Law - It's Time to Act;
🗞 Daily Crypto Calendar, September, 6th 💰
Welcome to the Daily Crypto News: A complete Press Review, Coin Calendar and Trading Analysis. Enjoy!
Bitcoin is in bear territory for the third straight day and investors are still looking to DeFi to capture gains during the dump.
Bitcoin (BTC) trading around $10,606 as of 20:00 UTC (4 p.m. ET). Slipping 0.90% over the previous 24 hours.
Bitcoin's 24-hour range: $9,894-$10,081
BTC below its 10-day and 50-day moving averages, a bearish signal for market technicians.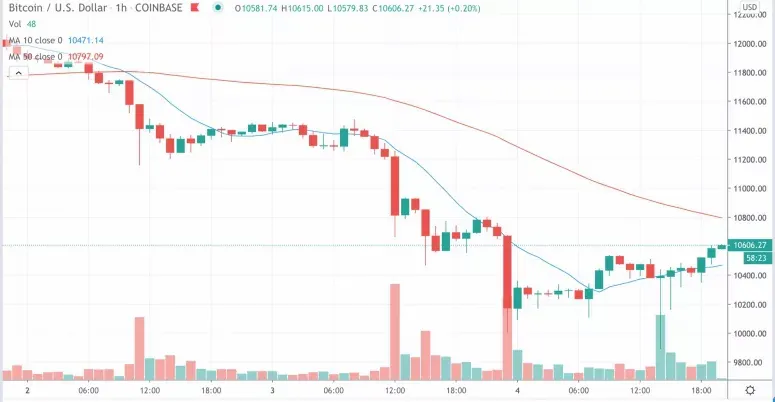 David Lifchitz, chief investment officer for crypto quantitative firm ExoAlpha, says traders are taking profit after bitcoin could not get past $12,100. It may seem like a long time ago but the price went as high as $12,058 only Tuesday.
"It looks like some bitcoin holders decided that this last failed breakout was one too many," he told CoinDesk. "A full move could potentially bring the price back toward $9,500.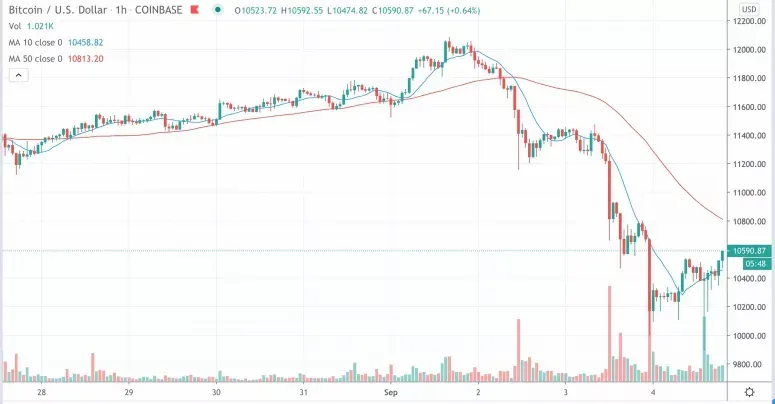 "It could also be miners deciding to monetize their rewards," Lifchitz added. Indeed, bitcoin holders, which could include larger holders such as miners, are pushing more inflows into exchanges to its highest levels since late July.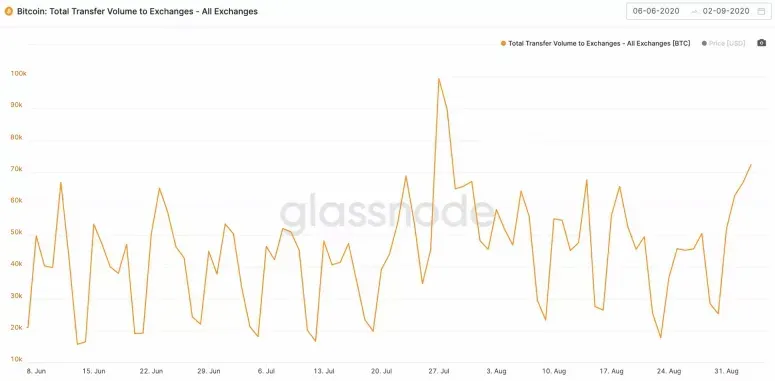 More crypto locked in DeFi
Yields in DeFi may become important to crypto traders should the market continue to show bearish signals: Ether locked in DeFi is up, from 5 million to 6.9 million in the past week, a 35% increase.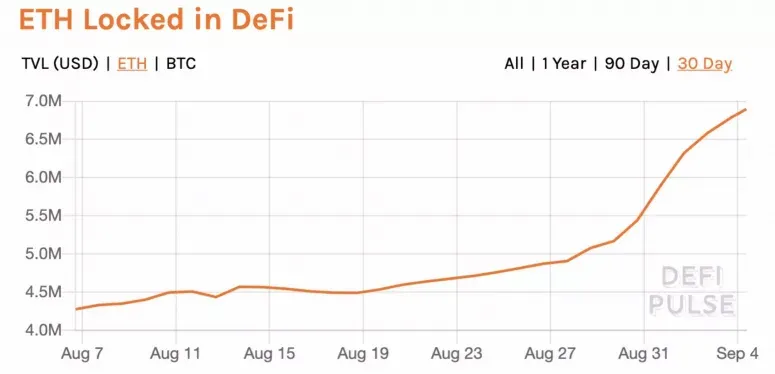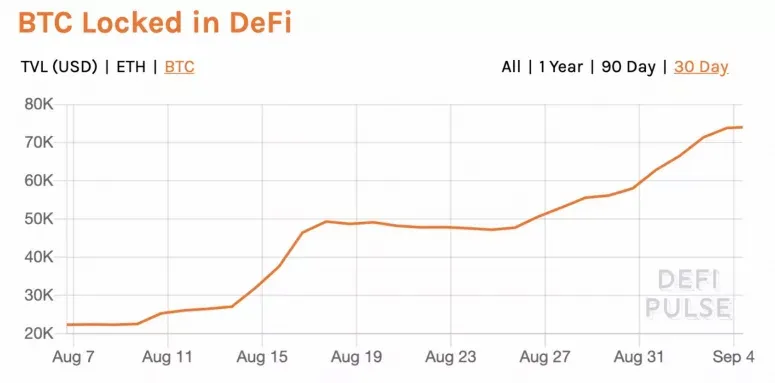 It wasn't long ago the Ethereum 2.0 upgrade went live on an official test network. Developers have been catching mission-critical bugs in the code ever since.
"This is the biggest testnet launch that Ethereum 2.0 has seen… So we learned about things that were frustrating for people. We found some bugs. We've been troubleshooting a very interesting and elusive bug at the moment that can cause nodes to crash," said Paul Hauner, the lead developer of the Ethereum 2.0 Lighthouse client.
Also testing the new Eth 2.0 mock network – called "Medalla" – and finding some surprises along the way is staking-as-a-service startup Staked. In the mind of Tim Ogilvie, co-founder and CEO of Staked, all of the bugs and unexpected issues on the Medalla network thus far are relatively minor and give no cause for concern.
SushiSwap, the automated market maker aiming to unseat market leader Uniswap, has moved up its launch by five days.
Because of SushiSwap, total value in assets locked on Uniswap have gone up by just under $1.5 billion since the SushiSwap contract went into effect at block 10750000 on Aug. 28, according to DeFi Pulse, making Uniswap the largest holder of Ethereum assets in DeFi right now.
Both Uniswap and Sushiswap are designed to always have a price at which they will swap any two tokens they have in liquidity pools.
One app is able to drive liquidity into another because of SushiSwap's liquidity mining scheme. SushiSwap promises to reward those who help it compete on liquidity with both a fee on trades and fresh governance tokens, which will also earn a portion of trading fees.
Warren Buffett and Berkshire Hathaway substantially cut their position on Wells Fargo, selling 100 million shares. The Oracle of Omaha is continuing to trim his position in bank stocks, buoying the bull case for gold and Bitcoin (BTC).
Berkshire reportedly held $32 billion in equity in Wells Fargo at one point, Fox Business reported on Sep. 5. The investment conglomerate now owns 3.3% in equity of the lender, worth just $3.36 billion.
"The outlook change reflects Wells Fargo's slower-than-anticipated pace in resolving its legacy governance, oversight, compliance, and operational risk management deficiencies. The slow pace weighs on its expense base, further undermining its earnings potential against the backdrop of challenging operating conditions."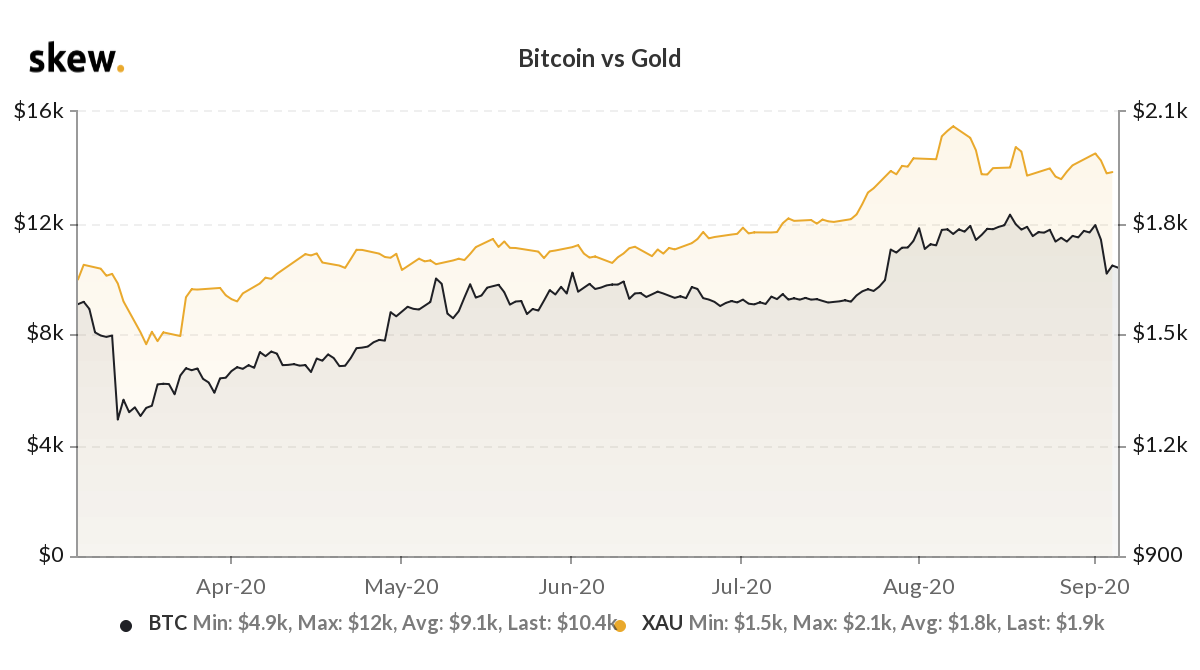 BTC would "cannibalize" gold in the future, says Winklevoss
"Bitcoin has made significant ground on gold — going from white paper to over $200 billion in market capitalization in under a decade. It will continue to cannibalize gold dramatically over the next decade."
The decentralized finance (DeFi) sector continues to boom, with over USD 8bn in total assets locked into the ecosystem's various platforms. The bigger it gets, the more regulators are likely to take notice of it, with crypto-focused lawyers warning that now's the time to begin considering what regulatory challenges lie ahead.
Lawyers speaking to Cryptonews.com suggested that many if not most DeFi platforms are likely breaking applicable financial laws in at least some jurisdictions. They suggest that these platforms will soon need to seek relevant licenses depending on the services they facilitate, and that regulators might come after them.
T>his is unlikely to affect users beyond potentially depriving them of a platform they once used. Also, the main draw of DeFi (the ability to receive financial services without having to go through substantial signup and verification processes) is likely to remain strong even after regulators join the game.
🗞 Daily Crypto Calendar, September, 6th💰
Halving
"Bilaxy lists yffs.finance (YFFS): @yffsfinance... Trading: September 6th 16:00 (UTC+8)"
Last Updates
➡️ Be paid daily to browse with Brave Internet Browser
➡️ A secure and easy wallet to use: Atomic Wallet
➡️ Youtube
➡️ Twitter
➡️ Hive
➡️ Publish0x
➡️ UpTrennd
➡️ Read.cash
➡️ LBRY