Bitcoin price holds key support level as focus shifts back to $12,000;
3.5 Million+ Crypto Wallets Downloaded in July, Active Users up 110% in the Year;
Chainlink acquires a privacy-preserving oracle protocol from Cornell University;
European Blockchain Convention transforms into a huge online event;
Chinese Bank Disables Digital Yuan Wallet After Soft Launch Draws Wide Attention;
🗞 Daily Crypto Calendar, August, 29th 💰
Welcome to the Daily Crypto News: A complete Press Review, Coin Calendar and Trading Analysis. Enjoy!
As the price of Bitcoin (BTC) showed weakness in the past week, the crucial support zone around $11,200, nevertheless, held. Several arguments were given for the volatility throughout the week with Powell's speech at Jackson Hole and the expiration of futures and options occurring over the past few days.
But more importantly, the crucial support level at $11,200 didn't break, which means the focus now shifts back toward the resistance level at $12,000.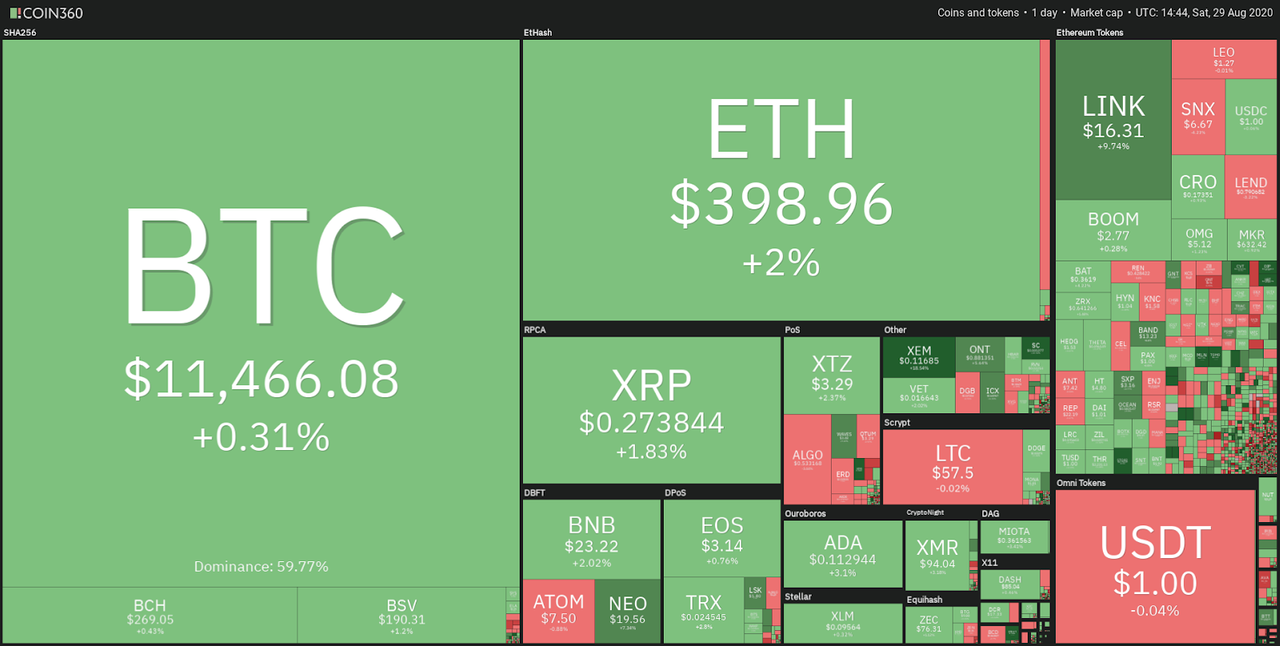 The crucial support zone holds as the uptrend remains intact
The crucial support area has held again as the daily Bitcoin price chart shows.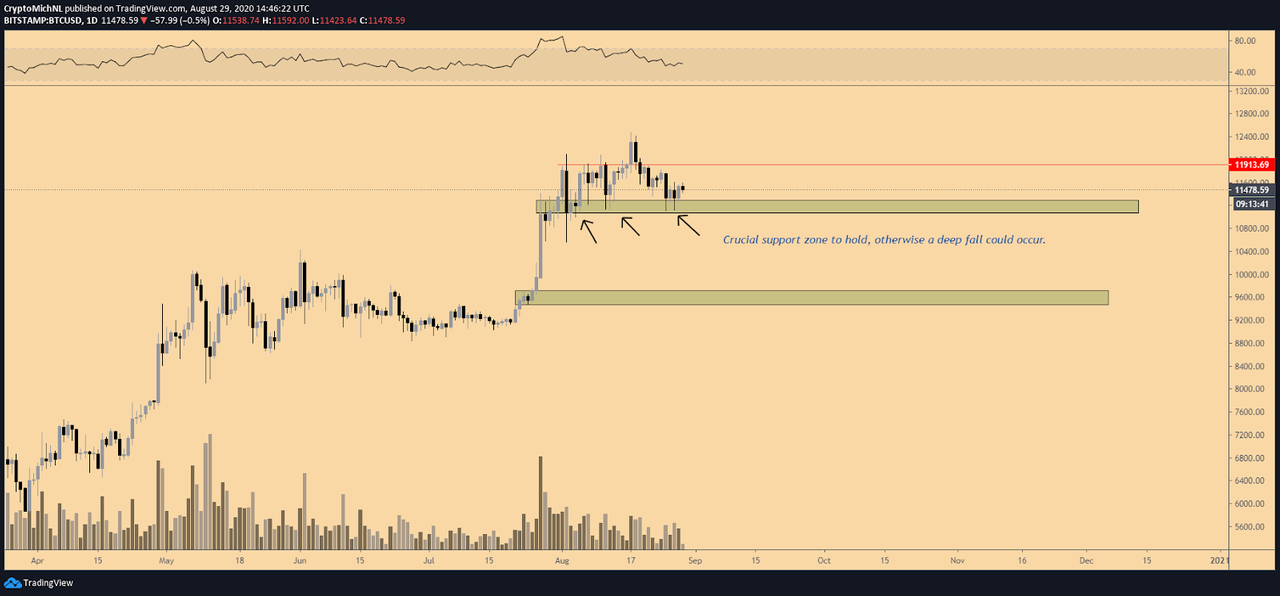 .The daily chart shows a clear resistance zone between $11,800-12,000 as well as the support zone, found between $11,100-11,300. This level has also been previously confirmed as support as well.
A record 3.5 million crypto wallet app downloads were recorded in July 2020, representing an increase of 81% when compared to the same period last year. In addition, the number of active users went up by 110% between January 1 and August 19, 2020.
According to a report authored by Madeline Lenahan of Apptoppia, the increase in the number of crypto apps downloads is observed right after countries began imposing lockdown measures in the wake of Covid-19.
In the previous year, the number of downloads averaged just under two million, with the month of May and June being the only time when this mark is passed.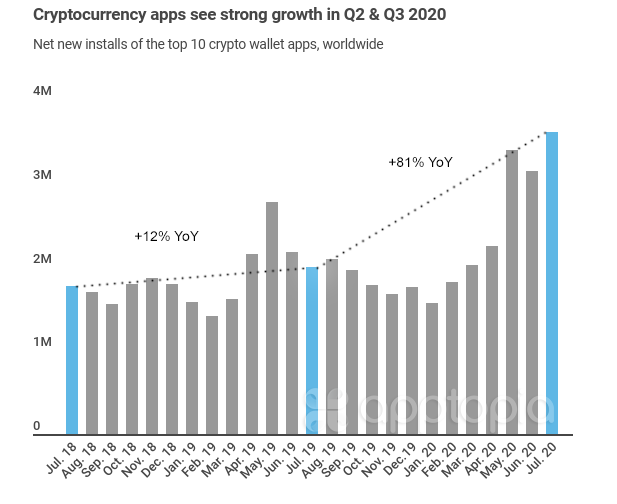 Chainlink (LINK) has acquired a privacy-preserving oracle protocol DECO from Cornell University and one of its creators, Ari Juels, will be joining Chainlink as chief scientist. Previously, Juels served as chief scientist at RSA and has been teaching at Cornell University since 2014, one of the premier blockchain hubs in the world. He is taking a sabbatical to focus on his work at Chainlink. Along with his research partner Markus Jakobsson, he coined the term "proof-of-work".
DECO employs advanced cryptography and zero-knowledge proofs to provide enhanced privacy to its users. In a Cointelegraph interview, Chainlink's co-founder Sergey Nazarov said the integration of DECO will not only increase security of the project's infrastructure but will potentially create new use cases:
DECO-enabled Chainlink oracles will have big implications for smart contracts across enterprise, consumer, and even DeFi applications. Basically, any smart contract that was previously limited by private data will soon be able to function on a public blockchain like Ethereum without revealing any confidential information to the blockchain.
The congress reinvents itself and becomes a huge online event with two days of livestreamed content and more than 100 world-class speakers.
European Blockchain Convention Virtual becomes the meeting point of the Blockchain Industry this year in Europe. The congress, which will be held on September 21 and 22, will feature workshops, presentations, panel discussions and more than 100 world-class speakers. EBC will provide access to an AI-powered networking platform to facilitate virtual one-to-one meetings between over 1500 attendees.
The main topics discussed in the online edition will be the European self-sovereign identity framework (ESSIF), the pan-European regulatory framework for crypto assets that is expected to be released in 2021, Blockchain and DLT standards, the roadmap towards programmable digital euro, blockchain applications in logistics and international trade, data disintermediation in the health and mobility industry, food traceability, Web 3.0 and decentralized finance (DeFi).
A major bank quietly opened up a wallet service for China's central bank digital currency to public users – but quickly disabled it after the feature gained widespread attention.
Around noon on Saturday local time, users of China Construction Bank (CCB), one of the big-four state-owned commercial banks, started to notice that a central bank digital currency wallet feature was available inside the bank's mobile app.
By searching "digital currency" in Chinese, users of the app could navigate to the digital yuan wallet service and further activate it by registering with a mobile phone number associated with their bank accounts at CCB.
🗞 Daily Crypto Calendar, August, 29th💰
"It's a proper week of Waves on #Eth - Many partnerships with Eth #DeFi projects; Waves #Dao pre-ann..."
"... We expect to release the first beta for Project Serum next week."
InterCrone (ICR), WINCOIN (WC)
"#BVK, #BZK, #ICC, #ICR, #SAP, #TNJ, #VIRIDI, #WC coins will be delisted from Crex24 on 29 of August, 2020 and #CREX compensation will..."
"BAL trading will be effective on August 29, 2020. The following pairs will be supported: BAL/BTC, BAL/USDT."
Antiample (XAMP), Tokens of Babel (TOB)
"$TOB airdrop will begin on Saturday. All $XAMP holders will be snapshotted at that time and distribution of airdropped $TOB will begin."
Last Updates
➡️ Be paid daily to browse with Brave Internet Browser
➡️ A secure and easy wallet to use: Atomic Wallet
➡️ Youtube
➡️ LBRY
➡️ Publish0x
➡️ UpTrennd
➡️ Read.cash
➡️ Minds
➡️ Hive
➡️ Twitter
➡️ Facebook