Ethereum price lingers at key resistance days before $112M options expiry;
Binance launches new hackathon and accelerator for the Indian DeFi ecosystem;
Hacker Stole 1,000 Traders' Personal Data From Crypto Tax Reporting Service;
Aave Becomes Second DeFi Project to Overtake MakerDAO for Most Crypto Deposited;
I would never invest one cent in Bitcoin, says Ryanair CEO;
🗞 Daily Crypto Calendar, August, 25th 💰
Welcome to the Daily Crypto News: A complete Press Review, Coin Calendar and Trading Analysis. Enjoy!
Ether (ETH) options contracts open interest have grown five-fold in the past three months to currently sit at $452 million.
The $112 million set to expire this Friday could have a considerable market impact, although that will depend on the balance between bullish and bearish strategies.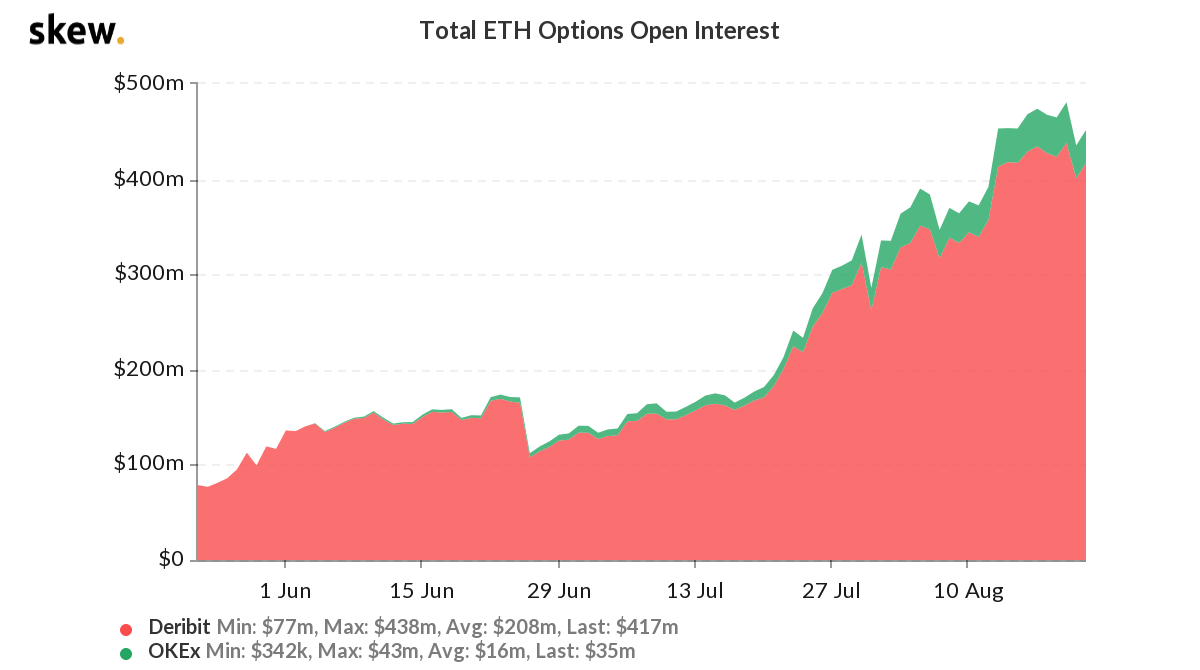 The above chart shows just how strong the ETH options market has been in the past month.
Although its open interest might seem modest compared to Bitcoin's (BTC) $1.9 billion options market, ETH options have become more relevant over the past couple of months.
$400 strike dominates volumes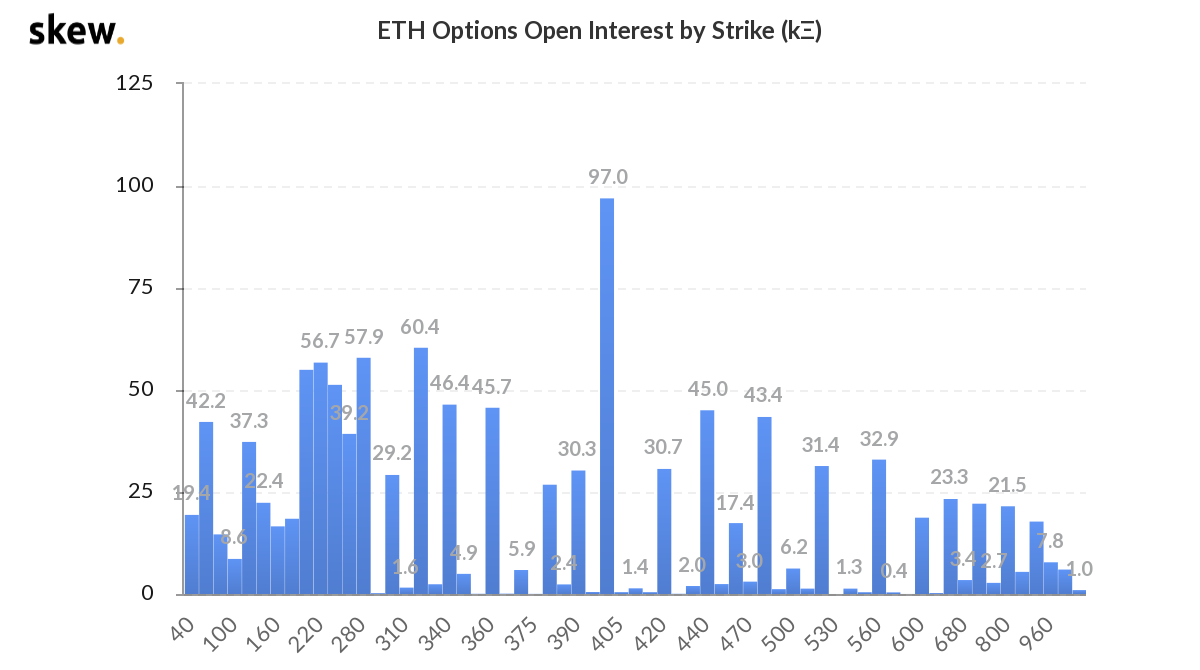 Friday's expiry seems well balanced
Deribit exchange currently holds over 90% market share, and for this reason, their Ether markets will be closely analyzed.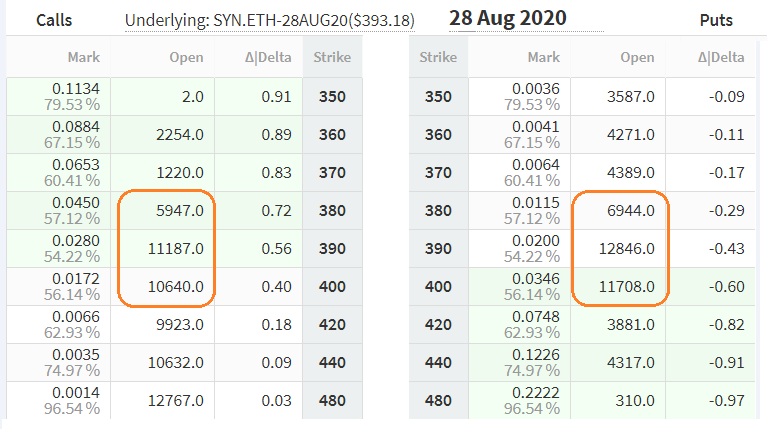 Global cryptocurrency exchange Binance is conducting a hackathon in India focused on decentralized finance (DeFi) that will be followed by an accelerator program.
Dubbed "Build for Bharat," the company claimed that this is the first-ever DeFi-focused hackathon and acceleration program being conducted in India.
In a blog on Aug. 24, the company said that through the hackathon, they intend to bridge the gap between blockchain and mass adoption in India.
Binance plans to shortlist 100 teams for the main event after assessing application forms submitted before Sep. 11. "We're interested in DeFi products around mini-tokens, micro-financing applications, blockchain datasets, blockchain-AI solutions and more," a Binance representative told Cointelegraph
A hacker has stolen data on more than 1,000 users from CryptoTrader.Tax, an online service used to calculate and file taxes on cryptocurrency trades.
The hacker broke into a CryptoTrader.Tax marketing and customer service employee's account on a support center platform, according to a source who came across the hacker on a dark web forum. With this access, the hacker could see customers' names, email addresses, payment processor profiles and messages sometimes containing cryptocurrency incomes.
The hacker then screengrabbed samples of this sensitive information, posted them on the forum to entice potential buyers of the data trove and sent additional pictures to the source, who shared this evidence with CoinDesk.
Decentralized finance (DeFi) credit market Aave has pulled ahead of stablecoin mint MakerDAO for the title of most collateral staked on Ethereum, according to DeFi Pulse.
Aave now has $1.47 billion-worth of different crypto assets staked for credit lines, while MakerDAO has $1.45 billion in total value locked (TVL).
"Reaching the highest TVL was possible due to the wide range of developers building on top of Aave who are expressing their innovation in DeFi," Stani Kulechov, Aave CEO, told CoinDesk. "This innovation has sparked interest from institutions who are now dipping their toes into Aave."
"Avoid Bitcoin like a plague."
Micheal O'Leary — the CEO of major budget airline Ryanair — has come out very bearish on Bitcoin (BTC).
Recently speaking to The Times, O'Leary likened Bitcoin to a Ponzi scheme and advised investors to avoid it:
"I have never, and would never, invest one cent in Bitcoin, which I believe is equivalent to a Ponzi scheme. [...] I would strongly advise everyone with any shred of common sense to ignore this false story and avoid Bitcoin like a plague."
O'Leary was referring to an apparent crypto scam "Bitcoin Lifestyle," which claimed to have his approval in a promotional campaign.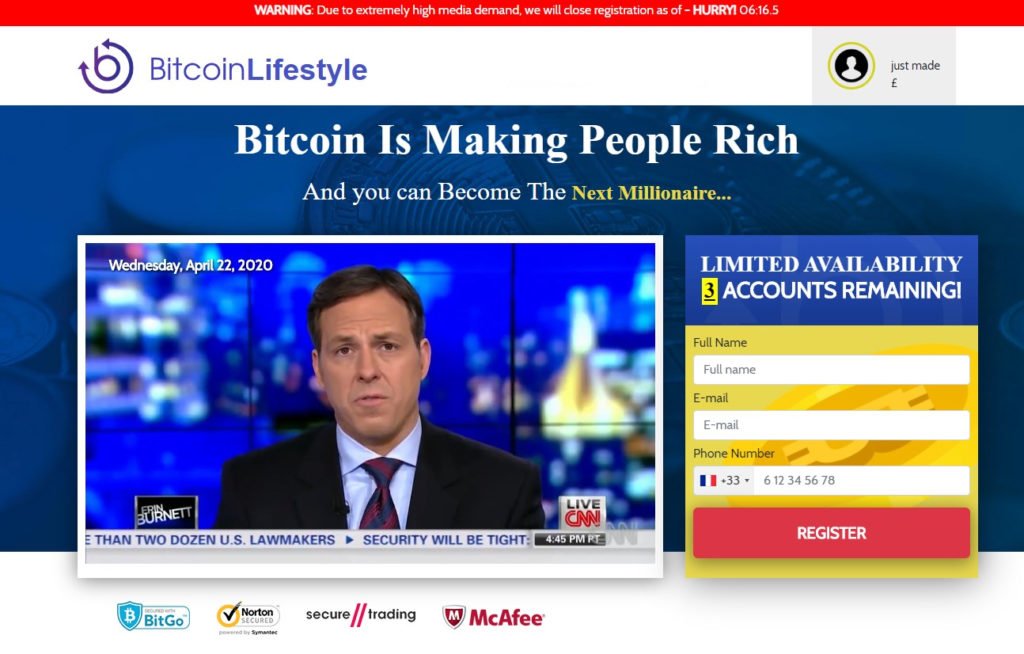 🗞 Daily Crypto Calendar, August, 25th💰

"Reply to this tweet if you're ready for FOUR FTOs on August 25th"
Currently, the Vexanium protocol, through Block Producers will burn a minimum of 40,5 Million VEX at the worker proposal (vex.saving).
"Chainlink x ELASTOS - High-TPS Decentralized Oracles (Price Feeds, API Data, Real World Data)."
Meschain hosts AMA in CoinRehber group at 21:00 (GMT+3).
"2nd Pool sale by STAKING #BNS is going to start on 25th August."
"Smart-contracts insurance support on testnet."
Last Updates


➡️ Be paid daily to browse with Brave Internet Browser
➡️ A secure and easy wallet to use: Atomic Wallet
➡️ Youtube
➡️ LBRY
➡️ Publish0x
➡️ UpTrennd
➡️ Read.cash
➡️ Minds
➡️ Hive
➡️ Twitter
➡️ Facebook