3 key metrics show bulls control Bitcoin price despite $12K resistance;
YFI price soars to $38.8K hitting $1B market cap — can it go higher?;
73% of Argentines Say Cryptocurrency Best for Saving in Economic Crisis: Survey;
Ethereum Classic Hit by Third 51% Attack in a Month;
After Empire's Exit Scam, Darknet Market Patrons Scramble to Find Alternatives;
🗞 Daily Crypto Calendar, August, 30th 💰
Welcome to the Daily Crypto News: A complete Press Review, Coin Calendar and Trading Analysis. Enjoy!
.
Bitcoin (BTC) price dropped by as much as 10% this week and while this might be scary for day traders, the 3-day chart shows the downside move hardly made a dent on the current market structure.
This holds especially true when considering that the $12,500 level hasn't been touched in over 13 months. Currently, analysts are making $16,000 price targets partially due to a CME gap and the expectation that U.S. inflation will rise higher.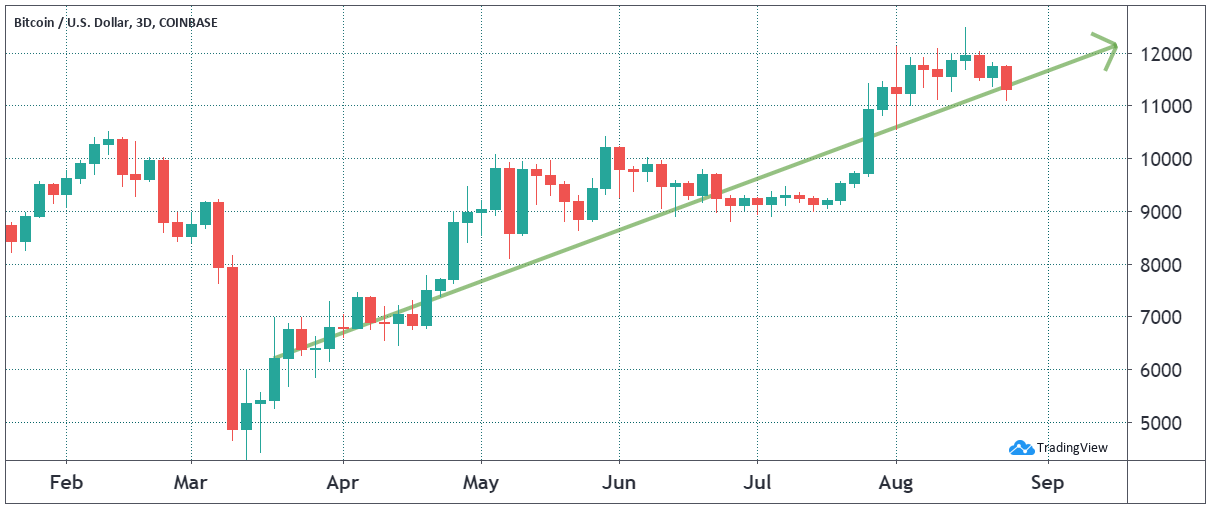 The above chart illustrates how insignificant the past ten days of negative performance is from a broader perspective. Bitcoin (BTC) has racked up a 48% gain year-to-date and there is no evidence of weakness. The largest daily drop over the past five months was -6.4% on August 2.
Holders are unfazed by recent volatility
While short-term traders confabulate whether the Aug. 28 CME futures and options expiry caused the dip seen in the past few days, on-chain data reveals holders have become more robust than ever.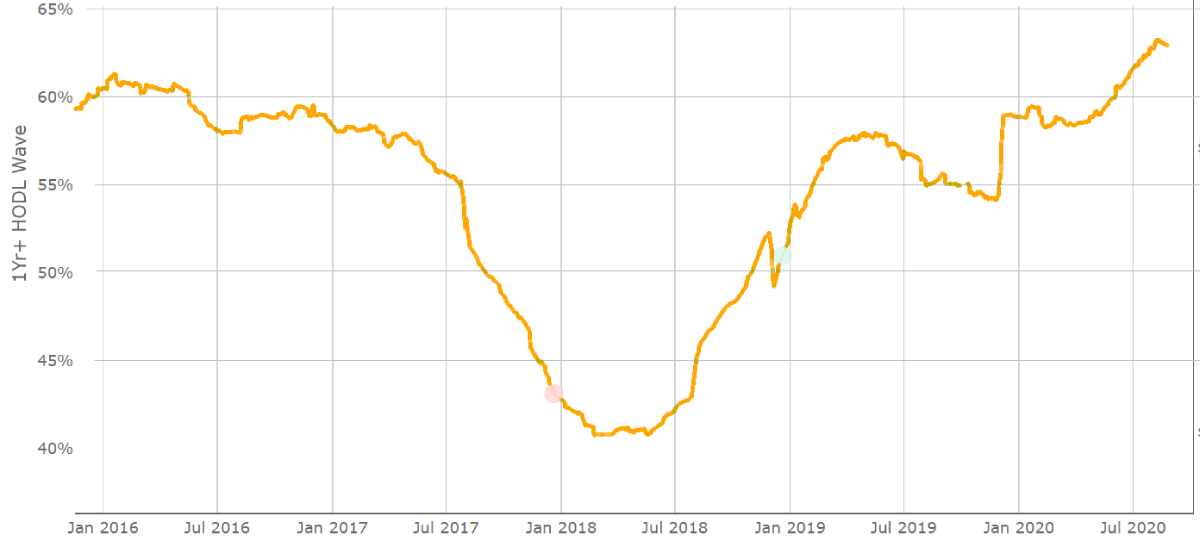 Options markets show few signs of stress
Options markets provide real-time sentiment from large traders and arbitrage trading desks. The 25% delta skew is the primary 'fear and greed' indicator for options markets as they measure how costly protection from an adverse price swing compared to a positive one.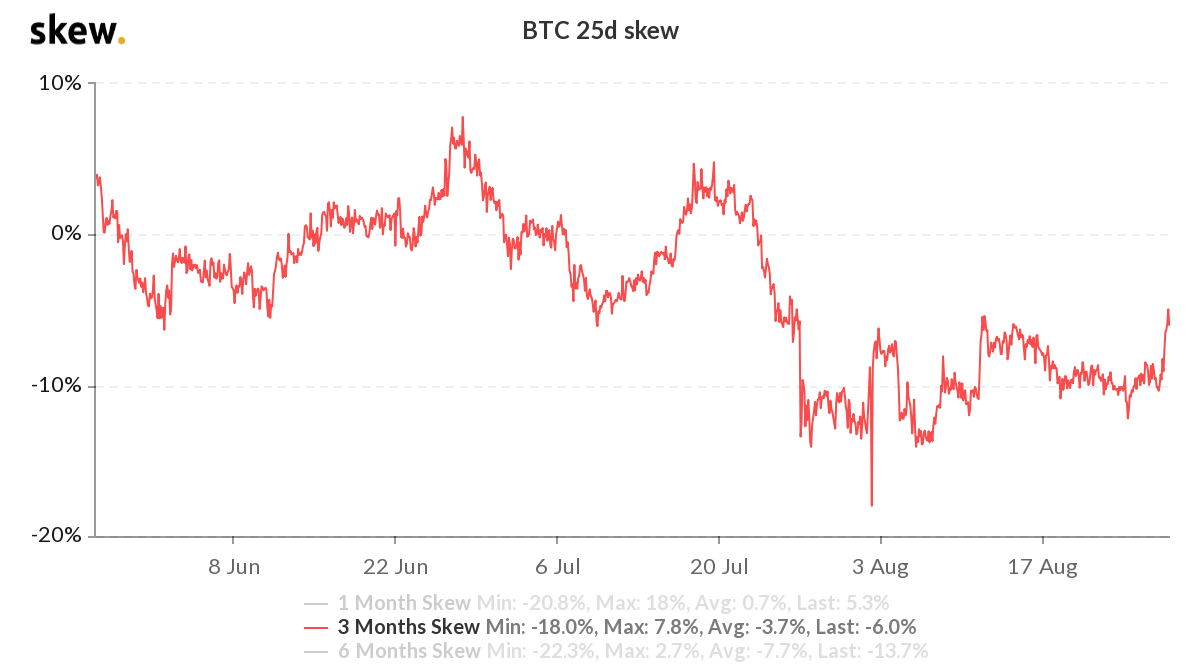 Yearn.finance's native token YFI has surged by more than 75% in the last 24-hours, achieving a new all-time high at $38,883 on Binance in its (USDT) pair. The strong upside move also brought the DeFi-token's market capitalization above $1 billion.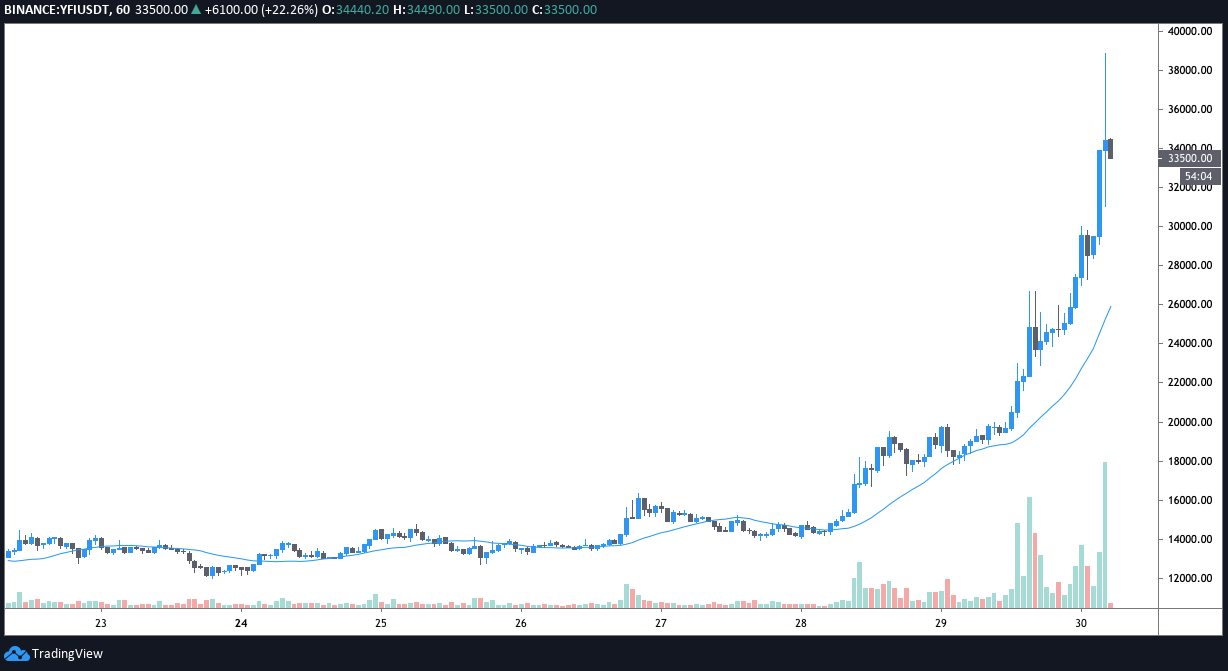 Traders are excited but is YFI overvalued?
The general sentiment around YFI from Decentralized Finance (DeFi) enthusiasts remains seemingly positive. IDEOVC's Ian Lee pinpointed yearn.finance's developer Andre Cronje's fast-paced product releases as a positive long-term catalyst for YFI.
In the past month, Cronje has introduced various products, including yinsure.finance. Many investors, including Paradigm's Fred Ehrsam, have emphasized the potential of DeFi insurance to evolve into the next big market.
"We are witnessing something even bigger. Due to Andre Cronje's build & ship speed, YFI is the fastest evolving self improving / innovating asset, period."
A survey of Argentina's citizens shows that 73% believe cryptocurrency is the most effective saving method in the current economic crisis, such as to hedge against high inflation.
Strong Crypto Sentiment in Argentina
Global peer-to-peer (P2P) bitcoin marketplace Paxful released the results of a cryptocurrency survey in Argentina on Friday. "Argentina's sentiment on cryptocurrency remains strong with citizens turning to digital assets as a way to hedge against inflation," Paxful described. "Argentines are willing to venture into new forms of investment due to the need to protect the value of their financial savings. This comes as a result of the economic crisis going on in the country." Citing the survey results, the company says:
It revealed that 73.4% of participants considered that, in the current economic scenario, cryptocurrencies are the most effective way to save and protect their funds.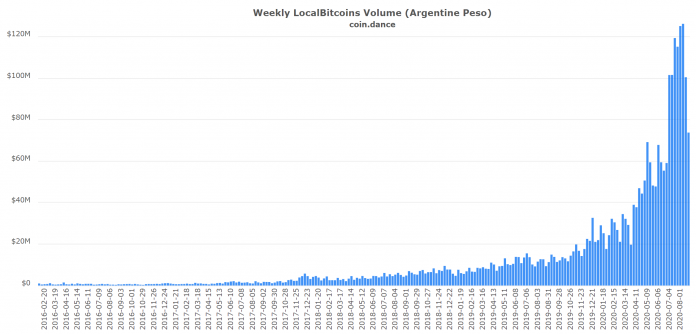 The Ethereum Classic blockchain suffered a 51% attack Saturday evening, its third such attack this month, noticed by mining company Bitfly, which also spotted the first attack on Aug. 1.
The attack reorganized over 7,000 blocks, or two days' worth of mining, according to a tweet shared by Bitfly. The first two attacks reorganized 3,693 and 4,000 blocks respectively.
Notably, a leading organization behind the Ethereum Classic network, ETC Labs, announced its strategy to protect the network from additional attacks last week, including defensive mining that is intended to stabilize the network's plummeting hashrate and resist future 51% attacks.
Stevan Lohja, technology coordinator at ETC Labs, in a private message with CoinDesk, said he finds the timing of the attack "very suspicious" as it came just a day after a meeting of Ethereum Core developers regarding "aggressive innovation" in the blockchain's proof of work.
Ever since the darknet market (DNM) Empire went under, DNM patrons have been scrambling to find reliable marketplaces on the deep web. On forums, individuals are discussing which markets are safe, the logistics of how to use different DNMs, and how much they lost from Empire Market's exit scam aftermath.
Years ago, after the infamous DNMs Alphabay and Hansa went under, Dream was the top dog for a while but it eventually bit the dust. In the fall of 2019, deep web visitors leveraged DNMs like Tochka, Apollon, Cannazon, Cryptonia, Grey Market, and Empire Market. While Empire grew massively, six months ago Apollon shuddered during the second week of February 2020. Since Apollon's exit scam, the king of darknet markets in 2020, except for Russia's Hydra marketplace, was Empire Market as it was considered very trustworthy.
That was up until August 22, 2020, when Empire Market went offline and many individuals cast blame at a distributed denial-of-service (DDoS) attack. Two days ago, news.Bitcoin.com reported on how a majority of people now assume that Empire Market officially exit scammed. It has also been alleged that the Empire moderators got away with $30 million in digital assets like monero (XMR) and bitcoin (BTC).
🗞 Daily Crypto Calendar, August, 30th💰

We'll take in their feedback and release it before the end of the month. Viper is coming!

"ICON has just confirmed MyID's release in August."

"... There will be the 3rd bounty program with millions of QKC and the 1st round of the DeFi campaign in August."

"$KRL token will be listed on a new exchange on mid-August."

"Due to a large number of requests from our community to move our snapshot date, we have taken the decision to move it to the 30th..."
Last Updates


➡️ Be paid daily to browse with Brave Internet Browser
➡️ A secure and easy wallet to use: Atomic Wallet
➡️ Youtube
➡️ LBRY
➡️ Publish0x
➡️ UpTrennd
➡️ Read.cash
➡️ Minds
➡️ Hive
➡️ Twitter
➡️ Facebook