Bitcoin Breaks $12K; Uniswap Crosses $1.5B Locked;
Uniswap Rises to Top of DeFi Charts Thanks to Rival Looking to Unseat It;
Ethereum Fees Hit a New All-Time High;
Messari: $500M in BTC tokenized for DeFi is just the beginning;
Beijing Telecoms Provider Latest Company to Join Digital Yuan Pilot;
🗞 Daily Crypto Calendar, September, 2nd 💰
Welcome to the Daily Crypto News: A complete Press Review, Coin Calendar and Trading Analysis. Enjoy!
Bitcoin breached $12,000 again Tuesday, and traders see bullish crypto signals everywhere on the charts.
Bitcoin (BTC) trading around $11,970 as of 20:00 UTC (4 p.m. ET). Gaining 2% over the previous 24 hours.
Bitcoin's 24-hour range: $11,524-$12,085
BTC above its 10-day and 50-day moving averages, a bullish signal for market technicians.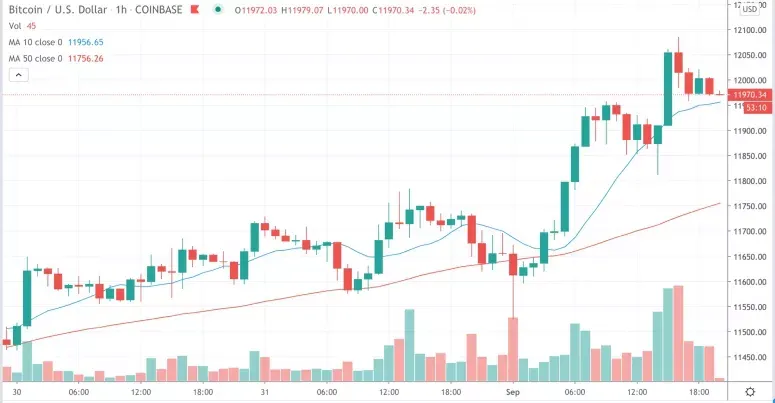 "Bitcoin's weekly price is now consistently holding above the $11,500 pivot, which it has failed to do since March 2018," Purdy said. "Four of the past weeks have closed above $11,500, unlike the late May 2019 run-up into $13,900, which continuously faced rejection at that price."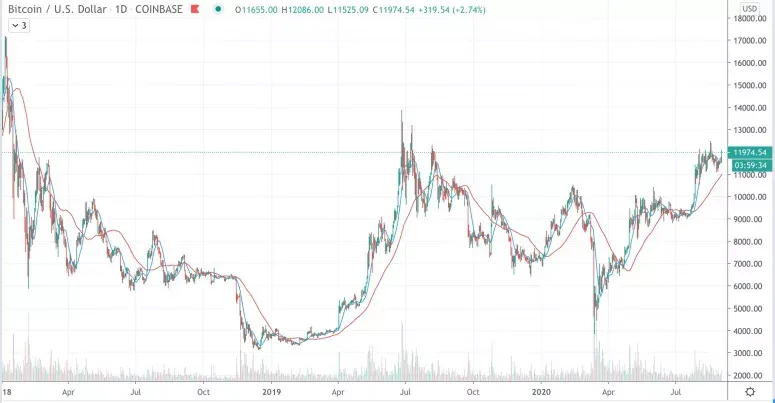 "The weaker the dollar gets, the more positive it becomes for BTC," said Rupert Douglas, head of institutional sales for crypto brokerage Koine. While the index is up 0.21% Tuesday, it's still sustaining lows not seen since 2018.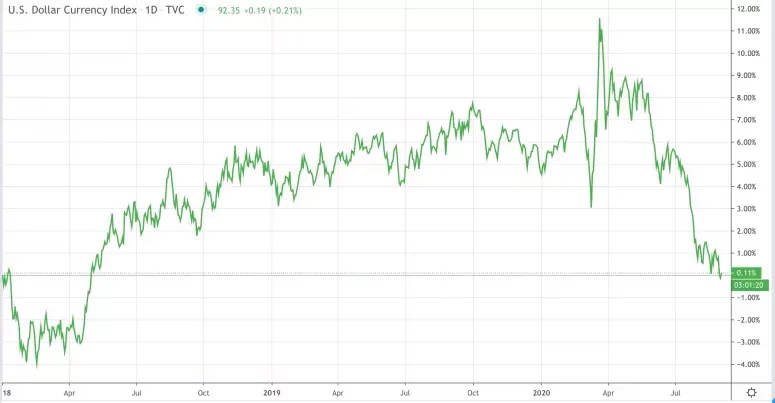 Over $1.5 billion locked in Uniswap
As for ether, the second-largest cryptocurrency by market capitalization was also up Tuesday, trading around $478 and climbing 8.9% in 24 hours as of 20:00 UTC (4:00 p.m. ET).
The amount of value locked in the decentralized exchange Uniswap is now more than $1.5 billion, a whopping 462% from the paltry $280 million of only a week ago.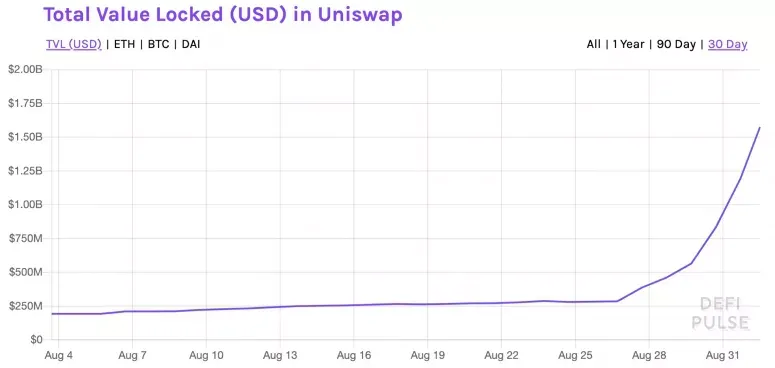 A vampire protocol has driven Uniswap to the top of the decentralized finance (DeFi) charts.
As of roughly 21:00 UTC, the automated market maker (AMM) has $1.65 billion in total value locked, according to DeFi Pulse, unseating lending platform Aave.
Sources with knowledge of the situation tell CoinDesk this is driven largely by a new Uniswap competitor, SushiSwap. One of the newer members of the Weird DeFi cohort is predicated on giving rewards in perpetuity to holders of its SUSHI token.
According to an announcement on Medium, for roughly two weeks (100,000 blocks) ahead of launch, Ethereum users who stake liquidity provider (LP) tokens from Uniswap to SushiSwap will get 10X the liquidity mining rewards in the early going (1,000 SUSHI per block now versus 100 SUSHI after launch).
Right now SushiSwap is distributing rewards for LP tokens on ETH pools matched with USDT, USDC, AMPL, DAI, LINK, YFI and others. SUSHI holders will be able to vote-in more pools later.
Analysis of hot DeFi protocol SushiSwap's smart contracts has revealed that as much as $27 million worth of the native token is in an admin wallet that could be dumped without warning.
Data analyst and partner at Cinneamhain Ventures, Adam Cochran, took a deep dive into the administrative wallet structure of SushiSwap - a protocol that has gained a lot of traction, and a billion dollars of liquidity, in the past few days.
The sky appears to be the limit for ethereum (ETH) transaction fees as the median price of transactions touched almost USD 3.5 yesterday, reaching a new all-time high and spiking for the first time since a bug apparently derailed the decentralized finance (DeFi) Yam project. Also, total gas fees reached a whopping USD 7.1 million on August 30.
Yam-inflated figures saw total gas fees peak at USD 8.6 million on August 13. But just after a bug wiped out 90% of the Yam token market capitalization within the space of a few minutes, those figures dropped all the way down to USD 2.56 million. This dip appears to have been very short-lived indeed, though, with yield farming continuing to grow and ETH fee figures starting to skyrocket again beginning on August 28, per BitInfoCharts data.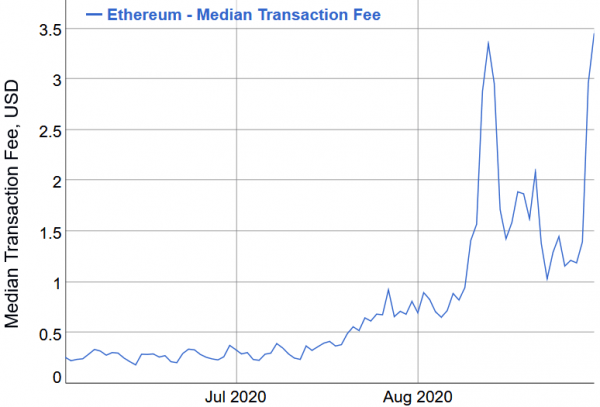 With more than half a billion dollars worth BTC already tokenized, Messari believes that projects bringing Bitcoin to DeFi will emerge as leaders of the crypto sector.
Crypto analytics firm Messari estimates that $500 million worth of Bitcoin (BTC) has been tokenized on the Ethereum network for use in decentralized finance (DeFi) protocols.
The firm's latest report points out however that this figure represents just 0.3% of Bitcoin's $216 billion market cap, meaning there is ample opportunity for projects that facilitate the migration of Bitcoin onto Ethereum, to capture significant value.
According to DeFi Pulse, popular Bitcoin tokenization protocols WrappedBTC (WBTC) and RenVM are the ninth and 10th largest DeFi projects by locked funds, with $453 million and $232.4 million respectively.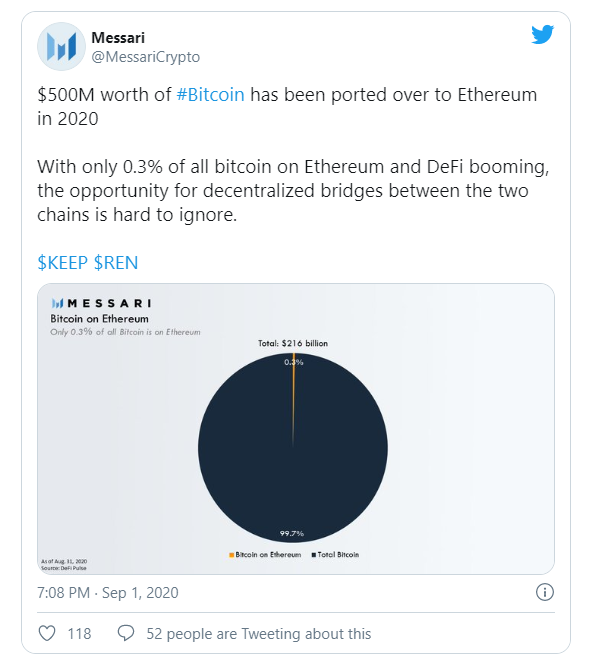 Another private sector firm has stated that it is working with the Chinese central bank on its fast-expanding digital yuan pilots.
Per Shanghai Securities News, a Beijing-based telecom provider named Shenzhen Techo Telecom admitted that it was working on the project, known in China as the Digital Currency Electronic Payment (DCEP) system.
The firm appears to be reluctant to divulge much in the way of detail regarding its involvement in the DCEP project, only going so far as to explain that it was "participating in DCEP testing and related promotion-related work with a commercial bank."
🗞 Daily Crypto Calendar, September, 2nd💰

In September 2020 the Vite chain will undergo a fifth hard fork with the code name "Jupiter.".
"Add trezor support for Verge"
Stacks Testnet enters Phase 3: Krypton.
"#Bifrost Testnet will launch on Sep 2!"
Join Lamden's CEO and CTO for an AMA w/ The AMA Room by ExNetwork in Telegram @amaroom. Date & Time: Sept 2nd, 5PM UTC.
Last Updates


➡️ Be paid daily to browse with Brave Internet Browser
➡️ A secure and easy wallet to use: Atomic Wallet
➡️ Youtube
➡️ Twitter
➡️ Hive
➡️ Publish0x
➡️ UpTrennd
➡️ Read.cash
➡️ LBRY