🗞 Bitcoin Falls to $11.1K; Ethereum Miners at Record Fee Percentage;
🗞 Yield farming frenzy pushes Uniswap daily volume over $1 billion;
🗞 Vitalik Buterin reveals why a 51% attack on ETH 2.0 'would not be fatal';
🗞 DeFi meme coin Hotdog dumps 99.9% in hours after launch;
🗞 Crypto Exchanges Worried: Police Continue Bithumb Fraud Probe;
🗞 Daily Crypto Calendar, September, 3rd 💰
Welcome to the Daily Crypto News: A complete Press Review, Coin Calendar and Trading Analysis. Enjoy!
Bitcoin took a dive Wednesday. Ethereum miners are benefiting from all that DeFi.
Bitcoin (BTC) trading around $11,396 as of 20:00 UTC (4 p.m. ET). Slipping 4.8% over the previous 24 hours.
Bitcoin's 24-hour range: $11,159-$12,058
BTC above its 10-day moving average but below the 50-day, a sideways signal for market technicians.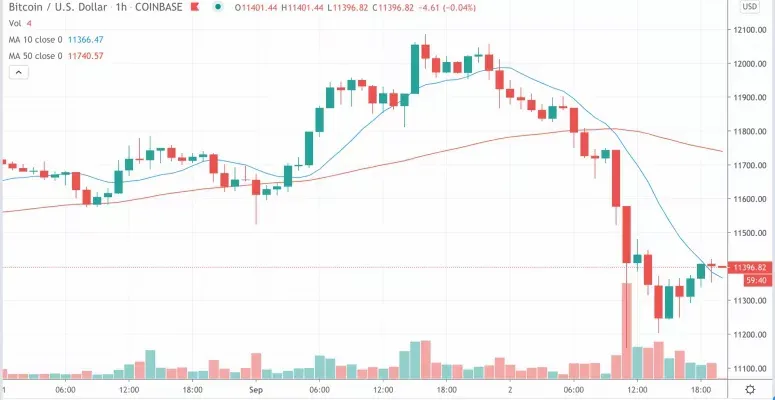 Bitcoin dropped to as low as $11,159 on spot exchanges like Coinbase Wednesday. The fall was exacerbated by long-oriented derivatives traders on exchanges like BitMEX. That platform experienced $9 million in sell liquidations in one hour as prices fell, the equivalent of a margin call in the cryptocurrency world.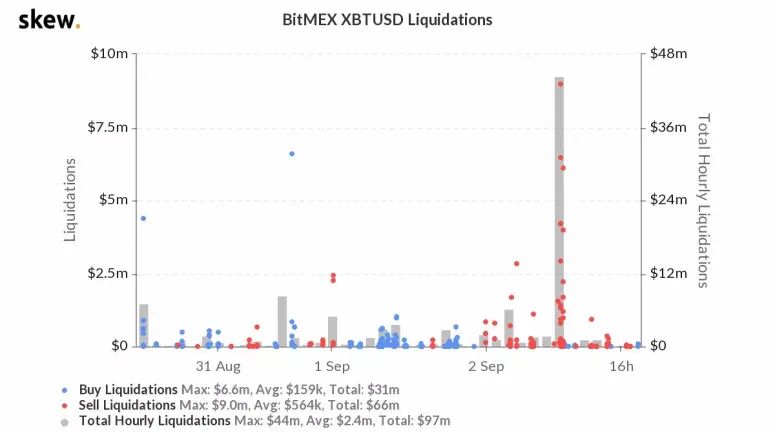 Alex Mascioli, head of institutional services at crypto brokerage Bequant, said long traders were convinced bitcoin's price would surpass 2020 highs but instead were wiped out. "Bitcoin still needs to break above its previous high at $12,400 to have enough serious momentum to have a chance of retesting previous highs," he said.
However, some traders aren't convinced DeFi can maintain its status quo, and that is reflected in bets on the options market for ether (ETH). Based on probabilities, options traders have 66% confidence ether will be over $400 by September 20 maturity, but that number drops to 48% by December 20 maturity.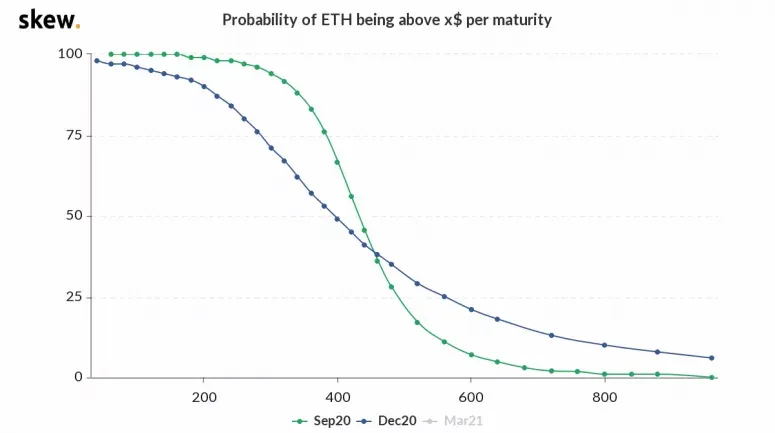 Ethereum mining hits record fee percentage
The percentage of revenue Ethereum miners receive from fees has hit an all-time high. It crossed the 70% threshold Tuesday as DeFi projects that run on the network are pushing gas prices, the unit of account for transactions and smart contract interactions, to fresh highs.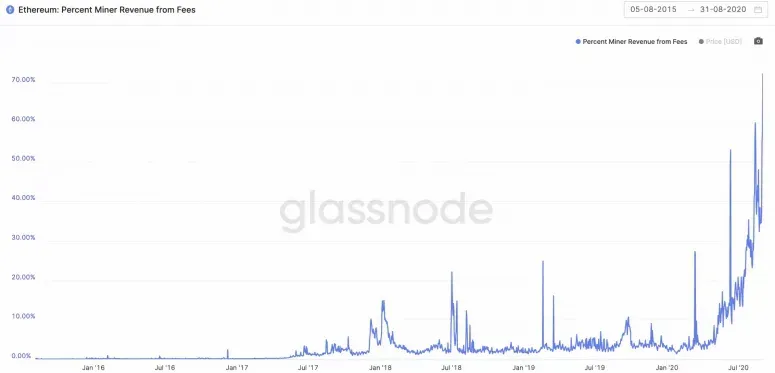 A dramatic spike in yield farming activity associated with SushiSwap and similar protocols has seen Uniswap become the first decentralized exchange (DEX) to exceed $1 billion in 24-hour trade volume.
According to crypto data aggregator CoinGecko, Uniswap V2 is currently the third-largest exchange by normalized trade volume with $1.02 billion worth of ERC-20 tokens changing hands over the past day.
The boom in yield farming has also seen Uniswap suddenly emerge as the top decentralized finance (DeFi) protocol by locked funds with $1.69 billion — representing 18.05% of the total value locked in the sector's smart contracts according to DeFi Pulse.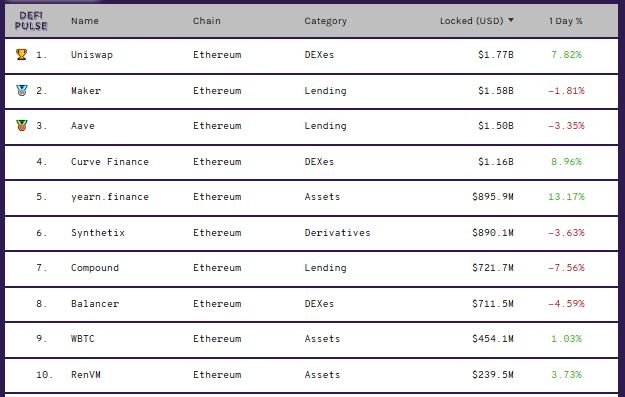 Ethereum co-founder Vitalik Buterin has dismissed concerns that a 51% attack on Ethereum 2.0 would be 'fatal'.
The scenario emerged as a result of the burgeoning popularity of Yearn.finance's yETH vault which has already amassed more than 137,000 ETH on its first day. Arcane Assets' Chief Intelligence Officer Eric Wall suggested this mean the yETH vault admins will probably end up controlling enough Ether to theoretically launch an attack on Ethereum 2.0:
ITT: We come up with fun ways yETH vault strategists can take advantage of the fact that yETH is probably going to control more than enough stake to 67%-attack ETH 2.0 PoS
.Taking the opportunity to compare PoS to Proof of Work (PoW), Buterin emphasized the heightened risk that 51% attacks pose to PoW networks (like Bitcoin and Ethereum 1) since there are no staked coins to take and there is "no possible way to delete their [the attacker's] hardware without deleting everyone else's hardware." He finished the post by stating:
This is an underrated key fundamental advantage of PoS over PoW"
The latest high-yield, food-flavored DeFi meme project, Hotdog, appears to have crashed and burned just hours after it was launched.
The newly cloned DeFi protocol called Hotdog promised insane returns up to one million percent APY in order to lure liquidity providers. It is yet another doppelganger of the popular token swap and liquidity platform Uniswap, and follows in the footsteps of the recently launched Sushi and Kimchi platforms.
HotdogSwap was launched on September 2, and provided a largely illiquid token which surged in price to over $5,000 according to the Uniswap analytics dashboard, Uniswap.info. According to the HotdogSwap dashboard, that token is now worth $0.0332 at the time of writing.
This cloned yield farming frenzy was instigated by Yam Finance, a clone of YFI which was the first to offer liquidity pools rewarding providers with the notion of 100% community-owned tokens. This opened the floodgates for other copycats of existing DeFi protocols such as Uniswap, to start their own websites, and generate their own often food-themed meme tokens to be offered as rewards.
Anyone can list a token on Uniswap so the market is created there by providing the new token and some ETH to give it initial liquidity. In her latest Defiant newsletter, industry expert Camila Russo adds;
"By controlling the supply of ETH relative to the token, they're also able to set an inflated price for a highly illiquid token."
Further details are emerging about the Seoul Metropolitan Police Agency's all-day raid on Bithumb, South Korea's leading crypto exchange on suspicions of fraud and embezzlement.
A Seoul-based employee at a rival South Korean crypto exchange who asked not to be named told Cryptonews.com,
"This really doesn't bode well for the industry at such a key time for us all. This will scare the industry, too. We need to move away from the shady world of suspicious ICOs [initial coin offerings] and offshore shell companies and into a new age of transparency if society as a whole is to take our sector seriously."
The crypto exchange employee was speaking after media outlet Seoul Shinmun published purported details about the BXA token that may be at the heart of the police investigation.
🗞 Daily Crypto Calendar, September, 3rd💰
"We will be opening up a pre-bookings page for this on September 3rd, where users can book it in advance."
Team updates at 3:30 PM UTC/ 11:30 AM EDT: Engineering, Node network, Product/UX, Helpdesk, Legal, BD, Marketing, CEO Closing thoughts, AMA.
"The Mettalex staking pool, along with its UI, will be launching on or around 3rd September after the current Fetch.ai staking round..."
"Token swap begins 3rd September"
CryptoHunters will host an AMA with Blockstack (STX) team on the 3rd of September at 9:00 pm UTC + 8.
Last Updates
➡️ Be paid daily to browse with Brave Internet Browser
➡️ A secure and easy wallet to use: Atomic Wallet
➡️ Youtube
➡️ Twitter
➡️ Hive
➡️ Publish0x
➡️ UpTrennd
➡️ Read.cash
➡️ LBRY