Bitcoin Braces for $700M in Options to Expire; Record $7B Value Locked in DeFi;
Mutual Fund Giant Fidelity Reportedly Starting its First Bitcoin Fund;
Stablecoin metric hints Bitcoin price will rise as buyers snap up BTC;
Fed Chair Powell's Jackson Hole Speech Could Hint at US Dollar's Future;
Uniswap Introducing Token Lists;
🗞 Daily Crypto Calendar, August, 27th 💰
Welcome to the Daily Crypto News: A complete Press Review, Coin Calendar and Trading Analysis. Enjoy!
The bitcoin market bottomed out around $11,100 before bouncing back; DeFi continues an upward trend, garnering interest from traders and perhaps creating new ones.
Bitcoin (BTC) trading around $11,467 as of 20:00 UTC (4 p.m. ET). Gaining 1.2% over the previous 24 hours.
Bitcoin's 24-hour range: $11,102-$11,593.
BTC above its 10-day moving average but below the 50-day, a sideways-turning-bullish signal for market technicians.
Bitcoin's price was able to hold above $11,100 Wednesday, going as low as $11,102 before jumping as high as $11,593.
Katie Stockton, analyst at Fairlead Strategies, sees $10,000 as a lower bound in trading because the world's oldest cryptocurrency lacks market momentum. "The pullback in bitcoin appears healthy," Stockton noted. "That said, there is room for further near-term downside with support in the $10,000-$10,055 area, where there was once resistance, and room to short-term oversold territory."
Jean Baptiste Pavageau, a partner at quantitative trading firm ExoAlpha, says bitcoin continues to be affected by gains in alternative cryptocurrencies, or altcoins. Indeed, one way to measure this is looking at bitcoin's dominance, which hit a 2020 low of 60.26% in August.
Another event is the expiration of 65,000 BTC options, over $700 million at current market values, on Friday. The vast majority of these options are on crypto derivatives platform Deribit.
The US-based mutual fund giant Fidelity is reportedly set to launch their first bitcoin (BTC) fund targeted at high profile investors.
The new filing with sparse details was made public by the Securities and Exchange Commission (SEC), and it revealed that Fidelity's head of strategy and planning, Peter Jubber, would lead a new Wise Origin Bitcoin Index Fund I.
The minimum amount required to join the fund is pegged at USD 100,000, the filing shows.
As detailed by Bloomberg, citing 'a person familiar with the matter,' the fund will be made available to qualified buyers through family offices, registered investment advisers, and other institutions.
The funds from the Wise Origin Bitcoin Index Fund will be under the custody of Fidelity Digital Assets, a New York State Department of Financial Services (NYDFS)-licensed subsidiary of Fidelity Investments, aimed at providing bitcoin investment services to institutional investors.
Stablecoin supply ratio shows much more buying power among stablecoin holders currently, with Bitcoin trailing at $11,400.
Highlighting the latest readings from its stablecoin supply ratio (SSR) metric on Aug. 26, on-chain monitoring resource Glassnode forecast upside for BTC/USD.
Stablecoin supply ratio "3x stronger" than July 2019
SSR refers to the potential buying power of stablecoins over Bitcoin. A low Bitcoin price allows stablecoin owners, for example on exchanges, to purchase more of the BTC supply. This demand pushes the price of Bitcoin up, given its predictable, verifiable supply and high stock-to-flow ratio.
"Further support comes from an increase in the $USDT (ERC20) balance on exchanges over the past year – indicating that stablecoins are waiting on the sidelines."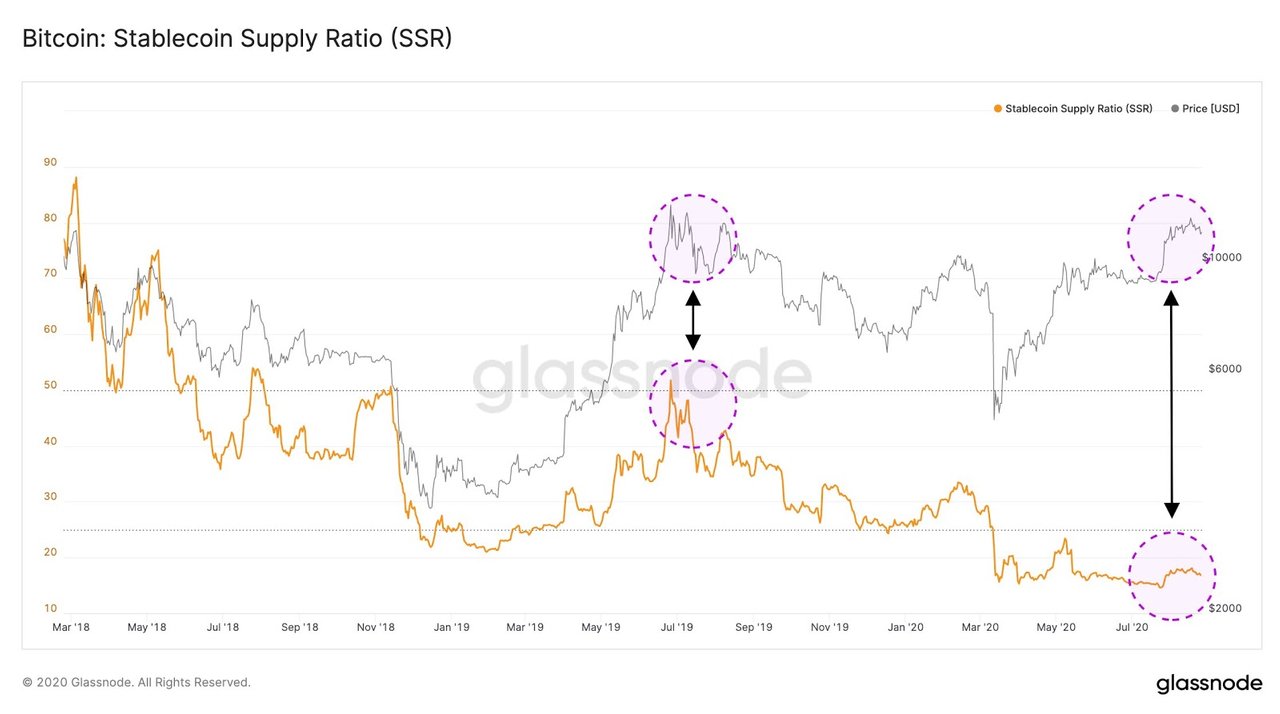 Tether holders waiting to enter BTC?
As Cointelegraph reported, Tether's market cap passed a landmark $10 billion in July. In terms of the average daily transfer value, USDT beat both Bitcoin and PayPal this month.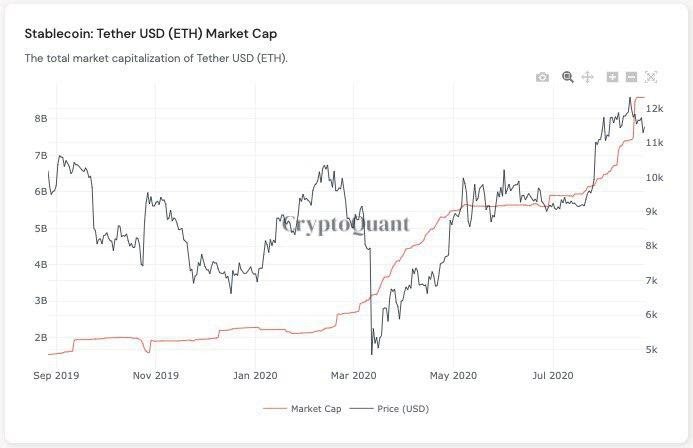 A speech by Federal Reserve Chair Jerome Powell scheduled for Thursday offers a reminder of just how dramatically once-slow-moving monetary forces have accelerated due to the devastating economic toll of the coronavirus pandemic.
This time last year, President Donald Trump was vehemently criticizing Powell on Twitter for setting interest rates too high, as U.S. economic growth slowed and the national debt swelled past $22 trillion.
This time last year, then-Bank of England Governor Mark Carney delivered a speech at the Fed's annual Jackson Hole Economic Symposium in Wyoming warning the U.S. dollar's status as the de facto global currency contributes to an unsustainable international economic and monetary regime. He argued that world leaders should create a "synthetic hegemonic currency," potentially provided "through a network of central bank digital currencies."
'No easy way out' for Powell
Many investors are betting on bitcoin as a hedge against the potential debasement of the U.S. dollar, but Fed officials say deflationary forces might be stronger because of an expected drop off in demand from consumers and households.
As the Ethereum ecosystem continues to evolve, we continue to see exponential growth in the number of ERC20 tokens being issued. This maturation reflects the success of permissionless innovation, a trend we expect will only accelerate in the future: everything of value will be tokenized.
As the rate of token issuance accelerates, it has become increasingly difficult for users to filter out high quality, legitimate tokens from scams, fakes, and duplicates. Across the space, projects are managing and maintaining rapidly growing token lists.
Today, we are excited to announce Token Lists, a new standard for creating lists of ERC20 tokens. This is a community-led initiative to improve discoverability and trust in ERC20 token lists in a manner that is inclusive, transparent, and decentralized.
The initial launch includes:
An ERC20 standard token list
A homepage and list browser at tokenlists.org
A community forum at community.tokenlists.org
Lists from CoinMarketCap, Coingecko, Dharma, Zerion, Kleros TCR, Defiprime, Compound, Aave, Synthetix, UMA, 1inch, and Roll (and many more coming soon!)
🗞 Daily Crypto Calendar, August, 27th💰
"Don't miss out on the upcoming Cardano Product Update show for August, with Tim and Aparna!"
"Introducing Kava 4 'Gateway'... Testnet Launch: 14:00UTC August 27th."
"Join us on August 27th for this month's Hedera Engineering Insights - a monthly Product & Engineering-lead developer community update."
Team updates at 3:30 PM UTC/ 11:30 AM EDT: Engineering, Node network, Product/UX, Helpdesk, Legal, BD, Marketing, CEO Closing thoughts, AMA.
"Join us for a Telegram AMA on Thursday, August 27, 2020, at 11am ET."
"Our monthly AMA is back with BOLT Founders Jamal Hassim and Christel Quek! Hear the latest developments! Join 27 Aug at 1 P.M UKT."
Last Updates
➡️ Be paid daily to browse with Brave Internet Browser
➡️ A secure and easy wallet to use: Atomic Wallet
➡️ Youtube
➡️ LBRY
➡️ Publish0x
➡️ UpTrennd
➡️ Read.cash
➡️ Minds
➡️ Hive
➡️ Twitter
➡️ Facebook