🗞 Perfect storm leads to big sell-off for Bitcoin and DeFi: Weekly recap;
🗞 Sub-$10K Bitcoin price caused $653M open interest drop, largest since March;
🗞 BitMEX to List Futures for New Crypto Coins for First Time in Over 2 Years;
🗞 Safety Second: Top DeFi Projects By Highest Audit Scores;
🗞 Bank of England Governor Wants Global Regulations as Stablecoins Pick Up Steam;
🗞 Daily Crypto Calendar, September, 5th 💰
Welcome to the Daily Crypto News: A complete Press Review, Coin Calendar and Trading Analysis. Enjoy!
Digital asset markets were on a parabolic surge until investor confidence took a major hit to close out the week with a bearish tilt due to a perfect storm of negativity.
Before reading the rundown, catch up on the most-read stories centered around the price of Bitcoin, the macroeconomic picture and the DeFi phenomenon gaining traction.
A significant drop in equities markets was led by blue-chip stocks that had been at all-time highs. As this occurred, many tokens tied to DeFi platforms corrected sharply, most notably, SushiSwap (SUSHI) which lost nearly 40 percent of its value.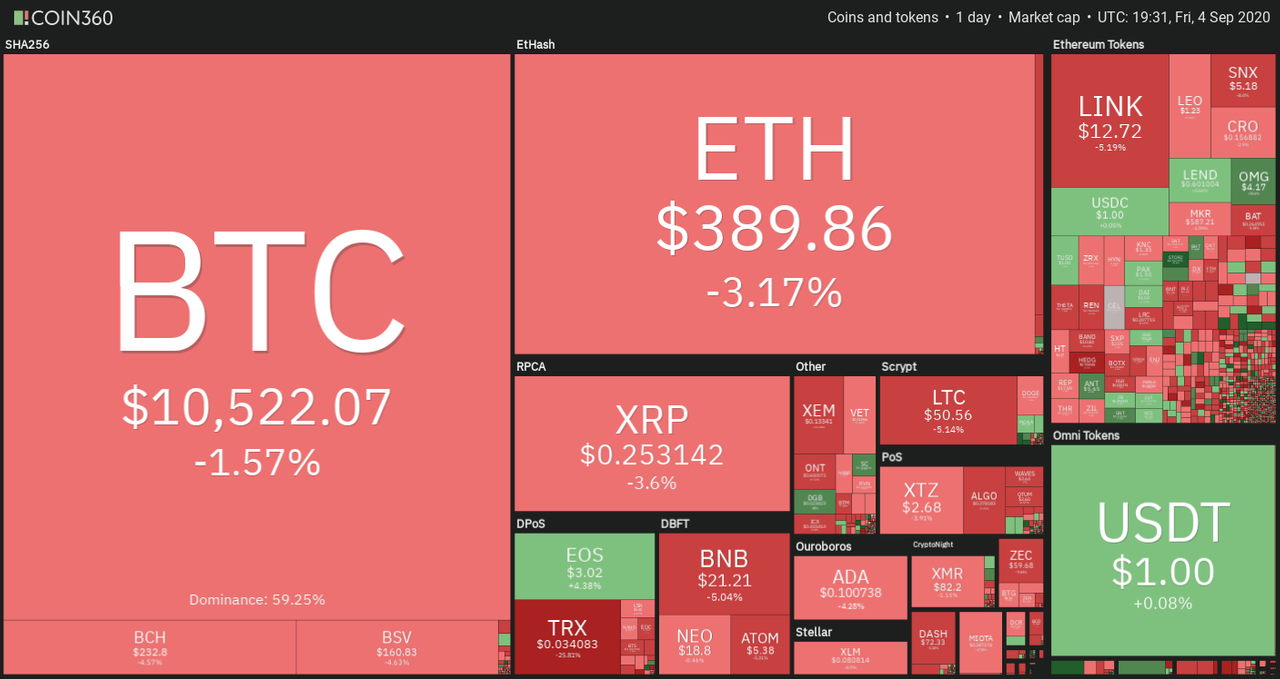 More isn't always merrier
Technology stocks that led US equities to record highs this summer reversed sharply this week, sending the Nasdaq Composite index tumbling almost five percent in its biggest fall since June.
Apple's shares lost eight percent — wiping more than $150 billion from the iPhone maker's value — while Amazon, Alphabet and Microsoft all fell more than four percent.
Are DeFi tokens the new pink sheets?
Ethereum transactions soared to multiple new all-time highs for the second time in three weeks and Uniswap V2: Router 2 is now the lead contributor to gas usage, according to Etherscan. The decentralized exchange is followed by Tether (USDT); and then the latest DeFi sweetheart that is SushiSwap: MasterChef LP Staking Pool.

Is relief from high gas fees on the way?
The ongoing focus on DeFi and the recent hyperactivity on Ethereum has resulted in sky-high congestion and gas fees. This led Ethereum founder Vitalik Buterin to point out several solutions through rollups and sharding.
Bitcoin (BTC) futures open interest just had its most extensive daily reduction in five months. Yesterday's 11% drop move caused more liquidations than May 9 when BTC plunged 12.5% to $8,600.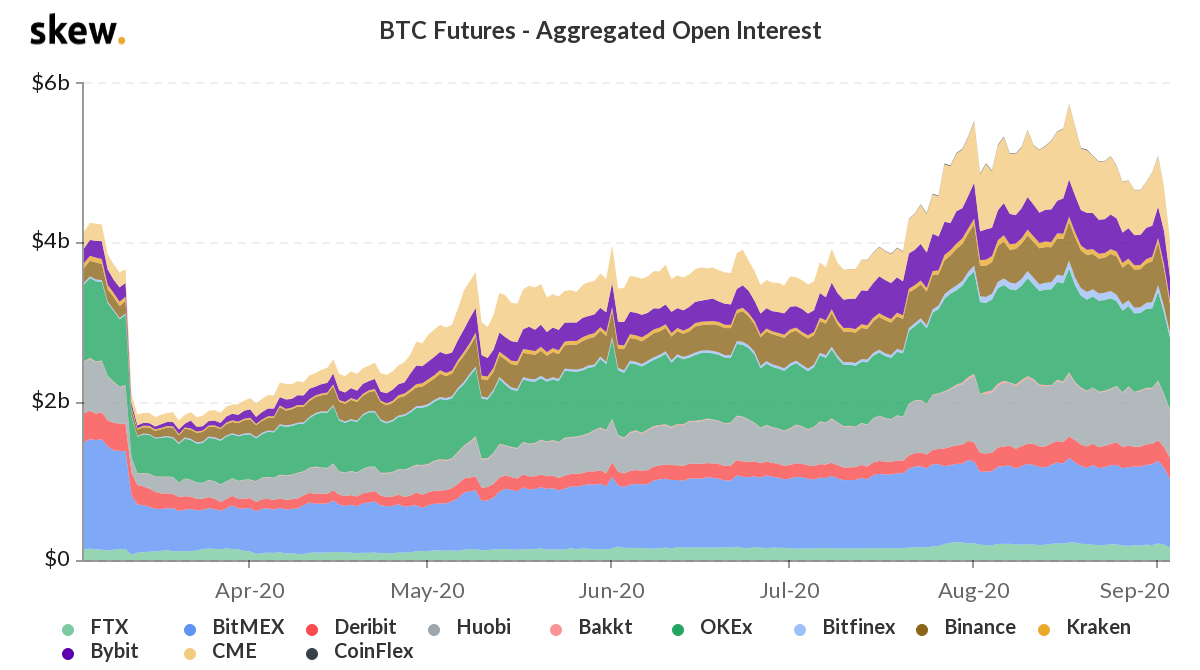 Skew data shows total open interest down by $653 million, reaching $4 billion on Sept. 3. That figure includes perpetual (inverse swaps) and futures with set expiry on OKEx, CME, Binance, and remaining derivatives exchanges.
Yesterday's move was the largest daily drop since the horrendous $1 billion cascading liquidation on March 13 caused a 50% drop in Bitcoin price. That same day marked the worst sell-off of the Dow Jones Industrial Average since 1987, a 10% drop.
This futures contracts premium indicator is known as basis and it usually ranges between a 5% to 15% annualized rate. Whenever the premium is positive, the market is characterized as in contango. On the other hand, a zero to negative future contracts premium is unusual and indicates bearish sentiment.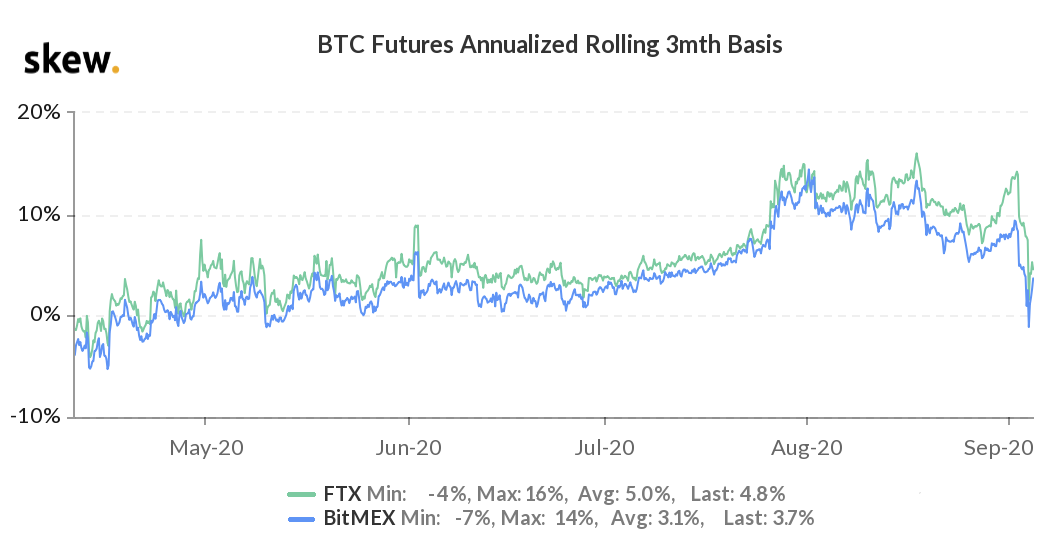 BitMEX said early Friday morning it plans to introduce futures markets for two cryptocurrencies, the first new coins to appear on the exchange in over two years.
The stalwart cryptocurrency derivatives exchange announced new futures markets for chainlink (LINK) and tezos (XTZ), two cryptocurrencies with triple-digit year-to-date returns, in addition to new contracts for eos (EOS) and cardano (ADA), two coins already traded in futures markets on BitMEX.
Tezos has traded on BitMEX before, however. Prior to the project's initial coin offering (ICO) in 2017, XTZ/BTC futures were listed on BitMEX and settled at the sale price of 0.0002 BTC per tezos.
The last time BitMEX listed a new token was June 2018, when it announced a TRON/BTC futures market.
The anonymous DefiSafety team looked into popular decentralized finance (DeFi) projects and their codes, scoring each platform, and finding that six have overall scores above 80%, with Synthetix Exchange leading the list. SushiSwap, on the other hand, got a score of less than 20%.
As said, the team behind the report is anonymous, but yearn.finance (YFI) developer Andre Cronje described their work as "a great public source" while their website shows recommendations from other security experts, such as John Mardlin, Security Engineer at Consensys Dilligence, also.
On their website, DefiSafety provides an explanation of what a DeFi audit is, what the process entails, what questions/categories are looked into when doing an audit, and why an audit is needed. "DeFi asks us to trust smart contracts, rather than companies, governments or individuals. They ask you to trust the code," said the team behind the report, adding that they checked the code, how it was developed, and tested, providing the results.
Per their report, out of the seventeen currently listed, there are six top-scoring projects, if we look at those with a score of 80% and above. "The % score is how close to perfect they follow process and quality best practices," the report said.
The governor of the Bank of England (BoE) has said stablecoins need global regulation, warning private issuers that an international regulatory framework could soon be in the cards.
Governor Andrew Bailey said regulators have to come together for a "global response" so they can effectively regulate stablecoins.
Speaking Thursday, he said the international nature of stablecoins, which can be based in one country and operate in another, meant failure to coordinate could result in confusion and regulatory fragmentation.
Bailey addressed an audience at the Hutchins Center on Fiscal & Monetary Policy of the Brookings Institution – a think tank that has called on policymakers to devise regulation for cryptocurrencies.
🗞 Daily Crypto Calendar, September, 5th💰
"#SwipeGovernance testnet launching this week."
"... $Waves staking at a top Asian exchange"
KnoxFS is makings it's comeback on Masternodes Online! The place to be for all info and stats on masternode projects.
"Everyone is invited to join us at our next community meeting on Saturday 5th September at 4 pm (GMT +8)."
Bitpanda Ecosystem Token (BEST)
"Stay tuned for another announcement next week, which will make $BEST available for users outside the Bitpanda ecosystem!"
Last Updates
➡️ Be paid daily to browse with Brave Internet Browser
➡️ A secure and easy wallet to use: Atomic Wallet
➡️ Youtube
➡️ Twitter
➡️ Hive
➡️ Publish0x
➡️ UpTrennd
➡️ Read.cash
➡️ LBRY