Bitcoin Price Risks Dropping Below $10,000 if This Support Level Fails;
Could Stablecoins Kill off Ripple?;
Analysts Fear a Strong US Dollar Will Dampen Bitcoin's Bullish Momentum;
OMG Network (OMG) & Ox (ZRX) Thrive Amidst Crypto Market Selloff;
18% of Asked Americans Bought Crypto, Most Know Only Bitcoin - Survey;
🗞 Daily Crypto Calendar, August, 23rd 💰
Welcome to the Daily Crypto News: A complete Press Review, Coin Calendar and Trading Analysis. Enjoy!
As the price of Bitcoin (BTC) couldn't break through the resistance level of $12,000, a retracement did not come as a surprise. In recent days, BTC/USD pulled back to $11,400, a correction of almost 10%.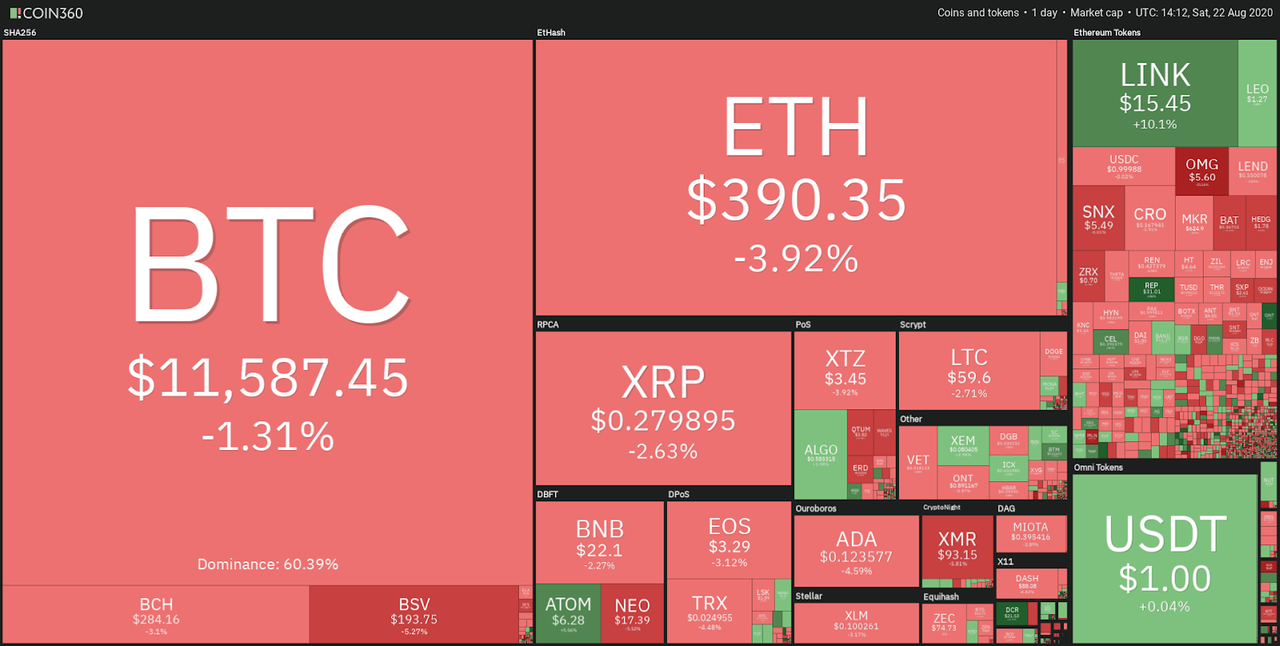 Meanwhile, gold, silver and other commodities are also correcting due to a slight bounce of the DXY, or the U.S. Dollar Currency Index.
What's more, multiple heavy movers like Chainlink (LINK) and Tezos (XTZ) also showed substantial corrections in recent days. Can this be a moment to buy the dip, or are further revisions imminent? Let's examine the charts.
showed substantial corrections in recent days. Can this be a moment to buy the dip, or are further revisions imminent? Let's examine the charts.
Bitcoin rejected at $11,800 after breaking back in the range
The price of Bitcoin couldn't force a breakout above the $12,000 resistance level, which led to a drop back into the range.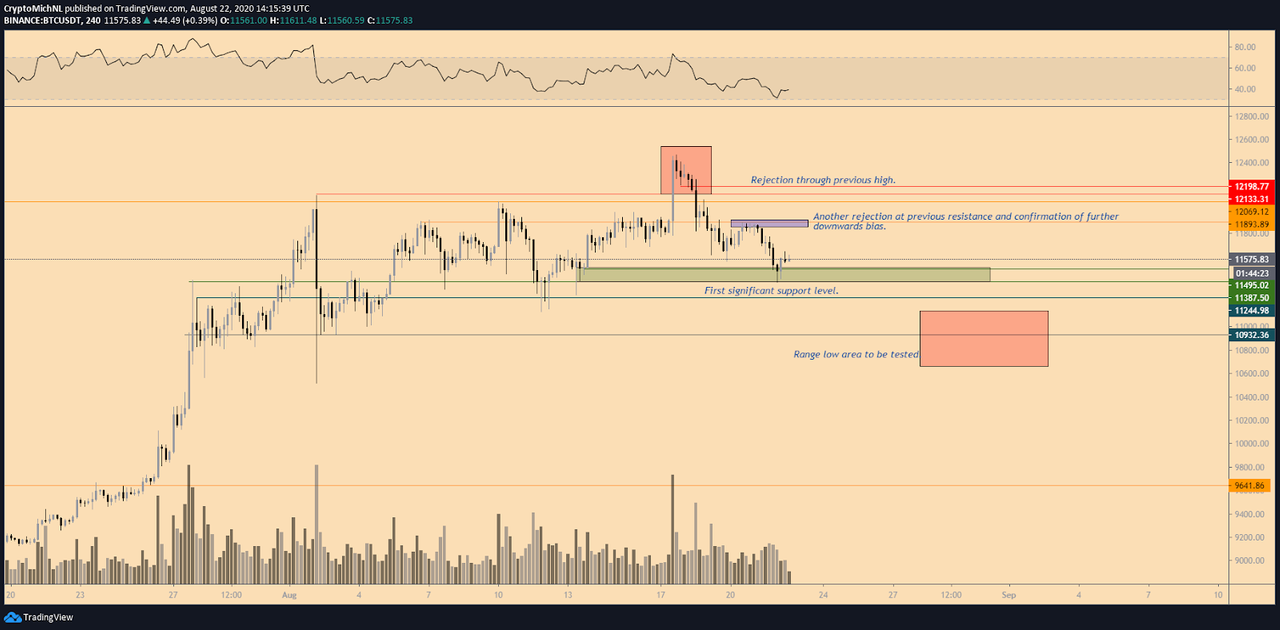 The stablecoin market is booming. Since the start of the year, fiat-pegged tokens have seen an aggressive influx of funding as crypto traders continue to seek price-stable assets as a store of value.
However, stablecoins are evolving past trading asset usage scenarios and are now increasingly being used as a means of transferring value.
As a whole range of players, including banks and major corporations begin to move into the world of stablecoins, some are starting to ask if stablecoins may begin to pose an existential threat to Ripple's business model.
Stefan Rauti, Head of Blockchain Banking at Bank Frick, commented,
"With the addition of USDC, we enable our customers to process USD payments quickly and token-based. Compared to the classic SWIFT procedure, the processing time is significantly reduced."
Bitcoin and gold price dropped as the U.S. Dollar Index rallied, leading analysts to speculate whether a strong dollar will slow BTC's momentum.
On Aug 21, Bitcoin (BTC) price declined by more than 3% from around $11,880 to $11,511 on Coinbase. Coincidentally, the U.S. Dollar Index (DXY) started to rebound from its 4-month downturn.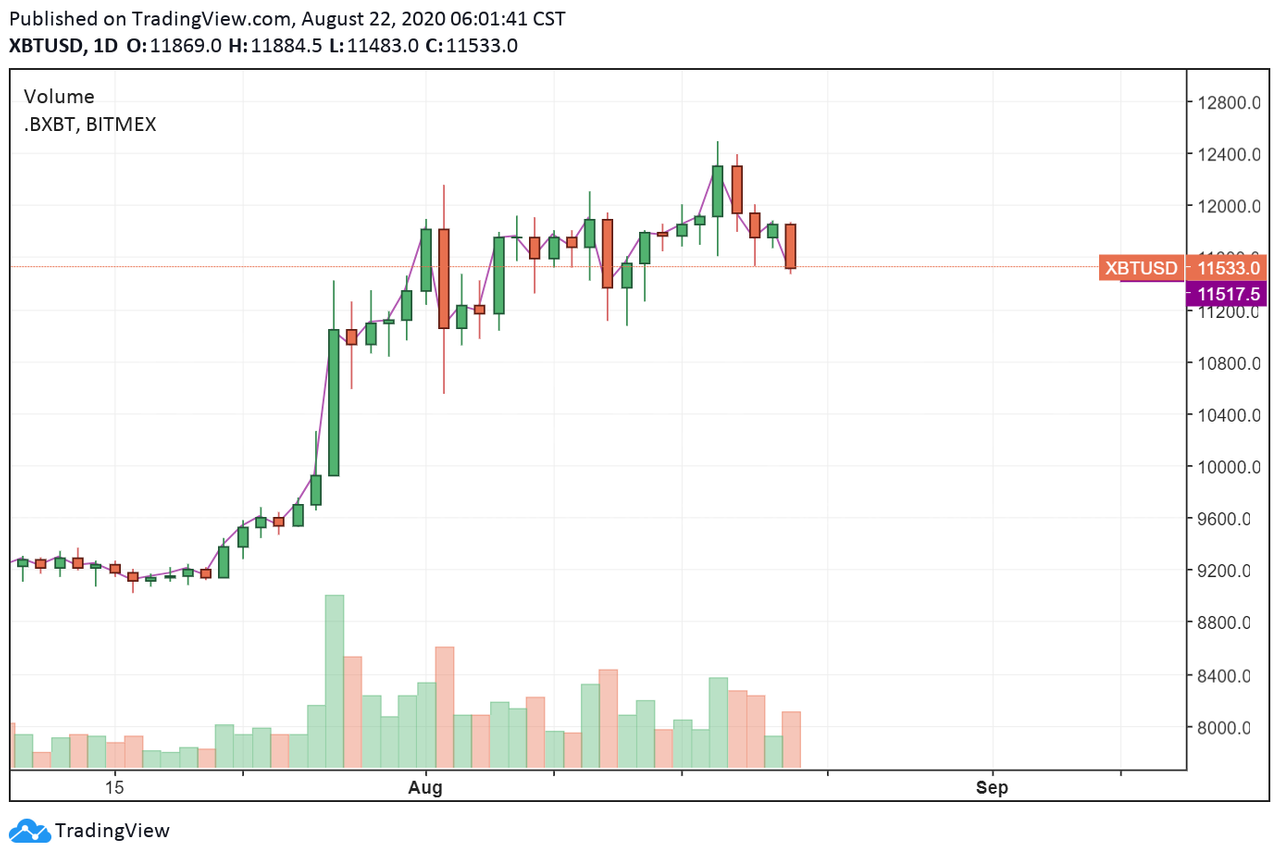 Will a strong dollar rally reverse Bitcoin's momentum?
Since the major Black Thursday Bitcoin correction, analysts have attributed the current BTC rally to the fading dollar.
Researchers at Kraken exchange, wrote:
"Behind the surge, Bitcoin's correlation with #gold strengthened to a 1-year high of 0.93. This occurred as markets turned to safe haven assets amid an uptick in COVID cases, increased government spending, mixed corporate earnings, inflation fears and a weakening US dollar."
In the last 48 hours, as the US Dollar Index climbed, the price of gold also slumped by more than 3.5%. Gold had been rallying strongly in recent weeks, buoyed by the rising uncertainty around the global economy.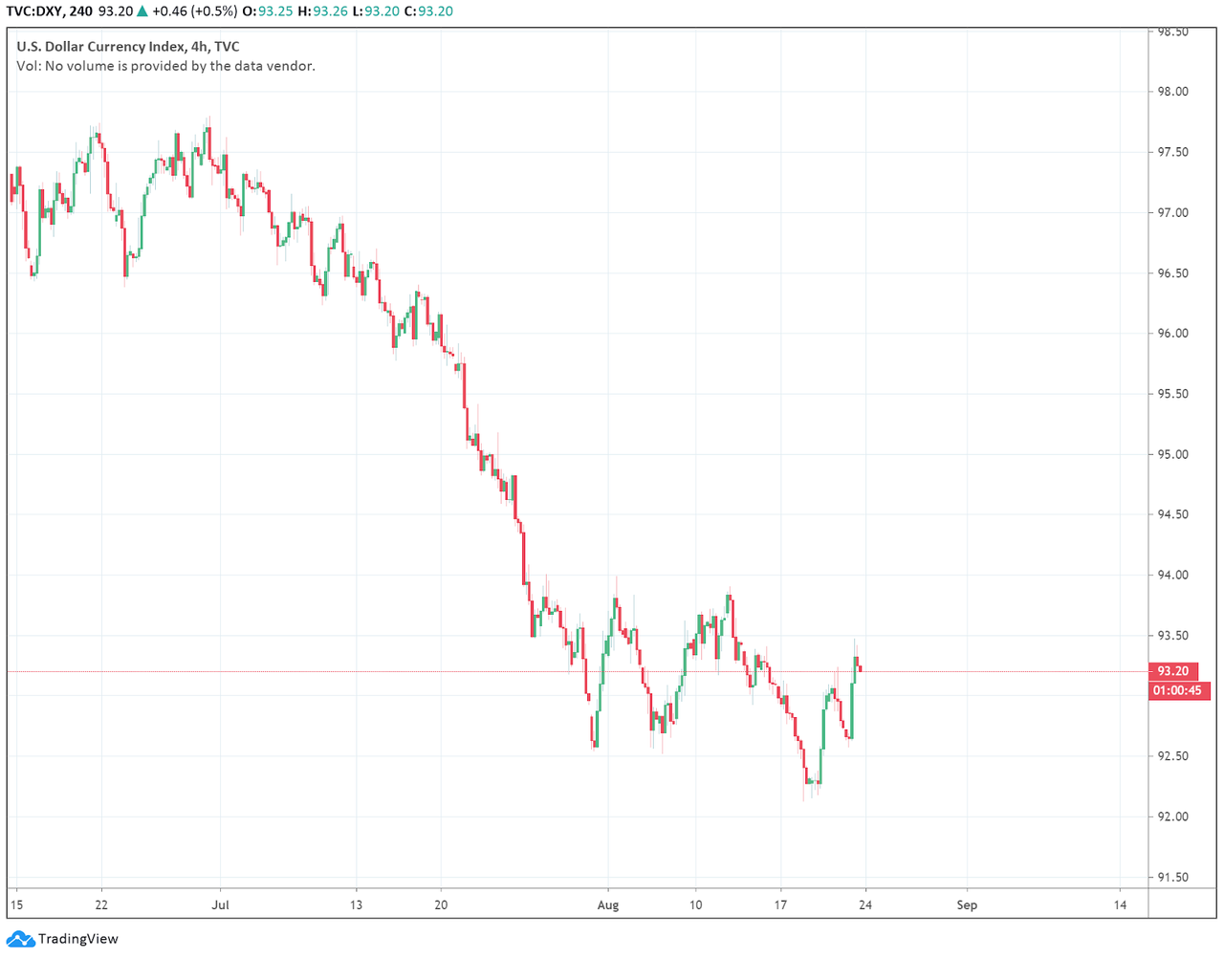 OMG Network (OMG) & Ox (ZRX) Thrive
However, the two digital assets of OMG Network (OMG) and Ox (ZRX) are on an upward path testing yearly highs of $9.85 and $0.96 respectively. In terms of daily gains, OMG has increased by 76% in a 24 hour period with ZRX gaining by 42%. Below is a screenshot from Coinmarketcap demonstrating this fact.
OMG Thrives on Tether Issuing USDT on the OMG Network
Key to OMG's bullish momentum is Tether's announcement of issuing USDT on the OMG Network transport layer. The announcement by Tether was made on the 19th of August and explained the shift to the OMG network, was geared towards reducing Ethereum congestion and gas fees.
.
USDt holders will obtain the benefits of transacting on the OMG Network, which is built to reduce Ethereum congestion and gas fees with improved transaction speeds. The integration will result in a reduction of confirmation times delivering faster payments while fees will be reduced without compromising on-chain security.
ZRX's Thrives on Exchange Inflow Spikes
In the case of Ox, the bullish climb of ZRX was due to exchange inflow spikes as explained by the team at Santiment via the following tweet.
Nearly 20% of asked Americans bought crypto, but most of the surveyed people are familiar with bitcoin (BTC) only - and know nothing of altcoins, a recent survey concluded.
Commissioned by Coinflip, a major US-based Bitcoin ATM operator, the survey included 1,005 respondents, whose responses suggested that 18.4% of Americans have either purchased or invested in digital currencies (cryptocurrencies).
Additionally, the Southern part of the country seems to be more tilted towards cryptocurrencies - with 50% of the total respondents from the South saying they prefer to transact using cryptocurrencies.
Daniel Polotsky, co-founder and CEO of CoinFlip, is quoted in the press release as saying:
"There's a lot of sensationalism around cryptocurrencies, but the truth is that they are gaining popularity among Americans who are looking for convenient, alternative financial services. In many cases, they are being used by people who are effectively shut out of the mainstream banking system because of its hefty service charges and fees."
🗞 Daily Crypto Calendar, August, 23rd💰
"$SXP held on Swipe Wallet & $SXP locked up for #Swipe Cards will enjoy up to 12% APR staking rewards starting 8/23 00:00 UTC!"
"First rewards will be distributed at the start of epoch 5"
1/2 Round - We will burn a minimum of 100 millions UVU (10%).
"... Stay tuned for another announcement next week, which will make PAN available for users outside the Bitpanda ecosystem!"
"The interviews [for a new 3-part series] will be broadcast on @kron4news on Aug 23, @FoxBusinesson Aug 24th and @business on Aug 29th"
"There will be an AMA in #TRON Japan Community / Everything you need to know about #BitTorrent on #DeFi / 2020/8/23,7PM(JST)"
Last Updates
➡️ Be paid daily to browse with Brave Internet Browser
➡️ A secure and easy wallet to use: Atomic Wallet
➡️ Youtube
➡️ LBRY
➡️ Publish0x
➡️ UpTrennd
➡️ Read.cash
➡️ Minds
➡️ Hive
➡️ Twitter
➡️ Facebook