Chainlink (LINK) Becomes the 'Tesla' of Cryptocurrency — What's Next? ;
Data Says HODL! People Are Trading Ether More, Bitcoin Less;
2020: The Year Ethereum Stayed Home;
Crypto Exchange Coincheck Supports Trading for BAT Tokens;
Even the IRS Admits Some Crypto Tax Regulations Are 'Not Ideal';
🗞 Daily Crypto Calendar, July, 14th 💰
Welcome to the Daily Crypto News: A complete Press Review, Coin Calendar and Trading Analysis. Enjoy!
Chainlink overshot the previous bullish target, hitting a new all-time high of $8.40, but how much higher can LINK's price really go?
As Bitcoin's (BTC) price continues to trade in a tightening range, the altcoin market has been pushing higher each week, and the most recent surge has come from Chainlink (LINK).
After breaking above the $5 level, LINK's price surged nearly 100% in a matter of days and ended by making a new all-time high at $8.40. Through this massive push, LINK surpassed EOS and Crypto.com (CRO) to claim a spot among the top ten cryptocurrencies listed on CoinMarketCap.
Investors are now curious to see if Tezos (XTZ) will continue to follow LINK, and there are expectations that other altcoins will also follow LINK's upward trajectory.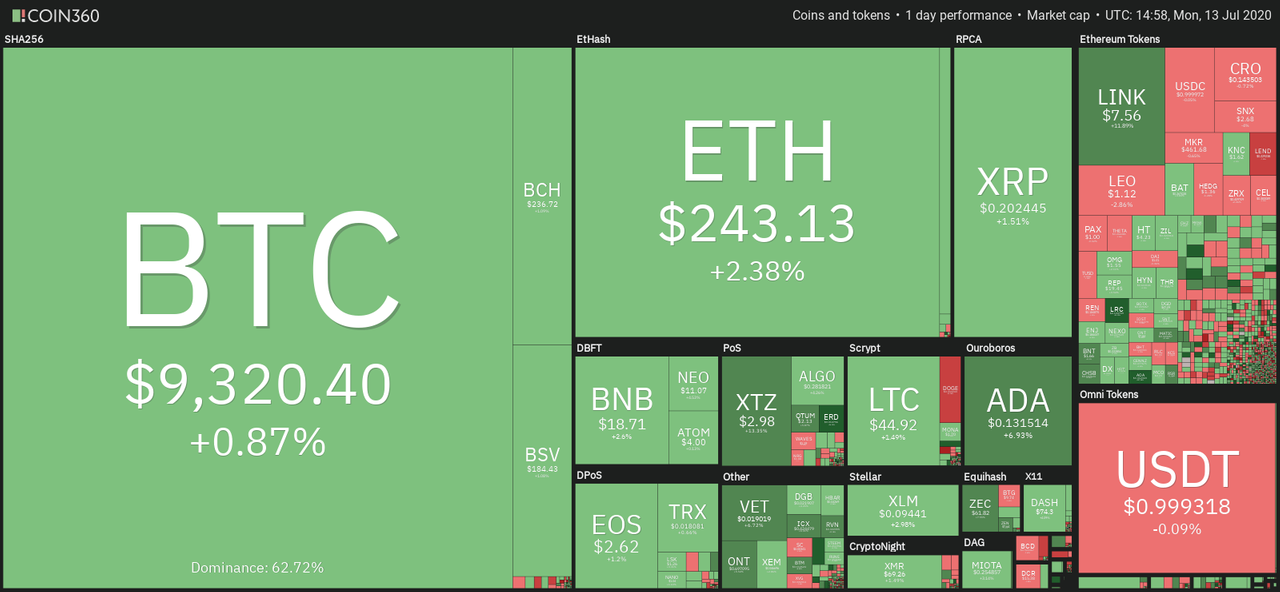 What pushed LINK's price to $8.50?
LINK has proven to be one of the strongest movers in the cryptocurrency markets of recent years. This was proved once again as the cryptocurrency broke above the previous all-time high of $5 and surged with 85% toward $8.50.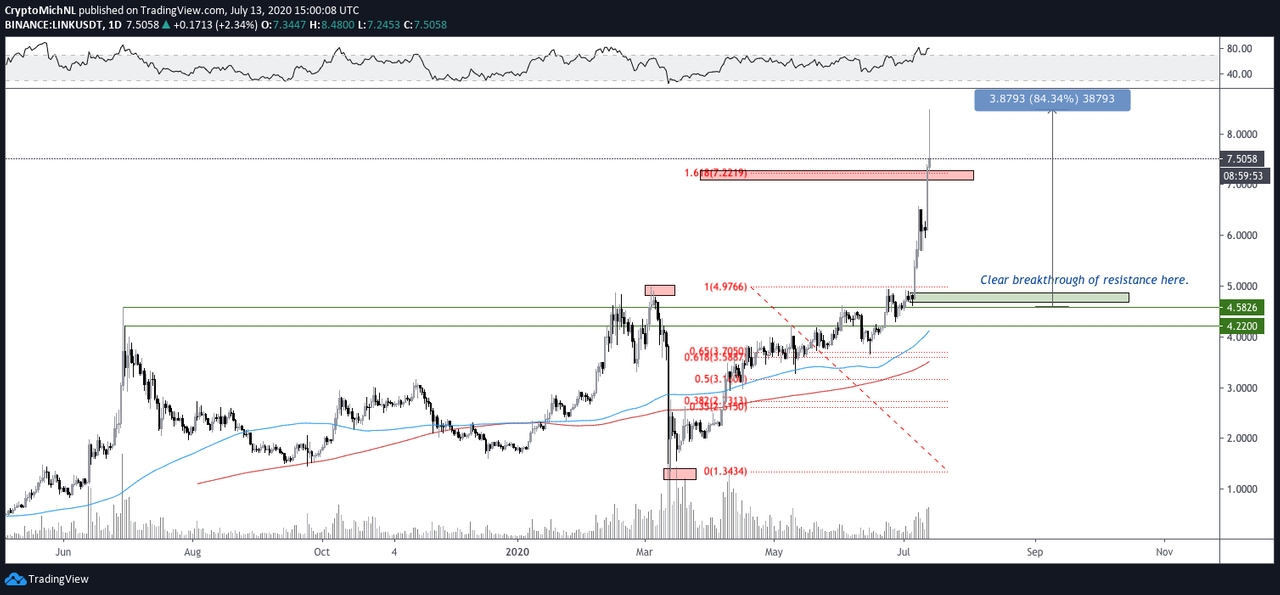 Ether (ETH) is trading at its highest since before the March coronavirus crash, but data suggests that investors have little interest in holding the second-largest cryptocurrency by market capitalization.
Uploading findings using on-chain monitoring resource Glassnode on July 10, one trader noticed that Ether exchange balances remain high, while Bitcoin (BTC) balances have dropped considerably.
BTC, ETH exchange balances diverge
ETH would make a suitable "home" asset for DeFi traders given its recent low volatility in the run-up to its fifth birthday.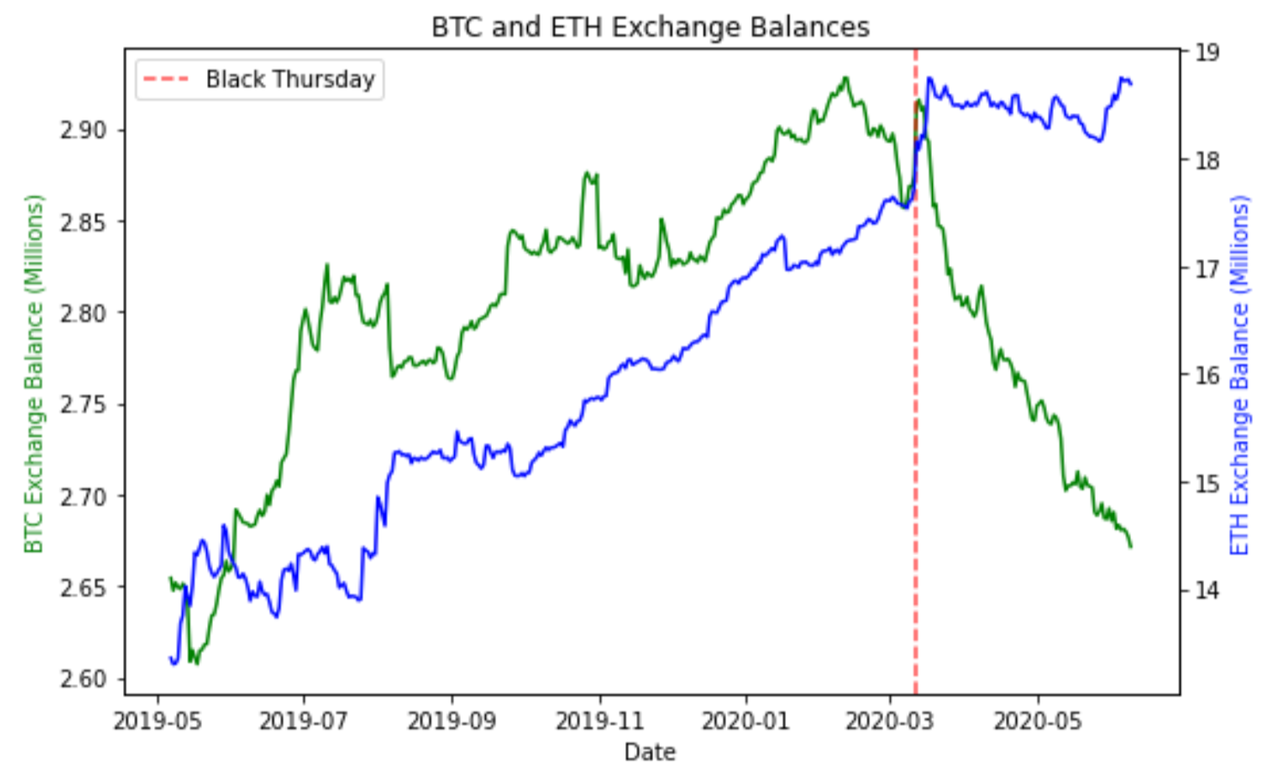 Buzzword altseason
Meanwhile, ETH/BTC correlation has risen in the short term, while a longer trend has seen ETH remain fairly constant as a percentage of BTC price, data from Skew shows.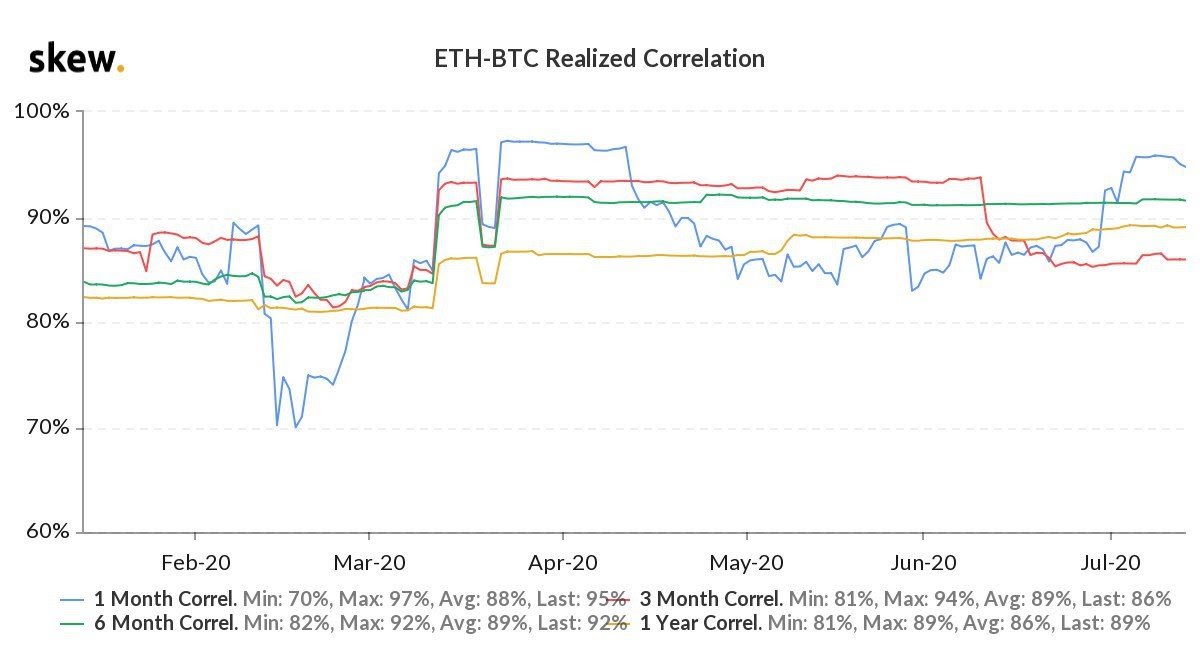 This is a weird year for everyone and everything, but it's a particularly weird year for Ethereum.
Why? The second-largest blockchain by market cap and the largest by contributing developers has always been known for having lots of events. COVID-19 has put the kibosh on that.
"These folks are in a state of constant BUIDLing" Amanda Cassatt, a ConsenSys alum who launched its Ethereal event series, told CoinDesk in an email. "Ethereum is also, by design, a uniquely collaborative community. These factors contribute to the prevalence of and enthusiasm for in-person events."
Ethereum turns five on July 30, 2020. CoinDesk is marking five years of Ethereum with a series of retrospective stories and live-streamed Twitter conversations. There are even some "Easter eggs" for eagle-eyed readers. Tune in to our CoinDesk Live sessions July 27-31 at 4 p.m. Eastern each day or call +1 (661) 4-UNICRN.
Japan-based cryptocurrency exchange Coincheck will soon offer support for BAT token holders.
According to a July 13 announcement from the Monex Group — the owner of Coincheck since its acquisition in 2018 — the virtual currency exchange will make Brave's Basic Attention Token (BAT) available for trading starting on July 21.
BAT will be the 13th token investors can buy, sell, or trade on the platform following the introduction of Qtum (QTUM) in March.
Brave rewards system
BAT is a native token of the privacy-based browser Brave, whose number of users has surged to more than 15 million in the midst of a pandemic.
Most used DeFi Token?
Despite the surge of interest — and price — in Compound (COMP), Cointelegraph reported BAT was the most used ERC-20 Decentralized Finance (DeFi) token from June 19 to July 2. The token generated a transaction volume of $931 million, more than Ethereum (ETH) and Dai (DAI) combined.
Roughly four hours into a phone call with a TurboTax representative, in which she had to sort through the company's own internal resources in order to answer my questions, I found out I probably didn't owe any taxes on my admittedly meager bitcoin holdings. It should have been obvious: At no point did I sell for fiat or convert into another crypto.
In reporting this article, I was also reminded I should check my Blockchain account to see if I ever received the XLM it was airdropping because that might also result in me owing taxes on crypto (I did not). Do I need to report the $15 in bitcoin I sent to a hardware wallet I can't access anymore? (I don't think so?)
🗞 Daily Crypto News, July, 14th💰

"The second stage is that XPOS® merchants will have a PayPal app directly on XPOS® devices through system upgrade two weeks from now."
"07/14: Release the update to Pagoda, Yeouido."
"I will have an AMA with Matthew To, @OfficialTRONZ Technical Lead to talk about the In-depth Tech Analysis of #TRONZ," at 14:00 (UTC).
"Revealing 2 new partnerships in next 14 days!"
"Ask COTI's CEO Anything! This Tuesday, July 14th at 13:00 UTC, Gate.io will host our CEO, Shahaf Bar-Geffen for a LIVE AMA."
THETA (THETA), Theta Fuel (TFUEL)
"THETA and TFUEL trading will be effective on July 14, 2020 with the following pairs: THETA/BTC THETA/ETH THETA/USDT TFUEL/ BTC TFUEL/USDT"
Last Updates


➡️ Publish0x
➡️ UpTrennd
➡️ Minds
➡️ Hive
➡️ Twitter
➡️ Facebook
➡️ Be paid daily to browse with Brave Internet Browser
➡️ A secure and easy wallet to use: Atomic Wallet