In the Aftermath of Hack, Lawmakers Blame Twitter, Not Bitcoin;
Beijing Says Blockchain Adoption Is Already Yielding Tangible Results;
Algorand Spikes 30% After Surprise Coinbase Listing;
Atari Partners with WAX For NFTs, Joins Board Alongside Shatner and Marvel;
DeFi on 'Tesla's Path' as Tokens Skyrocket On Hopes, Not Results;
🗞 Daily Crypto Calendar, July, 17th 💰
Welcome to the Daily Crypto News: A complete Press Review, Coin Calendar and Trading Analysis. Enjoy!
Wednesday's Twitter hack would seem to spell regulatory doom for Bitcoin, which is widely distrusted in Washington. Some lawmakers – and U.S. President Donald Trump himself – associate it with crime.
In 2019 Trump tweeted he is not a fan of bitcoin and that "unregulated crypto assets can facilitate unlawful behavior." He also reportedly told Treasury Secretary Steven Mnuchin to "go after Bitcoin."
But immediately following the hack, lawmakers seemed more focused on Twitter's security problems rather than cryptocurrency's role in the hack.
On Wednesday, high-profile accounts belonging to Elon Musk, Kanye West, Barack Obama, Joe Biden, cryptocurrency exchanges and many others were co-opted into a bitcoin scam that netted the hackers at least $100,000. Twitter struggled to resolve the issue, even temporarily blocking verified accounts' abilities to tweet and reset their passwords. Security experts said the hack was likely deep in Twitter's system, and therefore is not a quick fix.
Focusing blame
Meanwhile, some crypto supporters in Washington, D.C., aren't worried the hack will cause lasting damage to the industry.
Coin Center Director of Communications Neeraj Agrawal noted that while Twitter was compromised, Bitcoin (or crypto) was not. And if the hackers' goal was to make money, they failed miserably: Only a scant $123,200 in bitcoin flowed through the wallet listed, and it's likely some of those funds were recycled through by the attackers.
China's blockchain kick is starting to leave a noticeable mark on the nation's capital with the Beijing government reportedly deploying blockchain technology in 140 different use cases.
Per a report from The Beijing News, blockchain-powered alternatives have helped do away with paper-based processes in 253 scenarios involving enterprises and 65 matters pertaining to regular citizens.
The news outlet quotes the capital's Beijing Municipal Bureau of Civil Affairs as stating that paper-based certificates are no longer required for over 60 processes, including opening bank accounts, applying for loans and providing proof of identity.
The bureau also stated that in many areas, the amount of paper documents submitted has been "reduced by an average of 40%."
A surprise Coinbase listing has seen the price of Algorand (ALGO) spike by nearly 30% in less than 24 hours and pushed Algorand's market cap to a new record high ($274 million at the time of writing).
On July 16, Coinbase abruptly announced that ALGO trading had been launched on Coinbase.com and the exchange's apps. Trade volume for Algorand increased by nearly four times since in response to the listing, comprising the third-strongest day of trade in ALGO's history.
ALGO prices triple in three months
ALGO is currently trading above $0.35 for the second time in its history and has more than tripled in price since the lows posted after the 'Black Thursday' crypto market crash in March. Algorand's record market capitalization can be attributed in-part to increases in the circulating supply, with Nomics estimating that only 8% of ALGO are in circulation.

Atari has partnered with WAX blockchain to bring their video games onto the blockchain in the form of Non-Fungible Tokens (NFTs).
The brief announcement on Twitter followed news earlier this week that Atari CEO Frederic Chesnais had joined the WAX Advisory Board, joining Google, Microsoft, Marvel Games, Magic Leap, and William Shatner as the other members.
"We're excited to finally unveil our latest partnership with @WAX_io! With this collaboration, Atari is bringing its legendary #videogames further into the vastly expanding world of #blockchain and #NFTs."*
Atari is really into blockchain
Atari is of course most well known as the developer of classic video games such as Pong, Space Invaders, Tetris and Pac Man. The company has been seriously getting into blockchain over the last two years, with their sights set on bringing two popular mobile games, RollerCoaster Tycoon Touch (19 million downloads) and Goon Squad onto the blockchain.
Decentralized finance (DeFi) earnings took a downturn in the second quarter of 2020, but DeFi tokens are rocketing to new highs thanks largely to yield farming – suggesting DeFi could become the financial industry's answer to Tesla.
American electric card producer Tesla is famously valued at around USD 268 billion by investors, despite the fact that it is yet to turn a profit. And DeFi could be the finance industry's growth engine for the industry 4.0 era.
According to the Bankless program's token report for Q2, the similarities are striking.
The report's authors wrote,
"Tesla doesn't even post positive earnings while other major tech companies like Netflix are also boasting […] [price-to-earnings or PE] ratios in the low hundreds. That's because the PE ratio is all about future growth potential. DeFi is on a similar path. The future is not heading in the direction of more banks. It's less banks."
They added that the sky appears to be the limit for digital finance, and DeFi in particular, writing that "these are early-stage digital technologies for a completely open and transparent financial system accessible by anyone in the world. There's no shortage of future growth potential."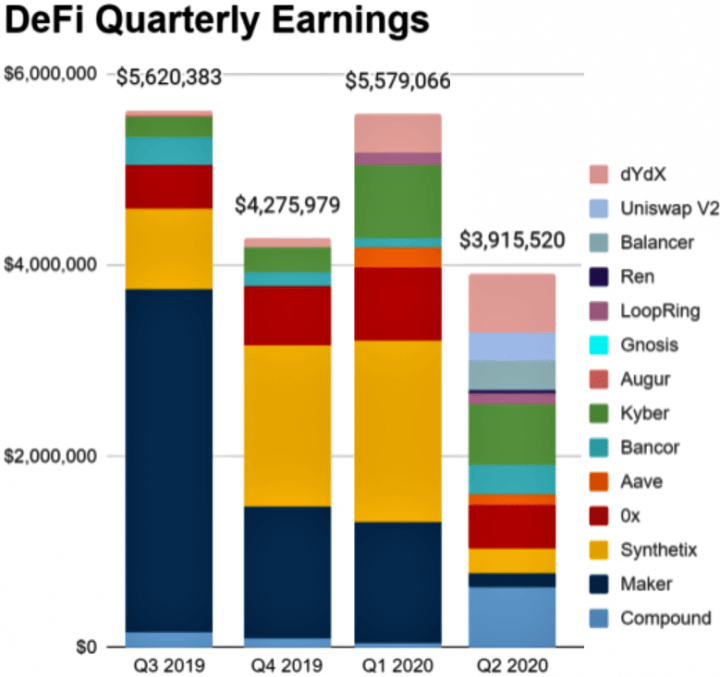 🗞 Daily Crypto News, July, 17th💰
#MEDI & $STRAT platform airdrop is here go to @MediConnectUK website for more details to get a chance your #MEDI tokens..."
"On the 17th July 2020 or earlier, DEEX launches ruble stable coin!"
"$ZIL #staking round 2 with @kucoincom will be launched soon on 17 July, with no POL holding requirements"
"Coming up this Friday is the #OntologyAMA with @Phemex_official !"
"Vexanium will continue its Dapps Incentive Program to the 4th phase with a total of 2.000.000 VEX to be distributed for DApps developers."
"Join us for the IoTeX Town Hall on Friday, July 17 at 2pm UTC!"
Last Updates
➡️ Be paid daily to browse with Brave Internet Browser
➡️ A secure and easy wallet to use: Atomic Wallet
➡️ Publish0x
➡️ UpTrennd
➡️ Read.cash
➡️ Minds
➡️ Hive
➡️ Twitter
➡️ Facebook