'Ferocious Rally': Weiss Ratings Bullish on Bitcoin, Price to Hit $70K Next Year;
Chainlink (LINK) Surges 39.5% to a New All-Time High — Here's Why;
Messari CEO: Cardano Has 'Plenty of Room for Growth';
Inside the Craze for Filecoin Crypto Mining in China;
Crypto Long & Short: Dogecoin, Market Manipulation and the Downside of a Coinbase IPO;
🗞 Daily Crypto Calendar, July, 13th 💰
Welcome to the Daily Crypto News: A complete Press Review, Coin Calendar and Trading Analysis. Enjoy!
Weiss Ratings has outlined key reasons why investors should be bullish about bitcoin, seeing a "ferocious rally" with the price of the cryptocurrency expected to hit $70,000 next year. In addition, the Federal Reserve's massive money-printing and institutional investments into cryptocurrencies add to the bullishness.
Bitcoin's current "stablecoin" period resembles early 2017
However, this long period of static price reminds me very much of early 2017, when Bitcoin stayed around $900 for the first three months of the year, which was followed by an explosive 300% move in the second quarter, and then just kept going.
Why Weiss Ratings Is Bullish on Bitcoin
Weiss Ratings analysts Bruce Ng and Juan Villaverde explained last week why investors should be bullish about bitcoin despite some sideways consolidations. Weiss Ratings currently ranks bitcoin first among all cryptocurrencies overall.
One of the three key reasons why the analysts are bullish about bitcoin stems from a price prediction based on the stock-to-flow analysis (S2F). The popular forecasting model "now points to a ferocious rally over the next 12 months or so," they wrote.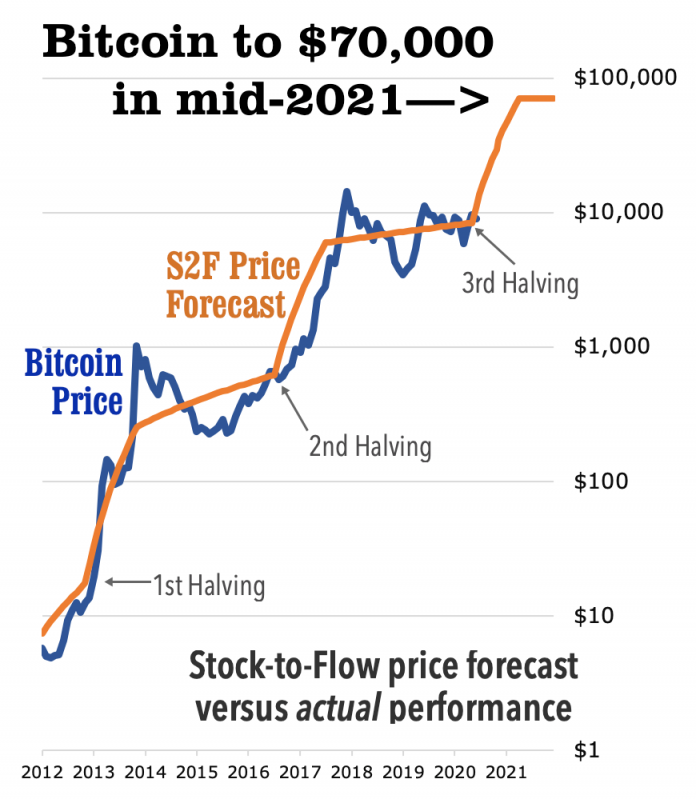 The analysts added that "previous S2F predictions line up quite well with bitcoin's actual price performance," as seen in the chart above, elaborating:
Now, based on the history of the halving, current S2F analysis says bitcoin should reach $70,000 by — sometime around mid-2021 … Even if it turns out to be only half right, you could still triple your money.
Surging volume, price discovery, and new partnerships pushed Chainlink price to a new all-time high at $8.48.
Today the price of Chainlink (LINK) soared by more than 34% to reach a new all-time high at $8.48 and also notch a market capitalization of $2.5 billion.
Three key factors that likely pushed the price of LINK to a new record high were: high-profile partnerships, price discovery, and the strong momentum that currently drives the altcoin market.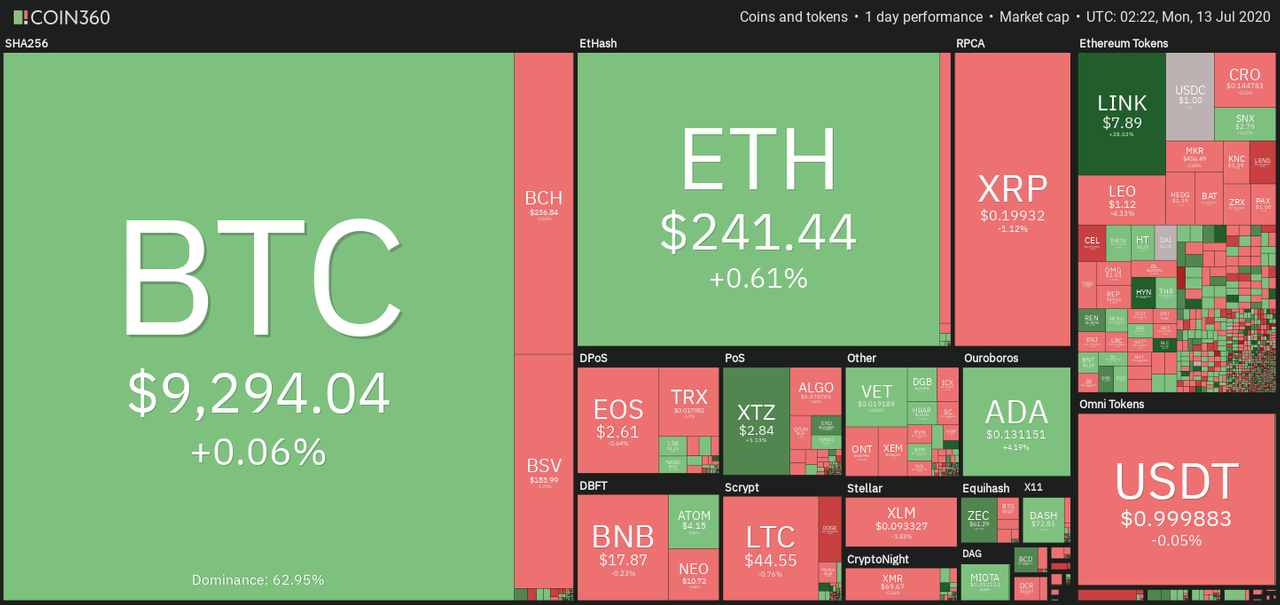 In regards to LINK's momentum, Cointelegraph contributor Michael van de Poppe said:
"Personal target here at $7.10-7.25 reached since the tweets earlier. Such a beast. Just a matter of time until it reaches the next one at $10. I think that's doable this year."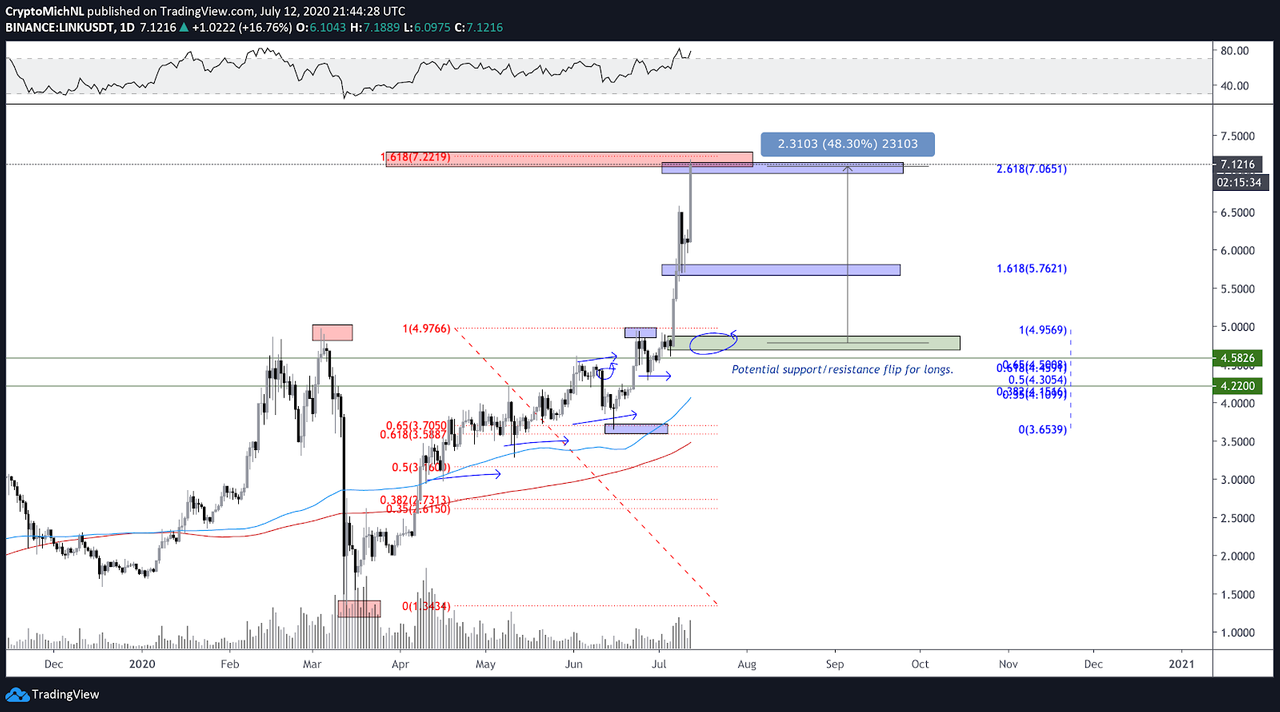 After Cardano surged to become sixth-biggest cryptocurrency by market cap last week, Messari co-founder and CEO Ryan Selkis still believes traders could buy and stake more of the altcoin.
The Messari co-founder says one of the catalysts for the token's recent surge — up 85% as of July 8 — is Shelley, an upcoming possible hardfork upgrading its ecosystem.
"The potential discrepancy between staked and un-staked ADA however, could bode well for bulls even after Shelley goes live. While the initial staking percentage won't be known until after launch, Cardano's incentivized testnet saw participation from ~40% of the reported supply. If this carries over to mainnet, Cardano's staking rates will be significantly lower than other large-cap networks like Tezos (80%) and Cosmos (71%)."
As Filecoin inches closer to a blockchain mainnet launch – after several delays since its $200 million raise in 2017 – investors in China are again speculating heavily on the network's mining hardware and its token prices.
Since Protocol Labs, the foundation behind Filecoin, released a "Testnet Incentives" program on June 9 that was scheduled to start in a week, more than a dozen Chinese companies have started selling cloud mining contracts and physical hardware – even though important details like the mining incentive economics on the mainnet are still not finalized.
The sales volume so far on each of these companies can range from half a million to tens of millions of dollars, according to self-reported data on these platforms seen by CoinDesk and interviews with several mining hardware manufacturers.
This week saw a 125% rise in the price of dogecoin, a cryptocurrency based on a popular 2013 internet meme, created in the same year as both a parody and a "let's see if this sticks" experiment. Much to even the founder's surprise, it has not only survived, it has accumulated a loyal following. Clearly.
A group of teenagers on the extremely popular but recently beleaguered social platform TikTok decided to use their voice and audience to move the price of dogecoin up. It has nothing to do with fundamentals, potential or even government handouts – most participants probably don't even understand what cryptocurrency is (many of the videos refer to DOGE as a "stock"). It's about manipulation, just because.
When you have the next generation of investors blatantly flaunting that markets are a meaningless casino, when you have them advertising that markets can be manipulated, then you do have to wonder what role markets will have in their lives as they get older.

A Coinbase listing would not necessarily be good for the market
We can't not talk about the unconfirmed rumors that Coinbase is planning a stock market listing. These rumors are not new, but they have suddenly taken on a renewed relevance. Earlier this week, Reuters reported on the plans, citing sources familiar with the matter. And Coinbase has called an investor meeting, sparking speculation as to why.
Hashrate highs
Bitcoin's hashrate has hit an all-time seven-day moving average high, less than two months after a miner reward halving led to a 40% drop as unprofitable mining equipment was switched off. The hashrate metric is significant in that it is a proxy for network security – the higher the hashrate, the more computational power is spent on validating transactions and maintaining the network.
🗞 Daily Crypto News, July, 13th💰

"As of now, the block reward is 400 coins per block and will decrease to 200 coins per block post halving"
Pundi removes 48 million NPXS and NPXSXEM permanently for the total supply.
"On July 13, we will perform system upgrade. Major updates include rolling out @PayPal to #XPOS & enhancing KYC process in #XWallet."
"Happy to join the AMA at @CoinMarketCap Chat, don't forget to set your alarms at July 13, 9AM NewYork/ 2PM London/ 9PM Singapore."
"In preparation for launch, Bancor will be conducting an AMA in the REN Telegram Channel on Monday July 13 at 10:00 AM EST..."
Review period ends for ICON's non-fungible token (NFT) standard, IRC-3, which has shifted its status to the Last Call.
"The legacy Znode system will be discontinued and Znode payments will switch to use Deterministic Znodes."
Last Updates


➡️ Publish0x
➡️ UpTrennd
➡️ Minds
➡️ Hive
➡️ Twitter
➡️ Facebook
➡️ Be paid daily to browse with Brave Internet Browser
➡️ A secure and easy wallet to use: Atomic Wallet