Bitcoin Exchange Inflows Spike as Analyst Expects Pullback to $8.8K ;
US FDA Considers Blockchain for Food Security;
Twitter Hack Used Bitcoin to Cash In: Here's Why;
Bitcoin Option Traders Now Betting on Short-Term Price Drop;
Grayscale Crypto Investments Add Nearly $1 Billion in Q2 — Bitcoin Trust Posts Record Quarter;
🗞 Daily Crypto Calendar, July, 16th 💰
Welcome to the Daily Crypto News: A complete Press Review, Coin Calendar and Trading Analysis. Enjoy!
Traders return coins to exchanges as Bitcoin moves lower, with CryptoQuant expecting a "small" retracement below $9,000.
Bitcoin edging ever closer to a $9,000 support level may lead to a major sell-off by exchange users, one analyst warns.
According to data from on-chain analytics resource CryptoQuant, inflows of Bitcoin (BTC) to exchanges spiked on July 15.
Kraken posts unusual $38.5M daily BTC inflows
When traders return Bitcoin to exchanges from a private BTC wallet, it suggests they have a desire to trade or sell at short notice.
The opposite is also true. As Cointelegraph reported, exchange balances witnessed a long-term downtrend, which in May, hit its lowest since late 2018, when BTC/USD crashed to $3,100.
Ki added that should a sell-off begin, he did not foresee it matching that from March, when a cascading short event halved BTC/USD within hours.
"In my opinion, it'll be around $8,800," he said.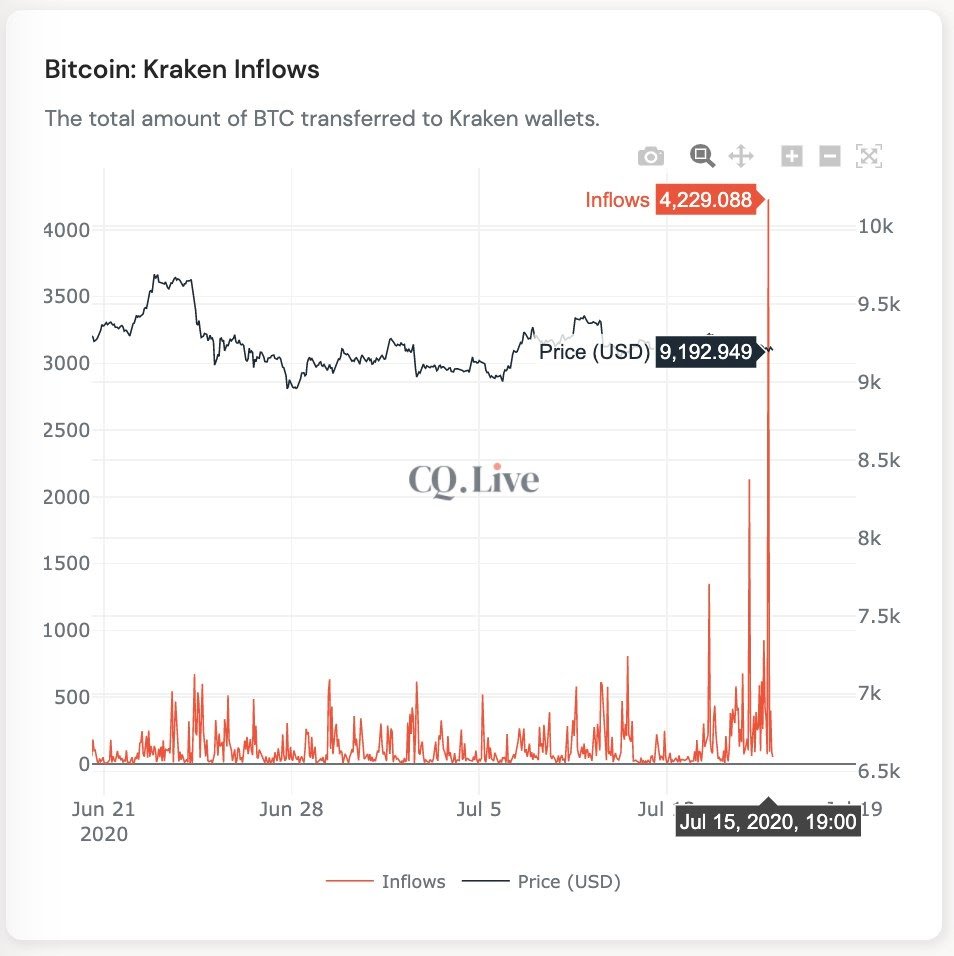 For all exchanges, meanwhile, inflows remain far below their March-crash levels, indicating a tendency to hold — not sell — is still in place.

The U.S. Food and Drug Administration has announced it will study blockchain technology to aid in smarter food security.
The United States Food and Drug Administration released a blueprint and pilot study for food safety, highlighting blockchain as a viable option for some of the identified challenges.
The blueprint, released earlier this week, breaks down some of the challenges facing food distribution throughout the country and looks at how smart technologies could solve them:
"Our world is evolving at a breakneck pace. With this evolution comes new technologies, ranging from new digital tools to new sources of food ingredients. [...] These advances provide new tools and approaches for tackling food safety issues, but also present new issues to consider in determining how to regulate food safety."
Someone hacked Twitter Wednesday – and they used bitcoin to capitalize on it.
But, why?
Bitcoin is an alternative money system based on the value of censorship resistance. In other words, Bitcoin was built from the ground up to evade third-party interference (think banks, governments and law enforcement), making it a natural tool in the hands of a world-class hacker.
Once the hacker gets it, it's theirs
Bitcoin is electronic. A popular meme for bitcoin is "magic internet money," which, in a sense, it is. Bitcoin operates natively online – you can send bitcoin from your phone or computer to anyone else, just about anywhere in the world, in a few clicks, without anyone being able to stop you. And once you've sent it, you can't get it back.
Bitcoin is pseudonymous
Like many Twitter handles, bitcoin is pseudonymous. We can't link an address to a personal identity very easily.
Bitcoin is liquid
Bitcoin is also traded online in a lot of places. Holding bitcoins in your wallet wouldn't be worth much without people to swap dollars for bitcoins. Launched in 2009, bitcoin is the most established and most highly traded digital asset. It's also available on popular financial apps such as CashApp or PayPal.
But bitcoin can be tracked and traced
Addresses can be tracked, however. And they can also be blackballed by others. By nature, the Bitcoin blockchain is 100% transparent. That means the ins-and-outs of transactions from one party to another are viewable for all to see with a little know-how.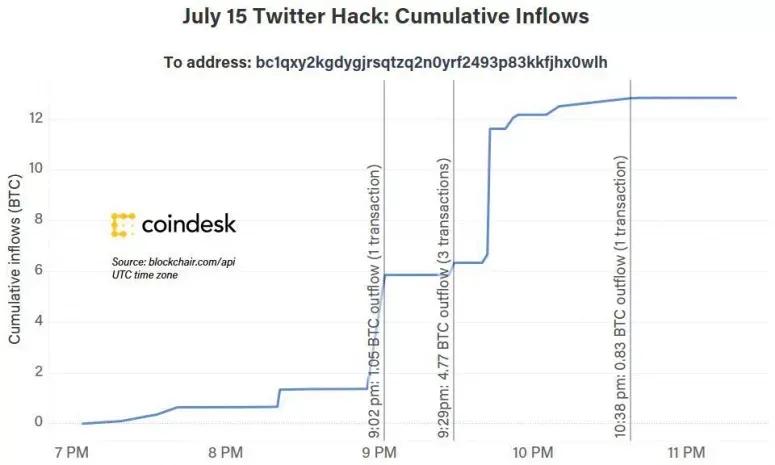 With bitcoin looking heavy this week, short-term sentiment in the options market has flipped bearish.
The leading cryptocurrency by market value fell to $9,070 soon before press time, reversing the 2.5% rise to $9,450 seen last week, according to CoinDesk's Bitcoin Price Index.
Prices are now closing on the lower end of the multi-week-long trading range of $9,000–$10,000.
Reflecting the downward trend, the one-month put-call skew for bitcoin options, a metric that measures the price of (bearish) put options relative to (bullish) call options, has risen to 4.9%, according to data provided by crypto derivatives research firm Skew.
The positive number indicates short-term put options are drawing higher prices than calls.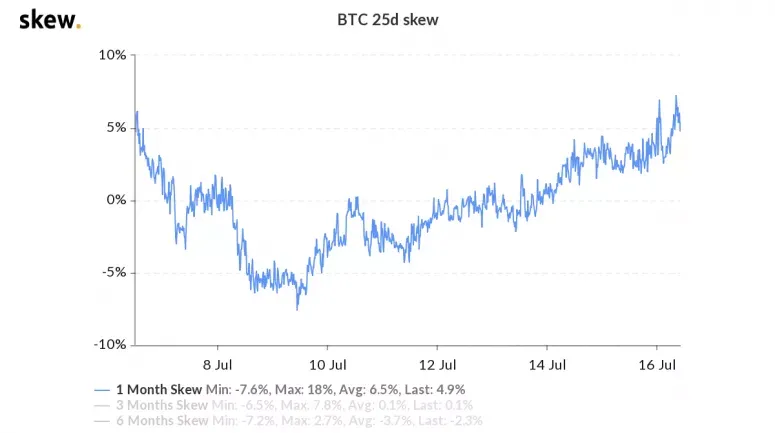 The one-month skew was hovering at lows below -7% a week ago, indicating stronger demand for call options – a sign of bullish bias in the options market.
While the one-month skew is now more bearish, the six-month skew remains below zero or bullish.

Grayscale Investments has posted a record quarterly performance, having added almost $1 billion, which nearly doubled its previous quarterly high. 84% of the investments were from institutional investors. The cumulative investment across all of its crypto products has reached $2.6 billion.
Grayscale Posts Record Quarter
Grayscale Investments released its second-quarter performance report on Wednesday. The company wrote:
Grayscale recorded its largest quarterly inflows, $905.8 million in 2Q20, nearly double the previous quarterly high of $503.7 million in 1Q20. For the first time, inflows into Grayscale products over a 6-month period crossed the $1 billion threshold.
The firm's total asset under management (AUM) as of July 15 is $4.1 billion. The Bitcoin Trust has the most AUM of more than $3.56 billion, followed by the Ethereum Trust with an AUM of $416.7 million.
🗞 Daily Crypto News, July, 16th💰

Republic, the largest private investment platform, will issue a digital profit-sharing token on the Algorand blockchain.
"Activation block 903000 will be mined July 16, 2020 07:25 UTC+00:00 assuming 75 seconds/block"
Binance Coin (BNB), Bitcoin Cash (BCH), Bluzelle (BLZ), Building Cities Beyond Blockchain (BCB), General Event (CRYPTO), Dash (DASH), Hedera Hashgraph (HBAR), Huobi Token (HT), Neo (NEO), SingularityNET (AGI), Zilliqa (ZIL)
World Blockchain summit from 9 AM - 5 PM (SST).
Standard Tokenization Protocol (STPT), Thunder Token (TT)
"MTO Round 3 July 16th - July 19th: Thundercore."
Cardano (ADA), Chainlink (LINK)
"Binance will list four pairs of Binance Leveraged Tokens, ADAUP, ADADOWN, LINKUP and LINKDOWN, at 2020/07/16 8:00 AM (UTC)..."
Team updates at 3:30 PM UTC/ 11:30 AM EDT: Engineering, Node network, Product/UX, Helpdesk, Legal, BD, Marketing, CEO Closing thoughts, AMA.
Last Updates


➡️ Be paid daily to browse with Brave Internet Browser
➡️ A secure and easy wallet to use: Atomic Wallet
➡️ Publish0x
➡️ UpTrennd
➡️ Read.cash
➡️ Minds
➡️ Hive
➡️ Twitter
➡️ Facebook