Wrapping up 2021 ... getting ready for a better 2022
I joined the Cryptoverse in 2015 and back then the blockchain was presented like a solution for modern age dilemmas, not as a place flooded by memecoins and tokens with no real life utility. Cryptocurrencies and blockchain solutions were created for a better life! In the last 7 years, many projects were born, many died, some rug-pulled, while some kept driving the blockchain innovation.
Fast forward to 2022, Horizen is one of those projects that keeps innovating the Cryptoverse and drives forward the adoption of blockchain solutions. The Horizen Ecosystem grows bigger and bigger, and new high-tier players are joining in the search for a better tomorrow. The Horizen's cross-chain protocol, Zendoo, was designed for developers to build blockchains and applications that solve today's real-world problems with the flexibility to capture tomorrow's opportunities! 
Zendoo is a zk-SNARK enabled verifiable cross-chain transfer protocol that powers a privacy-preserving and fully decentralized network of blockchains with massive throughput and scalability. The protocol was built to solve the inefficiency and lack of transparency in traditional auditing processes, by validating proof of reserves in near-real-time without revealing identifiable information or relying on third-party validators.
The zkAudit blockchain is equipped with zk-SNARKs, a privacy technology that allows verification without revealing any identifiable information. zk-SNARKs means Zero-Knowledge Succinct Non-Interactive Argument of Knowledge and will change the traditional audits by eliminating the dependencies on centralized entities and empower the community.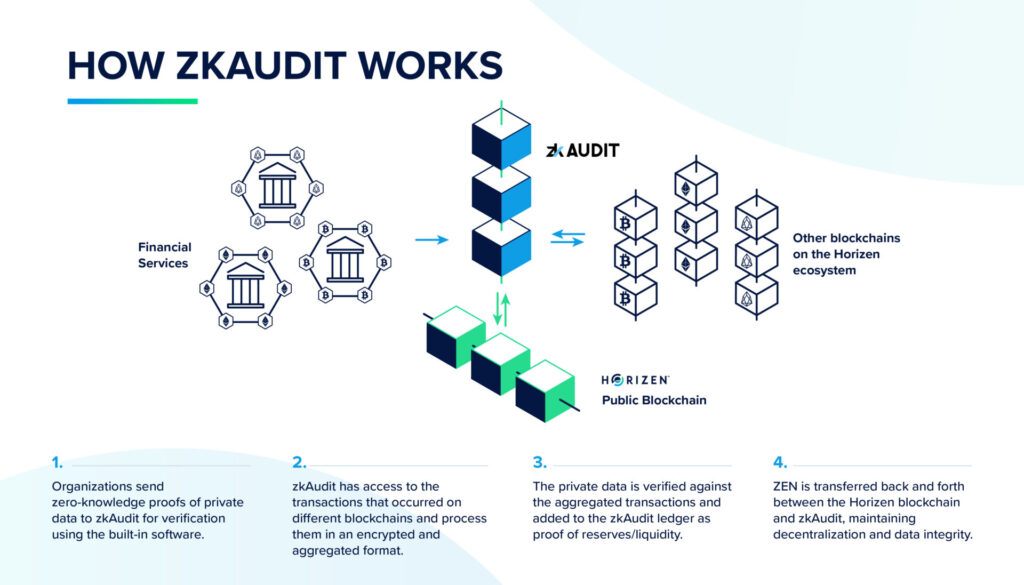 Horizen round-up! 
Horizen Labs Aped In! The Bored Ape #6709 (Astronaut Bored Ape) was bought by Horizen Labs for 100 $ETH. The purchase was made after the Bored Ape Yacht Club announced the partnership with Horizen, for further fungible and non-fungible projects. WE are now looking forward to the Ape Token, Zenny Token and Zenny NFTs
Horizen has the largest node network with a multi-tiered node system in the industry. At the moment there are 44,778 Active Nodes
The Horizen Academy was created the Horizen Academy for the central purpose of sharing our knowledge and passion for blockchain technology and cryptocurrency with everyone - no matter their skill level. This is the best place to start the blockchain journey so make sure you visit it!
If you want to show with the ZEN brand... check the sweet merchandise in the Horizen Shop! Have you seen the Stay Bullish backpack?
I try to keep up with the times and trying to learn new skills. I done my first video, and chose to make an Horizen Network & Zendoo ELI5! What is Horizen Network? Why the innovative technology makes is more secure, private and scalable then others? Why Zendoo is the perfect cross-chain platform for building blockchains? You have the answers in the video below:
Even if I wasn't as active as usually, I still follow the updates and listen to most of the Horizen related AMAs. The most interesting AMA I took part was the one focusing on privacy & scalability benefits for Play2Earn gaming. Jason Kovar from GameStation was invited and I was there to get answers for my NFT and gaming questions. I really want to see a ZEN powered NFT marketplace and many play2earn games on Zendoo.
ZENvangelist reporting to duty!
I enjoy being a ZENvangelist and I constantly write about my ZEN journey. Having my article noticed by Rob Viglione feels like an achievement for me, specially when he liked, shared and commented the tweet!
Speaking about tweets, this is my top ever tweet activity... 10,966 impressions. The ZEN family is so amazing, making me feel like a trending crypto influencer. My last issue of the ZENvangelist Journal was seen 10,966 times, interacted by 276 and retweeted by 54 people. 
The GetZen fountain has 4 levels of referrals, and users will earn extra rewards for each claim made by referrals, up to tier 4. They will receive 20% for Tier 1, 10% for Tier 2, 5% for Tier 3 and 3% for Tier 4. The minimum withdrawal is 0.02 ZEN, payable every fortnight, on the 1st and 15th of each month. This update made my day, as I have plenty of 20% and 10% extra rewards to collect. Start claiming daily shares of $ZEN and enjoy a bonus roll after each five consecutive days! 
I am not a whale but I consider $ZEN as one of my diamonds. I tap the fountain daily, as I did day by day in the last year. I bought 10 ZEN at $8 per unit and the rest was earned on GetZen. The amount gets bigger and bigger, and hopefully I will reach 15 $ZEN before my birthday.
May 2022 be the year of crypto global adoption, the evolution of blockchain security and the integration of blockchain in day to day life. May Horizen's most secure interoperable blockchain ecosystem in the world be the game-changer. Horizen - Unbounded by design!
ZEN Library:
Building a new world - ZEN by ZEN
The ZENvangelist - The journey begins!
ZENvangelist - Empowering the community through blockchain and Horizen
Horizen (ZEN) 1st halving set for 1st of December
Horizen's launches the new Level-Up Referral Program
Horizen(ZEN) Zendoo sidechain solution is live
Horizen (ZEN) surpassed Bitcoin and Ethereum in number and quality of nodes!
Exploring Horizen (ZEN) potential to become prime cryptocurrency
Residual Income: 
Torum essence - Be part of the future! 
DeFi bounty at CakeDeFi with $30 DFI for new users
The fountains: PipeFlare ZCash, GlobalHive ZCash & Get.ZEN 
Publishing bundle: Publish0x,  readcash, noisecash, LBRY & Presearch