I like Goblin Cash, and I speak highly about it even if I don't own a single fraction of $GOB. This project is the "First DeFi 2.0 on SmartBCH", with a focus on bonds and elastic supply cryptocurrencies. It started strong and reached a high of $663 in few days after the launch. It stabilized after few weeks, and once the hype was gone it maintained a steady course above $100. This project has strength, value and a strong community that shows interest in the secrets of DeFi! Do you have what it takes to become the ultimate goblin?
Follow Goblin Cash on Twitter for updates, competitions and giveaways. They constantly share $GOB for memes, and I also like to participate whenever is a meme challenge! Never won a prize, as their idea of fun is different then mine! 
Well... more good news are coming, as Goblin Cash announced gBCH! The new token will mirror the Ampleforth elastic attributes, but will power a whole new bond experience! This new product was created to strengthen the Goblins token and provide a way for investors to re-bond without the negative consequences of selling GOB to acquire new LP tokens.
The pegged elastic reward token will eliminate the negative effects of re-bonding and internal bonds, supporting supply growth. The gBCH elastic token (Ampleforth) will be pegged to BCH and the supply of gBCH will expand or contract anytime its value deviates more than 5% from BCH.

The Internal Bonds (inspired by Zeus's whitepaper) are able to provide a market-driven APR for internal bonds (GOB) that is superior to the staking emission rate that is currently decided upon by the protocol.

The Reserve Bond will allow goblins.cash higher liquidity on all three GOB pools at DAO discretion and drive positive price action on GOB while increasing our POL.

Through all this, Goblins Cash is driving innovation by creating the 1st Olympus Pro and Ampleforth protocol — a powerful combination that works in any chain — putting us in a leading position when it comes to DeFi 2.0 innovation and primed for POL to flourish on smartBCH. Look for additional information on these new features and the associated DAO proposals in the coming days.
I like the idea of gBCH, knowing I like Ampleforth ($AMPL) and I was a fan of $DITTO on Binance Smart-Chain. Maybe I like it so much because of the huge $FORTH airdrop I received in June 2021. Until then everyone was saying that AMPL is a shitcoin with no purpose but then everyone who interacted on-chain with $AMPL was eligible for the $FORTH airdrop. Many of my friends had no clue about the airdrop and all were doubtful about the real value of the airdrop... until they claim it!
I lost track of how many AMPL articles I wrote but some were better than others. In case you like Crypto Sci-Fi ... read the Ampleforth Academy of Excellence: Ampy's School of Peculiar Children
The SmartBCH Spotlights series:
1. Cash Cats ($CATS) - the first meme token on SmartBCH with 1,000,000,000 total token supply
2. BCHPad - a decentralized IDO protocol built on the SmartBCH chain, creating a simplified method to invest in new SEP20 tokens 
3. AxieBCH - Gaming Guild - a simple business model and a provision for players to create a play2earn source of income. 
4. BlockNG & LAW Punks - the platform powered by the $LAW token, which can be used to buy LAW Punks NFTs. 
5. CheckBook - the system that evolves the airdrops, as the tokens are sent through cheques and must be accepted.
6. Konra Token - a token with unique tokenomics and a project that will become a multi token ecosystem.
7. Tango Swap - The first SmartBCH DEX with publicly known developers. 
8. GAME - The the universal gas token for the AxieBCH gaming guild that grows in the holder's wallet 
9. Narath - The reward token meant to serve as an incentive of the holders that use Konra on SmartBCH.
10. 1BCH DEX - New LPs with top APY and single staking sprinklers
11. Oasis.Cash - The decentralized NFT market on SmartBCH
12. Panda Land - Play2Earn Battle NFT Game with breeding expansion planned for 2022
13. World of Masks - A collection of programmatically generated 10,800 Masks NFTs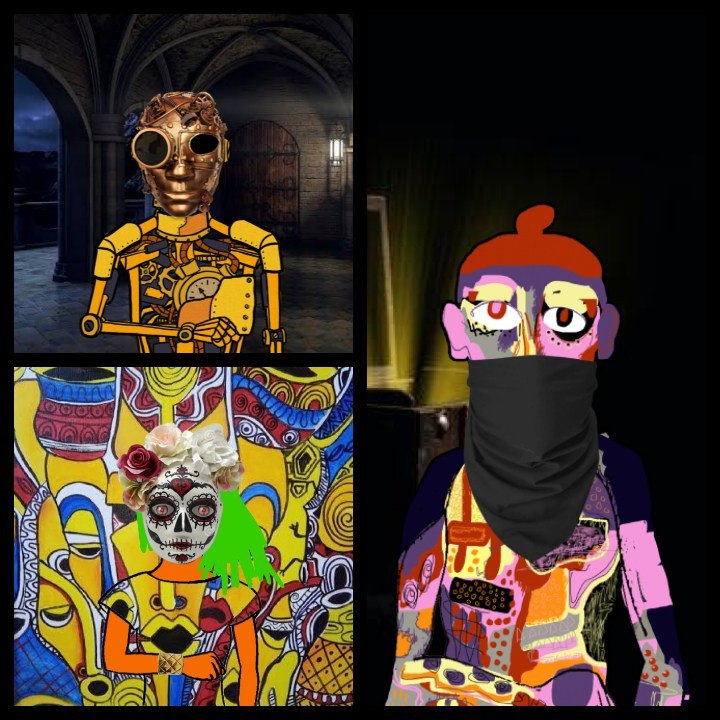 Residual Income:
Torum essence - Be part of the future!
DeFi bounty at CakeDeFi with $30 DFI for new users
The fountains: PipeFlare ZCash, GlobalHive ZCash & Get.ZEN
Publishing bundle: Publish0x,  readcash, noisecash, LBRY & Presearch