Why SmartBCH Spotlights?
DeFi and yield farming on Ethereum stopped to be fun ages ago, when gradually the transaction fees become more expensive then the actual gains. The SmartBCH chain is the new gem that aims to challenge the ETH DeFi by offering a cheaper an faster alternative.
The chain and projects are still in the early days and as everything in the Cryptoverse ... nothing is risk free. However, some projects are showing great potential and offer the opportunity to be an early holder of a token that may be that 1000x investment. SmartBCH spotlights will try to raise awareness and present the sBCH projects that stand above and beyond, and more important - platforms that I personally tried.
To set up SmartBCH on Metamask follow this steps:
Settings > Networks > Add Network than Network Name: SmartBCH

RPC URL: https://smartbch.fountainhead.cash/mainnet or https://smartbch.greyh.at

Chain ID: 10000 with Currency Symbol: BCH

Block Explorer URL: https://www.smartscan.cash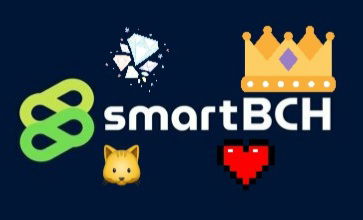 What is BlockNG?
BlockNG.Money is neither a corporation nor a business because it has no owner, no director, no offices, no formal organization or hierarchy, no legal entity, no business plan, no investment or any other form of activity... being fully decentralized! 
BlockNG.Money is not an investment and you are not encouraged to make an investment. None of this is financial advice or a method that can make an individual over night. Always DYOR (Do-Your-Own-Research) and invest only money that you are ready to lose!
The platform is powered by the $LAW token, which can be used to buy LAW Punks NFTs or to mint them (before they sold out). The token total supply is 21,000,000 LAW and is currently 5th on Market Cap Cash when ordered by Liquidity. The current $LAW price is $0.291 per token, with a general stable trend. 
My personal experience
I discovered BlockNG.Money and LAWPunks while chatting with my colleagues about SmartBCH news. Some already had minted a considerable amount and was recommending everyone to mint few Punks as a future investment. I wish I listened and minted 10-20 LAW Punk NFTs, when the minting price was 0.01 BCH. 
I minted my two LAWPunks NFTs when only 3342 were minted, paying 0.02 Bitcoin Cash. At the moment, the floor price for common human NFTs is 0.11 BCH. The value went up 10x compare to the minting price, and those that aped nice and early into Law Punks are the ones that can dictate the market.
The minting was totally random, with chances for humans, vampires, trolls or apes. The generative combination of attributes and accessories makes all 10,000 punks unique. I was lucky with my minting, and one of them was a cool Ape with cap and laser eyes. The second one is a common human female with mohawk and clown nose.
My Male Ape is rare, one of the 138 Male Apes ever minted by BlockNG.Money. Only 293 punks have a cap and 366 punks will have laser eyes. I would like to know how many will have both laser eyes and a cap! Do you know how many male apes will have a cap an laser eyes?
Some seen the huge potential of the LAWPunks by BlockNG.Money and bulk bought the remaining punks. Punks left - zero - and from here the only way to get a LAWPunk is from the market.
It's nice having friends, and it's even better having friends that share LAW Punks. I received my 3rd punk as a gifts, as I was told that LAWPunks #8909 looks like me. I agree that the dude looks nice with his smile and luxurious beard but do I consider myself as a common? Definitely not! 
The bearded guy is one of the 4459 Male Human punks, sharing the smile with 551 other punks. I did had good vibes about the luxurious bead and this was confirmed by the 129 other punks with this attribute. Looks like having a luxurious beard makes you rare! 
As the interest grew bigger, the NFT project seen a surge in volume and the LAW Punks trading floor price raised to 0.11 $BCH/ 220 $LAW. Only 649 people own the 10,000 Punks. I expect the floor time to grow even bigger, as the Proof of Punk is now live and Punks holders can stake them to earn $LAW.
SmartBCH spotlights Library:
1. The $CATS distribution and some gifts
$CATS total supply is 1,000,000,000 tokens. The token SmartBCH Contract Address is: 0x265bd28d79400d55a1665707fa14a72978fa6043
2. BCHPad - Secure IDO on SmartBCH
BCHPad is a decentralized IDO protocol built on the SmartBCH chain, creating a simplified method to invest in new SEP20 tokens or to raise capital and to kickstart projects. The IDO will run in a permissionless and decentralized method but with an extra level of security. 
The AxieBCH gaming guild will have a simple business model and a provision for players to create a play2earn source of income. The transparent assets structure is given by the public blockchain and an unlimited growth potential. The token total supply is 100,000,000 AxieBCH tokens and the contract address is: 0x3d13DaFcCA3a188DB340c81414239Bc2be312Ec9
Residual Income:
DeFi bounty at CakeDeFi with $30 DFI for new users
The fountains: PipeFlare ZCash,  GlobalHive ZCash  &  Get.ZEN
Publishing bundle: Publish0x,  ReadCash,  LBRY & Presearch