I like #KONRA and a little spoiler alert was added in the @SmartBCH spotlight article dedicated to Konra's unique tokenomic. I said that the project will become a multi token ecosystem in the future, where each token added will have unique use cases and will be just as thoughtfully created and nurtured like Konra.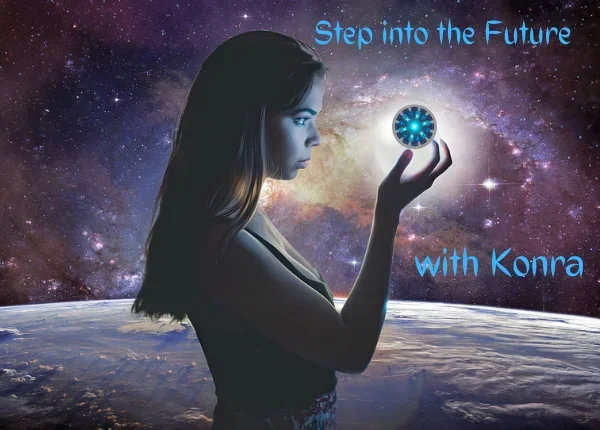 That happened quicker than some expected ... quicker than I expected. I seen it first on noise.cash, as the @Empress announced the genesis and listing of $NARATH on DEXScanner. I wish the best for the new token and I hope will boost the Konra ecosystem to new heights!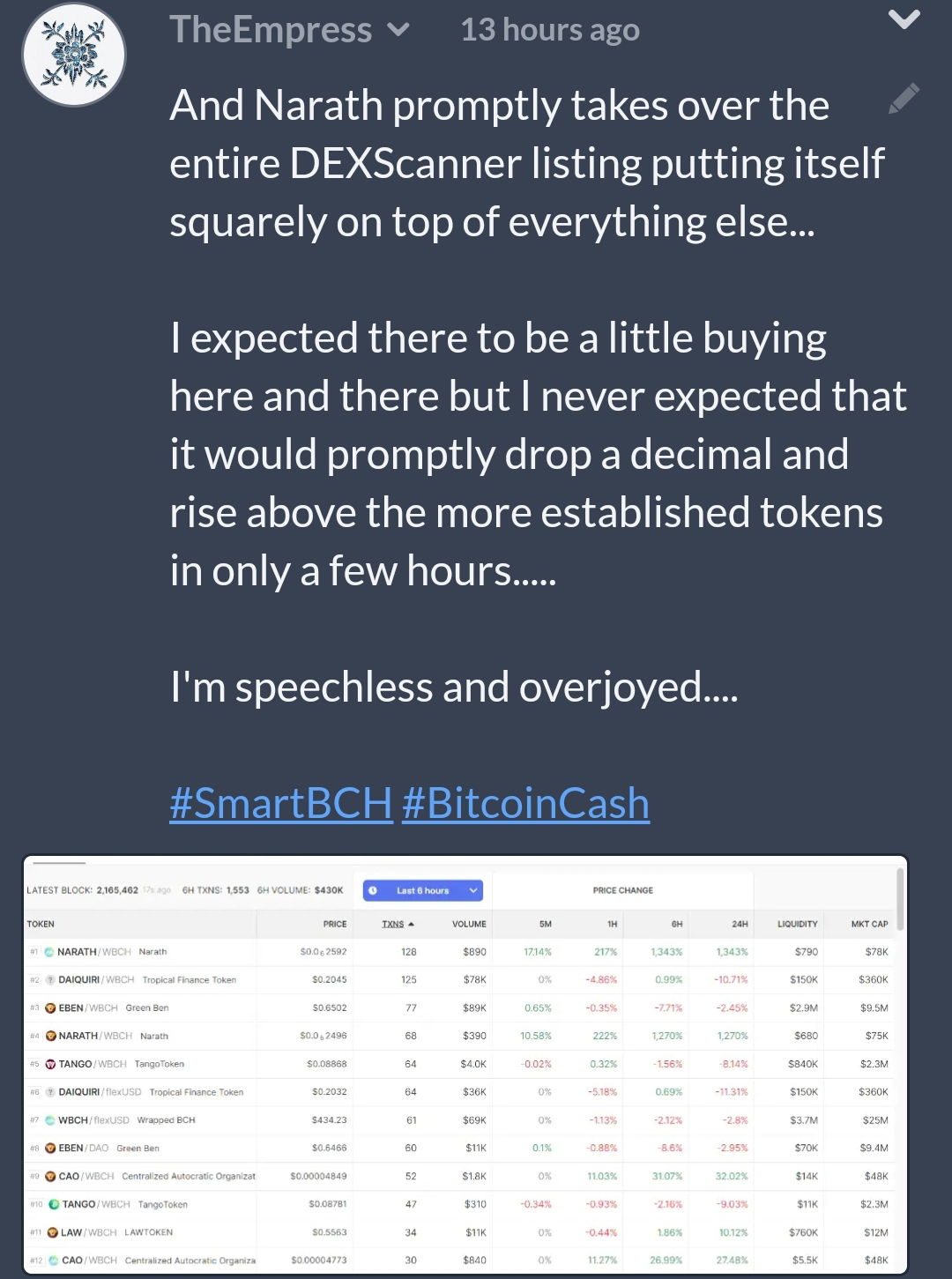 But what is Narath? If Konra is a measure of merit and store of value, Narath will be the reward token meant to serve as an incentive of the holders that use Konra on SmartBCH. Narath has a higher supply and the release will be spread over 6 years, which means no big time buyers can enter the market and make a big impact.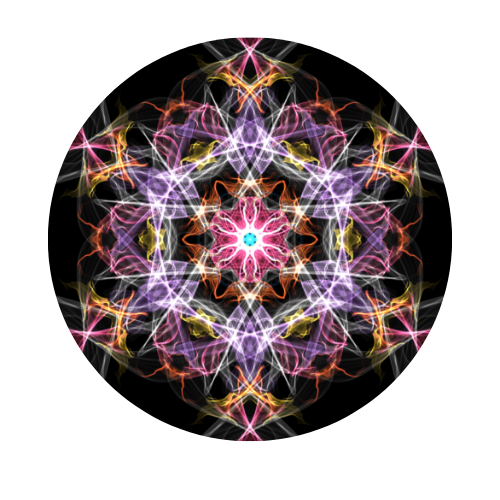 Narath is already on DexScanner and has liquidity on BenSwap, MistSwap and 1BCH DEX, with good trading volume achieved in the last day.
The CA for the token is 0x0cb20466c0dd6454acf50ec26f3042ccc6362fa0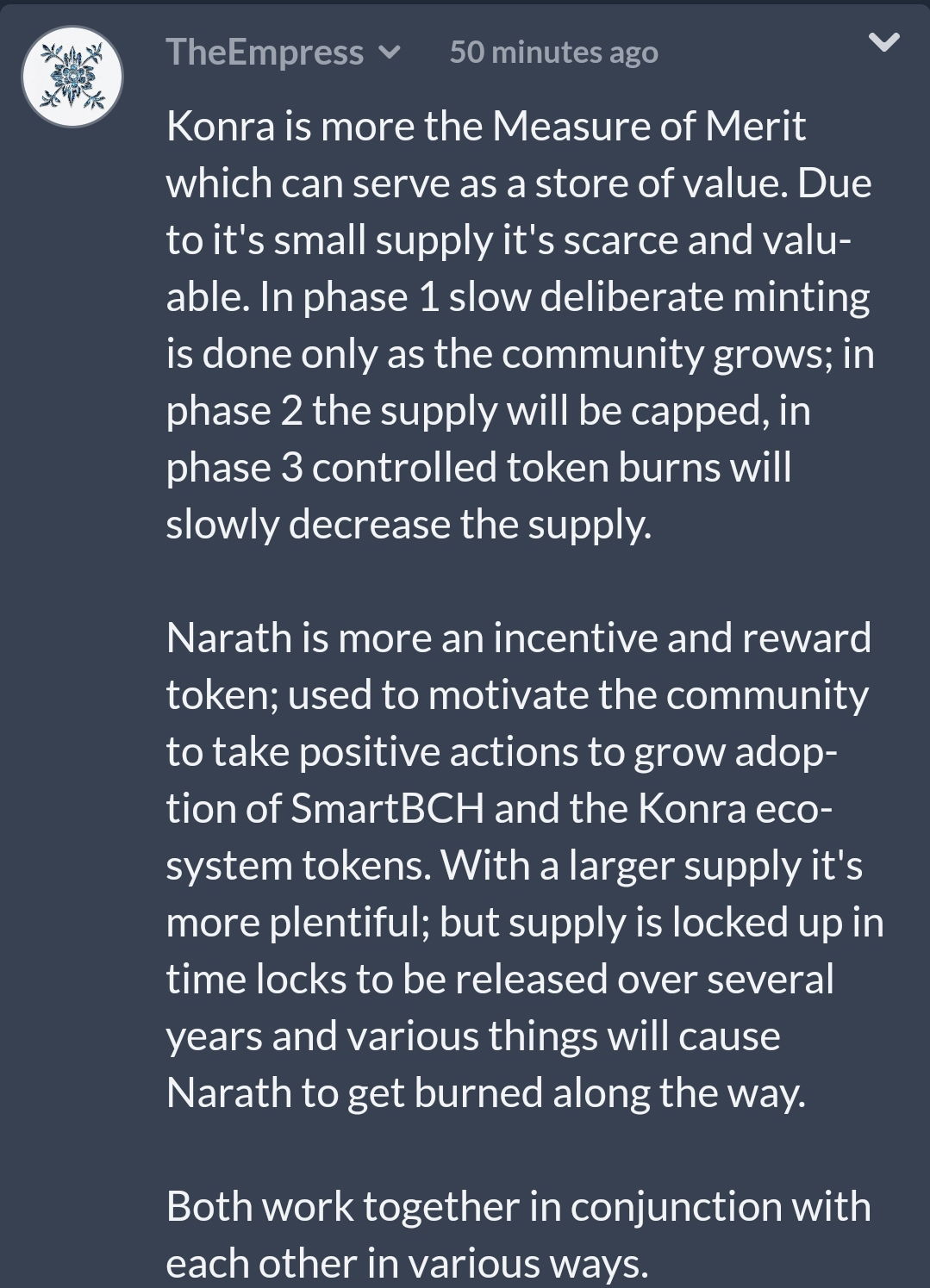 I will go the distance for people I respect and appreciate, and the @Empress is ticking both boxes. This is why I instantly wanted #NARATH in my portfolio, and this is why I headed to MistSwap to buy some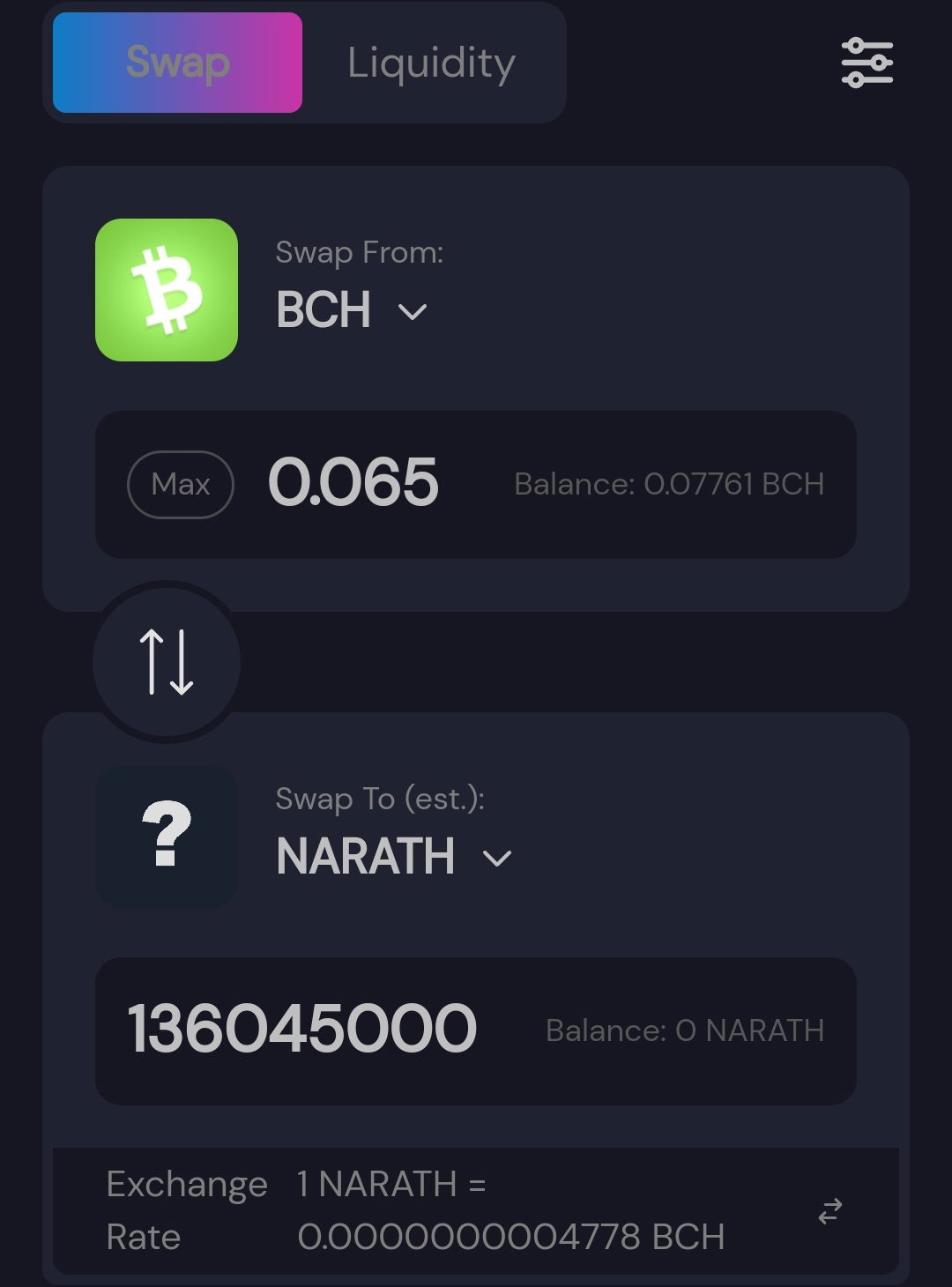 The first positive aspect ... low starting value for the token! I spent 0.065 Bitcoin Cash to buy 136,045,000 $NARATH, a number which I find it difficult even to read.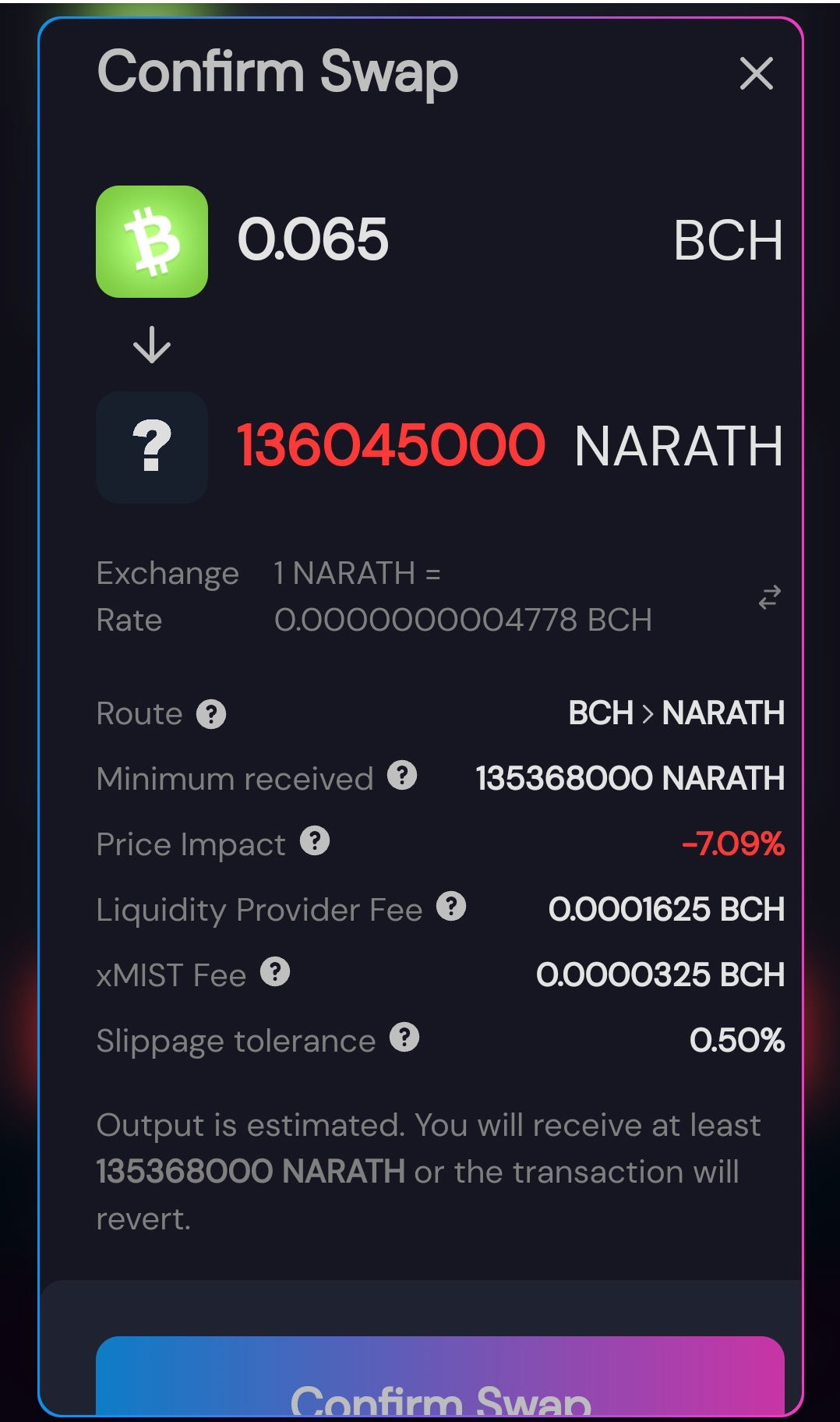 Price impact -7.09% ? I don't care as for me this token will be added on the HODL list and will grow in my portfolio for many many months. Only 0.065 BCH spent on this, just $28.13 at the time of writing.
The first rule of crypto says to invest only money you are ready to lose ... and this is what I did. Time will tell if this will bloom nicely in my wallet.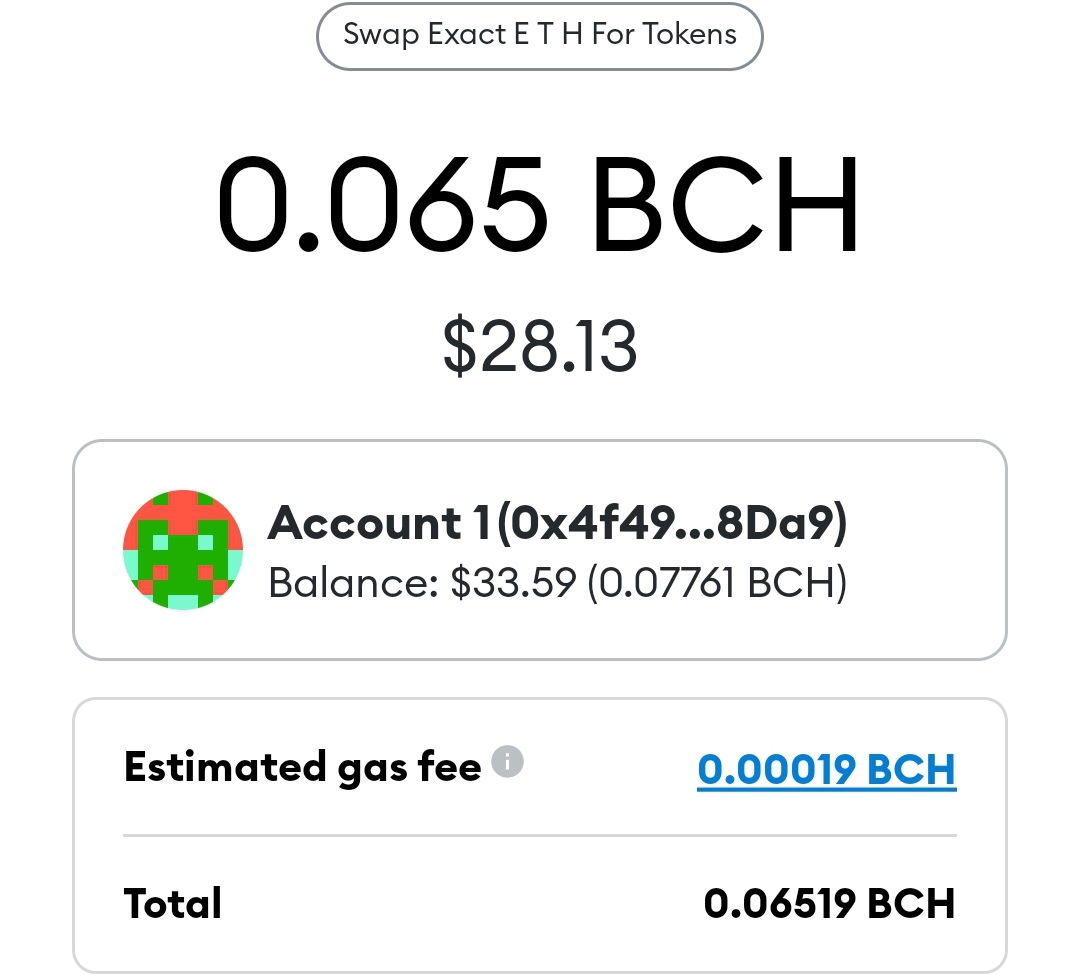 I open read.cash and started writing on this spotlight episode, and while drafting this article I realized I want more NARATH tokens. Back to Metamask, back to Hop.Cash, back to MistSwap ... and another bag of tokens added on the treasury.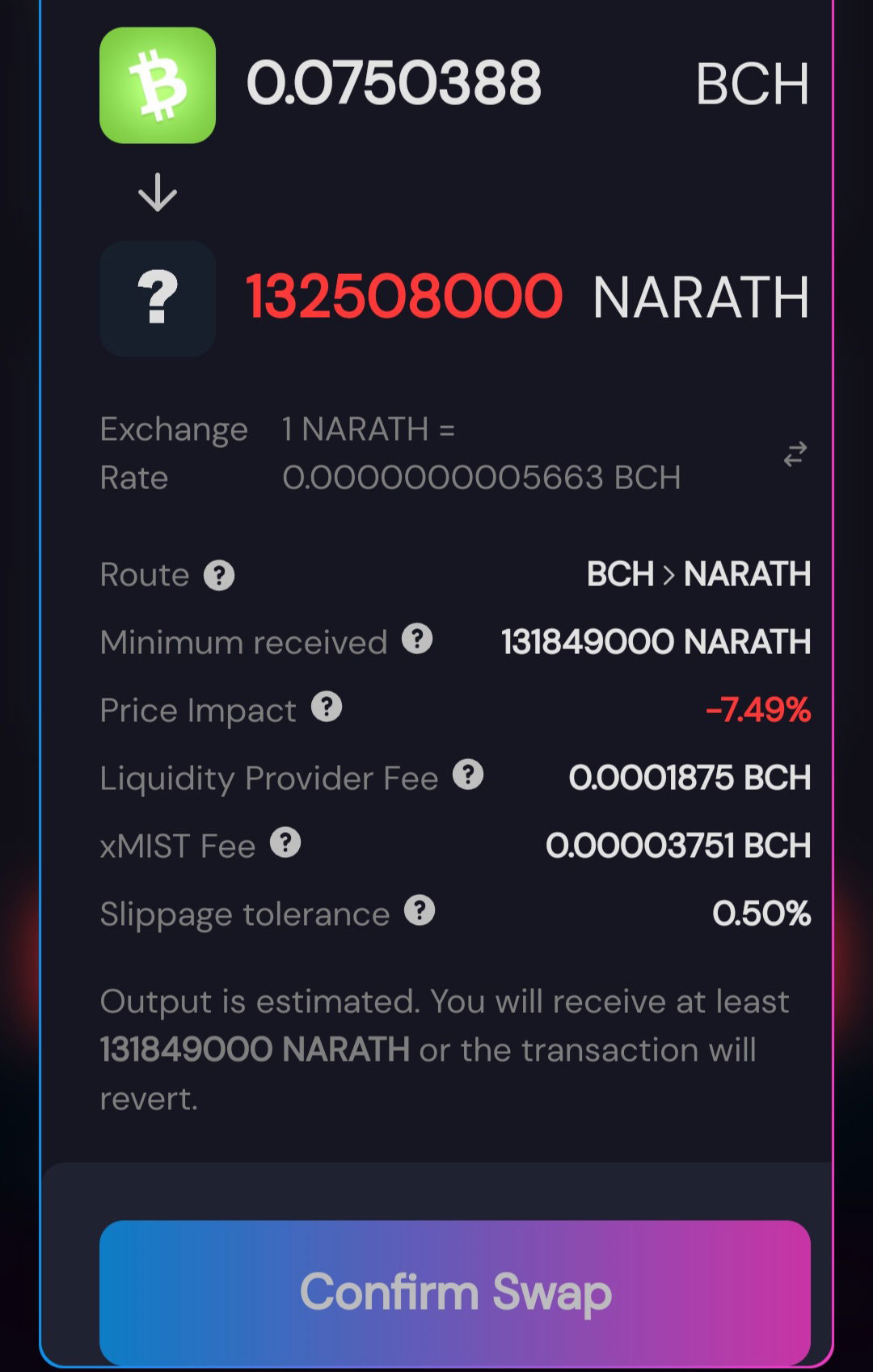 Added $32.26 more into the wildcard and a bigger slice of the cake for me now. They will match perfectly with the KONRA I am currently holding!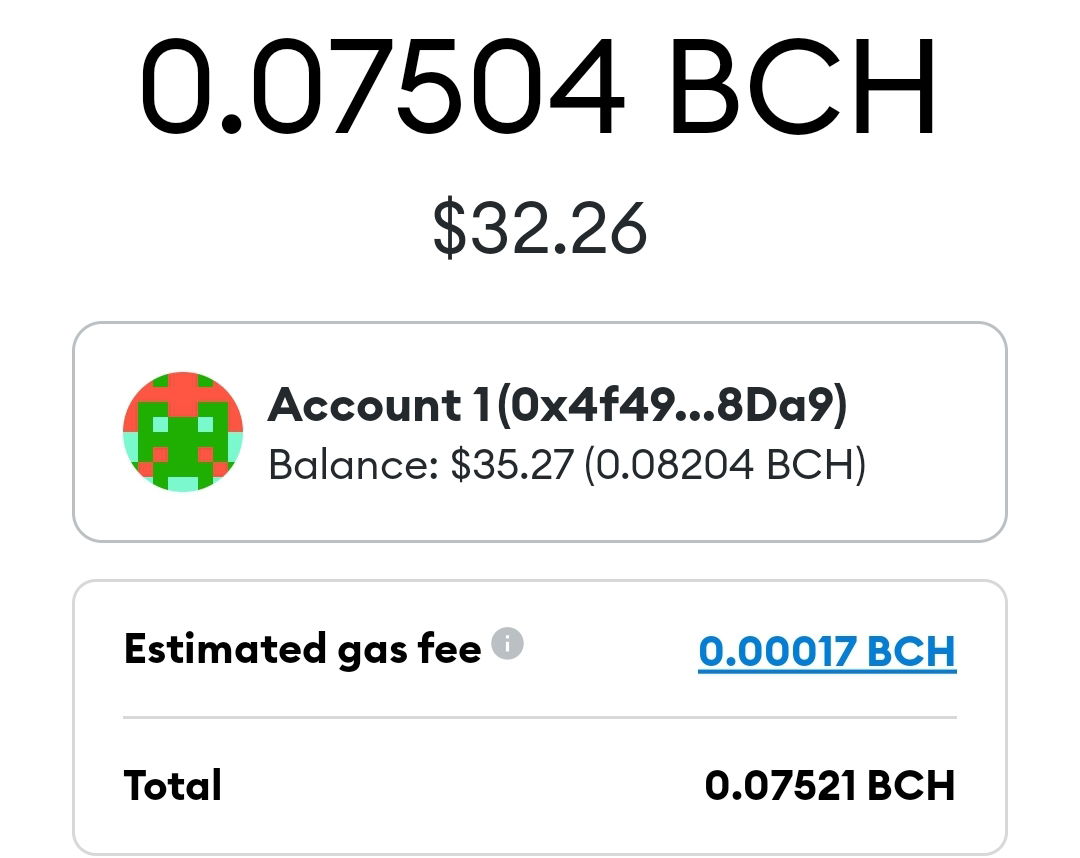 I think I never was so early into a project, maybe except Cub Finance and CAKE on Binance Smart Chain, but considering that this ecosystem was made with love... make me like it even more. I may be poor on @SmartBCH but I am rich in friends ... thank you @Empress for constantly innovating the ecosystem!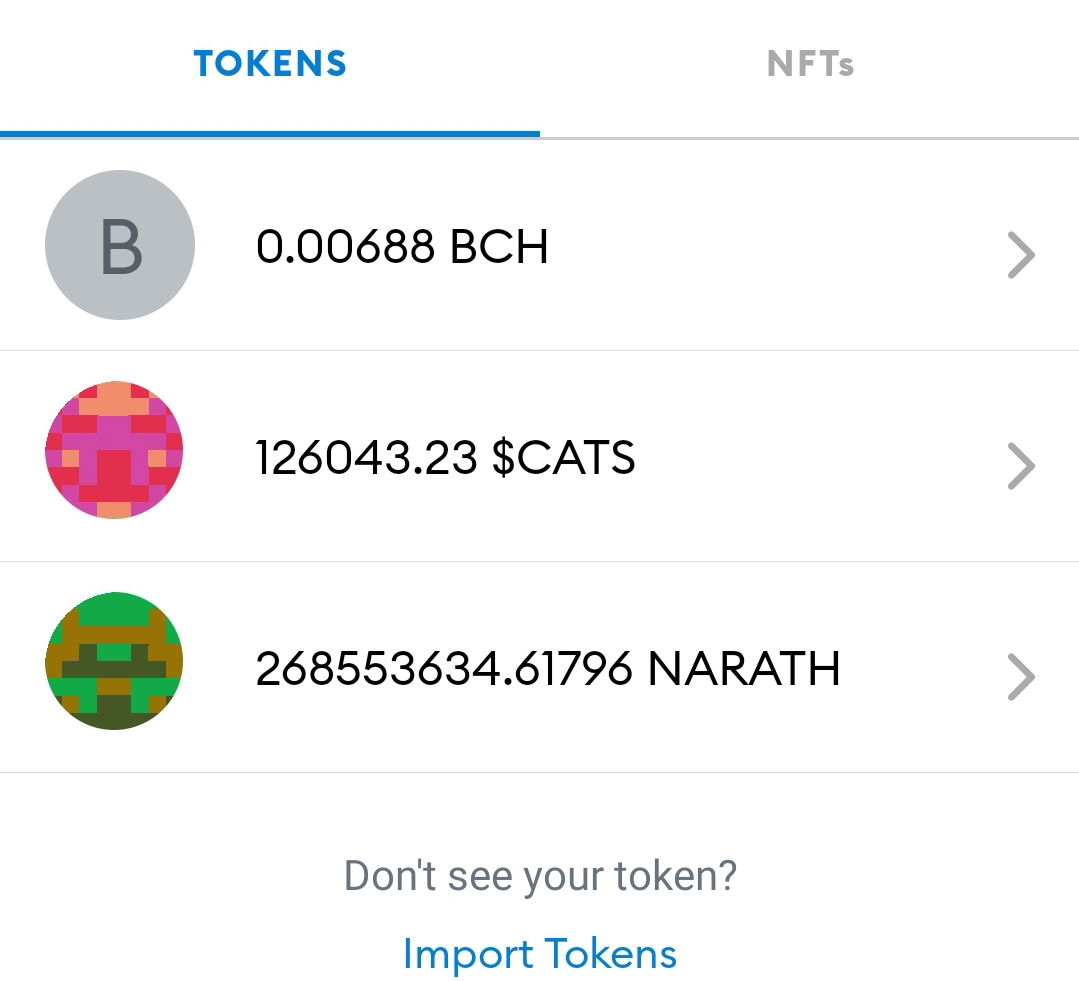 The SmartBCH Spotlights series:
1. Cash Cats ($CATS) - the first meme token on SmartBCH with 1,000,000,000 total token supply
2. BCHPad - a decentralized IDO protocol built on the SmartBCH chain, creating a simplified method to invest in new SEP20 tokens 
3. AxieBCH - Gaming Guild - a simple business model and a provision for players to create a play2earn source of income. 
4. BlockNG & LAW Punks - the platform powered by the $LAW token, which can be used to buy LAW Punks NFTs. 
5. CheckBook - the system that evolves the airdrops, as the tokens are sent through cheques and must be accepted.
6. Konra Token - a token with unique tokenomics and a project that will become a multi token ecosystem.
7. Tango Swap - The first SmartBCH DEX with publicly known developers. 
8. GAME - The the universal gas token for the AxieBCH gaming guild that grows in the holder's wallet 
Residual Income:
DeFi bounty at CakeDeFi with $30 DFI for new users
The fountains: PipeFlare ZCash,  GlobalHive ZCash  &  Get.ZEN
Publishing bundle: Publish0x,  ReadCash,  LBRY & Presearch