Bitcoin Breaks $11,800; Ether Options Market Explodes;
Analysis: Most DeFi Tokens Are Concentrated In Hands of Top 500 Holders ;
Chinese Banks Set to Adopt Blockchain-powered Forfaiting Platform;
Bitmain Delays Delivery of Bitcoin Miners by Three Months, as Co-Founders Battle for Company Control;
🗞 Daily Crypto Calendar, August, 7th 💰
Welcome to the Daily Crypto News: A complete Press Review, Coin Calendar and Trading Analysis. Enjoy!
Bitcoin continues its rebound this week after Sunday's crash. Meanwhile, the ether options market suggests a roller coaster ride ahead for the world's second largest cryptocurrency.
Bitcoin (BTC) trading around $11,868 as of 20:00 UTC (4 p.m. ET). Gaining 1.8% over the previous 24 hours.
Bitcoin's 24-hour range: $11,528-$11,915
BTC above 10-day and 50-day moving averages, a bullish signal for market technicians.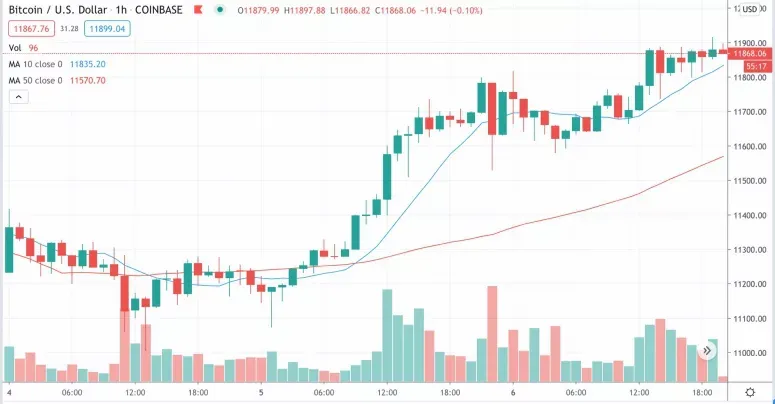 "Bitcoin reached above $12,000 on Aug. 2, but its ascension was stopped short," said Jean-Baptiste Pavageau, a partner at quantitative trading firm ExoAlpha. "However, the impact on bitcoin was short-lived, and a breakout above $12,500 on high volume would definitely put BTC on the way."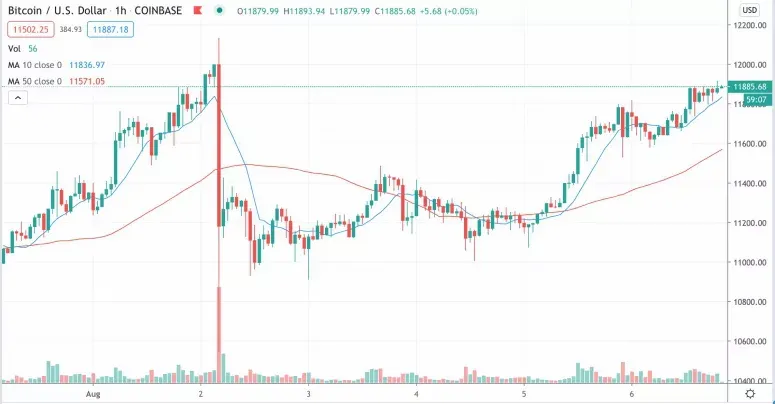 Record ether options open interest
The ether options market is on an absolute tear and seeing huge amounts of bets. Open interest is now approaching $400 million. Most of it is on Netherlands-based platform Deribit, which leads the way with $351 million, according to data from aggregator Skew. Options give owners to the right, though not the obligation, to buy or sell an underlying asset.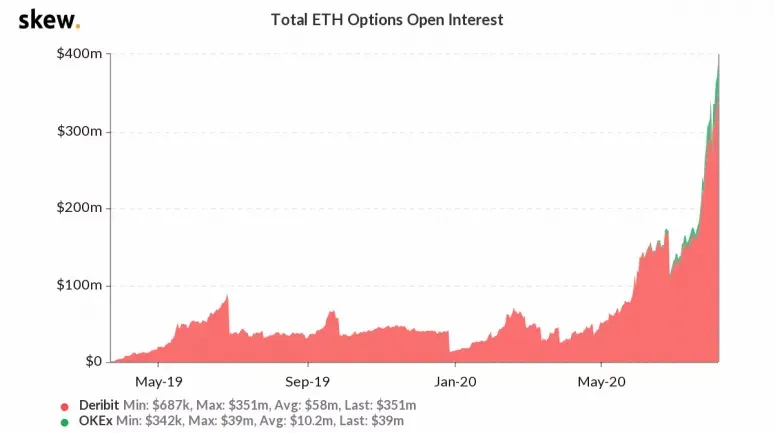 Token supplies for most decentralized finance (DeFi) projects are not widely distributed according to an analysis by the co-founder of DeFi Italy and Head of CryptoLab's Digital Assets Investments Simone Conti.
He compiled data from Defi Pulse and Etherscan that suggests that 90% of tokens for almost all DeFi projects are held by the top 500 addresses. For three of the projects, that figure rises to 99%.
According to a graphic shared by Conti, Compound is the 'most concentrated' of the Top 10 surveyed projects (by total locked value) with 96% of the total supply being held by a few dozen people in the top 50 holders.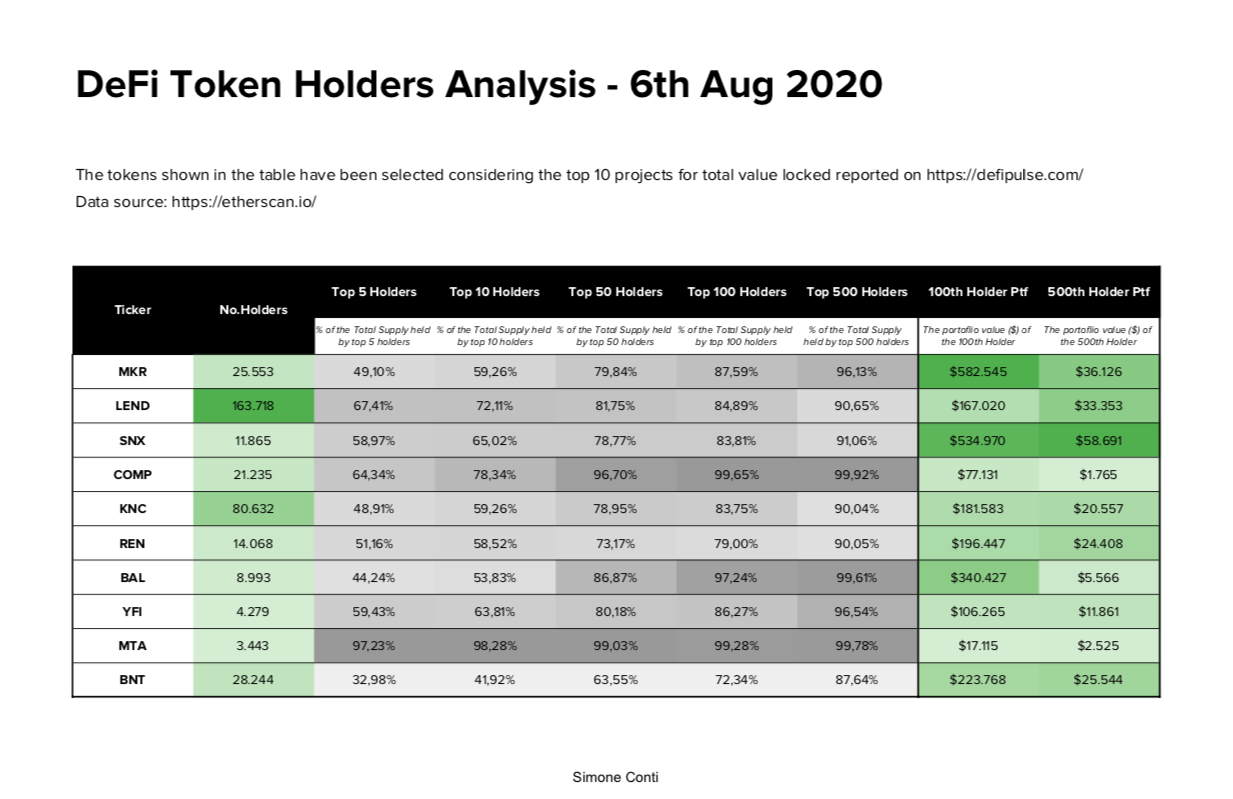 Through the last 3 months I have started to use different platforms in order to see what was out there and to meet Crypto fans out of my circle.
Here is a list of Projects, Blockchains where you can EARN cryptocurrencies without having to invest $. I hope you will enjoy it and tell me if I forgot some big platforms !
Learn more about the different characteristics of this platform by clicking on my last article here (Publish0x link)
The China National Clearing Center (CNCC), the Chinese central bank's settlements and clearing arm, is set to work with three major banks to foster a blockchain-powered forfaiting trading platform – aimed at boosting the efficiency of export financing.
Per Sina, the CNCC has sealed a deal that also involves the China CITIC Bank, one of the nation's biggest lenders. China Minsheng Bank, which specializes in financing small and medium-sized enterprises (SMEs), and the Bank of China, one of China's "big four" state-owned commercial banks, are the other signatories.
The deal will see the parties adopt a blockchain-powered forfaiting trading solution developed by China CITIC Bank – and could pave the way for other banks in the nation to follow suit.
Bitmain has delayed shipments of its Antminer bitcoin mining machines by three months, as the tussle between co-founders, Jihan Wu and Micree Zhan Ketuan, for control of the company intensifies.
According to a post on Bitmain's official Wechat account, the Beijing-based bitcoin miner maker said customers whose orders were due for delivery in June and July will have to wait until September and October.
The equipment is typically ordered three months prior to delivery. That means the postponed shipments may have been ordered around March, making this a costly six-month wait for the affected bitcoin miners.
🗞 Daily Crypto News, August, 7th💰
"SRK will be listed on August 7."
"SparkPlay - 3rd Crypto Game Reveal and Development"
"See you all on Aug 6th at 11 am PDT on @binance Nigeria telegram channel."
"Join us for a live AMA session with @JLSwipe , CEO & Founder of @SwipeWallet Rocket When: Friday, 7th August at 5 PM IST"
"August 7, 2020: The new contract will be deployed."
AMA sessions at D'va Community. There will be a total reward of $50 (VEX) for participants.
Last Updates
➡️ Be paid daily to browse with Brave Internet Browser
➡️ A secure and easy wallet to use: Atomic Wallet
➡️ Publish0x
➡️ UpTrennd
➡️ Read.cash
➡️ Minds
➡️ Hive
➡️ Twitter
➡️ Facebook