Volatility Data Suggests Bitcoin Price Drop to $10K Before Rally Resumes;
Ripple Q2 2020 Report: XRP Sales Increased 19-Fold;
The 2020 Rainy Season Is Tougher Than Ever for China's Bitcoin Miners;
Inside a Crypto 'Ponzi': How the $6.5M Banana.Fund Fraud Unravelled;
European Bitcoin Exchange Hacked for $1.4 Million, Claims It Cannot Afford to Repay Users;
🗞 Daily Crypto Calendar, August, 4th 💰
Welcome to the Daily Crypto News: A complete Press Review, Coin Calendar and Trading Analysis. Enjoy!
A recent report by crypto derivatives platform, Zubr, found that despite being extremely volatile when compared to traditional asset classes, Bitcoin (BTC) maintains a "market equilibrium" nature for the majority of the time.
The report just a few days after Bitcoin rallied beyond the $12,000 mark and its volatility finally recovered from a multi-year low.
According to Zubr:
"The majority of the time, Bitcoin will almost mimic the exact percentage increase with a percentage decrease on the very same day."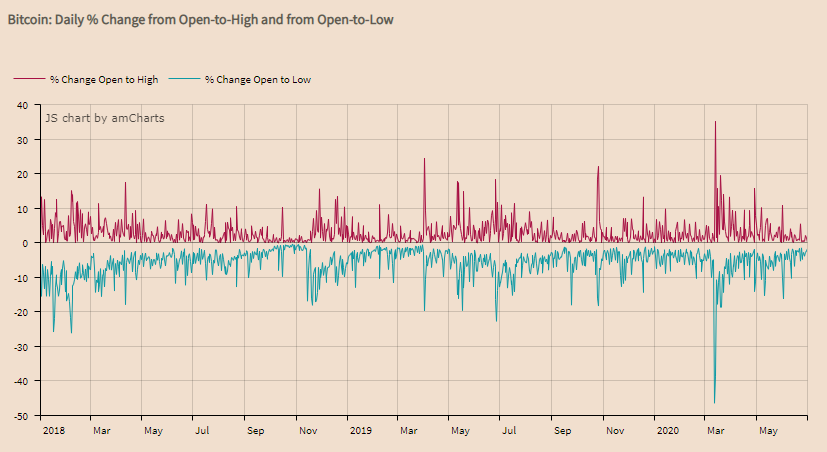 Typically, this mirror effect takes place within the same trading day, but Zubr also found that it can also occur over the course of longer time periods.
Sales of Ripple's XRP token in Q2 surged after hitting a low in the first quarter, while the firm's On-Demand Liquidity network remains popular.
According to Ripple's quarterly report released on August 3, sales of the firm's XRP token were 18.6 times higher in Q2 2020 compared to Q1. The crypto firm stated XRP sales were $32.55 million from April to June this year, up from $1.75 million in the first quarter. The company has been criticized for propping up its balance sheet with XRP sales.
Ripple said the sales were due to the firm prioritizing over-the-counter (OTC) sales over programmatic ones. This is reportedly part of the effort to provide increased XRP liquidity to RippleNet's On-Demand Liquidity (ODL) customers. RippleNet had 11 times year-over-year growth in ODL transaction volume from the middle of 2019 to 2020.
Cointelegraph recently reported that the legal team representing the firm and CEO Brad Garlinghouse has argued any statements they made overstating the utility of the XRP token can't be proven false.
The rain has come. The machines are humming. This should be the best time of the year for China's bitcoin miners. The monsoon season, generally from June to October, brings excessive rain and thus cheap hydro electricity.
But this year is different, proving to be harder than ever for China's bitcoin miners and mining farm operators who are estimated to dominate 65% of the global multi-billion dollar bitcoin mining industry.
Since last summer, many mining farm operators rushed to build new facilities in China's southwestern region in anticipation of a dramatic price rise with bitcoin's halving.
A YEAR WITH A BITCOIN HALVING AND GLOBAL EPIDEMIC ROLLED INTO ONE, IT'S TRULY ONE OF A KIND.
U.S. prosecutors are seeking to return $6.5 million in allegedly scammed bitcoin to victims of the "Banana.Fund" crowdfunding project, which the government described in court papers as a Ponzi scheme.
In a forfeiture suit against the cryptocurrency account storing the funds, prosecutors allege Banana.Fund's unnamed administrator admitted to investors his project had flopped, promised to return $1.7 million to them and then failed to do so. The operator then pivoted to a laundering and refund scheme that ultimately resulted in the U.S. Secret Service's (USSS) seizure of 482 bitcoin (BTC) and 1,721,868 tether (USDT)
Peeling back the fraud
Banana.Fund's white paper describes a crowdfunded business development company that shepherds fledgling startups through their earliest stages while offering operational transparency to their seed investors.
2gether, a Spanish cryptocurrency trading platform, has been hacked for about $1.4 million and company executives claim that they do not have the money to repay customers.
Chief executive officer Ramon Ferraz Estrada said over the course of several tweets on Monday that the breach of July 31 affected crypto investment accounts and exposed user private keys.
A separate announcement later expressed the exchange's doubts over reimbursing the stolen funds, citing a lack of financial capacity. Instead, company officials offered customers the bourse's native 2GT token as full compensation.
🗞 Daily Crypto News, August, 4th💰

Zel halving estimated for August 4th.
"The genesis time for Medalla is August 4th, 2020, 1pm UTC..."
"We will release both these updates next week along with the necessary documentation for Validator staking."
"On August 4th, @Joelcomm and @teedubya's Blockchain Heroes goes live on @WAX_io ."
Developer AMA for Stacks 2.0 Hackathon Series.
Last Updates


➡️ Be paid daily to browse with Brave Internet Browser
➡️ A secure and easy wallet to use: Atomic Wallet
➡️ Publish0x
➡️ UpTrennd
➡️ Read.cash
➡️ Minds
➡️ Hive
➡️ Twitter
➡️ Facebook