Bitcoin Price Eyes New 2020 High Once Bulls Break $11.8K Resistance;
Ethereum Classic Suffers Second 51% Attack In a Week;
Bitcoin and S&P 500 No Longer Correlated: Mati Greenspan;
Negative USD Yield Risk Adds Bitcoin On Software Giant's Radar;
Japanese Power Firm, Crypto Exchange Claim Digital Token Pilot Success;
🗞 Daily Crypto Calendar, August, 6th 💰
Welcome to the Daily Crypto News: A complete Press Review, Coin Calendar and Trading Analysis. Enjoy!
Bitcoin (BTC) price perked up on August 5, rallying from $11,090 to $11,784 before briefly retracing to the $11,650 area as the daily close approached. Currently the price trades near the $11,500 support after bulls were unable to tackle the $11,800 level.
Despite a pullback to lower support, Wednesday's 6.29% push through the $11,100 to $11,250 zone was much needed as the price had lingered below this level for about 3 days.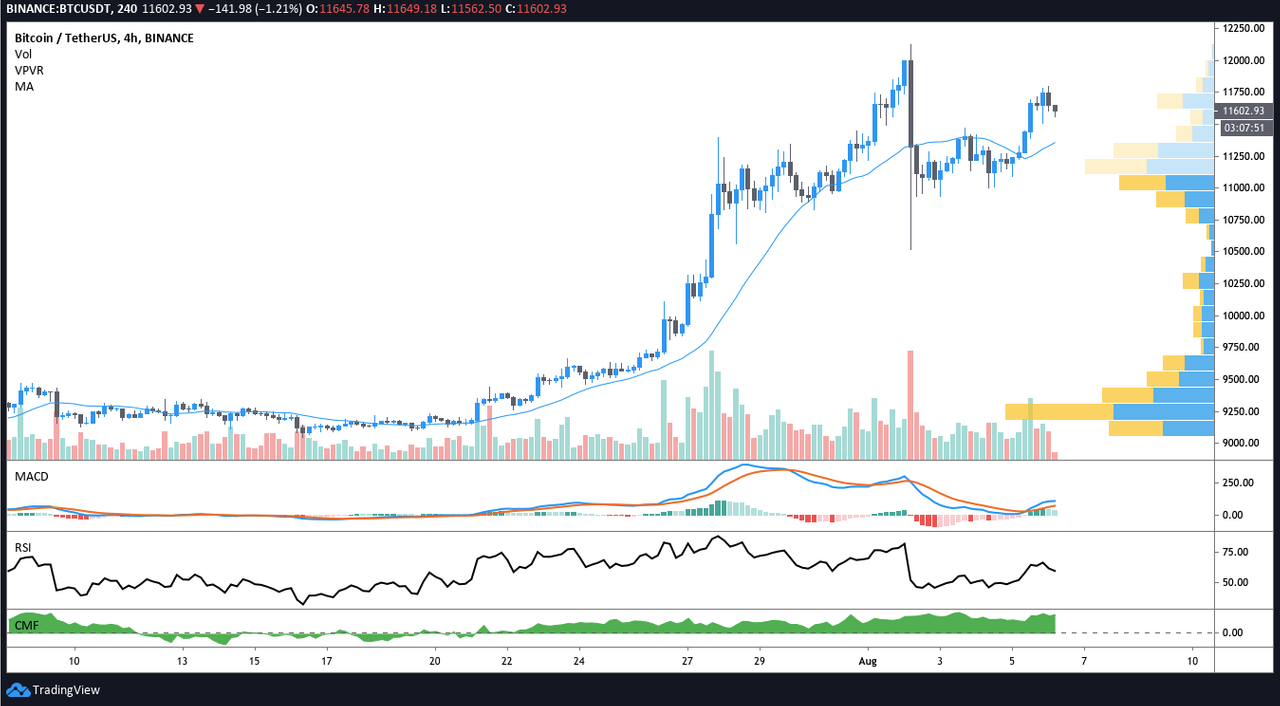 As the 4-hour chart shows, once above $11,450, traders were able to slice through the $150 gap on the volume profile visible range and pursue the completion of a W-bottom reversal pattern but failure to pierce $11,800 prevented this.
"The large percentage of headlines and traditional investors looking for higher yielding assets has led to a larger shift into crypto. As a result, open interest in futures listed on major exchanges reached a new lifetime high of $5.6 billion on August 1, surpassing the previous record of $5.36 billion in February.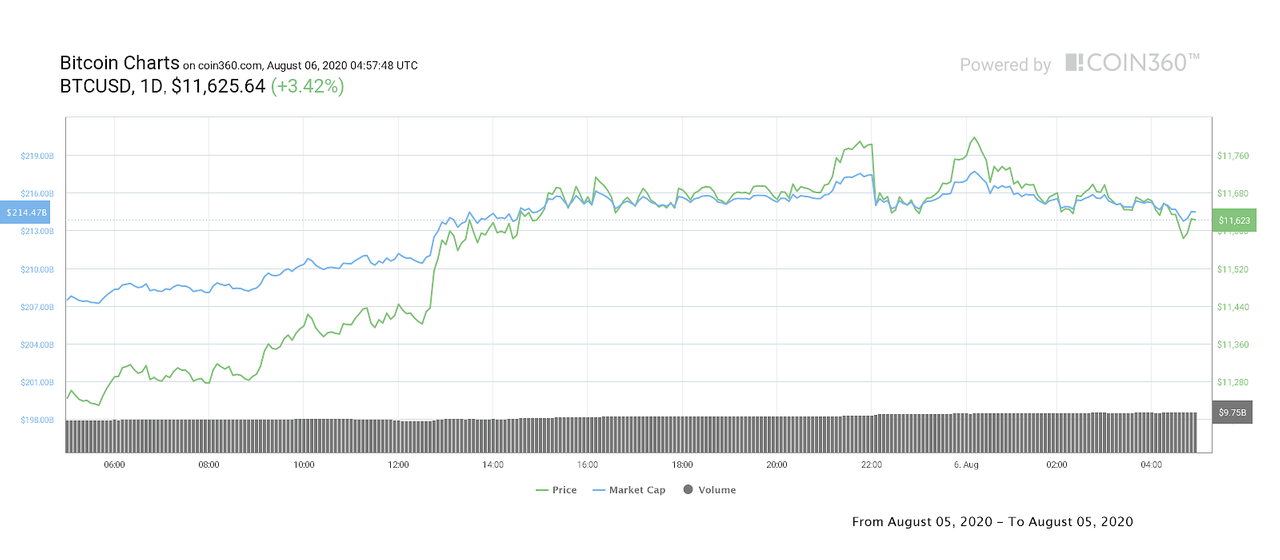 Ethereum Classic has suffered its second 51% attack in a week after more than 4,000 blocks were reorganized Thursday morning.
Mining pool Ethermine's parent entity Bitfly and crypto exchange Binance reported the reorganization, announcing all Ethereum Classic payouts, withdrawals and deposits had been suspended due to the attack. It's unclear how much the attacker has made.
The reorganized transaction history is currently the longest chain on the network. However, the majority of Ethereum Classic miners – such as mining pool Ethermine – are continuing to mine on the shorter version of the network.
Developers behind Ethereum Classic said in a tweet minutes before Bitfly's report that exchanges and mining pools are advised to "significantly raise confirmation times on all deposits and incoming transactions" in light of "recent network attacks."
Crypto analyst Mati Greenspan says the correlation between crypto assets and the S&P 500 has fallen significantly since the dramatic sell-offs in tandem early in the pandemic.
In the Aug. 5 Quantum Economics newsletter, Greenspan stated that Bitcoin (BTC) and crypto are "once again able to claim independence from the traditional markets." However the analyst also added that even during the early stages of COVID-19 — roughly March to May — the markets were never more than "loosely correlated."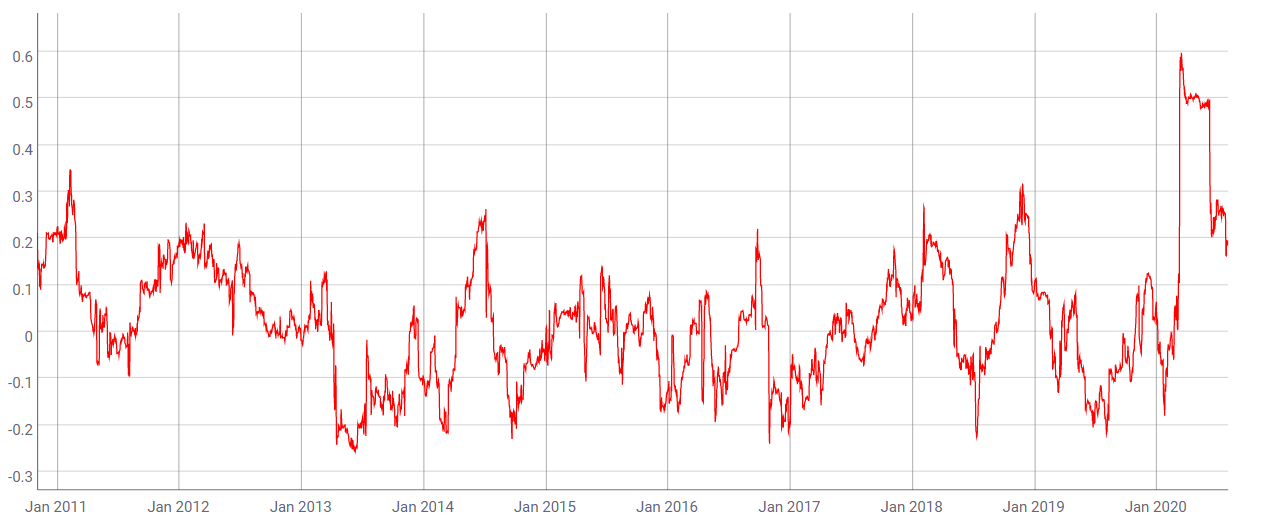 Following announcements from major mainstream investors such as Paul Tudor Jones that they are adding bitcoin (BTC) to their portfolios as an inflation hedge, a US-based major software company said that it may invest part of its cash into bitcoin and other alternative investments, citing "negative real yield on US dollars."
The announcement was made by MicroStrategy in an earnings call for the second quarter on July 28, a transcript published by The Motley Fool shows:
"We will seek to invest up to another USD 250 million over the next 12 months in one or more alternative investments or assets which may include stocks, bonds, commodities such as gold, digital assets such as bitcoin, or other asset types," president and chief financial officer of MicroStrategy, Phong Le, was quoted as saying on the call.
Japan's Kansai Electric Power and crypto exchange DeCurret said that a recent "digital token"-powered, blockchain-based payment pilot was a success – and could be used for settlements in peer-to-peer (P2P) electricity transactions.
Per a press release from DeCurret, the firms issued a new digital currency for the pilot project, which was conducted on a new platform built for Kansai Electric Power.
Kansai Electric Power is one of the main electric providers in the Kansai region, one of Japan's busiest industrial areas.
The firms said that the platform automates processes on the power network by using a digital currency that was developed by the crypto exchange.
🗞 Daily Crypto News, August, 6th💰

Chainlink (LINK), General Event (CRYPTO), DMM: Governance (DMG), Synthetix Network Token (SNX)
Global DeFi Summit online at 8 AM (PDT).
Binance AMA with Xan Ditkoff.
Learn how you can use Blockstack's rebrand to update your own apps and landing pages.
Estimated date of BitGreen block reward halving. The reward will decrease from 10 to 5 coins.
" At 1pm UTC on 6 August, we will explain why the Internet of Blockchains is so important and we will be providing further details..."
"Tune in on Thursday to the latest in our live online Q&A's. This time on our interoperability strategy..."
""... Our founder @stse will broadcast LIVE from the @THETAtv homepage to 400,000+ community members!... 11:30AM PST"
Last Updates


➡️ Be paid daily to browse with Brave Internet Browser
➡️ A secure and easy wallet to use: Atomic Wallet
➡️ Publish0x
➡️ UpTrennd
➡️ Read.cash
➡️ Minds
➡️ Hive
➡️ Twitter
➡️ Facebook