I love to see Chaos Legion cards being featured in the Share Your Battle Challenge in Splinterlands which again is the case this week. This is the Rare Life Time Mage...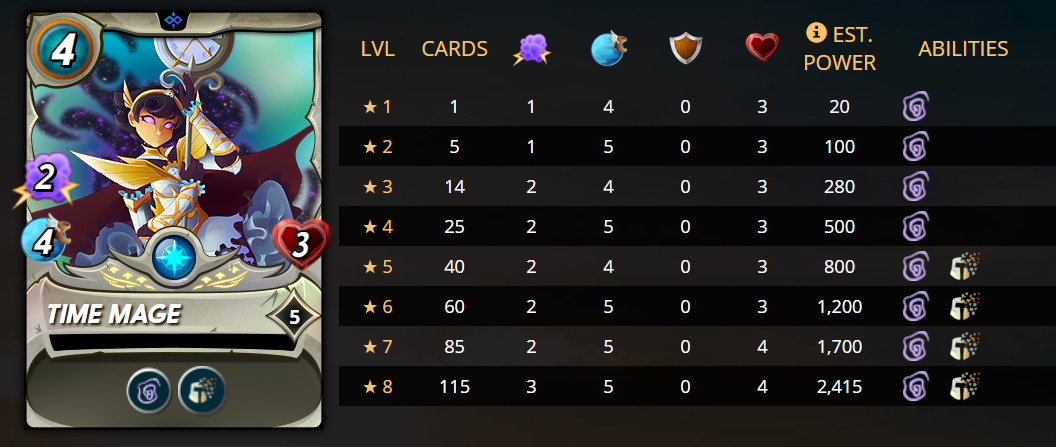 The main weakness of this card is its low health which makes it just too vulnerable to play unless the game rules are very specific. The one rule you need in order to play this card is "Little League" where only cards up to 4 mana are allowed to be played. In combination with the +1 Armor or Divine Shield given to each monster from the Summoners. The Rust ability at level 5 is also nice to have in this situation along with the 2 Magic Damage and slowing down the enemy also is a nice bonus while it also has a high speed itself.
I don't have this card which costs 0.36$ for a single leveled-up to level 5 on my main account owning 13 single cards. I do have a gold foil on my alt account which I recently used in this battle with the Little League ruleset...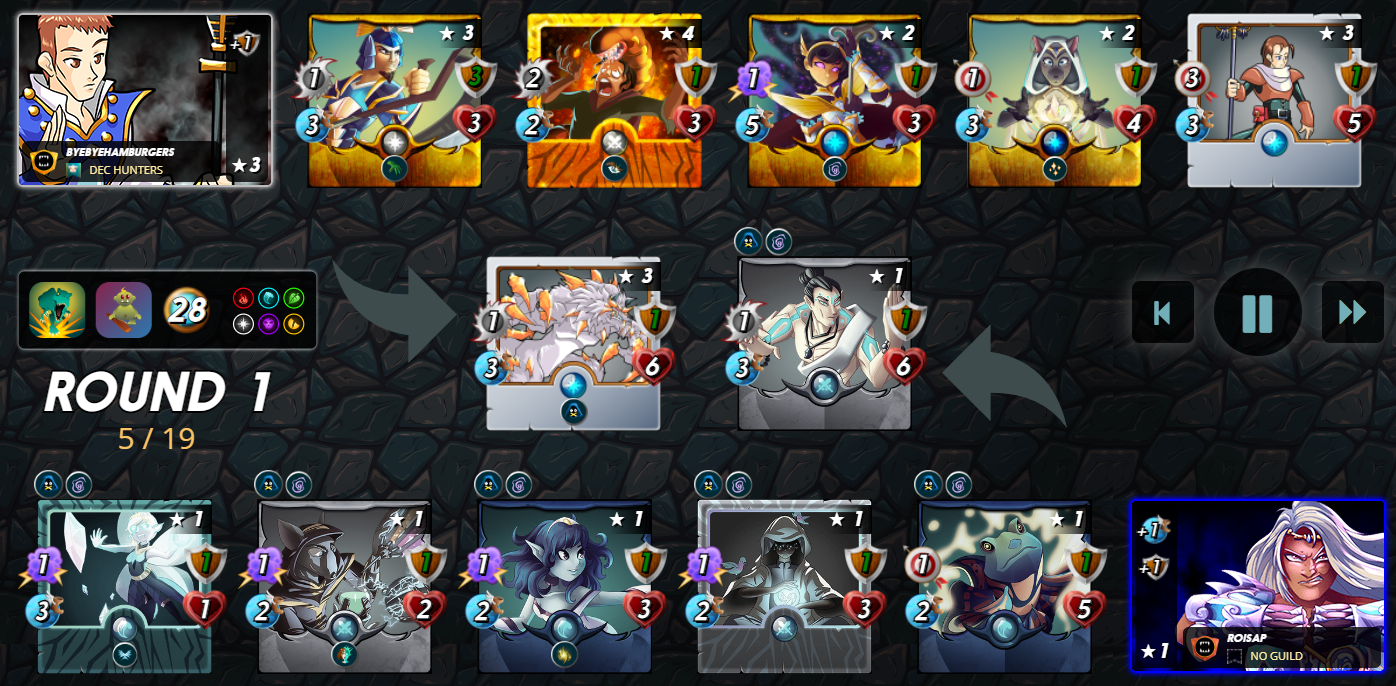 I liked the Tyrus Paladium life summoner for the armor ability which costs 1 mana less compared to the Kelya while it also has some good 4 mana cards. The Crystal Werewolf as main tank has ok health and speed for 3 mana. I followed this by 2 more Melee monsters that were alble to actually attack in the Sunkai Harvester and the Parasitic Growth. I followed those up with magic damage from the Time Mage and 2 Backline Ranged attack monsters in the Venari Crystalsmith which provided some tank Heal and the Peacebringer which has a big 3 damage for 4 Mana.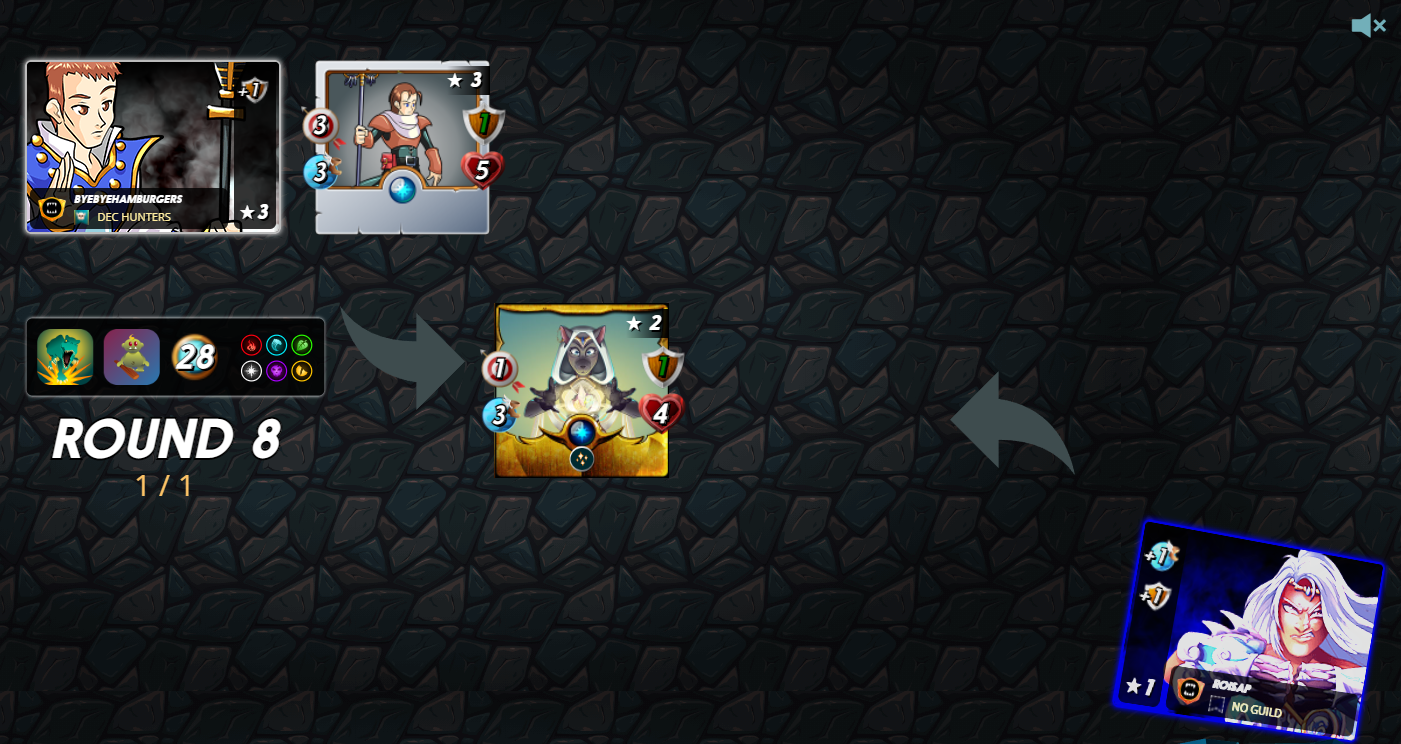 My strong backline with the 3 Damage and Heal ability pretty much won this match along with the always present pay2win mechanics in the game since my cards and summoner were higher-level than my opponent giving me a clear edge in card stats. It was closer that it could have been though mostly because the Kelya Summoner is so powerful.
---
---
Previous Weekly Challenges
Splinterlands | Kulu Swimhunter Challenge
Splinterlands | Radiated Brute Challenge
Splinterlands | Disintegrator Challenge
Splinterlands | Dragons Challenge
Splinterlands | Carrion Shade Challenge
Splinterlands | Chaos Knight Challenge
Splinterlands | Goblin Psychic Challenge
Splinterlands | Deeplurker Challenge
Splinterlands | Lava Spider Challenge
Splinterlands | Dragons Challenge
Splinterlands | Dragons Challenge
Splinterlands | Shadow Snitch Challenge
Splinterlands | Feral Spirit Challenge
Splinterlands | Wood Nymph Challenge
Splinterlands | Giant Roc Challenge
Splinterlands | Centaur Challenge
Splinterlands | Dragons Challenge
Splinterlands | Animated Corpse
Splinterlands | Defender of Truth
Splinterlands | Stone Golem
Splinterlands | Pirate Captain

---

JOIN THE CHALLENGE
All Splinterlands players are free to join this Weekly Challenge (regardless of your rank) and will get rewarded by the team with Upvotes on Hive. If you haven't tried out the game yet, this is a great opportunity as it allows you to earn back the 10$ Price of the Summoner's Spellbook you need to get your Hive Private Keys after creating an account, share in the game rewards, get Daily Quests, join tournaments, Earn DEC for each Ranked Win,... 
---
Play2Earn Games I'm Currently Playing...
---
Hive: https://hive.blog/@costanza
Noise.cash: https://noise.cash/u/costanza
Leofinance: https://leofinance.io/@costanza
Twitter: https://twitter.com/costanzabets