Another Chaos Legion card is being highlighted in the Share Your Battle Challenge in Splinterlands this week. This is the Water Common Kulu Swimhunter...
I'm switching my routine of doing the Weekly battle challenge from Sunday to Saturday so I'm sure that I'm in time to actually enter my post as the rules changed. Right now it is required to submit the battle 2 days before the post with the battle challenge from the Splinterlands team pays out.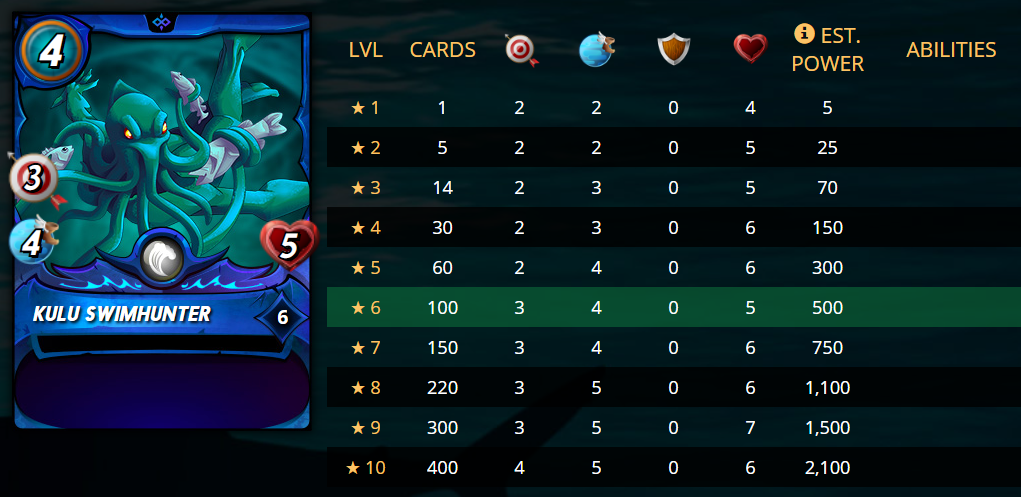 This is another Chaos Legion card that I discovered thanks to the battle challenge and very much like just based on the start. 3 Ranged damage for 4 Mana cost is as good as it gets while the 4 speed and 5 health are also quite good especially combined with the Keyla Frendul summoners which I think will dominate the Meta going forward (unless the devs once again make the legendary summoners crazy overpowered). Especially in battles where up to 4 mana cost cards can be used this will be a standard pick. At a cost of around 0.08$ for a single Kulu Swimhunter, it only costs around 8$ to have this card at Level 6 which works with Level 5 Summoners and gives the 1 extra Ranged Damage.
I'm quite sure this card will serve me well going forward and I managed to win the first match I used it in for this Battle Challenge...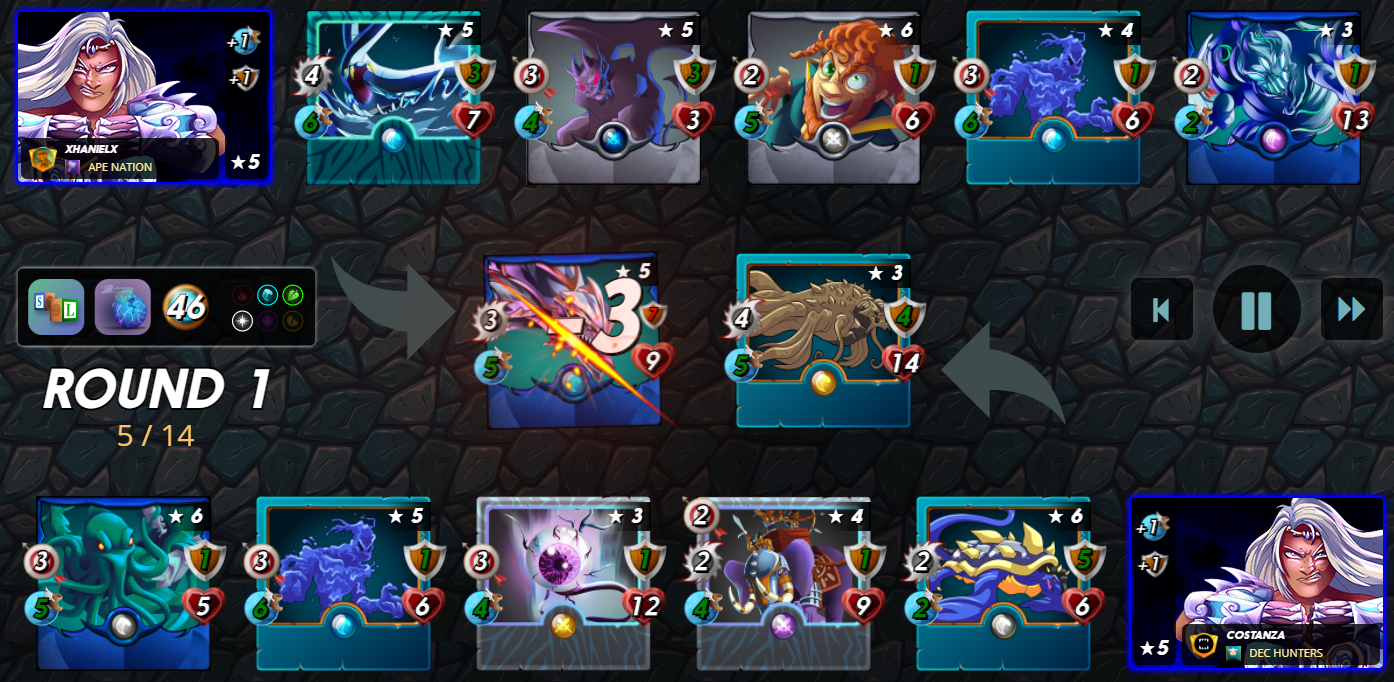 With Game Rules where Monsters have no Abilities along with no Magic Damage allowed, most of the damage needs to come from Ranged attacks with Speed and armor playing an important factor. This made the Keyla Frendul the natural choice as Summoner which was also picked by my opponent (both Level 5). Health is quite important which is why I played The Kraken as my main tank followed by the Spineback Turtle which couldn't instantly attack. The War Chaang was quite useful as it provides both ranged and Melee attack. If anything, a card like this is worth having in your collection for these situations as it will make the difference. As pure ranged attack monsters I opted for the high health Cornealus, & the high speed 3 damage Water Elemental & the Kulu Swimhunter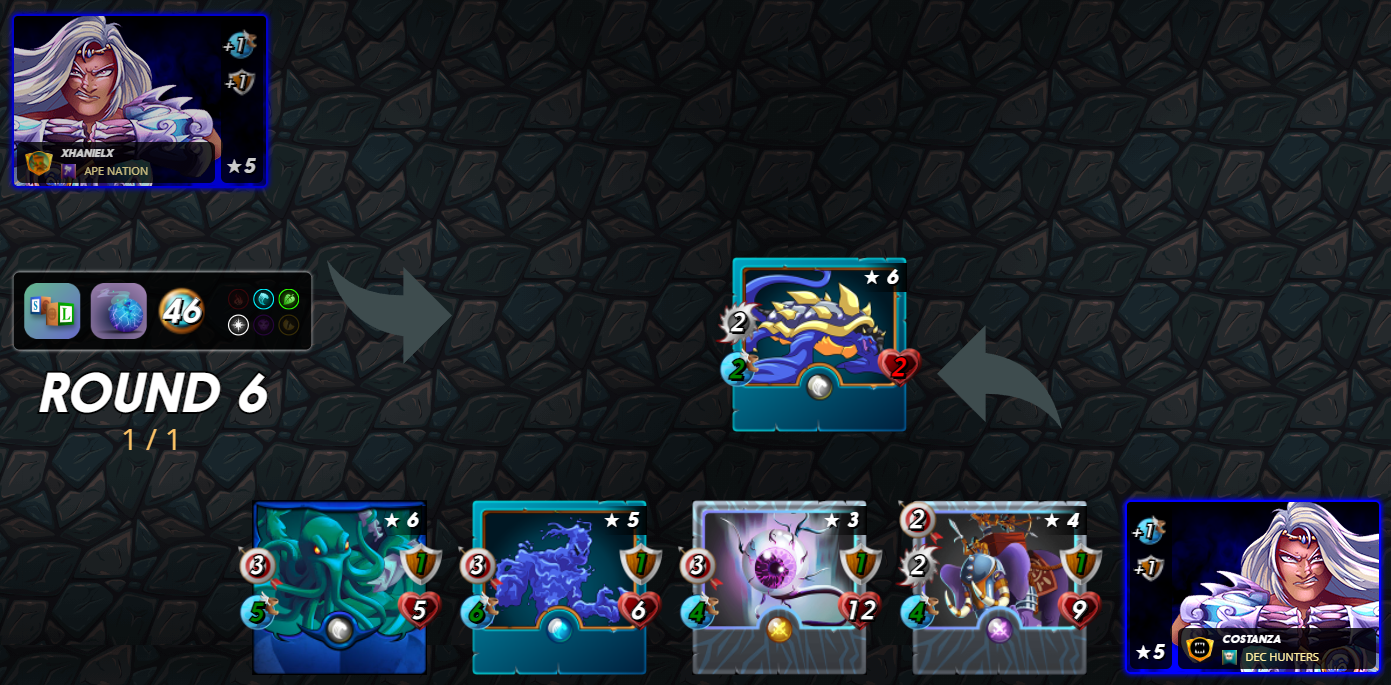 The match turned into another clean 'pay2win' win as I just had way more card options available compared to my opponent. Pure from a game enjoyment point of view, there is literally nothing to it as the game doesn't give me any satisfaction whatsoever from outplaying my opponent. I stick to this view that somehow fixing this massive issue is what Splinterlands as a game needs to get fixed in some way or another introducing an actual fun skill mode.
---
---
Previous Weekly Challenges
Splinterlands | Radiated Brute Challenge
Splinterlands | Disintegrator Challenge
Splinterlands | Dragons Challenge
Splinterlands | Carrion Shade Challenge
Splinterlands | Chaos Knight Challenge
Splinterlands | Goblin Psychic Challenge
Splinterlands | Deeplurker Challenge
Splinterlands | Lava Spider Challenge
Splinterlands | Dragons Challenge
Splinterlands | Dragons Challenge
Splinterlands | Shadow Snitch Challenge
Splinterlands | Feral Spirit Challenge
Splinterlands | Wood Nymph Challenge
Splinterlands | Giant Roc Challenge
Splinterlands | Centaur Challenge
Splinterlands | Dragons Challenge
Splinterlands | Animated Corpse
Splinterlands | Defender of Truth
Splinterlands | Stone Golem
Splinterlands | Pirate Captain

---

JOIN THE CHALLENGE
All Splinterlands players are free to join this Weekly Challenge (regardless of your rank) and will get rewarded by the team with Upvotes on Hive. If you haven't tried out the game yet, this is a great opportunity as it allows you to earn back the 10$ Price of the Summoner's Spellbook you need to get your Hive Private Keys after creating an account, share in the game rewards, get Daily Quests, join tournaments, Earn DEC for each Ranked Win,... 
---
Play2Earn Games I'm Currently Playing...
---
Hive: https://hive.blog/@costanza
Noise.cash: https://noise.cash/u/costanza
Leofinance: https://leofinance.io/@costanza
Twitter: https://twitter.com/costanzabets