I continue onboarding some new players into the Splinterlands game offering a win-win deal each month to everyone that signs up with me Referral Link These are all the cards I have on offer to be leased out in September...
There were 17 new sign-ups last month with 7 of those taking me up on the deal I'm offering by also getting the Summoner's Spellbook. As promised, all of them got a lot of extra cards leased out to help blast through the early stages. The average rank they managed to achieve was 2659+ which equals Gold 1.
The reality is that the game has been giving out way too high rewards to players with a lower overall account value which attracted a lot of bots who are grinding out rewards. In order to counter this, a collection value score that limits rewards that can be earned will be implemented in September. Since leased cards count toward the collection value, the ones I'm offering should help a lot to boost that score getting new players into a higher reward tier from the start.
Signing up using a referral link also will give you 1 free random card from the @sl-giveaways account which is a promotion from the Splinterlands team.

There are multiple ways to earn money with the game and I break them all down in my Monthly Results & Earnings Reports which after 7 months this year shows average earnings of ~120$ monthly for me.
July 2020 | +112.81$
June 2020 | +105.77$
May 2020 | +180.38$
April 2020 | +133.93$
March 2020 | +76.153$
February 2020 | +105.25$
January 2020 | +136.44$
To learn how it is easily possible to recover the initial 10$ investment and freeroll the game check this post. For a General Strategy Guide on how to best approach the game check here
---

The Splinterlands game can be played for free within minutes to see if it's something you might enjoy. (as a free player and be unable to earn rewards). I will lease out the Creeping Ooze to everyone that gets in my Affiliate Player list (use this link). This way you know for sure that you are on there and will be getting all the card leases when you end up getting the Summoner's Spellbook!
The game makes it so that you first need your summoner at a higher level before you are able to combine cards and play those at a higher level with better stats. I have bought a lot of Legendary Camila Sungazer Summoners just to lease out. Since the dragon summoners are different as they allow to be combined with selected class cards, this one pretty much makes it possible to play all common cards at Level 3 and all Rare/Epic cards at Level 2 from the get-go which should give a big advantage! On top it's also worth 1000 DEC which gives a major boost for the collection score. In case I run out of these cards, the Delwyn Dragonscale Dragon Level 3 Summoners will be leased out. 
I will also be leasing out these Leveled Up Cards on top...
---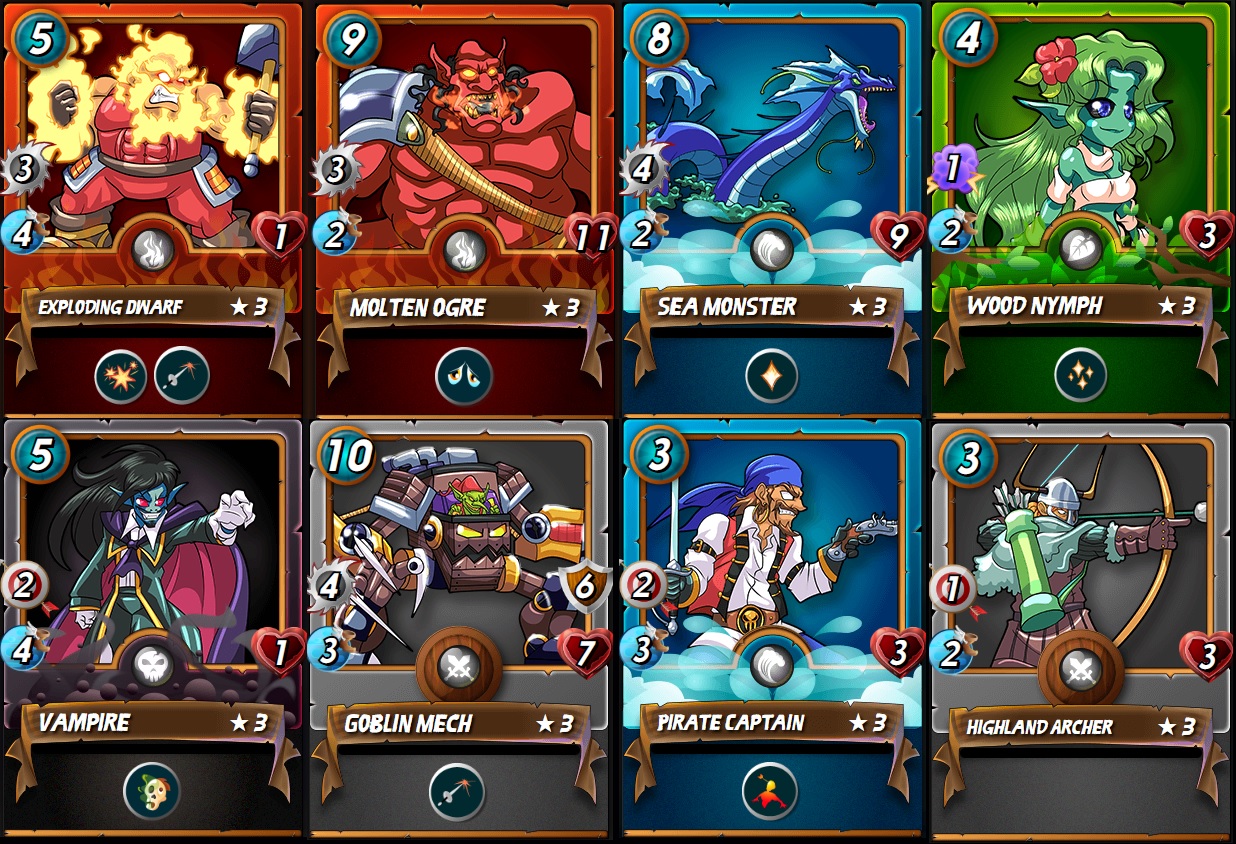 ---
New Cards
I hit the market again last month buying some new cards I previously didn't have to be leased out. I have 10 of each available this month to be leased out of which one is a summoner.
---
Gold Foil Cards
I have been holding on to all the gold foil cards I managed to get my hands on and they are now coming in handy as they are a major boost for the collection score since they are worth more (playing them gives +10% extra DEC). I will be leasing out 1 of these Gold cards to everyone that signs up starting with the ones that have the highest DEC value first-come-first-served.
The DEC value of these cards is
Spirit Shaman (15000 DEC)
Undead Archer (6000 DEC)
Silvershield Assassin (3000 DEC)
Enchanted Defender (1500 DEC)
...
I have more Gold cards available, these are just the most valuable ones that will go out first.
---
Other Cards
This is a collection of more useful cards for all summoners which should help especially with specific match rules.
---
Based on the average number of sign-ups in the last months, I should have enough cards to lease out to everyone. In case they somehow all would go out before the end of the month, I will introduce a new deal with other cards that I will buy on the market this month or recover from previous deals I have been offering. No matter what happens, I make sure everyone that signs up with my Referral Link will get enough cards to get a clear early-game advantage without the direct need to invest anything aside from the 10$ Summoner's Spellbook
Feel free to contact me on the SBC Discord Channel (username is costanza#2335) if you have questions or want a more extended experience testing the game for free or speed up the delegation process. This deal most likely will be adjusted next month based on the cards I have available.
---
To understand what the game is about and how it can be played check the video below!
---
Important: Treat games in the first place as games and not as investment opportunities, Splinterlands allows you to earn some money and get good returns but you are much better off flipping burgers in Mcdonalds when looking at the money earned for the time invested.
---
Hive: https://hive.blog/@costanza
Steemit: https://steemit.com/@costanza
Uptrennd: https://www.uptrennd.com/user/costanza
Twitter: https://twitter.com/costanzabets